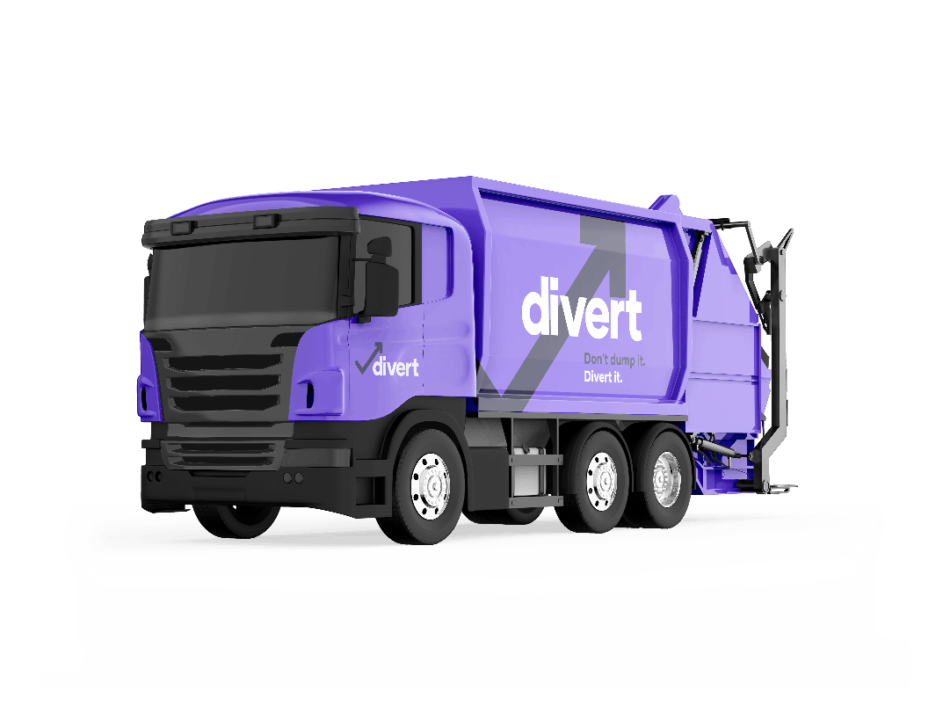 Waste plastic is produced by many businesses. Responsible storage, collection, and disposal are essential to protect the environment from potential harm due to the chemicals many plastic types contain. Lots of plastic waste is now recyclable and at Divert we can help you dispose of your plastic waste the right way.
Our plastic waste collection services include the delivery of free bins to store it safely before removal. Licensed waste carriers collect all waste plastic to ensure it's transported and disposed of legally, reliably, and in an eco-friendly manner. Find a quick, easy, and cost-effective plastic waste solution.
Get a free quote for plastic waste collection today – call 01904 295 985 or contact us online.
Plastic
Waste Collection
Get a quick quote
Get a quick FREE quote for your plastic waste collection
Quote within 1 hour
All types of plastic waste
Claim your free bins
Yorkshire collections
What is plastic waste?
Plastic waste is any product made from a type of plastic material that no longer has a use. It could be offcuts from the manufacturing process for plastic products, used food and drink packaging (such as plastic water bottles), or any other form of plastic. Waste plastic can typically be divided into seven separate categories. These are:
PET waste – products made from polyethylene terephthalate include plastic water and drinks bottles, containers, and carpet fibres.
PDP waste – high-density polyethylene is used to make various bottles for milk, shampoo, and cleaning products.
PVC waste – the construction industry uses polyvinyl chloride to make products such as pipes and tiles. It's sometimes used to create clear food packaging.
LDPE waste – items made from low-density polyethylene include cling film, sandwich bags, and other forms of clear, durable packaging.
PP waste – polypropylene waste includes thicker plastic products, such as plastic lids used on drink cartons.
PS waste – polystyrene is typically used in packaging or insulated coffee cups.
Code 7 waste – any plastic products that don't fall into the other six categories class as code 7 waste, such as old DVDs and CDs.
How plastic waste collection
and recycling works
Request a free quote for plastic waste collection based on the size and number of bins you need, how often you want them collected, and where from. Speak to one of our expert team if you're unsure what's right for your business. They can assess your needs and advise on the best bins and collection schedule.
All plastic waste bins are delivered for free to your premises – you only pay for collection. Fill each one with the relevant types of plastic and within any weight limits. Then move the bins to the agreed pickup point ahead of collection time. One of our purple trucks will come and remove them.
A licensed waste carrier will be behind the wheel, and they'll empty or replace your plastic waste bins if you've got regular collections. Then they'll transport your plastic to a nearby waste transfer station where it's checked, sorted, and sent for recycling. The plastic recycling method varies depending on the type.
Generally, waste plastic is recycled by being sorted into different streams first. It's then cleaned and shredded to remove any contaminants, such as paper, glue, and anything else. Heat is applied and the plastic is melted down and turned into pellets, which are used to form new plastic products.
Plastic waste bins
All waste plastic should be stored separately from your other recyclables and general waste to make the recycling process as easy as possible. We can provide a range of colour-coded plastic waste bins to make separating your plastic from other waste simple. Delivery is free with no rental or hire charges, you just cover the collection costs.
Discover the different sizes of plastic waste bins available:
View all bins
240 litre wheelie bins

This plastic waste bin is the same size as the wheelie bin outside your house. It holds two to three bags of waste.

360 litre wheelie bins

A larger two-wheel plastic waste bin that stores four or five sacks of plastic waste.

660 litre wheelie bins

This big bin has four wheels, is lockable for added security, and stores up to 10 full bags of waste.

1100 litre wheelie bins

The largest wheelie bin that's also lockable and can store between 15 and 18 waste bags.
Who produces plastic waste? 

We're all guilty of producing large volumes of waste plastic in both our personal and professional lives. Most businesses create some level of plastic waste, from food packaging thrown away at lunchtime by employees to empty plastic bottles discarded by customers. However, plastic waste is produced in large quantities in the following industries:
Retail – the retail industry produces large volumes of plastic waste, mainly in the form of product packaging. For example, most supermarkets store fruit, veg, and ready meals in plastic packaging.
Construction – plastic is a key resource for the construction industry. Plastic products are used for storage, as well as to create products such as piping, tiles, and even carpets.
Food service – takeaways, cafes, and restaurants generate high volumes of plastic waste through packaging. This includes single-use plastic bottles and their lids, disposable coffee cups, and food containers.
Offices – offices in all industries produce large volumes of plastic waste. For example, this could include disposable coffee cups and bottles alongside product packaging and storage containers.
14 day price match guarantee
Partner with peace of mind
Plastic waste facts and statistics
To understand the importance of recycling and reducing plastic waste we've pulled together a few incredible plastic waste statistics and facts. These plastic waste facts highlight the extent of our reliance on the material and why responsible storage, removal, and disposal are vital. A few fascinating statistics and facts about plastic waste are:
In the UK we dispose of around 15 million single-use plastic bottles every day.
Eight million tonnes of plastic wind up in the ocean each year, threatening marine life and polluting water sources.
It's estimated that around 380 million tonnes of plastic are produced worldwide each year.
The UK is responsible for about 5 million tonnes of plastic waste – with the figure rising rapidly.
It's estimated that by 2050, around 12 billion tonnes of plastic will sit in landfill sites.
Free duty of care
We pride ourselves on being open and transparent.
How to reduce plastic waste
Reducing plastic waste is important for homes and businesses as it cuts the time, energy, and costs required for disposal and recycling. While recycling plastic is good it relies on energy and transportation, which can release emissions. Reducing and reusing plastic should be the first step before recycling, where possible.
For businesses, there are a few ways to reduce plastic waste by:
Carrying out a waste audit – determine the exact volume of plastic waste produced daily by your business. This enables you to figure out where high volumes of waste plastic are generated and ways to reduce the amount.
Sourcing sustainable materials – using sustainable products in your business helps reduce plastic waste. For example, retailers could offer customers paper bags or products made from recycled materials instead of plastic bags. Paper straws make a great alternative to plastic ones.
Ensuring employees are aware of the recycling policy – ensuring all employees are aware of the importance of on-site plastic recycling and have access to the appropriate facilities and resources helps cut waste. For example, each employee should receive waste management training at the start of their contract.
Encouraging refills – if you run a food service business try to encourage customers to bring refillable bottles, containers, or cups rather than using disposable plastic ones. Offer a discount for those that use refillable vessels to reduce the plastic containers, bottles, cups, and cutlery you use.
Buying in bulk – purchasing stock in bulk should reduce the amount of plastic packaging used to store and transport goods. Receiving deliveries of big pallets can use less plastic wrap than lots of smaller ones. Look for items that aren't individually packaged where possible too.
Why use Divert for plastic waste collection?
The volume of plastic waste produced within your facility can seem staggering sometimes and hard to manage. It doesn't have to be that way with Divert – as we're always on hand to help. We can provide free waste plastic bins for your business to store your plastic recycling safely before collection.
Our expert and friendly team are available to help with any questions you have and advise on the best plastic waste management solutions for your business. This always involves recycling your waste plastic and diverting it away from landfill. Get started with a free no obligation quote for plastic waste removal.
At Divert we can improve your plastic waste management as we:
Provide you with free bins and storage containers for all types and amounts of plastic waste.
Arrange plastic waste collection outside of business hours or at a time that suits you. Plastic waste removal is available daily, weekly, or fortnightly.
Advise on how to reduce plastic waste and better manage your overall waste.
Ensure all waste plastic is taken to the appropriate recycling facilities by licensed waste carriers.
Provide a free duty of care certificate for added peace of mind that your waste plastic is disposed of responsibly.
Free bins

All plastic recycled

Reliable collections

Fixed prices

Flexible collections
Book plastic waste removal
Get a free no obligation quote for plastic waste removal today – call 01904 295 985 or contact us online. Tell us the sizes and number of bins you need, how frequently you want collections, and where your business is based. Talk to one of our friendly and expert team if you've got any questions.
Where can you collect plastic waste?

Plastic waste collection is available in the UK with Divert but we mainly cover areas of Yorkshire. When you get a free quote we can let you know if we're able to collect waste plastic from your location. The main cities and towns where we collect plastic waste are:

How long does plastic take to decompose?

It can take between 20 and 500 years for plastic to decompose. The exact length of time for plastic decomposition depends on the type and amount of plastic, as well as where it is. When plastic decomposes it can leach chemicals used in the materials, which may pollute nearby water, air, and ground when left in landfill.

What happens to plastic waste if it's not recycled?

Unfortunately, most waste plastic that's not recycled ends up in landfill. Some plastic waste may even blow away as it can be lightweight. When plastic goes to landfill it can take tens and hundreds of years to decompose, contaminate other waste materials, and take up landfill space.

Any waste plastic disposed of with general waste may end up in landfill or be sent for incineration. Burning plastic can release dangerous chemicals contained in plastic materials, as well as carbon monoxide, hydrochloric acid, and sulphur dioxide. These can be harmful to human health and the environment. Always recycle plastic for responsible disposal where possible.