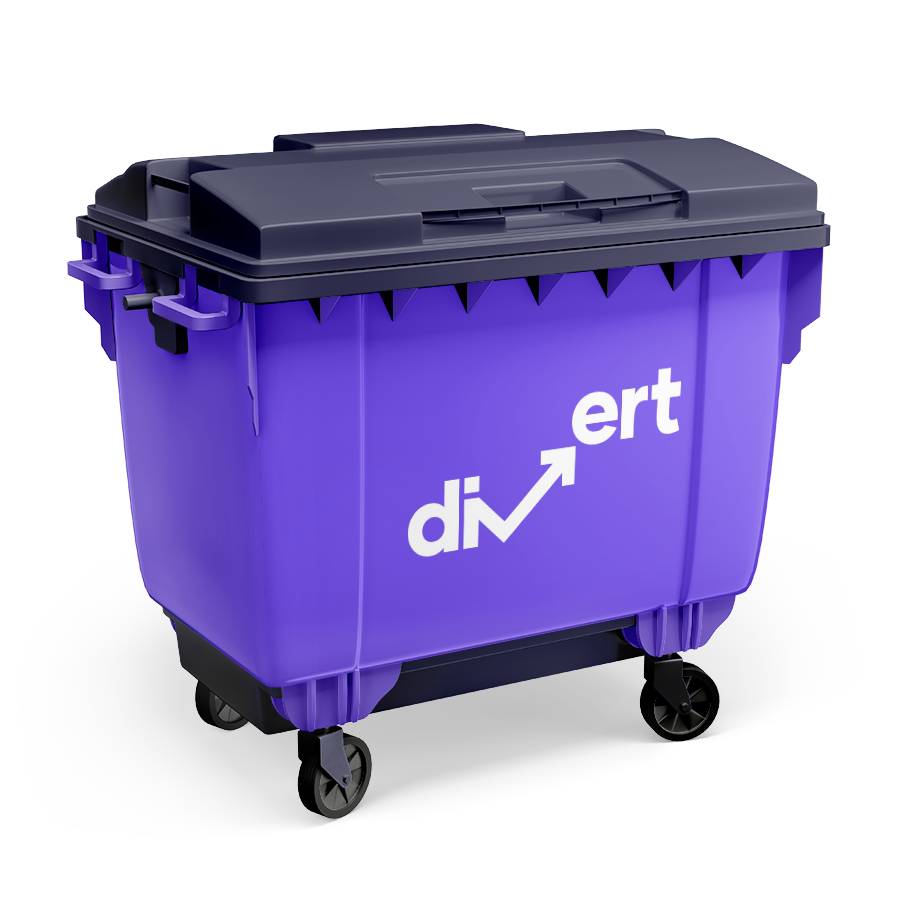 Well-organised waste management in Wetherby ensures businesses and households get rid of rubbish responsibly. Disposing of daily general waste from your company or an old sofa from your home must be done properly to protect the local West Yorkshire environment. Keep the market town as green as Stockeld Park with Divert's responsible waste management services in Wetherby.
Wetherby Waste Management

Get a quick quote
Get a fast FREE quote for your waste
Quick quote within 1 hour
All types of waste
Claim your free bins
We cover all of Wetherby
Wetherby waste collection
Organise waste collection in Wetherby to dispose of any type and amount of rubbish your business or home produces in the West Yorkshire market town. Arrange regular collection of rubbish including food waste, general waste, and glass recycling from your company. One-off removals of bulky items, house clearances, and man and van services are also available.
Book waste collection anywhere in Wetherby and the surrounding villages and areas. We can collect your waste from:
Bickerton
Boston Spa
Collingham
Ingmanthorpe
Kirk Deighton
Linton
Sicklinghall
Thorp Arch
Get a free quote for waste collection in Wetherby today – call 01904 295 985 or contact us online.
Free bins
Get free bins with no delivery or hire charges and enjoy 1 month's free collections when you partner with Divert
Commercial waste
in Wetherby
Every business in Wetherby produces some type and amount of commercial waste that must be managed properly. This includes leftover food from restaurants in the town centre, cardboard recycling from factories, and general waste from retail and industrial units at Thorp Arch Estate. All business waste in Wetherby needs to be collected by licensed waste carriers.
At Divert, all the drivers of our fabulous purple trucks and vans are licensed waste carriers who handle your rubbish safely and legally. They know the roads of Wetherby well and the surrounding area, so they can collect waste from anywhere in a fast and efficient manner.
This includes removing commercial waste in Wetherby from shops, hotels, garages, schools, sports clubs, and other organisations across the area. We can help whether you're a start-up or established firm in the town of any shape and size. Find a solution to responsibly get rid of your business waste in Wetherby with Divert.
Every business in Wetherby requires commercial waste collection
Commercial waste removal
in Wetherby
Arrange commercial waste removal in Wetherby on a schedule that suits your specific needs. We provide free bins to separate and store the rubbish your business creates safely and securely, helping improve recycling rates. You only pay for collections. Combine the best bins with daily, weekly, or fortnightly collections for a bespoke service.
Once the waste leaves your business we divert as much as possible away from landfill to offer responsible disposal, recycling, and recovery. Licensed waste carriers remove your bins and transport them to a nearby waste management facility. Book commercial waste removal in Wetherby for these waste types and more:
General waste collection

Food waste collection

Electrical waste collection

Garden waste collection
Household waste services
in Wetherby
Quickly and easily get rid of rubbish from your home in Wetherby with Divert. Book one-off collections of bulky items you no longer need, such as white goods, furniture, and mattresses. Our man and van service also helps remove many bags of junk, garden waste, and other rubbish.
Unlike hiring a skip in Wetherby there are no waiting times, and you don't need to make space for it or apply for a permit. It's a cost-effective and fast way to get rid of domestic waste in Wetherby if your bins are full or you can't make it to the local tip.
We can also help with house clearances in Wetherby, whether you're preparing to move or clearing a property after the passing of a loved one. Everything can be removed in one go for an efficient service. All household waste we collect in Wetherby is diverted away from landfill too. Explore our one-off and domestic waste services in Wetherby:
Fridge and freezer collection

Mattress collection

Bulky waste collection

House clearance

Man and van

Sofa disposal
Get a free quote
Bin collection
in Wetherby
Book bin collection in Wetherby for all the waste your business produces. Streamline your waste management with regular removals to avoid rubbish building up. We provide free bins to save your company money on your waste management costs – you only pay for collection with no hire or delivery fees.
Choose from a wide range of bin types and sizes to separate and store your rubbish safely onsite. Standard wheelie bins with two and four wheels in various sizes are available for the likes of general and food waste, cardboard, and glass recycling. We can also provide bags and containers for garden waste, clinical waste, and oil drums.
Schedule Wetherby bin collection on a basis to suit you with daily, weekly, and fortnightly collection available. It's possible to arrange daily removals of certain waste types and less frequent collections of others based on your needs. Browse our bins and create a collection plan that meets your waste management needs in Wetherby.
Explore our bins
Wetherby recycling
Recycling in Wetherby is vital to keep the market town as green as the track at Wetherby Racecourse. Leeds City Council provide households with recycling bins, but you can take excess and other recyclable rubbish to Wetherby (Thorp Arch) Household Waste Recycling Centre. This includes paper, cardboard, scrap metal, wood, furniture, carpets, and more.
There are also many bottle banks across the town for glass recycling in Wetherby. Most of these are in council, leisure centre, sports clubs, and other car parks. However, businesses can't dispose of recycling at these bottle banks or Wetherby HWRC.
Instead, you can use various bins to separate your recyclable rubbish and arrange commercial waste collection by licensed waste carriers. This includes bins for cardboard, paper, and glass recycling – or use a dry mixed recycling to combine recyclable waste. Our recycling services in Wetherby include:
Glass recycling

Cardboard recycling

Dry mixed recycling
Wetherby recycling centre
Wetherby (Thorp Arch) HWRC

Thorp Arch Industrial Estate

Leeds

LS23 7BJ
How does business waste collection
in Wetherby work?
Quickly and easily set up a reliable business waste collection in Wetherby with Divert. Find a solution for whatever type and amount of rubbish your company creates on a regular or one-off basis. The process is simple – we provide free bins, you fill them with your waste, and we collect them and dispose of your rubbish responsibly.
Business waste collection in Wetherby works in a few simple steps:
Get a free quote with no obligation for commercial waste collection in Wetherby tailored to your needs. This considers the type and amount of waste you generate, how frequently you want it collected, and where from in Wetherby.
If you're happy with the tailored price of your bespoke quote we'll book the delivery of your free bins to your site.
Separate your waste into the relevant bins, bags, and containers and ensure it's within any maximum weight limits or fill lines.
Move your bins to the agreed pickup point ahead of the collection time. One of our purple trucks with a couple of licensed waste carriers will remove your bins and take them to a local waste management facility around Wetherby.
Your waste will be recycled and disposed of responsibly depending on its type. You receive a free duty of care certificate confirming the safe and legal disposal of your commercial waste.
Why use Divert for
waste collection in Wetherby?
Get rid of any waste from your business or home in Wetherby responsibly and affordably with Divert. Regular collections of everything from general waste to glass recycling and cardboard bins are possible from companies across the town. We also offer one-off removals of bulky items and domestic man and van and house clearance services.
Save money on your waste management in Wetherby with free bins delivered to your business – you only cover the collection costs. Choose from a wide range of bins and containers and create a schedule that slots in with your operations. We divert all waste away from landfill to protect the environment and lower your disposal costs.
Enjoy working with a local Yorkshire business that has great experience and connections across Wetherby. All our Divert drivers are licensed waste carriers with fantastic knowledge of Wetherby and the surrounding region to deliver on-time, fast, and efficient collections. If you've got an issue then our friendly customer care team are on hand to help too.
Partner with Divert for waste collection in Wetherby and enjoy:
A free no obligation quote tailored to you
Free bins delivered to your Wetherby address
Reliable and regular waste removal
Fixed prices including labour costs
Many waste types collected and recycled
Landfill diversion

Fixed prices

Reliable waste collection

Sustainable waste disposal
Book Wetherby waste collection
Get started with a free quote for waste collection in Wetherby today. Tell us the types and amount of waste you need rid of, where from, and how often for a bespoke price. Speak to one of our friendly team over the phone or online if you've got a question for a fast response.
Get a free quote