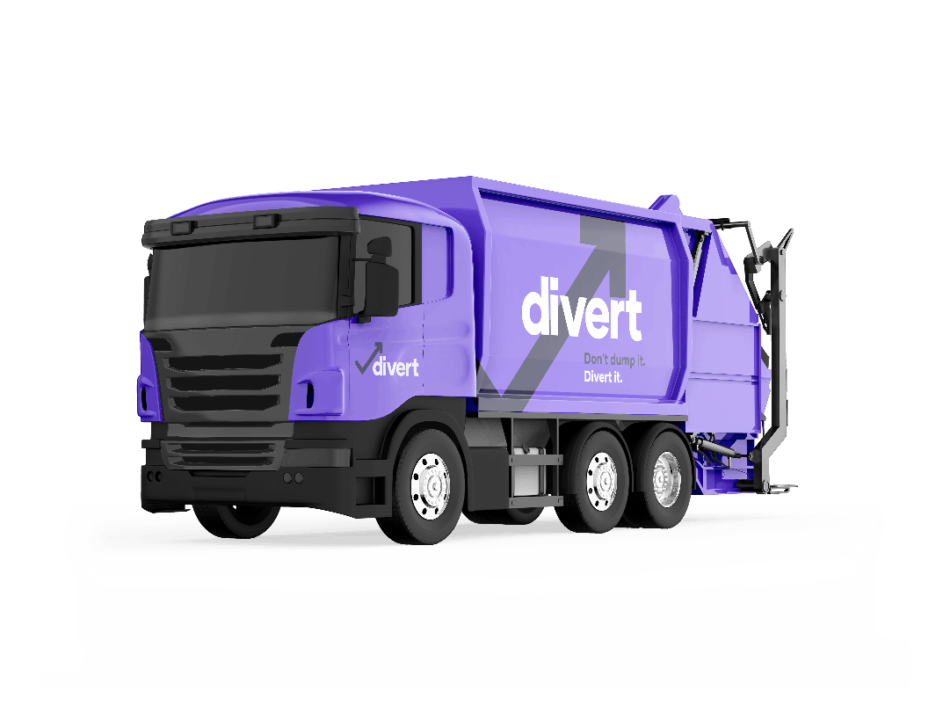 Arrange regular and reliable bin collection in Wakefield to make your waste management effortless. Enjoy free bins delivered to your business anywhere in the Wakefield district with Divert. We provide a wide variety of bins to separate your rubbish and improve recycling. You only pay for collection, with no rental or delivery fees.
Bins, bags, and other containers are available in many sizes to store anything from general waste to glass recycling and oil safely and securely before removal. Licensed waste carriers will collect your bins in Wakefield on a daily, weekly, or fortnightly basis to suit your needs.
We divert as much waste as possible away from landfill sites around Wakefield to protect the local air, water, and land, while saving your business money when it comes to waste disposal. Get a free quote for Wakefield bin collection today – call 0333 444 0118 or contact us online.
Wakefield Bin Collection

Get a free quote
Get a quick FREE quote for your waste
Quote within 1 hour
All types of waste
Claim your free bins
We cover all of Wakefield
Wakefield bins
To store any waste your business produces safely and securely to prevent contamination we provide a wide range of commercial bins in Wakefield. Different two and four-wheel bins are suitable for daily waste – such as general waste, cardboard, paper, and glass recycling. Larger bins are lockable for added security.
We also supply waste bags for the likes of garden waste, and bags, bins, and containers for more specialist waste types. This includes clinical waste bags, oil drums, and sharps bins in Wakefield for healthcare, cosmetic, and beauty industries. 
All Wakefield bins are delivered to your premises for free, you only cover collection costs. You can arrange delivery and collection of one or more different or same-sized commercial bins in Wakefield, tailored to your specific waste management needs. 
240 litre wheelie bins

The same size as the wheelie bins for your household waste, it holds 3 to 5 bags.

360 litre wheelie bins

A slightly larger two-wheel bin that can store 5 to 7 waste sacks.

660 litre wheelie bins

A four-wheel bin for storing 10 to 12 bags of waste, which can be locked if necessary.

1100 litre wheelie bins

The largest available wheelie that holds up to 15 bags of waste and is also lockable.
What can you put in Wakefield bins?
Any waste your Wakefield business creates can be stored in one of the bins, bags, or containers we provide. Wheelie bins of all sizes can store general waste, while you can use Wakefield recycling bins for dry mixed recycling, cardboard, paper, plastic, and glass. 
Follow any weight limits to avoid facing an overweight charge. These vary depending on the bin size and waste type. For example, you can only put food waste and glass recycling in 240 litre wheelie bins. In some cases, using waste bags may be best, such as for green waste or if there's limited space.
Sharps bins and clinical waste bags are available for all sorts of medical waste. This includes needles, masks, and contaminated PPE from tattoo parlours and beauty salons in Wakefield, as well as healthcare settings. For liquid waste, we provide oil drums and IBC containers in various sizes.

Regular and reliable Wakefield bin collections
Arrange bin collection in Wakefield on a daily, weekly, or fortnightly basis to fit in with your schedule. You can tailor the type, size, and number of bins you need with the collection frequency for affordable waste removal. It's possible to mix and match, so some bins are collected daily, while others are weekly.
For example, bars and restaurants along Westgate might want food waste removed every day, while glass waste could only need removing weekly. Simply place your bins in the agreed pickup point in advance and our licensed waste carriers will collect your bins in Wakefield on time for regular and reliable removals.
Where can I book bin collection in Wakefield?
Bin collection is available anywhere in the Wakefield district. Find a solution whether you need bins removed from a shop in Trinity Walk to a takeaway in Horbury or from your office in Castleford. Our licensed waste carriers can deliver and collect bins from anywhere in Wakefield and the surrounding towns and villages, including:
Wakefield city centre, Outwood, Eastmoor, and Agbrigg (WF1)

Alverthorpe, Kirkhamgate, Newmillerdam, Sandal, Walton, and Wrenthorpe (WF2)

Carlton, East Ardsley, Lofthouse, Robin Hood, Stanley, Thorpe, and Tingley (WF3)

Crofton, Flockton, Horbury, Netherton, Ryhill, West Bretton, and Woolley (WF4)

Ossett, Gawthorpe, and Healey (WF5)

Normanton and Altofts (WF6)

Featherstone, Ackton, Ackworth Moor Top, and Purston Jaglin (WF7)

Pontefract, Kirk Smeaton, Little Smeaton, and Thorpe Audlin (WF8)

South Elmsall, South Kirkby, Upton, Fitzwilliam, Hemsworth, and Kinsley (WF9)

Castleford, Glasshoughton, Allerton Bywater, Ledston, and New Fryston (WF10)

Knottingley, Brotherton, Fairburn, and Byram (WF11)

Dewsbury, Thornhill, Briestfield, and Chickenley (WF12)

Ravensthorpe, Dewsbury Moor, and Staincliffe (WF13)

Mirfield, Battyeford, and Hopton (WF14)

Liversedge, Hartshead, Hightown, and Roberttown (WF15)

Heckmondwike (WF16)

Batley, Birstall, Hanging Heaton, Soothill, and Staincliffe (WF17)
How does Wakefield bin collection work?
4 Simple steps
The process for bin collection in Wakefield is simple, whatever type of waste and however much you need removing. Arrange Wakefield bin collection for your business to dispose of your rubbish responsibly:
Get a quote

Start with a free no-obligation quote for bin collection in Wakefield, based on the type, size, and number of bins, how often you want them collected, and from where. Then book your bin collection if you're happy with the quote.

Fill your bins

We'll deliver your bins for free. Separate your waste and fill each one with the relevant rubbish type and within any weight limits or max fill lines. Ahead of the agreed collection time place your bins at the accessible pickup point on your premises.

Book collection

One of our purple trucks driven by a licensed waste carrier will remove your bins on time, and they may replace them with new bins.

Recycle waste

They'll take your waste to a waste transfer station in Wakefield where your rubbish is assessed, sorted, and separated. It's then recycled or disposed of responsibly, depending on its type. All waste will be diverted away from landfill.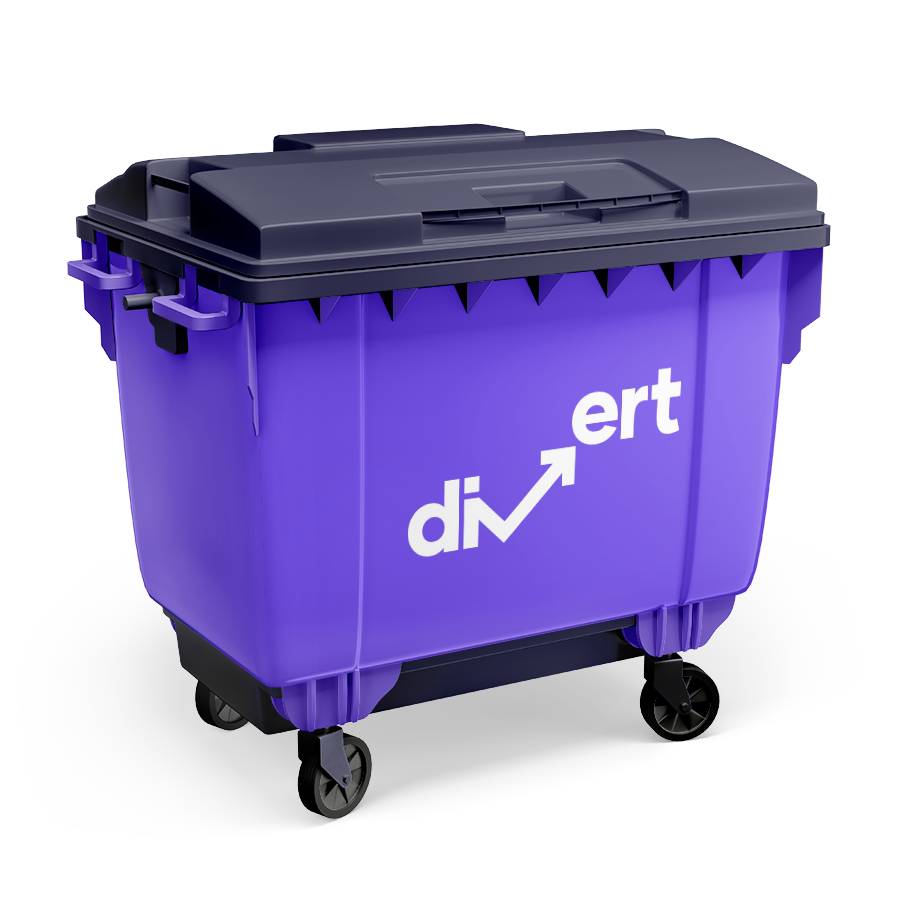 Why use Divert for bin collection in Wakefield?
Book regular, reliable, and affordable bin collections in Wakefield with Divert. We provide free bins with no delivery, rental, or hidden fees to businesses anywhere in Wakefield and the surrounding district. Plus, diverting your waste away from landfill saves you more money by reducing how much landfill tax you pay.
Daily, weekly, and fortnightly bin collections in Wakefield are available to suit your needs. Provide details about the type and amount of waste you produce, and when, where, and how often you want it collected, for a free no obligation quote. All waste is diverted away from landfill to help your business have a positive impact on the local environment.
We're based in Yorkshire, which helps us deliver a truly local approach to Wakefield bin collection. Our licensed waste carriers know the roads in and around Wakefield well and have good connections to waste sites. This ensures a fast, flexible, and affordable solution for your waste management needs in Wakefield.
Regular daily, weekly, or fortnightly bin collections

Free no obligation quote tailored to your waste needs

Any type of waste removed in Wakefield

Fixed prices for regular bin collection

Local and reliable Wakefield bin collections
Regular, reliable collections

Landfill diversion

Free bins

Fixed prices

Flexible bin collection
Book your Wakefield bin collections
Call 0333 444 0118 or contact us online for a free quote for Wakefield bin collection. If you've got a question or want some advice about the best service for your business, one of our friendly and expert team can help. Book bin collection in Wakefield on a daily, weekly, or fortnightly basis today.
Other waste services 
available in Wakefield
One call we take it all 0333 444 0118
All waste types
Cardboard waste Wakefield

Sofa disposal Wakefield

Furniture collection Wakefield

Bulky waste Wakefield

Dry mixed recycling waste Wakefield

Food waste Wakefield

Fridge freezer removal Wakefield

Garden waste Wakefield

General waste Wakefield

Glass waste Wakefield

Wakefield bin collection

Wakefield waste management

Man and van Wakefield

Mattress collection Wakefield

Office clearance Wakefield

Rubbish removal Wakefield

WEEE waste Wakefield
Get a quote for Wakefield bin collection
Information about Wakefield household bin collection
Most households in Wakefield have three domestic bins provided by Wakefield Council. These are two brown and one green 240 litre wheelie bins. Wakefield Council claims up to 95% of waste can be recycled and reused if domestic waste is sorted properly. The three household waste bins Wakefield residents receive can be used for:
Green household bin

Some waste will be recycled, while most is used to produce energy. Use your domestic green bin in Wakefield for food waste, nappies, juice cartons, yoghurt pots, plastic bags, plastic packaging, and food trays.

Brown recycling bin

Ensure all recycling is clean, dry, and squashed. Use a brown recycling bin in Wakefield for steel and aluminium cans, plastic bottles, clean foil trays, cardboard and paper, aerosols, glass bottles and jars.

Brown garden bin

A brown garden waste bin in Wakefield can hold flowers and plants, bark, twigs, branches, leaves, grass cuttings, hedge trimmings, and weeds.

Wakefield garden bins

Garden bin collection in Wakefield is available for most households but bins are only removed from mid-March to late November. Any garden waste collections happen on the same day that your household green bins are collected. You can check your Wakefield bin day online.
Wakefield bin collection FAQs

How do I report a missed bin collection in Wakefield?

You can report a missed household bin collection to Wakefield Council online. Avoid missed bin collections by placing your bins outside your home before 7am on the day of collection. Only report a missed domestic bin collection in Wakefield after 5pm, as that's the time the crews work until.

If you arranged bin collection in Wakefield with Divert and it's been missed, please call 0333 444 0118 or contact us online for a fast solution.

What should I not put in domestic Wakefield bins?

Household waste bins in Wakefield can be used for a wide range of general waste, recycling, and garden waste. However, you should not put the following in any domestic Wakefield bins:

Batteries

Paint tins

Engine or cooking oil

Clothes and textiles

Hand tools

Carpets

What colour bins are in Wakefield?

Wakefield Council provides one green and two brown bins to households in Wakefield. Green Wakefield bins are used for general household waste (including some recycling types). A brown recycling bin is used for domestic recycling waste. A brown garden waste bin is for all domestic garden waste, such as grass cuttings.