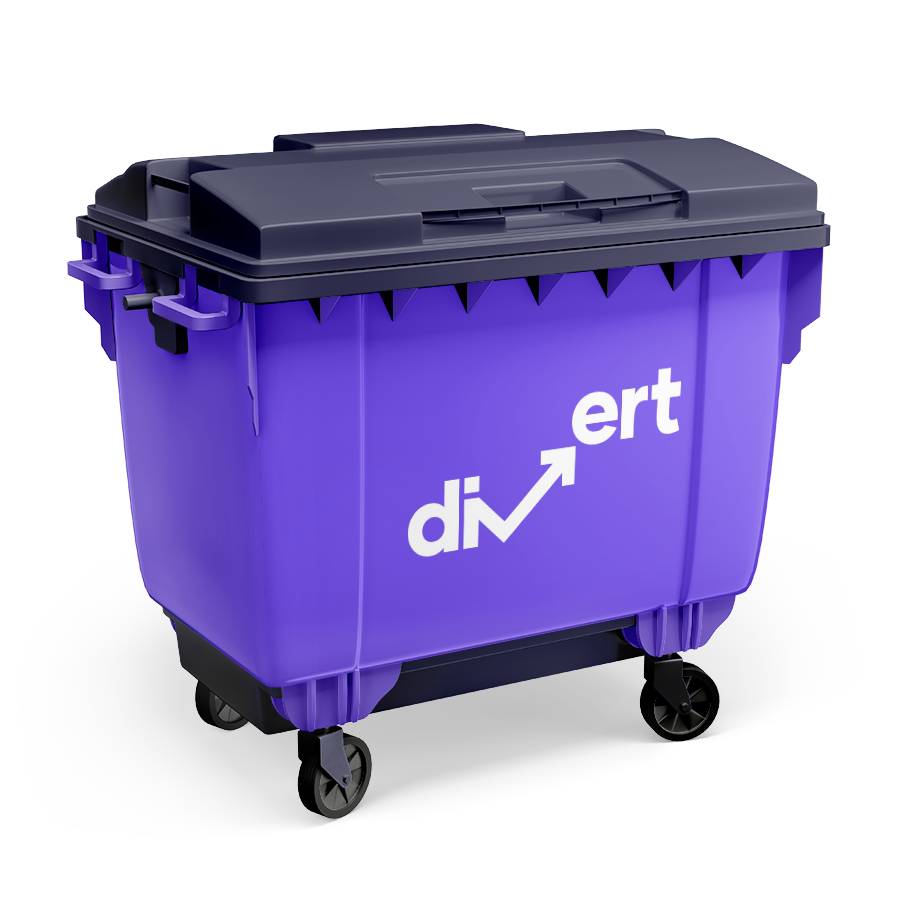 Efficient waste management in Skipton is vital for businesses and households across the North Yorkshire market town. Find a cost-effective and convenient solution to get rid of all types and amounts of rubbish responsibly and away from landfill. Streamline your waste management in Skipton for regular or one-off removals with Divert.
Skipton Waste Management

Get a quick quote
Get a fast FREE quote for your waste
Quick quote within 1 hour
All types of waste
Claim your free bins
We cover all of Skipton
Waste collection in Skipton
Businesses and homes need waste collection in Skipton you can trust – whether it's regular bin collections, a one-off removal or house clearance. Find an affordable and reliable service to get rid of everything from food waste from a pub on the cobbled High Street every day to an old sofa from your home.
Our purple vans cover all of Skipton. We can remove rubbish regularly from businesses in the town centre to the outskirts, as well as from homes at the bottom of Skipton Moor and along the banks of the Leeds and Liverpool canal. Book waste collection in Skipton and the surrounding areas including:
Bradley
Broughton
Draughton
Embsay
Gargrave
Thorlby
Free bins
Get free bins with no delivery or hire charges and enjoy 1 month's free collections when you partner with Divert
Business waste
in Skipton
Every business in Skipton must arrange collection of its waste by licensed waste carriers. Skipton still has an outdoor market a few days a week but not as much sheep and wool trading goes on today. The town is also home to a bustling shopping centre and tourism industry.
Using licensed waste carriers to remove all business waste in Skipton ensures the safe and legal management of your organisation's rubbish. This applies to shops, pubs, and restaurants along the high street, as well as sports clubs, health centres, and schools further out from the town centre.
All Divert drivers behind the wheel of any of our purple vans and trucks are licensed waste carriers. You also receive a free duty of care certificate that confirms the legal and responsible removal and disposal of your business waste in Skipton. We can help start-ups and established companies in the town sort out your waste management.
Enjoy free duty of care for any Skipton business
Commercial waste collection
in Skipton
Regular commercial waste collection in Skipton ensures all your business waste is removed and disposed of reliably. Enjoy smooth and efficient commercial waste removal. We provide free bins to help keep your waste management costs down. There are no hire charges or delivery fees, you just cover the collection costs.
Choose a convenient schedule for your commercial waste collections in Skipton, whether you want your bins removed daily, weekly, or fortnightly. You can combine the best types and sizes of bins with a cost-effective collection frequency. Licensed waste carriers handle all your waste. Check out the types of commercial waste we can collect in Skipton:
General waste collection

Food waste collection

Electrical waste collection

Garden waste collection
Skipton household waste services
One-off collections of Skipton household waste mean you can get rid of bulky items like old furniture, electrical appliances, and bags of junk easily. There's no need to hire a skip and all the time, costs, and hassle that is involved. Plus, you don't have to struggle to load such rubbish into your car and drive to the tip.
We provide various household waste solutions in Skipton. Man and van services are ideal if you've got lots of items or bags of rubbish for disposal at once. Consider bulky waste collection if you need one or two large items taking away, such as a broken fridge, an old mattress, or any other furniture.
If you need help with a house clearance in Skipton we can also assist with bigger domestic waste removal projects. Enjoy effortless house clearances in Skipton as our team does all the lifting and carrying. We can help clear townhouses, bungalows, flats, and other properties. Explore all our Skipton household waste services:
House clearance

Man and van

Bulky waste collection

Sofa disposal

Fridge and freezer collection

Mattress collection
Get a free quote
Bin collection in Skipton
Arrange regular and reliable bin collection in Skipton for your business to stay on top of your commercial waste management. We deliver free bins to your premises anywhere in Skipton and the surrounding region for affordable waste removal. There are no delivery or hire charges or hidden fees.
A wide range of bin types and sizes are available to store all sorts of rubbish safely and securely on your site before collection. Choose from wheelie bins with two or four wheels to separate and store general waste and recycling streams. We can also provide drums for used oil and waste bags for garden waste and clinical waste.
Daily, weekly, and fortnightly Skipton bin collection is available for each bin you use. Combine the best bin sizes and removal frequencies for cost-effective collections, such as fortnightly removals of big cardboard bins and daily collections of smaller food waste containers. Tailor bin collection in Skipton to meet your business needs.
Explore our bins
Skipton recycling
Recycling in Skipton is important for businesses and homes across the town. North Yorkshire Council provides households in Skipton with blue bins and clear sacks for domestic recycling. Use these to recycle glass bottles and jars, paper, cardboard, plastic bottles, metal food tins and cans, aerosols, and more from your home.
If you've got large items, excess waste, or other recyclable rubbish you can't put in your blue bin then visit Skipton household waste recycling centre (HWRC). You can recycle a wide range of domestic waste for free including electrical items, waste wood, batteries (including old car batteries), and more.
Skipton businesses have a responsibility to reduce waste where possible. Recycling is an easy and responsible way to do this. Use different bins to separate your recyclable rubbish like glass, plastic, and cardboard. Then arrange collection by licensed waste carriers. At Divert we can collect and recycle commercial waste from businesses across Skipton. Book waste recycling in Skipton including:
Glass recycling

Cardboard recycling

Dry mixed recycling
Skipton waste recycling centre
Skipton recycling centre

Harrogate Road

Skipton

North Yorkshire

BD23 6AB
How does commercial waste disposal
in Skipton work?
Organising Skipton waste disposal with Divert is quick and easy. Just let us know the type and amount of rubbish you need removing, where from, and when. We'll provide a free quote tailored to your needs and can then set up your waste management plan. This is how commercial waste disposal in Skipton works:
Get a free no-obligation quote for waste collection anywhere in Skipton. Provide information about the type and amount of rubbish, how frequently you need it collected, and where from in Skipton for a bespoke quote.
If the price is right for you then we'll book a convenient time to deliver your free bins to your business.
Separate and store your commercial waste in each bin. Fill them within any maximum weight limits or max fill lines to avoid overweight charges.
Take the full bins to the agreed collection point ahead of the removal time. One of our purple trucks driven by a licensed waste carrier will remove them on time and take them to a local waste management facility.
All waste removed from your business in Skipton will be disposed of responsibly. You receive a free duty of care certificate confirming the safe and legal management of your commercial waste.
Get your free quote
Why use Divert for
waste management in Skipton?
Enjoy reliable, affordable, and responsible waste management in Skipton with Divert – whether you need regular or one-off collections. Save money with free bins delivered to your business and no need to use a skip when clearing waste items from your home. Tailor waste services for cost-effective solutions with our flexible approach.
Protect the environment and uphold your responsibilities as all waste is diverted away from landfill. This saves businesses further costs by reducing how much landfill tax you pay. All rubbish is removed and handled by licensed waste carriers to ensure the safe and legal management of your waste.
A free duty of care certificate provides peace of mind that your waste is removed properly. Our drivers are based locally and know the streets in and around Skipton well as Divert is a local company based in Yorkshire. If you've got a question then our friendly customer care team can help too.
These are the main reasons to use Divert for waste management in Skipton:
A free no obligation quote tailored to you
Free bins delivered in Skipton
Reliable and regular waste removal
Fixed prices including labour costs
Many waste types collected and recycled
Fixed prices

Landfill diversion

Reliable waste removal

Flexible collection services
Arrange waste removal in Skipton
Get a tailored free no-obligation quote for waste removal in Skipton. Let us know what waste you need collecting, how much, where from, and when for a bespoke price. Speak to one of our friendly team if you've got any questions and contact us for your quote today.
Get a free quote