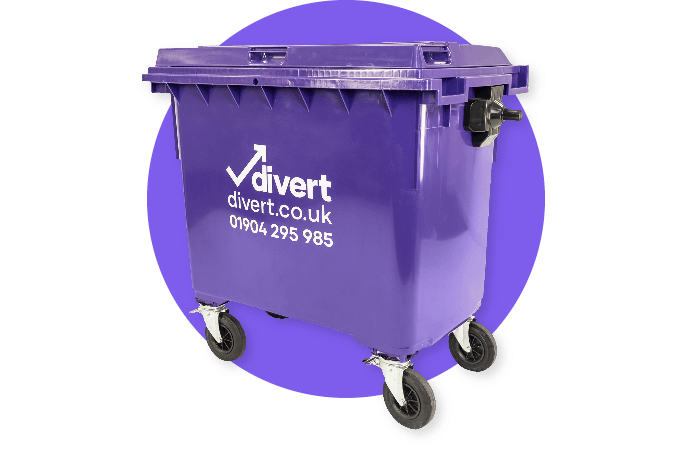 Harrogate is home to some of the most famous tea rooms in the country, as well as more than 200 restaurants, cafes, and takeaways. The district also has six restaurants in the Michelin guide (including three in Ripon). Each one of these produces food waste in Harrogate daily that needs managing efficiently.
Even the most renowned North Yorkshire eateries create some level of waste food, which requires commercial waste collection and responsible disposal. At Diver we provide free bins for food waste – you just cover the collection costs. All waste food is diverted away from landfill and sent for composting or anaerobic digestion and turned into energy.
Food Waste in Harrogate

Get a quick quote
Get a quick FREE quote for your food waste removal
Quote within 1 hour
All types of food waste
Claim your free bins
Collections across Harrogate
Food recycling in Harrogate
Use free bins to store and dispose of waste food in Harrogate responsibly, such as:
Leftovers from customers

Dairy foods – eggs, cheese, and cream

Raw and cooked meat and fish, including bones

Raw and cooked fruit and vegetables

Tea leaves, bags, and coffee grounds

Rice, pasta, and bread 
Arrange collection on a daily, weekly, or fortnightly basis to suit your needs. Get a free quote for food waste collection in Harrogate – call 0333 444 0118 or contact us online.
How commercial food waste collection in Harrogate works
Let us know the number and size of bins you need, where they need collecting from in Harrogate and how often, for a free no-obligation quote tailored to you. We'll book your collections and deliver free bins to your business if you're happy with the price.
Move the bins to where you want and fill them with waste food within any weight limits. Then place them in the agreed collection point ahead of the pickup time. One of our purple trucks driven by a licensed waste carrier will come and remove your bins. They'll transport them to a nearby waste transfer station.
Waste food is checked and then moved on for responsible disposal. This could be to an anaerobic digestion plant. Here food waste is broken down to create energy. Alternatively, it might go to a composting plant. Either way, it'll be diverted away from landfill, and you receive a free duty of care certificate as proof.
Who needs food waste collections in Harrogate?
All sorts of organisations create food waste in Harrogate – from the traditional tea rooms to contemporary restaurants, classic pubs, boutique shops, and schools. If it's just a few food scraps in an office then you can use a general waste bin to get rid of such small leftovers.
Regular food waste collections in Harrogate are essential to prevent a build-up and bad smell from developing. It keeps your organisation safe and hygienic, protecting staff, customers, and your premises from the risks waste food build-ups can introduce.
Some of the main places that benefit from Harrogate food waste collections include:
Restaurants

Hotels

Pubs

Schools

Cafes

Takeaways
Free food waste bins in Harrogate
We deliver free food waste bins to businesses anywhere in Harrogate – you just pay for collection. There are no delivery or rental charges for these bins, and you can book collection on a daily, weekly, or fortnightly basis. 240 litre wheelie bins are the biggest bins available to store waste food.
All food waste bins have two wheels. This makes them easy to move around to the pickup point and if you want to put them near where most waste food is produced. They're the same size as household wheelie bins and can hold between three and five bags of food waste.
Learn more about Harrogate bin collection
Get a free quote
 Why use Divert for food waste collection in Harrogate?
Responsibly dispose of any waste food your Harrogate organisation produces and keep it away from landfill with Divert. Recycling food in Harrogate helps keep the town as green as Harlow Carr and saves your business money on landfill tax. Free bins with no delivery or rental fees save you even more on waste food disposal.
Get a free no obligation quote and tailor food waste collections in Harrogate around your company's needs. Choose food bin collections on a daily, weekly, or fortnightly basis. Combine the size and number of bins you need with the best collection schedule for cost-effective food waste removal in Harrogate.
Our team at Divert are based in North Yorkshire with great connections to local waste sites. This helps us provide a truly local food waste management service across Harrogate and the wider district, so you can enjoy fast, flexible, and affordable food waste collections.
All food waste collected in Harrogate

Flexible Harrogate food waste collections to suit your schedule

Free no obligation quote tailored to your food waste

Regular and reliable food waste collection in Harrogate

Fixed costs including labour
Free bins

Landfill diversion

Fixed prices

Collections across Harrogate

Reliable food waste removal
Arrange food waste collection in Harrogate
Get a free quote for food waste collection in Harrogate – call 0333 444 0118 or contact us online. Provide details about the number and size of food bins you need, how often you want them collected, and where from in Harrogate. Our friendly and expert team can help out if you've got any questions.
Get a free quote

Harrogate food waste FAQs
Where do you collect food waste in Harrogate?

Waste food collections are available anywhere in Harrogate and the surrounding towns and villages. We can deliver free bins and collect food waste from restaurants in the town centre to pubs in Killinghall and cafes in Knaresborough. Food waste collection is possible from anywhere with an HG postcode, including:

Harrogate town centre, Jennyfields, Duchy, New Park, and High Harrogate (HG1)

Pannal Ash, Hornbeam Park, Rossett, Oatlands, and Woodlands (HG2)

Pannal, Burn Bridge, Pateley Bridge, Glasshouses, Ripley, Killinghall, Kirkby Overblow, Spofforth, Beckwithshaw, and Follifoot (HG3)

Ripon, Masham, Wath, Leighton, and Eavestone (HG4)

Knaresborough, Staveley, Allerton, Plompton, and Flaxby (HG5)

How do I dispose of food waste at home in Harrogate?

Use your black general waste wheelie bin in Harrogate to dispose of food scraps, including fruit and veg peelings, leftovers, and small amounts of waste food. If you've got a compost pile at home then this is a good option, as it avoids waste food ending up in landfill. Harrogate HWRCs also accept food waste for free from Harrogate residents.

What can you put in a Harrogate food waste bin?

You can put a wide range of waste items in a food waste bin in Harrogate, including:

Raw or cooked meat, fish, and bones

Dairy products (cheese, eggs, and yoghurt)

Fruit and vegetables (including peelings)

Cereals, bread, and pastries

Rice and pasta

Tea bags and coffee grounds

Hard fats and lard

You should not put any packaging, garden waste, animal bedding, litter or faeces, or large amounts of oil in a food waste bin in Harrogate.
Cardboard waste Harrogate

Sofa disposal Harrogate

Furniture disposal Harrogate

Bulky waste Harrogate

Dry mixed recycling waste Harrogate

Food waste Harrogate

Fridge freezer removal Harrogate

Garden waste Harrogate

General waste Harrogate

Glass waste Harrogate

Harrogate bin collection

Harrogate waste management

Man and van Harrogate

Mattress collection Harrogate

Office clearance Harrogate

Rubbish removal Harrogate

WEEE waste Harrogate