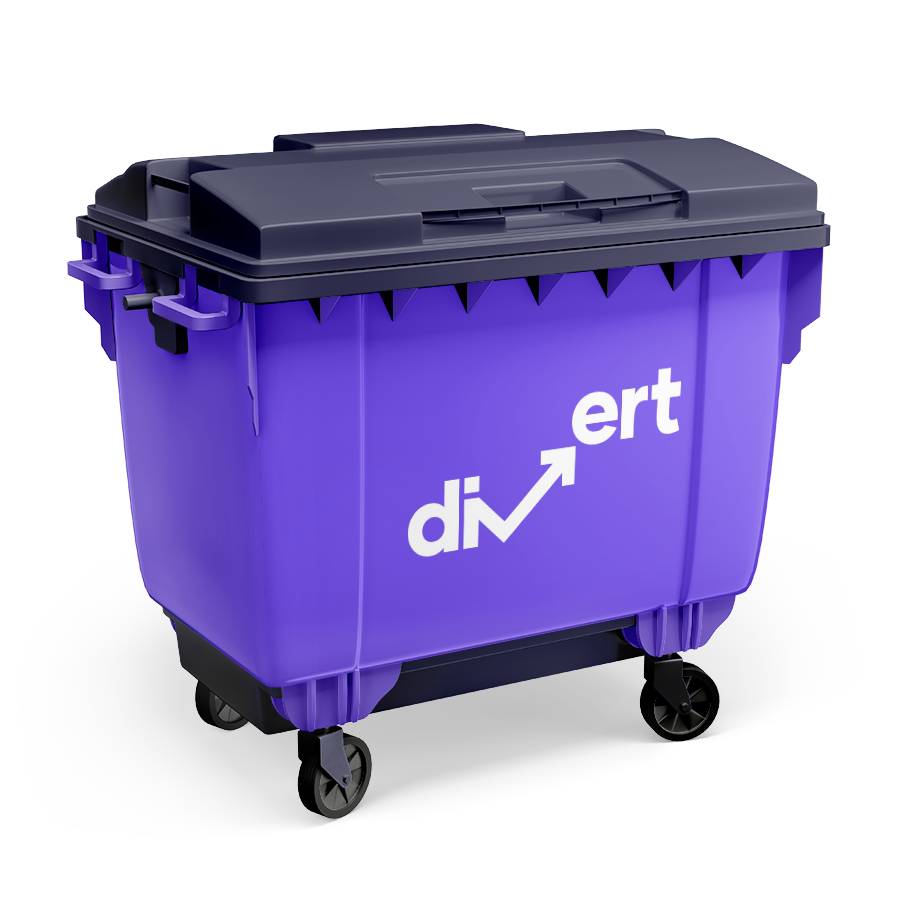 When you run a business in Hull, you need to rely on a reputable waste management service with strong environmental credentials. Hull is a large city with 260,000 people and impressive cycling rates of nearly 50%, putting it at no. 83 nationally amongst 338 local authority areas for recycling.
Hull is also a leader in renewable tech development with various firms involved in biomass, wind, solar, ground source and renewable innovation research.
Divert offers Hull waste management for businesses and trades of all kinds. We are flexible, affordable and committed to recycling as much waste as possible for our business customers. Our high-quality Hull waste collection services give our business customers total peace of mind, and supports their own sustainability objectives.
To find out more about waste collection Hull wide, please contact us for a free quote.
Waste management Hull

Quick Quote
Get a quick FREE quote for your waste
Quick quote within 1 hr
All types of waste
Claim your free bins
Nationwide coverage
Waste collection in Hull
Our Hull commercial waste collection and management services are built around the needs of your business, with a flexible and end-to-end service that includes local management, friendly professionals, the highest standards of service and free bins. We are committed to offering top quality services to our customers.
Choose your Hull waste disposal service schedule, which is managed using smart and strong bins that look professional outside your business. Our Hull commercial waste service is designed to be flexible, affordable, professional and supportive towards climate change goals, by minimising landfill wherever possible.
Garden waste collection services Hull
Many businesses have gardens of some kinds, including residential homes, hotels, restaurants and pubs. Others are landscaping and garden businesses with ongoing waste. Garden waste can be recycled for biomass but it's bulky. We offer flexible and affordable garden waste collection services in Hull.
Our teams efficiently remove your business's garden waste and take it away for processing, recycling it as much as possible for biomass energy or for composting.
Clinical waste management in Hull
Clinical waste is a complex area for waste disposal. Non-clinical and clinical waste – including medicines, syringes and latex products – need to be separated before any items can be identified for recycling, and the rest safely disposed of. Medical waste can be toxic, so Divert offers a complete clinical waste disposal service in Hull to Hull Royal Infirmary and Castle Hill Hospital, plus other NHS and private practices.
Our medical waste services in Hull are fully compliant with HSE regulations (including the safe disposal of sharps) and our team are highly trained to deliver this complex service, covering infectious clinical waste, offensive clinical waste, clinical sharp and anatomical waste, plus Cytotoxic / Cytostatic waste or expired medicines and their packaging.
No Hidden charges
With divert you wont find silly things added to your invoice
Oil waste collection in Hull
Choose our Hull oil waste collection service if your business works with petroleum, industrial oils, seed oils, kerosene and engine oils. Oils can be hazardous to the environment so it's important that they are disposed of safely.
For commercial waste collection Hull wide, we help to ensure your business can dispose of oil in the safest, cleanest way with our professional operatives handling collection and disposal to the highest standards.
Food waste collection in Hull
If your business needs commercial food waste collection in Hull, we can help. Up to 14% of British food is wasted, which means wasted resources, money and energy.
We offer businesses food waste management advice, Hull food waste collection services at a schedule to suit, bins of different sizes and the assurance that the food waste we collect is recycled as efficiently and as 'greenly' as possible.
Save £££££
No Mess, No Stress, Pay Less
Cardboard waste collection in Hull
Most businesses need regular cardboard waste removal services in Hull. Cardboard is present in all kinds of supply orders and it builds up fast, causing trip and fall hazards, difficulty in storage and other risks.
Our waste disposal Hull team removes all types of cardboard and processes it for recycling wherever possible. This allows businesses to maintain strong environmental values and to engage customers on the basis of their sustainability approach – which includes using 'green'-minded suppliers like Divert.
Very quick
Caroline
Dog Groomers
Very quick to get bins set up for my dog grooming business, Paddy advised the best size bin and was a quick turnaround!
Get a quick quote
Get a quick FREE quote for your waste
Quick quote within 1 hr
All types of waste
Claim your free bins
Nationwide coverage