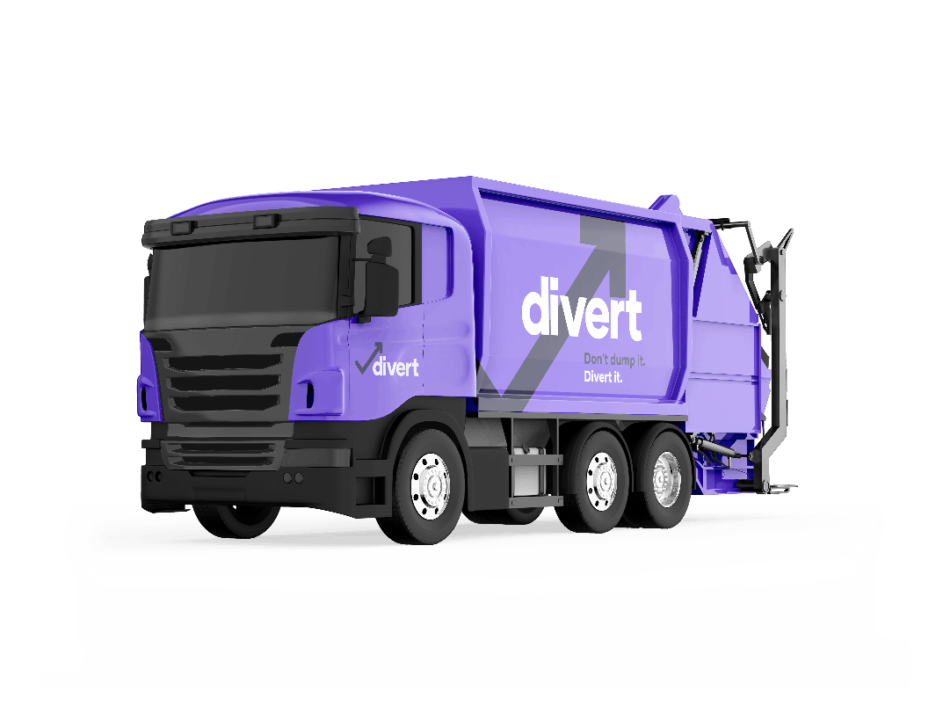 Cardboard is one of the easiest materials to recycle and is highly sustainable. Bradford households can recycle cardboard in domestic grey recycling bins, but businesses must arrange commercial waste collection of any cardboard waste. There are more than 16,000 businesses in Bradford, which means lots of cardboard waste is created every day.
At Divert we provide cardboard recycling in Bradford for companies of any size, industry, and location. All cardboard is diverted away from landfill, which saves you money on disposal costs. It also helps protect the local environment and keep Bradford as green as the pitch at Odsal Stadium.
Cardboard Recycling in Bradford

Quick Quote
Get a quick FREE quote for your waste
Quick quote within 1 hr
All types of waste
Claim your free bins
Nationwide coverage
Bradford cardboard waste removal
Licensed waste carriers will collect your cardboard, including the two main types – paperboard and corrugated cardboard. Paperboard is thinner (such as for cereal boxes), while corrugated cardboard is for more durable packaging. Both can be mixed in your cardboard recycling bin. We can remove a wide range of cardboard waste anywhere in Bradford, including:
Delivery boxes

Packaging – takeaway boxes and cardboard envelopes

Boxes – such as cereal, egg, and dishwasher tablet boxes

Greeting cards

Cardboard tubes – from kitchen and toilet rolls
Get a free quote for cardboard recycling in Bradford today – call 0333 444 0118 or contact us online.
How commercial cardboard recycling works in Bradford 
Start with a free quote based on the number and size of cardboard bins you need, how often you want them collected, and where from. Book a collection date and frequency then we'll deliver free bins to store your waste cardboard. Fill each bin with only clean and dry cardboard and within any weight limits.
Move the full cardboard bins to the agreed pickup point ahead of collection time. One of our purple trucks driven by a licensed waste carrier will come and remove them on time. They may replace them with new bins, and then transport your cardboard waste to a nearby waste transfer station in Bradford.
The cardboard will be checked and then sent for recycling. Whatever facility it goes to the general process for recycling cardboard in Bradford will be similar. First, the cardboard is sorted by grade before being shredded. It's then pulped, filtered, and dried before finally being rolled into sheets of fresh cardboard.
Who needs cardboard recycling in Bradford?
Most Bradford businesses create cardboard waste, which should be recycled. This includes the packaging from products and deliveries retailers in Kirkgate Shopping Centre sell and receive, to food containers takeaways in Lidget Green and Allerton use. Any clean and dry cardboard should be recycled from businesses.
More than 230 primary and secondary schools in Bradford also produce lots of cardboard for recycling. These include old storage boxes, wall displays, and arts and crafts materials. Offices also create cardboard waste but when it's only a minimal amount you may be better off using a dry mixed recycling bin. 
Organisations that benefit from cardboard recycling in Bradford include:
Shops

Restaurants

Hotels

Pubs

Schools
 Free cardboard recycling bins in Bradford
A wide range of bins are available to store all sorts of cardboard waste safely and securely before it's recycled. These include two-wheel bins that can hold around three bags of waste, to big four-wheel bins for storing the equivalent of 15 full waste sacks. Each one is easy to move around and place near where you create cardboard waste.
We deliver free cardboard bins – you only pay for collection. It's possible to use one or more of the same or different-sized bins and combine them with a collection schedule that's cost-effective and meets your needs. Available cardboard recycling bins in Bradford include:
240 litre wheelie bins

A two-wheel bin like your domestic bin for 3 to 5 bags of waste.

360 litre wheelie bins

This larger two-wheel bin holds 5 to 7 bags of cardboard waste. 

660 litre wheelie bins

For more cardboard recycling this 4-wheel bin holds 10 to 12 bags of waste.

1100 litre wheelie bins

The biggest wheelie bin that can store up to 15 bags of old cardboard.
Get a free quote
Local recycling centres in Bradford
Bradford households can put cardboard in their domestic grey recycling bins provided by the council. If you have any extra waste cardboard then you can also take it to one of eight household waste recycling centres (HWRCs) across the Bradford district. You can visit these on push bikes and foot.
You can only take commercial cardboard waste to two waste transfer stations in Bradford in Keighley and Bowling Back Lane. Only licensed waste carriers can transport and dispose of any type of commercial waste. A minimum charge applies at both sites to dispose of commercial waste, including cardboard recycling, of £143 per tonne.
Both Bradford waste transfer stations have the same contact details:
Telephone – 01274 432111
Address – Britannia House, Hall Ings, Bradford BD1 1HX
Twitter – @bradfordmdc
Facebook – Bradford Council
Bowling Back Lane HWRC

Bowling Back Lane HWRC

Bowling Back Lane,

Bradford

BD4 8SZ

Opening hours

Monday to Friday – 9am to 4.45pm

Saturday – 9am to 3.45pm 

Sunday – 10am to 3.45pm

Bank holidays – closed

Keighley HWRC

Keighley HWRC

Royd Ings Avenue,

Keighley

BD21 4BZ

Opening hours

Monday to Friday – 9am to 4.45pm

Saturday – 8am to 11.45am

Sunday – 10am to 3.45pm

Bank holidays – closed
Why use Divert for cardboard recycling in Bradford?
Recycling cardboard in Bradford with Divert avoids your business adding waste to landfill, upholding your corporate social responsibility. This benefits the local environment and saves your organisation money on landfill tax. Make further savings with free bins delivered to your business with no rental or delivery fees.
Licensed waste carriers will remove your cardboard waste safely and legally. Choose the bin sizes, number, and collection frequency to suit your needs too.
 We're based in Yorkshire and have great connections to waste sites in Bradford and our drivers know the city well. This helps us deliver fast, flexible, and local cardboard recycling services in Bradford.
All cardboard recycled in Bradford

Flexible cardboard collections to meet your needs

Free no obligation quote based on your cardboard waste

Regular and reliable Bradford cardboard collections

Fixed prices with no bin rental fees
Free bins

Fixed prices

Cardboard recycling

Regular bin collecitons

Landfill diversion
Arrange cardboard collection in Bradford
Book cardboard recycling collection in Bradford on a schedule that suits your needs. One of our expert and friendly team can advise on the best solutions for your business and answer any of your questions. Get a free no obligation quote for Bradford cardboard collection today.
Other waste services 
available in Bradford
One call we take it all 0333 444 0118
All waste types
Cardboard waste

Sofa disposal Bradford

Bulky waste Bradford

Clinical waste Bradford

Dry mixed recycling waste Bradford

Food waste Bradford

Fridge freezer removal Bradford

Garden waste Bradford

General waste Bradford

Glass waste Bradford

Bradford bin collection

Bradford waste management

Man and van Bradford

Mattress collection Bradford

Office clearance Bradford

Rubbish removal Bradford

WEEE waste Bradford
Bradford cardboard recycling FAQs

Where can I arrange commercial cardboard recycling in Bradford?

Cardboard waste collections are available for businesses in Bradford and the surrounding towns and villages. This includes anywhere with a BD postcode, such as shops in Thornbury, takeaways in Shipley, and offices out in Keighley. Arrange commercial cardboard collection and recycling in the areas we cover, which include:

Bradford City Centre, Little Germany, and City Park (BD1)

Eccleshill, Five Lane Ends, and Fagley (BD2)

Barkerend, Thornbury, Eastbrook, Pollard Park, and Undercliffe (BD3)

Bierley, Laisterdyke, Tong, and Holme Wood (BD4)

Bankfoot, Little Horton, Marshfields, and Ripleyville (BD5)

Buttershaw, Wibsey, Woodside, and Odsal (BD6)

Great Horton, Lidget Green, and Horton Grange (BD7)

Manningham, Girlington, Four Lane Ends, and Belle Vue (BD8)

Heaton, Daisy Hill, Chellow Heights, and Chellow Grange (BD9)

Apperley Bridge, Eccleshill, Idle, Ravenscliffe, and Thackley (BD10)

Birkenshaw and Drighlington (BD11)

Low Moor, Oakenshaw, Wyke, and Delph Hill (BD12)

Cullingworth, Clayton Heights, Denholme, Queensbury, and Thornton (BD13)

Clayton (BD14)

Allerton, Norr, Wilsden, and Sandy Lane (BD15)

Bingley, Cottingley, Eldwick, and Harden (BD16)

Baildon and Shipley (BD17)

Saltaire, Windhill, and Wrose (BD18)

Cleckheaton, Gomersal, and Scholes (BD19)

Cononley, Cross Hills, Silsden, Steeton, and Sutton-in-Craven (BD20)

Hainworth and Keighley (BD21)

Cowling, Haworth, Oakworth, and Oxenhope (BD22)

How do you dispose of large quantities of cardboard in Bradford?

You can dispose of large quantities of cardboard from your home in your domestic recycling bin (grey bin) in Bradford. If you've got too much for your household recycling bin, take it to your local HWRC. Businesses must arrange commercial waste collection of any cardboard. Choose big bins and regular collections to dispose of large amounts of cardboard in Bradford.

Can I mix cardboard with paper in Bradford?

You can use a cardboard recycling bin for corrugated and paperboard, mixing different cardboard grades. Paper should be kept separate in an individual paper recycling bin or a dry mixed recycling bin – where you can combine clean and dry paper, cardboard, recyclable plastics, and some metals. Find out more about dry mixed recycling in Bradford.