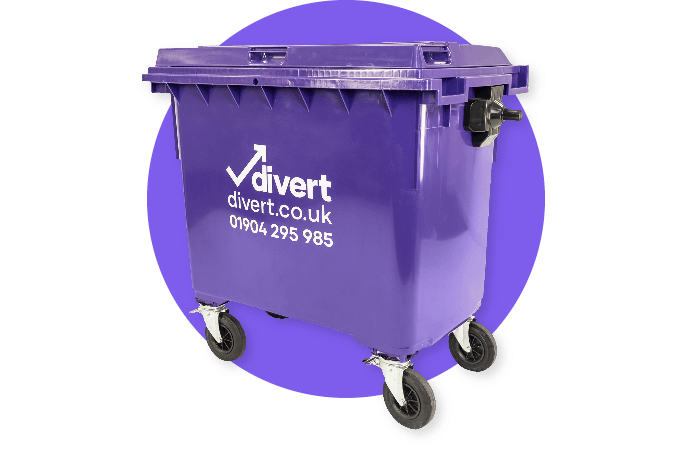 Recycling cardboard in York avoids adding to landfill, lowers your commercial waste removal costs, and helps the city improve its recycling rates. Most domestic waste sent for recycling in York includes cardboard products, but there's still room for improvement, as the city has a household waste recycling rate of 44.9%.
York is also home to more than 22,000 companies – made up of many small and independent businesses. It's vital that all such organisations recycle every bit of cardboard waste to help York boost its recycling rates and save money on commercial waste collection costs. The 63 publicly funded schools across York also produce a significant amount of cardboard waste. We can help recycle it all.
Cardboard Recycling In York

Get a quick quote
Get a fast FREE quote for your waste
Free quote within 1 hour
Any type of waste
FREE bins and delivery
We cover all of York
York cardboard waste removal
Cardboard is one of the most recyclable materials, and there are two main types – paperboard and corrugated cardboard. Paperboard is thin and used to make things like cereal boxes, while corrugated cardboard is stronger and used for packaging materials. We offer cardboard collection and recycling services in York for any type and amount of waste cardboard, such as:
Shipping boxes

Packaging – including delivery boxes and cardboard envelopes

Boxes – such as cereal, egg, and dishwasher tablet boxes

Greeting cards

Cardboard tubes – from kitchen and toilet rolls
Different grades of cardboard can be mixed for disposal, just ensure it's clean and dry before sending it for recycling. Any cardboard with plastic, wax, glitter or other such linings can't be recycled unless you can separate it first.
Call 0333 444 0118 or contact us online for a free quote or to book cardboard collection in York for your organisation today.
How commercial cardboard recycling works in York
Book cardboard recycling in York and we'll deliver free bins to your organisation anywhere in and around the city. Fill each bin with any type of cardboard waste you produce and within the weight limits for each bin. Then arrange collection on a daily, weekly, or fortnightly basis and we'll remove them at an agreed time and date.
One of our trucks driven by a licensed waste carrier will come out and collect your cardboard bins. They'll transport them to a recycling centre in and around York (such as Hazael Court or Towthorpe and Strensall HWRCs). Here the cardboard is often sorted by grade, shredded, pulped, filtered, dried, and rolled out to create new cardboard products.
Who needs cardboard recycling in York?
Most businesses in York create cardboard waste for recycling. Shops along the Shambles produce plenty of product packaging for food, cosmetics, and gifts, while restaurants and takeaways use cardboard to store their products that can be recycled. Schools across York also use cardboard boxes for storage and manufacturing firms need them to protect goods in transportation. 
Little and large organisations along the banks of the Ouse, in York city centre, and in surrounding towns and villages all create cardboard waste. If you only produce a small amount of cardboard waste, then you might be better using a dry mixed recycling bin instead – or arranging less frequent fortnightly collections.
Some of the main businesses that need cardboard recycling in York include:
Shops

Offices

Schools

Hotels

Pubs

Restaurants
York cardboard recycling bins
A range of different wheelie bin sizes is available to store cardboard waste safely at your York business. These vary from two-wheel 240 litre bins like the City of York Council provides you with at home, to big four-wheel 1100 litre options ideal for companies that create high volumes of cardboard waste.
The capacity of these cardboard recycling bins can store the equivalent of three bags to more than 15 bags of waste. Larger bins are lockable for added safety. Combine the best size and number of bins with collection every day, week, or fortnight for cost-effective cardboard recycling in York.
240 litre wheelie bins

A two-wheel bin like you have at home to store 3 to 5 bags of waste.

360 litre wheelie bins

Slightly bigger two-wheel bin for 5 to 7 bags of cardboard waste.

660 litre wheelie bins

A four-wheel bin that holds 10 to 12 bags of old cardboard.

1100 litre wheelie bins

The biggest wheelie bin that can store up to 15 bags.
Get a free quote
Local recycling centres in York
The two main recycling centres in York are Hazel Court Household Waste Recycling Centre (HWRC) and Towthorpe and Strensall HWRC. You can take domestic cardboard waste to either of these to recycle it for free. Big vehicles need a permit. You can only take commercial waste to Hazel Court HWRC, no type of business waste is accepted at Towthorpe and Strensall HWRC. Charges may apply when getting rid of commercial cardboard waste.
Hazel Court HWRC

Opening hours

Between October and March – Mondays to Saturdays: 8.30am to 5.00pm, Sundays: 8.30am to 4.00pm

Between April and September – Mondays to Saturdays: 8.30am to 7.00pm, Sundays: 8.30am to 4.00pm

Address and contact details

1 Hazel Court

York

YO10 3DS

Telephone: 01904 551550

Email: [email protected]

Towthorpe and Strensall HWRC

Opening hours

Open Thursday to Tuesday (closed on Wednesdays).

March – 8.30am to 5.00pm, April to September – 8.30am to 7.00pm, October – 8.30am to 5.00pm, November to February – 8.30am to 4.00pm

Address and contact details

Moor Lane

Strensall

York

YO32 9ST

Telephone: 01904 551551

Email: [email protected]
Why use Divert for cardboard recycling in York?
Save money, preserve York's environment, and enjoy regular and reliable cardboard collections with Divert. Recycling is vital as cardboard that ends up in York landfill sites will break down but produce methane, which contributes to global warming. Pollution from landfill can contaminate waterways and supplies around York too.
Divert prevents any cardboard from going to landfill, ensuring it's all recycled to protect the local environment. This also saves you money by avoiding landfill tax to get rid of your cardboard waste in York. Our free bins help you further cut costs with various bin sizes and collection frequencies available to tailor removals based on your exact needs.
Our Divert team of drivers and customer service are based in York and know the city and its waste facilities. A truly local approach means we can offer affordable and efficient cardboard collections anywhere in York.
All cardboard recycled in York

Flexible cardboard collections to meet your needs

Free no obligation quote based on your cardboard waste

Regular and reliable York cardboard collections

A fixed price with no bin rental fees
Free bins

All cardboard recycled

Fixed prices

Flexible collections

Reliable cardboard collections
Arrange cardboard collection in York
Book commercial cardboard collection in York to start recycling your old boxes, packaging, and other cardboard products. Save money and improve the efficiency of your waste management while benefiting the local environment. Our friendly team can provide a tailored quote, answer any questions, and get your cardboard collections up and running anywhere in and around York. Get a free quote for cardboard collection in York today – call 0333 444 0118 or contact us online.
Other waste services 
available in York
One call we take it all 0333 444 0118
All waste types
Cardboard waste York

Sofa disposal York

Bulky waste York

Clinical waste York

Dry mixed recycling waste York

Food waste York

Fridge freezer removal York

Garden waste York

General waste York

Glass waste York

York bin collection

York waste management

Man and van York

Mattress collection York

Office clearance York

Rubbish removal York

WEEE waste York

Skip bags York
York cardboard recycling FAQs

Where can I arrange commercial cardboard recycling in York?

Commercial cardboard collection is available anywhere in York and the surrounding region. Our drivers can deliver and collect cardboard bins from businesses whether you're a retailer in Coopergate Shopping Centre, run a café along the city walls, or a takeaway out in Heslington, Haxby, or further afield.

Arrange cardboard collection in York areas including: 

York city centre (YO1)

Heslington and Osbaldwick (YO10)

Dunnington, Escrick (YO19)

Bishopthorpe, Upper and Nether Poppleton (YO23)

Acomb, Dringhouses (YO24)

Bootham, Clifton (YO30)

Heworth, Layerthorpe (YO31)

Haxby, Wigginton (YO32)

Elvington, Stamford Bridge (YO41)

Pocklington, Barmby Moor (YO42)

Boroughbridge (YO51)

Sheriff Hutton (YO60)

Easingwold (YO61)

Helmsley, Kirkbymoorside (YO62)

Can I mix cardboard with paper?

Thin cardboard can mix with paper for recycling, but thicker and corrugated cardboard should be separated. Dry mixed recycling bins are best if you need to recycle paper and thin cardboard (such as cereal boxes and greeting cards). You can also use separate paper recycling bins.

Can I recycle Tetra Pak cardboard in York?

Tetra Pak cardboard can be recycled alongside other cardboard waste in York. This includes the thicker cardboard drinks and food cartons, commonly used for milk, juices, and soups. Place any clean and dry Tetra Pak cartons in your York cardboard recycling bin and they'll be recycled alongside other cardboard waste.

Do I need to separate different grades of cardboard?

You can mix all grades of cardboard in your recycling bin as long as it's all clean and dry. After transporting your commercial cardboard recycling, it will be sorted by grade and processed at a relevant recycling centre in York.