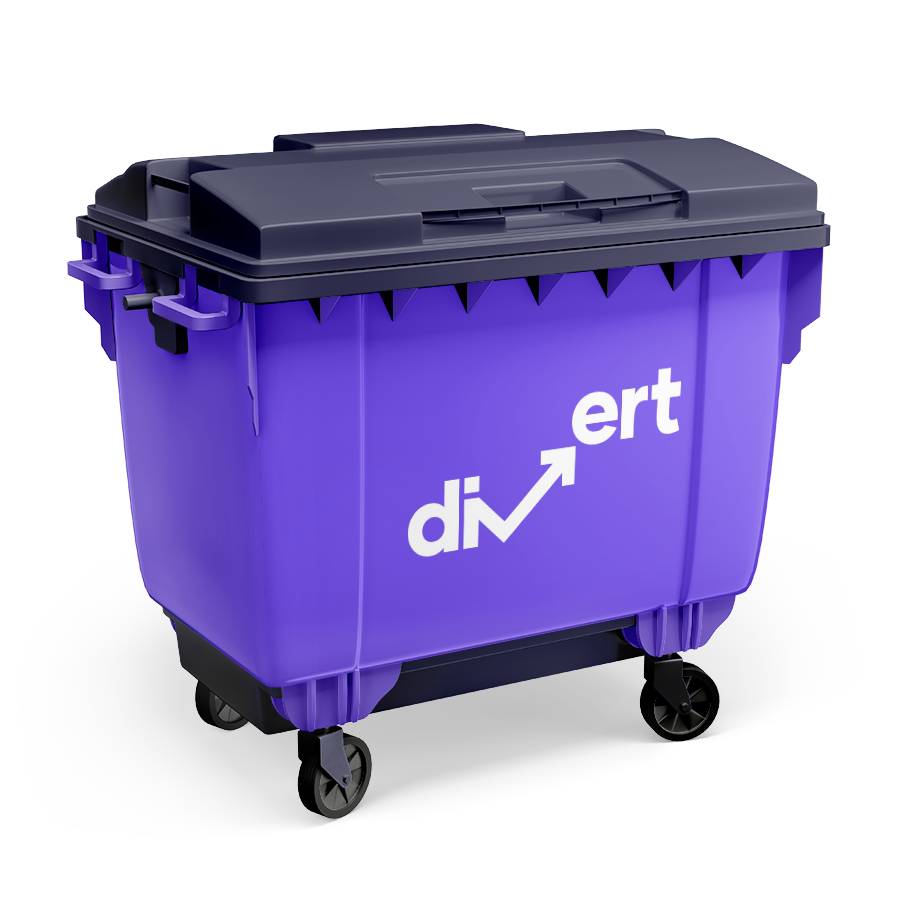 Waste management in Keighley is essential for businesses and households needing to dispose of any type and amount of rubbish. Find a solution whether you require regular commercial waste collection or one-off domestic removals and house clearances with Divert. All rubbish is diverted away from landfill for positive waste management in Keighley.
Keighley Waste Management

Get a quick quote
Get a fast FREE quote for your waste
Quick quote within 1 hour
All types of waste
Claim your free bins
We cover all of Keighley
Waste collection in Keighley
Book reliable waste collection in Keighley for regular removal of rubbish from your business or one-off pickups from your home. Our purple vans cover all of the historic West Yorkshire textile town and the surrounding towns and villages. Refuse removals are possible from the town centre out to Laycock, Hainworth, and the wider Bronte country.
We can help whether you need waste removal in Keighley to get rid of leftover food every day from a restaurant along Skipton Road or if you're saying goodbye to an old sofa from a home in Thwaites Brow. Some of the places our waste collection services in Keighley cover include:
Cullingworth
Harden
Haworth
Laycock
Oakworth
Newsholme
Riddlesden
Steeton
Free bins
Get free bins with no delivery or hire charges and enjoy 1 month's free collections when you partner with Divert
Business waste
in Keighley
Keighley's days as a key hub for the textile industry might have passed but the market town is still home to many businesses and a proud railway. Every business must arrange the collection of its commercial waste in Keighley by licensed waste carriers. This ensures safe and legal removal and disposal of business waste.
Retail stores in Airedale Shopping Centre, garages on the outskirts of town, and various sports clubs and leisure centres need regular removals of their commercial waste in Keighley. At Divert we have a team of licensed waste carriers behind the wheels of all our purple vans who can collect and dispose of your commercial waste safely.
You receive a free duty of care certificate confirming the legal and proper handling and disposal of your rubbish for added peace of mind. Options are available whether your business is new to Keighley and you're just setting up your waste management plans or you're an established company looking to improve your recycling.
All Keighley businesses must arrange commercial waste collection
Commercial waste collection
in Keighley
Set up regular and reliable commercial waste removal in Keighley for smooth and dependable waste management for your business. We provide free bins for commercial waste collection in Keighley too. Enjoy affordable waste services as there are no hire charges or delivery fees, you only pay for your bin collections.
Schedule commercial waste collection in Keighley to suit your business with daily, weekly, and fortnightly collections possible. Combine the best types and sizes of bins with a removal frequency that's cost-effective and efficient. Licensed waste carriers will remove your rubbish at an agreed time. Explore our commercial waste removal services in Keighley:
General waste collection

Food waste collection

Electrical waste collection

Garden waste collection
Household waste services
in Keighley
Say goodbye to an old sofa, fridge, or other bulky item effortlessly with our collections of household waste in Keighley. There's no need to load up your car and go to the tip or use a skip. Instead book a one-off removal of any large items from your home including mattresses, white goods, and electrical appliances.
Consider our man and van services if you've got lots of items you need removed from your home at once. They can get rid of all sorts of domestic waste in Keighley, such as bags of garden waste, old furniture, and other junk that's too much for your household waste and recycling bins.
We can also help with house clearances in Keighley – whether you're preparing to move home or are emptying a loved one's house after they've passed away. Our team do all the lifting and carrying to save you the strain of moving large and heavy items. Discover all the household waste services we can help with in Keighley:
House clearance

Man and van

Bulky waste collection

Sofa disposal

Fridge and freezer collection

Mattress collection
Get a free quote
Bin collection in Keighley
Regular bin collection in Keighley prevents your commercial waste from building up and overflowing, which can cause hygiene problems. Rest easy knowing your bins are collected at the same time with fixed prices for easy budgeting. We provide free bins to make Keighley bin collection even more affordable for businesses.
There are no delivery or rental charges for the bins – you only pay for collection. Choose from a variety of bin types and sizes to store your waste safely and securely. This includes two- and four-wheel bins in various sizes, as well as drums for oil waste. Waste bags are also available for garden and clinical waste types.
Book bin collection in Keighley on a daily, weekly, or fortnightly basis. Combine the best bins for your business with a suitable collection schedule for cost-effective and efficient commercial waste removal. You can mix and match so certain bins are removed daily while others are taken away every two weeks to meet your needs.
Explore our bins
Keighley recycling
Recycling in Keighley by businesses and households helps look after the local environment. Bradford Council provides households in Keighley with a grey recycling bin. Use these to recycle domestic glass bottles and jars, plastic bottles, metal cans, aerosols, paper, food and drink cartons (including Tetrapak).
For further waste recycling in Keighley, you can take domestic rubbish to Keighley household waste recycling centre (HWRC) – no trade waste is accepted. Here you can take larger, specialist, and excess waste items for recycling. This includes electrical waste, batteries, oil, paint, wood, and textiles. Charges apply for some waste recycling at Keighley HWRC.
Businesses must arrange commercial recycling in Keighley with collection by licensed waste carriers. Use different bin types and sizes to separate recyclable rubbish such as cardboard, glass, and plastics at your premises so they can be recycled. Our recycling service in Keighley provides free bins to make increasing your commercial recycling rates easy.
Explore all available waste recycling services in Keighley with Divert:
Glass recycling

Cardboard recycling

Dry mixed recycling
Keighley recycling centre
Keighley waste recycling centre

Keighley HWRC

Royd Ings Avenue

Keighley

BD21 4BZ
How does commercial waste
removal in Keighley work?
Waste removal in Keighley works in a few simple steps. All we need are a few details about the types and amount of rubbish you need clearing, where from in the West Yorkshire textile town, and when. Then we can set up commercial waste removal in Keighley for your organisation.
Here's how waste removal in Keighley works:
Request your free no-obligation quote for waste clearance in Keighley or the nearby area. Tell us the type and volume of waste, how often you need it collected, and where from in Keighley.
Check the tailored quote and if you're happy with the price we'll deliver free bins to your business at a convenient time.
Sort your waste and fill each bin with the relevant type. Stick within any maximum weight limits or max fill lines.
Move the bins over to the agreed pickup point ahead of the collection time. One of our big purple trucks driven by a licensed waste carrier will remove your bins and take them to a nearby waste management facility.
Relax as your waste is disposed of responsibly and receive a free duty of care certificate confirming the safe and legal management of your commercial waste in Keighley.
Get your free quote
Why use Divert for
waste clearance in Keighley?
Businesses and households want reliable and responsible waste clearance in Keighley that you can rely upon. At Divert we offer solutions whether you need regular bin collections for your business or a one-off removal from your home. Save money with free bins and schedule collections at times that suit your needs and budget.
All waste is diverted away from landfill to help protect the environment and ensure your waste is recycled, recovered, and responsibly disposed of whatever the type. This includes every waste clearance in Keighley we make, such as commercial waste collections, house clearances, and man and van removals.
Waste collections are possible across Keighley and the surrounding region. We're a local Yorkshire-based company with a team of drivers and customer service experts who know the town and wider Bronte country well to ensure timely and efficient removals. All drivers are licensed waste carriers for added peace of mind.
There are many reasons to use Divert for your waste management in Keighley, such as:
A free no obligation quote tailored to you
Free bins delivered in Keighley
Reliable and regular waste removal
Fixed prices including labour costs
Many waste types collected and recycled
Fixed prices

Landfill diversion

Reliable collections

Labour included
Arrange waste removal in Keighley
Get your free no-obligation quote for waste removal in Keighley today. Tell us the type and volume of rubbish you need collected, where from, and when. If you've got any questions one of our friendly team can help. Contact us today for your free quote.
Get a free quote