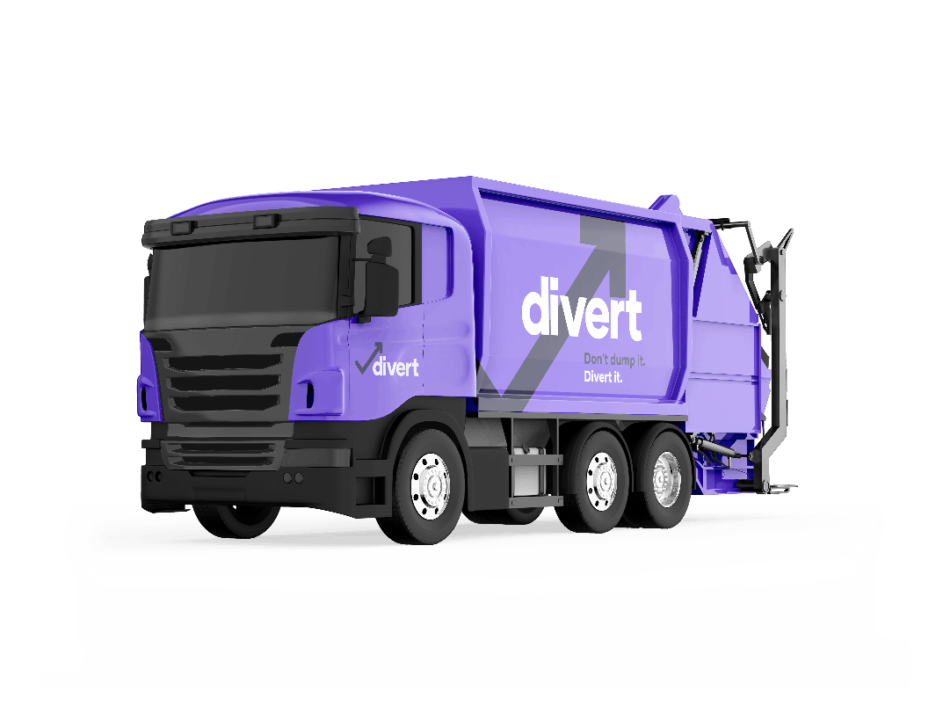 Glass recycling in Wakefield is vital for every business to get rid of bottles, jars, glassware, and other glass products sustainably and responsibly. Glass is one of the most recyclable materials, so it should always be separated and sent for recycling. At Divert we make it easy, by providing free glass bins for businesses anywhere in Wakefield. 
The city is home to more than 350 restaurants and a famous nightlife powered by more than 40 bars, clubs, and pubs in the lively centre. These all get through lots of glass beer, wine, and spirit bottles every day, as well as glass jars in their kitchens for all sorts of ingredients. Arrange glass waste collection in Wakefield today.
Glass Waste in Wakefield

Get a free quote
Get a quick FREE quote for your waste
Quote within 1 hour
All types of waste
Claim your free bins
Collections across Wakefield
Wakefield glass waste
Use glass bins to recycle a wide range of glass waste in Wakefield, including:
Glass bottles

– mixed colours of empty wine, beer, soft drinks, and other glass bottles. 

Glass jars

– different colours of glass jars used for condiments, sauces, and other ingredients.

Glassware

– pint, wine, cocktail, and other drinking glasses that are damaged, broken or no longer needed. 
However, any chemically treated glass (such as Pyrex) can't be recycled. Get a free quote for glass waste collection in Wakefield today – call 0333 444 0118 or contact us online.
How commercial glass recycling works in Wakefield
Request a free quote tailored to your needs based on the number and size of glass bins you'll use, how often you want them collected, and where from in Wakefield. We can advise on a cost-effective solution if you need any help. Delivery and collection of glass bins will then be booked on a schedule that suits you.
The glass bins are delivered to your premises in Wakefield for free. Fill each one with any empty glass bottles, jars, glassware, and other glass waste of any colour. Stick within the weight limits to avoid overweight charges. One of our purple trucks will remove and replace your glass waste bins at the agreed time and date.
Licensed waste carriers transport your glass waste to a local waste transfer station in Wakefield. Here it's checked, sorted, and sent for recycling at a glass recycling facility. This involves the glass waste being cleaned, crushed, heated, and moulded to create new recycled glass products.
Who needs glass waste collection in Wakefield?
Wakefield glass waste collection is essential for most businesses that need to get rid of any glass items. Bars and restaurants along Westgate, retailers in the Ridings Shopping Centre, and cafes in Newmillerdam Country Park all create lots of glass waste regularly. This must be removed by licensed waste carriers for safe and legal disposal.
Other businesses such as hairdressers, beauty salons, and spas in Wakefield also produce glass waste regularly from empty jars of beauty products.
We can collect and recycle glass waste from Wakefield businesses of any size and industry, including:
Pubs

Restaurants 

Nightclubs

Hospitality 

Retailers
Free glass recycling bins in Wakefield
We deliver free glass recycling bins to businesses anywhere in Wakefield – you only cover the costs of collection. There are no rental, delivery, or other hidden fees with competitive and fixed collection prices. You can use one or more glass bins at the same time and arrange daily, weekly, or fortnightly collections.
240L glass bin

– this two-wheel bin is the same size as your household wheelie bin, which holds 3 to 5 bags of waste.
Book bin collection in Wakefield
Local glass recycling centres in Wakefield
Residents can take glass bottles, jars, and sheet glass (such as windows) to three household waste recycling centres (HWRCs) within the Wakefield district for free. These are Wakefield, Glasshoughton, and South Kirkby HWRCs. Proof of address or a permit is required to use any site. Commercial glass waste is not accepted at any HWRC in Wakefield.
However, you can visit using a commercial vehicle (like a van, pickup, or minibus), but you require a commercial vehicle permit. Using a car and a trailer less than 6ft x 4ft in size is fine without needing a vehicle permit. 
You can also recycle domestic glass waste in Wakefield at around 30 Bring Sites across the city and wider district. Most of these are available 24/7 and include glass recycling banks for bottles, jars, and glassware (not sheet glass). There are no limits to the amount of waste glass you recycle here from your household. Find your nearest Wakefield Bring Site.
Opening hours
Monday to Friday – 8am to 5pm (including bank holiday Mondays)
Saturday – 8am to 4pm
Sunday – 9am to 4pm
Contact details
Telephone – 0345 8506 506
Email – [email protected]
Wakefield HWRC

Wakefield Household Waste Recycling Centre

Denby Dale Road

Wakefield

WF2 7AH

Glasshoughton HWRC

Glasshoughton Household Waste Recycling Centre

Flass Lane

Castleford

WF10 5JW

South Kirkby HWRC

South Kirkby Household Waste Recycling Centre

South Kirkby Business Park

Brigantian Way

South Kirkby

WF9 3TH
Why use Divert for glass recycling in Wakefield?
Save money recycling glass in Wakefield with free bins delivered to your business to store empty bottles, jars, and more safely and securely before their removal. Recycling glass in Wakefield diverts it away from landfill, which reduces how much landfill tax your organisation pays for its disposal too. 
Glass recycling in Wakefield is the greenest option and helps your company do its bit for the local environment. Use the best number of glass bins and arrange a collection frequency for cost-effective glass recycling based on your needs.
We're based in Yorkshire with connections to Wakefield waste sites, providing you with a local glass recycling service.
All glass waste recycled in Wakefield

Free glass recycling bins delivered

Regular and reliable glass recycling collections

Free no obligation quote tailored to your glass waste

Fixed prices and cost-effective Wakefield glass recycling
Free glass bins

All glass recycled

Fixed prices

Reliable collections

Flexible glass waste removals
Arrange glass collection in Wakefield
Get a free quote for glass collection in Wakefield – call 0333 444 0118 or contact us online. Let us know the number of glass bins you need, how often you want them collected, and where from in Wakefield. One of our friendly and expert team can help if you've got any questions or want a bit of advice.
Other waste services 
available in Wakefield
One call we take it all 0333 444 0118
All waste types
Cardboard waste Wakefield

Sofa disposal Wakefield

Furniture collection Wakefield

Bulky waste Wakefield

Dry mixed recycling waste Wakefield

Food waste Wakefield

Fridge freezer removal Wakefield

Garden waste Wakefield

General waste Wakefield

Glass waste Wakefield

Wakefield bin collection

Wakefield waste management

Man and van Wakefield

Mattress collection Wakefield

Office clearance Wakefield

Rubbish removal Wakefield

WEEE waste Wakefield
Wakefield glass recycling FAQs

Where can you collect glass waste in Wakefield?

We can collect glass from businesses anywhere in Wakefield and the surrounding towns and villages. Glass waste collections are available from anywhere with a WF postcode. This includes from bars in Wakefield city centre, restaurants in Normanton, and offices in Batley. Arrange glass waste collection in Wakefield from:

Wakefield city centre, Outwood, Eastmoor, and Agbrigg (WF1)

Alverthorpe, Kirkhamgate, Newmillerdam, Sandal, Walton, and Wrenthorpe (WF2)

Carlton, East Ardsley, Lofthouse, Robin Hood, Stanley, Thorpe, and Tingley (WF3)

Crofton, Flockton, Horbury, Netherton, Ryhill, West Bretton, and Woolley (WF4)

Ossett, Gawthorpe, and Healey (WF5)

Normanton and Altofts (WF6)

Featherstone, Ackton, Ackworth Moor Top, and Purston Jaglin (WF7)

Pontefract, Kirk Smeaton, Little Smeaton, and Thorpe Audlin (WF8)

South Elmsall, South Kirkby, Upton, Fitzwilliam, Hemsworth, and Kinsley (WF9)

Castleford, Glasshoughton, Allerton Bywater, Ledston, and New Fryston (WF10)

Knottingley, Brotherton, Fairburn, and Byram (WF11)

Dewsbury, Thornhill, Briestfield, and Chickenley (WF12)

Ravensthorpe, Dewsbury Moor, and Staincliffe (WF13)

Mirfield, Battyeford, and Hopton (WF14)

Liversedge, Hartshead, Hightown, and Roberttown (WF15)

Heckmondwike (WF16)

Batley, Birstall, Hanging Heaton, Soothill, and Staincliffe (WF17)

Can you put glass in Wakefield recycling bins?

You can put glass bottles and jars in your household's brown recycling bin provided by Wakefield Council. These must be clean, dry, and intact. You can't use Wakefield household recycling bins to dispose of broken glass, window pane glass, drinking glasses and Pyrex dishes. Take these to your nearest HWRC to recycle.

Where can you recycle windows in Wakefield?

Glass sheets such as windows should be taken to an HWRC in Wakefield for disposal. Place them in the container for non-recyclables for safe disposal, whether the window is in one piece or broken. Windows cannot be recycled in your brown recycling bin at home or a Bring Site bottle bank. 

Alternatively, arrange collection of windows by Divert. We can collect them at a time and date that suits you – call 0333 444 0118 or contact us online to arrange the removal of your windows or sheet glass.