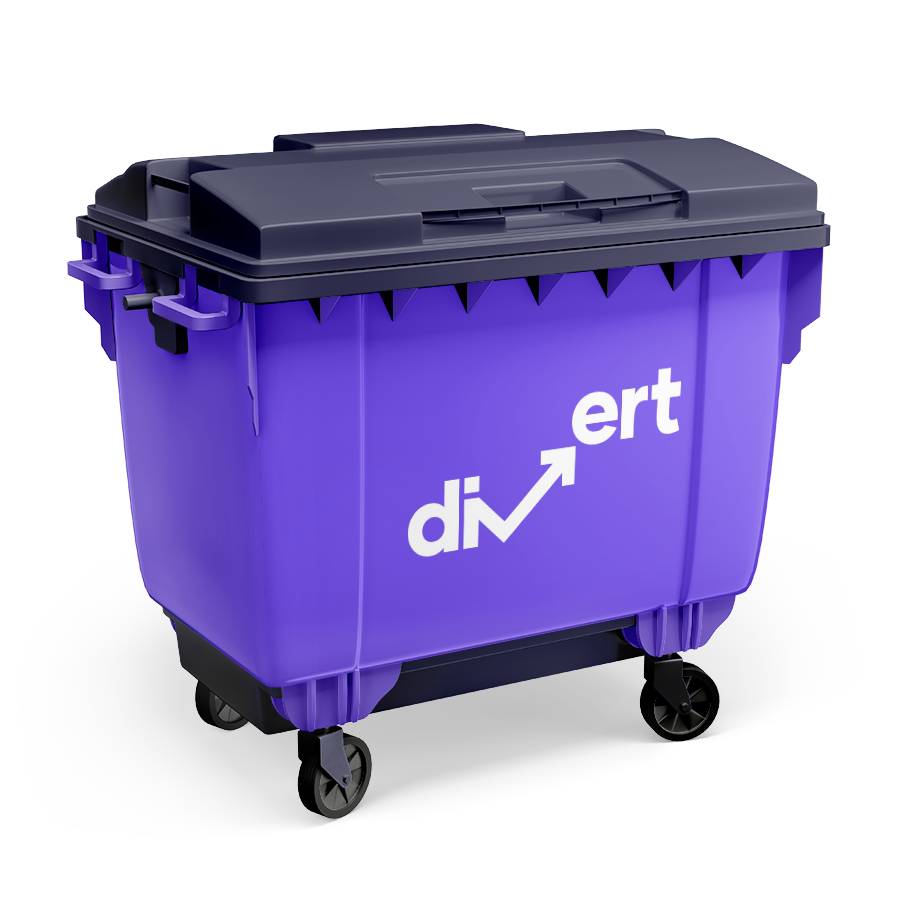 Save money, time, and effort on waste management in Morley for your business or household with Divert. We offer everything from regular commercial bin collections to one-off domestic removals anywhere across the largest town in the borough of Leeds. Get a free quote and streamline your Morley waste management today.
Morley Waste Management

Get a quick quote
Get a quick FREE quote for your waste
Quick quote within 1 hour
All types of waste
Claim your free bins
We cover all of Morley
Morley waste collection
Waste collection in Morley is available anywhere across the patriotic market town, as well as the neighbouring suburbs of Leeds and Bradford. Regular rubbish collections can be made from businesses such as restaurants, pubs, and offices in the town centre, as well as for retailers in the nearby White Rose Shopping Centre.
For households, we can make one-off collections of bulky waste and full house clearances. Find a solution whether you live in the town centre, Bantam Grove, or New Brighton areas. Our waste collection services in Morley stretch to cover surrounding areas in all directions including Churwell, Gildersome, Tingley, and Birstall.
Get a free quote for waste collection in Morley today – call 0333 444 0118 or contact us online.
Free bins
Free bins Get free bins with no delivery or hire charges and enjoy 1 month's free collections when you partner with Divert
Commercial waste collection
in Morley
Any business in Morley must arrange commercial waste collection by licensed waste carriers to remove rubbish legally and safely. At Divert all our drivers are licensed waste carriers. We can arrange commercial collections of waste from your shop, takeaway, hair salon, sports club, or any other business in Morley on a convenient schedule.
Save money as we provide free bins for commercial waste management in Morley. There are no delivery charges or rental fees – you just cover the collection costs. All business waste is diverted away from landfill where possible and you get a free duty of care certificate for added peace of mind.
Discover the main commercial waste collection services in Morley we offer:
General waste collection

Food waste collection

Electrical waste collection

Garden waste collection
Morley household
waste services
Arrange one-off collections of bulky waste or bags of domestic rubbish from your home anywhere in Morley. Save yourself a trip to the tip as we can remove big items such as an old sofa, mattress, table, or broken white goods. Everything is diverted away from landfill and disposed of responsibly.
If you've got a few bulky items or many bags of garden waste or other junk then our man and van services can clear the lot. We also provide house clearances in Morley to help you get rid of furniture, carpets, and other rubbish before moving home or emptying a domestic property after a bereavement of tenants have left.
There's no need to spend extra time, money, and stress hiring a skip. Labour is included too for an effortless experience getting rid of household waste in Morley. Explore the household waste services available in Morley:
House clearance

Man and van

Bulky waste collection

Sofa removal

Fridge and freezer collection

Mattress disposal
Get a free quote
Morley bin collection
Book bin collection in Morley to ensure your commercial waste is removed regularly. Use free bins to save money on your waste management costs. There are zero delivery or rental fees, you just pay for collection. Licensed waste carriers will remove your bins and take them to a nearby waste management facility.
Select from a wide choice of bins to store your waste on-site safely and securely before it's collected. Use wheelie bins with two or four wheels to separate your waste. Specialist bins, bags, and containers are also available for any used oil, clinical waste, and garden waste.
Organise Morley bin collection on a daily, weekly, or fortnightly basis to suit your needs. Using the best bin sizes and removal frequencies for each one ensures cost-effective waste management for your organisation. Benefit from regular, reliable, and responsible bin collection in Morley with Divert.
Explore our bins
Morley recycling
Recycling in Morley is vital for businesses and households to help look after the environment and improve recycling rates across Leeds. Every household in Morley has a green recycling bin for domestic waste provided by Leeds City Council.  Recycle paper, cardboard, metal cans, plastic bottles, and plastic types 1, 2, 4, and 5 in this bin.
There are bottle banks in the car parks of Morrisons, Morley WMC, the Mercantile Club, and others where you can recycle glass bottles and jars from home. You can take other waste for recycling such as old electricals, wood waste, and scrap metal from your home to Middleton Household Waste Recycling Centre (HWRC).
Businesses should use licensed waste carriers to collect any recycling from their sites. At Divert we provide free bins to help companies in any industry separate and store recyclable rubbish before it's collected. Then our licensed waste carriers collect and transport your waste to a nearby recycling facility. Discover our recycling services in Morley:
Glass recycling

Cardboard recycling

Dry mixed recycling
How does business waste
collection in Morley work?
Business waste collection in Morley is fast, simple, and cost-effective with Divert. All sorts and amounts of commercial waste can be removed from companies in any industry across the town. Start with a bespoke free quote and enjoy a fast setup to get rid of your rubbish with ease in Morley.
These are the simple steps for how business waste collection works in Morley:
Contact us for your free no-obligation quote for waste collection in Morley. Simply let us know what type and amount of rubbish you need collecting, where from, and when.
Review your tailored quote. If you're happy to proceed we'll work out a convenient time to deliver your free bins.
Fill each bin with the relevant type of waste and within any max fill line or weight limit. Move the bins to the agreed collection point ahead of time.
Our licensed waste carriers in one of our purple trucks will remove your rubbish on time. Then they'll transport it to a nearby waste management facility for responsible disposal.
Receive a free duty of care certificate that details the safe and legal handling of your commercial waste.
Get your free quote
Why use Divert for waste
removal in Morley?
Save money, time, and effort with responsible waste removal in Morley from your business or home. Free bins are available to store your waste securely and separately by stream to help improve your recycling efforts. Licensed waste carriers safely remove your waste and it's all diverted away from landfill.
One-off collections of bulky waste and house clearances in Morley remove the need to hire a skip and deal with any extra costs and permits. All labour is included so you can get rid of a few big items or many bags of waste effortlessly in one go.
Divert are a Yorkshire-based company providing local waste services anywhere in Morley. Our drivers are all licensed waste carriers who remove your rubbish legally and responsibly. They know Morley well to ensure waste collections are reliable and on time, while our friendly customer care team are on hand to help. Book waste removal in Morley and enjoy:
A free no obligation quote bespoke to you
Free bins delivered anywhere in Morley
Reliable and regular waste removal
Fixed prices including labour costs
Many waste types collected and recycled
Fixed prices

Landfill diversion

Reliable collections

Labour included
Book waste collection in Morley
Get your free no-obligation quote for waste collection in Morley. Tell us the types and amount of waste you need collected, where from, and how often. Talk to one of our friendly experts for a fast solution to any questions you have.
Get a quick quote