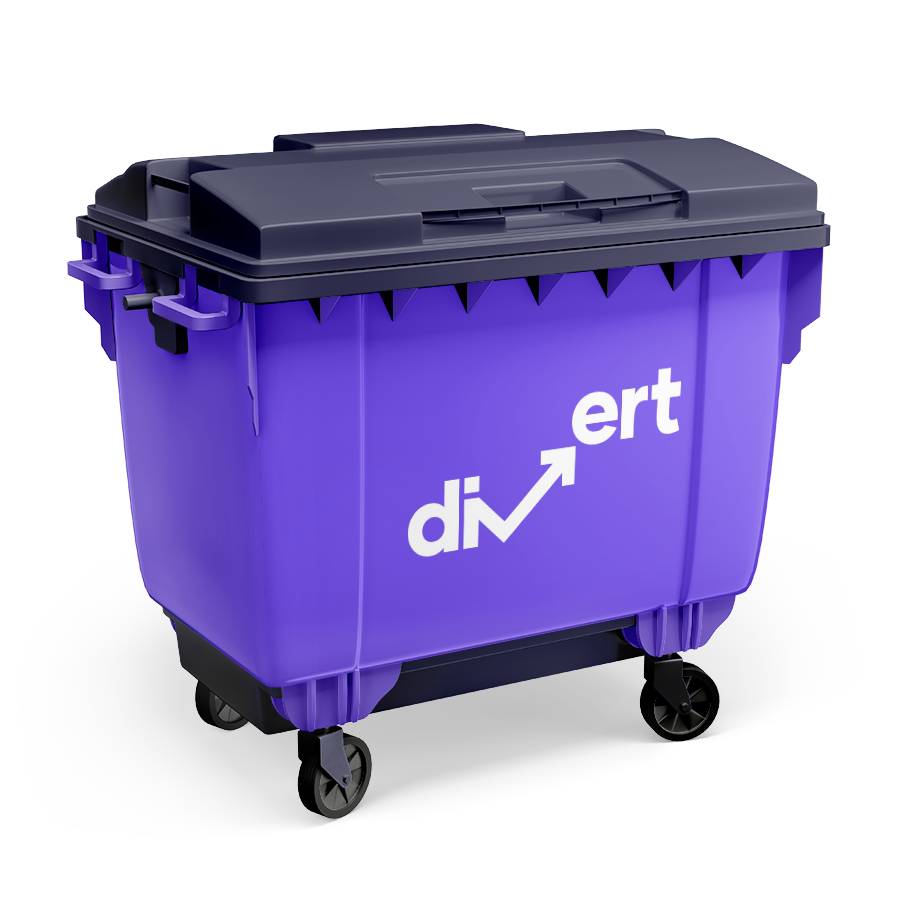 Combining mixed waste in one bin provides a convenient way for Leeds businesses of any size and industry to recycle everyday rubbish together. It offers a simple and affordable way to responsibly dispose of many recyclable materials without paying for different individual bins. Dry mixed recycling (DMR) covers four main materials:
Paper – newspapers, magazines, and envelopes
Cardboard – cereal boxes, packaging materials, and greeting cards
Metal – clean and empty drinks cans and food trays
Plastic – drinks bottles, plastic food packaging, and margarine tubs
These are similar to the materials you can throw away in your green recycling bin at home. While Leeds City Council collects domestic recycling bins that contain mixed recyclable rubbish from around 341,500 households, businesses must arrange commercial waste collection. Shops, offices, schools, and other organisations all benefit from using DMR bins.
Get a free quote for dry mixed recycling collection in Leeds today – call 0333 444 0118 or contact us online.
Dry Mixed Recycling in Leeds

Quick Quote
Get a quick FREE quote for your waste
Quick quote within 1 hr
All types of waste
Claim your free bins
We cover all of Leeds
How commercial dry mixed recycling works in Leeds
Request a free quote for dry mixed recycling in Leeds. We'll deliver the number and size of DMR bins you need to your business for free. Fill them up with your paper, cardboard, plastic, and metal waste within any weight limits. Put them in the agreed pickup point ahead of the collection time.
One of our purple trucks will come to your Leeds location and remove your DMR bins on time. Our licensed waste carriers safely transport your dry mixed recycling to a local recycling centre in Leeds. All the waste is sorted and recycled alongside other materials of the same type.
Who needs dry mixed recycling in Leeds?
Dry mixed recycling benefits many businesses in Leeds as it provides an easy and affordable way to recycle your waste. Combining recyclable waste in one bin is much cheaper than arranging collections of four separate ones for small companies and those that don't generate large volumes of paper, cardboard, plastic, or metal waste.
Plus, it's more environmentally friendly, responsible, and cost-effective compared to throwing away recyclable materials with your general waste. Whatever type of business you run in Leeds, its location, and its size, a DMR bin could be the perfect solution. Some of the main Leeds companies that benefit from dry mixed recycling are:
Offices
Shops
Schools
Restaurants
Pubs
Free commercial dry mixed recycling bins in Leeds
We provide a range of free dry mixed recycling bins to businesses in Leeds. Different sizes mean you can find the right one for the amount of waste your organisation produces, from standard 240 litre wheelie bins to big 1100 litre bins with four wheels. Each one is easy to move around and offers a secure place to store your waste.
You can use one or more of the same or different size DMR bins to suit your needs. Combine with a daily, weekly, or fortnightly collection schedule for cost-effective management of your dry mixed recycling in Leeds. Available DMR bins include:
Discover More Leeds Bins
240 litre wheelie bins
Get A Free Quote
Local recycling centres in Leeds
There are eight recycling centres run by Leeds City Council across the West Yorkshire capital where you can take household dry mixed recycling waste. However, most domestic DMR waste can be put in your green recycling bin at home. If you have extra, then taking it to your nearby recycling centre is an option.
You can only dispose of commercial DMR in Leeds at the recycling centres in Kirkstall and Seacroft. All eight recycling centres have the same opening hours and contact details:
Opening hours
Between 31 October 2022 to 26 March 2023 – 8am to 4pm
Between 27 March 2023 to 29 October 2023 – 8am to 6pm
Contact details
Email – [email protected]
Kirkstall HWRC

Evanston Avenue 

Kirkstall 

Leeds

LS4 2HR​

Meanwood HWRC

Meanwood Road

 Meanwood

Leeds

LS7 2LP

Middleton HWRC

 Holme Well Road

Middleton

Leeds

LS10 4TQ

Otley (Ellar Ghyll) HWRC

Bradford Road

Otley

LS21 3DN

Pudsey HWRC

Richardshaw Road

Grangefield Industrial Estate

Pudsey

LS28 6LG

Seacroft HWRC

Limewood Road

Seacroft

Leeds

LS14 1LU

Wetherby (Thorp Arch) HWRC

 Thorp Arch Industrial Estate

Leeds

 LS23 7BJ

Yeadon HWRC

Milner's Road

Yeadon

Leeds

LS19 7JE
Why use Divert for dry mixed recycling in Leeds?
Simplify your waste management in Leeds with dry mixed recycling bins and collection. Save money with one bin for various types of recyclable rubbish in a size that suits your needs. We offer flexible collections on a daily, weekly, or fortnightly basis and provide free bins to store your waste on-site safely.
Recycling your waste in Leeds helps keep the city green and reduces how much landfill tax you pay. Our team are based in Yorkshire, so our drivers know the city's streets well and our customer service experts provide a truly local approach to working out the best solution for your DMR collections.
Divert dry mixed recycling away from landfill in Leeds
Flexible DMR collections daily, weekly, or fortnightly
Free no obligation quote based on your mixed waste
Wide range of DMR bin sizes
Free DMR bins in Leeds with no rental or delivery fees
Arrange dry mixed recycling collection in Leeds
Get a free quote for dry mixed recycling collection in Leeds – call 0333 444 0118 or contact us online. We'll base the price on the size and number of DMR bins you need, where you're located in Leeds, and how often you want your bins collected. If you've got any questions one of our friendly team can help.
Other waste services
available in Leeds
One call we take it all 0333 444 0118
All waste types
Cardboard waste

House clearance Leeds

Bulky waste Leeds

Clinical waste Leeds

Dry mixed recycling waste Leeds

Food waste Leeds

Fridge freezer removal Leeds

Garden waste Leeds

General waste Leeds

Glass waste Leeds

Leeds bin collection

Leeds waste management

Man and van Leeds

Mattress collection Leeds

Office clearance Leeds

Rubbish removal Leeds

WEEE waste Leeds
Get A Free Quote
Leeds dry mixed recycling FAQs

Where can you collect dry mixed recycling in Leeds?

Dry mixed recycling collection is available anywhere across Leeds and the surrounding areas. We can deliver and collect DMR bins from city centre offices out to pubs in Otley and independent shops in Roundhay. DMR collections are available anywhere with an LS postcode, including:

Leeds city centre (LS1)

Woodhouse and Little London (LS2)

Burley and Kirkstall (LS3 and LS4)

Headingley, Hyde Park, and Meanwood (LS6)

Chapel Allerton, Chapeltown, and Sheepscar (LS7)

Roundhay, Harehills, and Oakwood (LS8)

Burmantofts, East End Park, and Halton Moor (LS9)

Hunslet, Middleton, and Stourton (LS10)

Beeston, Cottingley, and Holbeck (LS11)

Armley, Wortley, and New Farnley (LS12)

Bramley, Moorside, and Rodley (LS13)

Seacroft, Thorner, and Killingbeck (LS14)

Cross Gates, Colton, and Temple Newsham (LS15)

Adel, Cookridge, Lawnswood, and Bramhope (LS16)

Alwoodley, Moortown, Shadwell, and Harewood (LS17)

Horsforth (LS18)

Yeadon, Rawdon, and Carlton (LS19)

Guiseley (LS20)

Otley (LS21)

Methley, Rothwell, and Woodlesford (LS26)

Morley, Churwell, and Gildersome (LS27)

How often is commercial dry mixed recycling collected in Leeds?

Book dry mixed recycling collections every day, week, or fortnight in Leeds with Divert. Combine a removal schedule with the best-sized bins for efficient and cost-effective waste management. We can also offer one-off and ad-hoc DMR collections in Leeds.

Leeds City Council is responsible for collection of your household mixed recycling bins. How often these are collected depends on the area of Leeds where you live, as it varies from every week, fortnight, or month. Check your Leeds bin day online.

Is there a fee for mixed waste collection in Leeds?

Household mixed recycling in Leeds is collected for free by Leeds City Council. For businesses, you must arrange commercial waste collection. At Divert we provide free bins with no delivery or rental charges to store your dry mixed recycling. However, you must cover the costs of collection, which vary depending on your location, the number and size of bins you use, and how often they're collected.