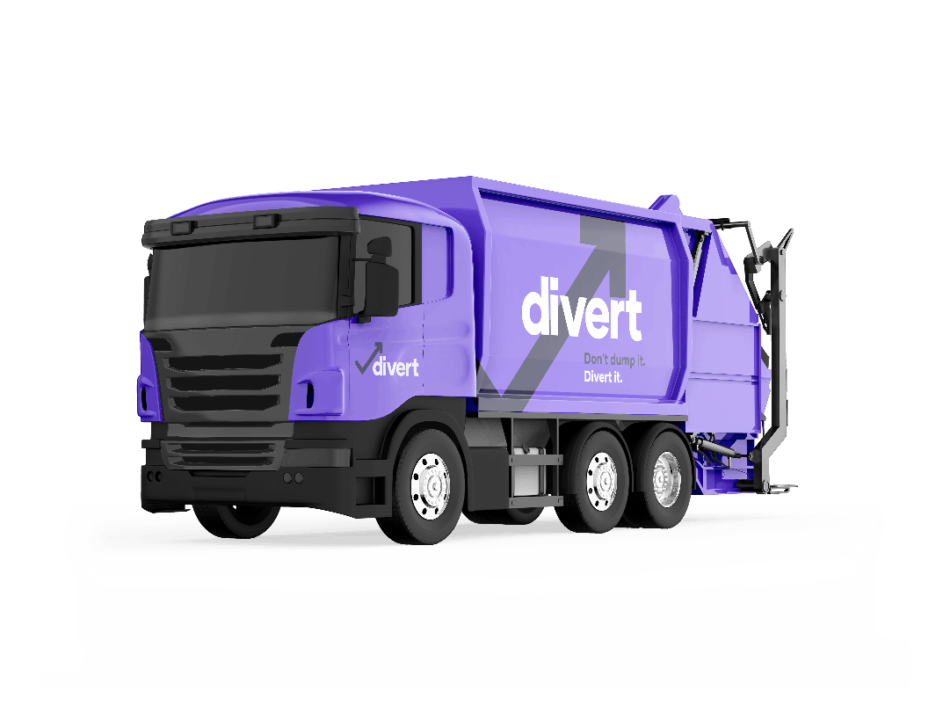 Getting rid of a sofa in Leeds can be a challenge. It's too big to throw out with your bins for Leeds City Council to deal with and tricky to load into your car and take to the tip. Plus, you don't want it ending up in landfill and adding to local pollution levels as it slowly rots.
At Divert we provide responsible sofa removal in Leeds for homes and businesses across the city. We divert as much waste away from landfill to ensure your old sofa is reused, recycled, or safely incinerated if it contains persistent organic pollutants (POPs).
Sofa Removal in Leeds

Get a quick quote
Get a fast FREE quote for your waste
Free quote within 1 hour
Any type of waste
FREE bins and delivery
We cover all of Leeds
Leeds sofa collection
Arrange collection of your old sofa in Leeds whether it's a:
Two and three-seater sofa
Corner sofa
Sofa bed
Chaise longue
Recliner sofa
Get a free quote for sofa removal in Leeds today. Whatever its size, shape, and condition, we'll get rid of it in an affordable, effortless, and environmentally friendly way. Call 0333 444 0118 or contact us online for your free no obligation quote.
How sofa collection in Leeds works
Let us know the type and size of your sofa (and how many, if you're getting rid of more than one), as well as your location in Leeds. We'll provide a free quote and can book a time and date to collect your sofa in Leeds if you're happy with the price.
One of our purple trucks will come out on the day and a couple of our strong team will lift your old sofa into it. You can sit back and relax, there's no need for you to do any heavy lifting. Once it's all loaded up, they'll drive it to a local waste management centre for processing.
Depending on the condition and type of sofa it could then be donated to charity or a community cause in Leeds for reuse. Alternatively, it may be shredded and separated into individual parts and materials that are recycled. However, any old sofas that contain POPs will be incinerated in line with legal guidance to protect the environment.
Who needs on-demand sofa removal in Leeds?
Most sofas last between seven and 15 years before they need replacing. They can lose their springiness, general wear and tear becomes too much, or they might sustain irreparable damage. If you're moving home in Leeds, you might also want to get rid of a sofa if you can't take it with you.
It's not just households that require sofa removal in Leeds, plenty of businesses need to get rid of them at certain times. Hotels, pubs, and offices may all have sofas that have grown old, become damaged, or won't be moving to your new premises. We can offer domestic and commercial sofa removal in Leeds for:
Households

Hotels

Offices

Shops
Local recycling centres in Leeds
There are eight household waste recycling centres across Leeds that all accept old furniture, including sofas, from homes in the city. You can only take sofas from businesses to the recycling centres in Kirkstall and Seacroft (including for landlords). There is a charge for commercial sofa disposal, which depends on the weight of the items.
Leeds City Council also offers an unwanted items collection service for private residents (not landlords or businesses). This includes collection of sofas. There are limits to the service, as they will only collect up to five items per collection and only provide a maximum of four unwanted item collections each year.
The eight household waste recycling centres in Leeds all have the same opening hours and contact details for each site.
Opening hours
Between 31 October 2022 to 26 March 2023 – 8am to 4pm
Between 27 March 2023 to 29 October 2023 – 8am to 6pm
Contact details
Email – [email protected]
Kirkstall HWRC

Evanston Avenue 

Kirkstall 

Leeds

LS4 2HR​

Meanwood HWRC

Meanwood Road

Meanwood

Leeds

LS7 2LP

Middleton HWRC

Holme Well Road

Middleton

Leeds

LS10 4TQ

Otley (Ellar Ghyll) HWRC

Bradford Road

Otley

LS21 3DN

Pudsey HWRC

Richardshaw Road

Grangefield Industrial Estate

Pudsey

LS28 6LG

Seacroft HWRC

Limewood Road

Seacroft

Leeds

LS14 1LU

Wetherby (Thorp Arch) HWRC

Thorp Arch Industrial Estate

Leeds

LS23 7BJ

Yeadon HWRC

Milner's Road

Yeadon

Leeds

LS19 7JE
Donate sofas to charities in Leeds
A sustainable way to get rid of an old sofa from your home in Leeds is to donate it to a charity for reuse or resale. If it's in a good condition or only needs a bit of upholstering, many good causes will take your old sofa off your hands for free.
Donating helps reduce the energy required to recycle or dispose of sofas. Some charities accept old settees from businesses as well as households too. You can book charity sofa collection in Leeds from many organisations, often for free, so you don't have to transport them yourself.
Charities where you can donate sofas in Leeds include:
Leeds and Moortown Furniture Store – provide a sofa collection service across Leeds and redistribute furniture to those in need.
Revive Leeds – two sites in Kirkstall and Seacroft that accept old sofas for resale, with profits put back into community work and training.
SLATE – collect sofas in a reusable condition for free. Resold in shops in Hunslet and Armley to provide work and training opportunities for people with learning disabilities.
Emmaus Leeds – can collect old sofas for resale in their second hand superstore that supports homeless people in the community.
St Gemma's Hospice – request an online collection for a sofa or arrange a drop-off. Sofas are resold with profits used to support care for local people with life-limiting and terminal illnesses.
POPs waste and sofa disposal in Leeds
Upholstered seating including sofas may contain persistent organic pollutants (POPs) – poisonous chemical substances. They take a long time to break down and can harm human health and the environment when they do due to their poisonous nature. According to UK government guidelines any such waste must be destroyed, not recycled or reused.
Old sofas that contain POPs should be kept separate from other waste, furniture, and sofas to reduce the risk of contamination. Waste management centres in Leeds will check whether any sofas they receive contain POPs. If they do, they'll be sent for incineration and safe disposal in line with recent Environment Agency regulations.
As part of our sofa disposal services in Leeds, we can help and advise if you're unsure whether your sofa contains POPs. Even if it does, we'll still come and collect your old sofa and take it to an appropriate waste management centre in Leeds for safe and legal disposal.
Why use Divert for sofa removal in Leeds?
Book sofa collection anywhere in Leeds with Divert. We can remove old sofas from your home or business, whatever their shape, size, and condition. Each one is checked and disposed of responsibly in line with all government and environmental regulations. All sofas are diverted away from landfill, whether it's recycled, reused, or incinerated.
Tell us the type and size of the sofa and where and when you want it removed for a free no obligation quote. Fixed prices that include labour costs mean there are no hidden surprises, and you can say goodbye to your old sofa in Leeds with ease.
We're based in Yorkshire and our local knowledge of waste management centres and the streets of Leeds helps us deliver the best solution to get rid of your sofa. Whether you need to dispose of an old three-piece suite in Roundhay or are clearing out an office at Leeds Dock, we can help.
Any shape and sized sofa removed in Leeds
Reliable sofa waste collection
Free no obligation quote for sofa removal
Fixed prices including labour costs with no hidden fees
Old sofas diverted away from landfill in Leeds
Landfill diversion

Fixed prices

Labour included

Reliable sofa removal

Flexible collections
Arrange sofa collection in Leeds
Get rid of your sofa responsibly with collection anywhere in Leeds. We just need a few details including the size and type of sofa, where you want it removed from and when to provide you with a free quote. Then we can book your sofa collection in Leeds at a time that suits you – just call 01904 295 985 or contact us online today.
Where can I arrange sofa collection in Leeds?

We can collect your old sofa from anywhere in Leeds and the surrounding area. Whether you're clearing out a city centre office, selling your home in Hunslet, or replacing a sofa in Roundhay, our drivers can visit anywhere across the West Yorkshire city to remove your sofa. Book sofa collection in:

Leeds city centre (LS1)
Woodhouse and Little London (LS2)
Burley and Kirkstall (LS3 and LS4)
Headingley, Hyde Park, and Meanwood (LS6)
Chapel Allerton, Chapeltown, and Sheepscar (LS7)
Roundhay, Harehills, and Oakwood (LS8)
Burmantofts, East End Park, and Halton Moor (LS9)
Hunslet, Middleton, and Stourton (LS10)
Beeston, Cottingley, and Holbeck (LS11)
Armley, Wortley, and New Farnley (LS12)
Bramley, Moorside, and Rodley (LS13)
Seacroft, Thorner, and Killingbeck (LS14)
Cross Gates, Colton, and Temple Newsham (LS15)
Adel, Cookridge, Lawnswood, and Bramhope (LS16)
Alwoodley, Moortown, Shadwell, and Harewood (LS17)
Horsforth (LS18)
Yeadon, Rawdon, and Carlton (LS19)
Guiseley (LS20)
Otley (LS21)
Methley, Rothwell, and Woodlesford (LS26)
Morley, Churwell, and Gildersome (LS27)

How do I get rid of an old sofa in Leeds?

There are a few options to get rid of an old sofa in Leeds:

Take an unwanted sofa from your home to your nearest household waste recycling centre.
Donate your old sofa to a charity in Leeds – many offer a free collection service.
Book an unwanted items collection with Leeds City Council – free for residents but items are limited.
Get a free quote and book sofa removal in Leeds with Divert – ideal if you're getting rid of an old sofa from a business as you must use a licensed waste carrier.

Can you take sofas to the tip in Leeds?

Eight household waste recycling centres (HWRCs) in Leeds accept sofas from households. These are Kirkstall, Meanwood, Middleton, Otley (Ellar Ghyll), Pudsey, Seacroft, Wetherby (Thorp Arch), and Yeadon. Only the HWRCs in Kirkstall and Seacroft accept old sofas from businesses and landlords.

If you take a sofa from your home or business in a vehicle larger than a standard car (such as a pickup truck, van, or a trailer) you will need a permit.