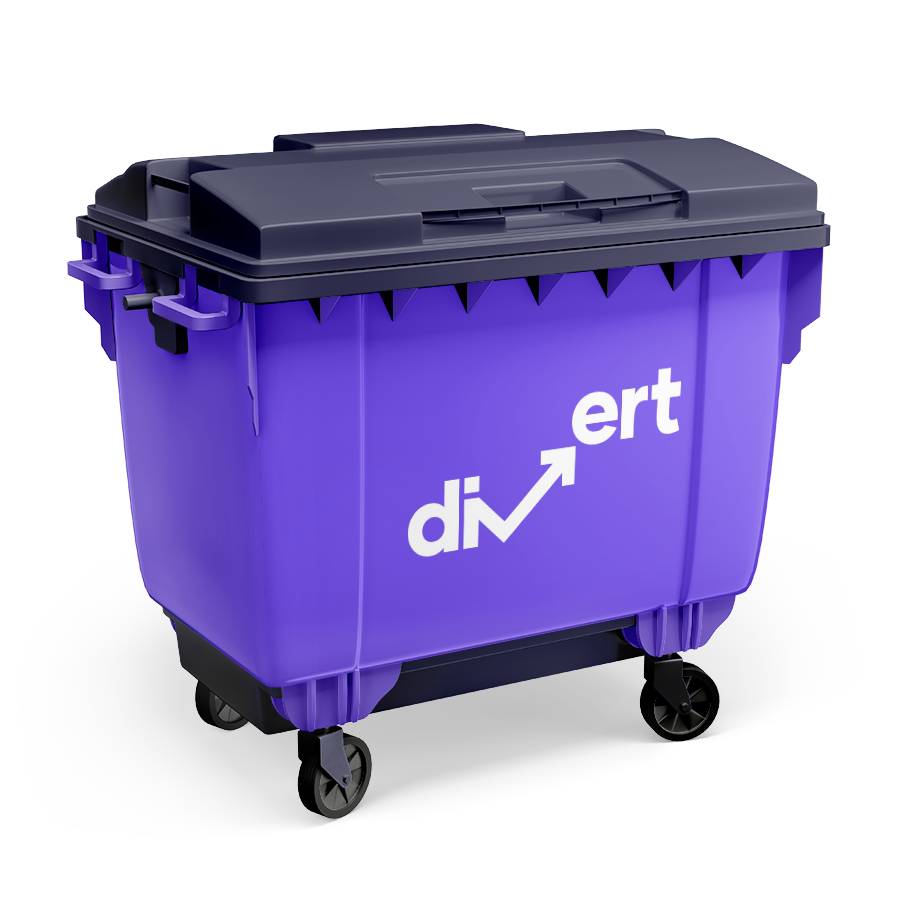 Good waste management in Malton helps businesses and households get rid of rubbish responsibly. Enjoy affordable, efficient, and reliable waste removal anywhere in the charming North Yorkshire market town from your company or home with Divert. One-off and regular waste collections tailored to your needs are available with everything diverted away from landfill.
Malton Waste Management

Get a quick quote
Get a fast FREE quote for your waste
Quick quote within 1 hour
All types of waste
Claim your free bins
We cover all of Malton
Ryedale waste collection
Book waste collection anywhere in Malton and across the wider district of Ryedale. We can remove rubbish regularly from shops, restaurants, and hotels in the town centre to country pubs in neighbouring North Yorkshire towns and villages. One-off waste clearances of homes or removals of bulky items are available for households too.
All waste is diverted away from landfill to protect the environment and keep Malton as green as the North York Moors. Arrange Ryedale waste collection from Malton and surrounding towns and villages including:
Amotherby
Barton-le-Street
Kirkby Misperton
Norton
Pickering
Rillington
Settrington
Slingsby
Free bins
Get free bins with no delivery or hire charges and enjoy 1 month's free collections when you partner with Divert
Business waste
in Malton
Malton has a thriving food industry that includes a monthly food market, a revered cookery school, and plenty of shops selling local delicacies. Bakeries, cafes, restaurants, and shops across Malton and Ryedale all produce waste food that requires effective management. Pubs, garages, offices, and other businesses also create commercial waste in Malton.
At Divert we have a team of licensed waste carriers who drive our purple trucks and vans to remove any type and amount of business waste safely and legally in Malton. You get a free duty of care certificate confirming the responsible removal, management, and disposal of your company's rubbish.
We can help new businesses set up waste management plans or improve the rubbish collection and recycling strategies of existing firms in the town. Find a solution to dispose of your commercial waste whether you generate waste food daily from a bakery, empty glass bottles from your pub, or general waste from an office.
Get a free duty of care certificate for business waste removal in Malton
Commercial waste collection
in Malton
Streamline your commercial waste collection in Malton with free bins. There are no delivery, rental, or hidden fees – you just pay for collection. Use different bins to separate your waste and increase your commercial recycling. Licensed waste carriers then collect and remove your bins at an agreed time.
Select from daily, weekly, and fortnightly commercial waste collection in Malton to suit your schedule and waste production needs. All waste is diverted away from landfill and sent for recycling, recovery, and responsible disposal where possible. We offer a range of solutions for Malton commercial waste collection including for these waste types:
General waste collection

Food waste collection

Electrical waste collection

Garden waste collection
Household waste services
in Malton
Book a one-off removal of rubbish from your home anywhere in Malton and the surrounding area. Get rid of big and bulky items such as an old sofa, broken fridge, and any other large appliances, furniture, and electricals. This saves you the time and effort of loading up your car to visit the tip.
If you've got a few items for disposal or bags of garden waste and other rubbish then our man and van services in Malton can help. They'll come out and load everything into one of our purple vans and take it away in one go. Everything will be diverted away from landfill.
We also offer house clearances in Malton. Our team do all the lifting and carrying and ai to get rid of everything in one day. This saves you time, money, and hassle compared to hiring a skip for a convenient and smooth house clearance in Malton and Ryedale. Explore all our household waste removal services in Malton:
House clearances

Man and van

Bulky waste collection

Sofa removal

Fridge and freezer collection

Mattress collection
Get a free quote
Malton bin collection
Organise regular bin collection in Malton to ensure your waste is removed and disposed of responsibly. Keep your business premises clean and clear with an efficient collection schedule. Free bins are delivered to your site for you to safely store your rubbish before it's collected with zero rental charges or delivery fees.
A wide range of bins, bags, and containers are available to suit the types and amount of waste you generate. These include small, standard, and large wheelie bins, bags for garden rubbish and clinical waste, and oil drums. Mix and match the bins best for your waste management needs in Malton.
Book bin collection in Malton on a basis to suit the amount of rubbish your organisation creates. Select from daily, weekly, and fortnightly removals for each bin you use. For example, you can organise daily collections of full food waste bins from your bakery or weekly removals of cardboard recycling. Arrange Malton bin collection today.
Explore our bins
Malton recycling
Recycling in Malton helps keep the town as green as the grounds of Castle Howard. North Yorkshire Council provides households across Malton with three containers to separate domestic recycling. These are a black recycling container for glass, a blue recycling container for paper and cardboard products, and a green recycling container for plastic bottles, metal cans, tins, and aerosols.
For any excess recycling from your home, there are mini recycling sites at Morrison's and Wentworth Street car parks. Here you can recycle glass, paper, clothes, and other items. You can also visit Malton and Norton household waste recycling centre to recycle large volumes of waste and other types such as electricals, wood, and scrap metal.
Some commercial recycling is accepted at Malton waste recycling centre, but charges apply. To improve recycling in Malton businesses should use a range of bins to separate their waste and use licensed waste carriers to ensure as much as possible is recycled. At Divert we provide bins to help your business arrange commercial recycling in Malton for:
Glass recycling

Cardboard recycling

Dry mixed recycling
Malton waste recycling centre

Malton and Norton household waste recycling centre

Pasture Lane

Malton

North Yorkshire

YO17 6BT
How does business waste
collection in Malton work?
Business waste collection in Malton is reliable and cost-effective with Divert. Simply choose the bins you need, when you want them collected, and where to get started. Licensed waste carriers remove your rubbish at a convenient time and dispose of everything responsibly and away from landfill. Set up smooth waste management anywhere in Ryedale.
There are a few simple steps to business waste collection in Malton:
Get a free no-obligation quote for waste collection in Malton. Let us know what type and size of bins you need, how often you want them collected and where from in Ryedale.
Review your tailored quote and if you're happy with it we'll deliver your free bins at a convenient time and date.
Fill each bin with the relevant type of rubbish and within any weight limits or max fill lines.
Place the bins, bags, and containers at the agreed collection point ahead of pickup time. Licensed waste carriers in a purple truck will remove them and transport your rubbish to a nearby waste management facility.
All your waste is disposed of responsibly and you receive a free duty of care certificate confirming the safe and legal management of your commercial waste for added peace of mind.
Get your free quote
Why use Divert for
waste removal in Malton?
Save money on your waste management costs in Malton with Divert. Free bins mean you don't have to pay for delivery or any rental fees. Plus, diverting your waste away from landfill reduces how much landfill tax is factored into your waste disposal costs. Create a cost-effective plan tailored to your needs and budget.
Everything from daily commercial bin collections to one-off bulky waste removals in Malton are available. Man and van services and house clearances help you get rid of domestic waste on a one-off basis too. Find an efficient and affordable solution for any type of waste removal in Malton and Ryedale.
Divert are a local company based in York with an experienced team of drivers and customer care experts who know Malton well. Our local connection ensures timely, reliable, and effective waste management anywhere across the region. Arrange removals in Malton for waste management services from a local firm that you can rely on.
Some of the main reasons to choose Divert for Malton waste collection include:
A free no obligation quote based on your needs
Free bins delivered across Malton
Reliable and regular waste removal
Fixed prices including labour costs
Many waste types collected and recycled
Fixed prices

Landfill diversion

Reliable waste removal

Labour included
Book waste collection in Malton
Set up waste collection in Malton for a one-off or regular removal with Divert. Tell us the type and amount of rubbish you want removed, where from, and when for your free no-obligation quote. Speak to one of our friendly team if you've got any questions today.
Get a free quote