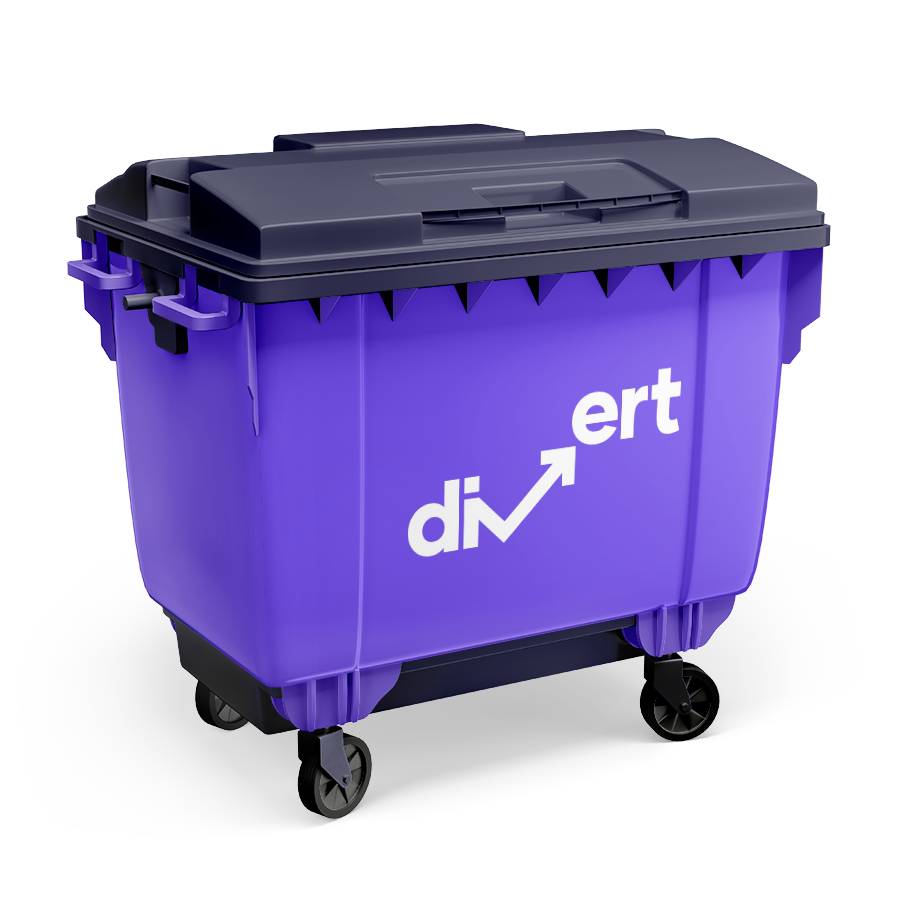 Cardboard is made up of several layers of paper to create a heavy-duty material that's often used in packaging. Once any cardboard products have been used and you no longer need them, they should be recycled. Cardboard is one of the easiest materials to recycle as its fibres were processed from trees.
Businesses and households produce large volumes of cardboard waste – whether you're transporting goods for your company or have worked your way through one too many boxes of chocolates. It's important that you know exactly how to manage and dispose of your cardboard waste – and Divert can help.
Cardboard Recycling

Get a quick quote
Get a fast FREE quote for your carboard waste
Quote within 1 hour
Any type of cardboard
FREE bins and delivery
Yorkshire collections
What is cardboard waste?
Cardboard waste refers to any old, used, or damaged cardboard products made from thick or multi-layered sheets of paper. There are two main forms of cardboard used in the UK, which are both easily recyclable. The two types and examples of different products they're used to make are:
Paperboard is relatively thin and used for cereal boxes, egg cartons, and postcards.
Corrugated paperboard is much stronger and thicker. It's therefore used primarily in packaging food products, moving house boxes, and other delivery packages.
We provide free bins for cardboard waste, you just pay for the collection and it'll be recycled responsibly. Call 01904 295 985 or contact us online today for a free quote for your commercial cardboard waste collection.
How cardboard waste collection 
and recycling works
Enjoy a free quote for cardboard waste collection tailored to your specific needs with no obligation. We just need to know where your business is, the size and number of bins you need, and how often you want your cardboard waste removed. If you're happy with the quote, then we can book your collections.
We'll deliver free cardboard bins to you. Just fill each one with dry cardboard waste and up to any weight limits of each bin. Then place it in the agreed accessible collection point ahead of the pickup time. One of our licensed waste carriers will come to remove and replace your cardboard waste bins.
They'll reliably transport your cardboard to a nearby recycling facility. Here the cardboard is sorted with any contaminants removed and recycled (sometimes alongside paper). The general cardboard recycling process is:
The cardboard is separated by type and grade.
The cardboard is shredded and mixed with water and chemicals.
This mixture – or slurry – is combined with new pulp.
It's then filtered to remove any contaminants.
The clean pulp is dried and pressed then glued together to form new recycled cardboard.
Cardboard recycling 
bins
All cardboard waste must be stored in a cool, dry environment. This is because it's much harder to recycle cardboard products if they're damp, as water causes the fibres within the cardboard to break down and harden. Thankfully, at Divert, we have a range of cardboard recycling bins available to store your waste safely. These include:
240 litre wheelie bins

Like your wheelie bin at home, it can store two to three bags of waste cardboard.

360 litre wheelie bins

This bigger wheelie bin also has two wheels and holds four to five sacks of waste.

660 litre wheelie bins

Store up to 10 full waste bags of cardboard in this four-wheel cardboard bin.

1100 litre wheelie bins

For businesses that create lots of cardboard waste this holds 15 to 18 full waste bags.
Who needs cardboard 
waste collections?
We all produce waste cardboard at home and in businesses. This ranges from receiving deliveries and disposing of the packaging to cereal boxes in the office canteen. From a business standpoint, cardboard waste occurs most frequently in the following industries:
Manufacturing. Cardboard boxes may be used to store products ahead of (or during) transportation, as they're highly durable. This protects the items from being damaged during transit.
Retail. The vast majority of retail cardboard waste comes in the form of product packaging for all manner of items – from food to cosmetics.
Food service. Restaurants and takeaways also produce large volumes of food waste, particularly when it's used to store their food (such as pizza boxes).
Education. Schools, colleges, universities, and even nurseries also produce large volumes of cardboard waste. In these institutions, cardboard is used for storage and recreational activities such as arts and crafts, as well as to create classroom displays.
Cardboard waste
facts
In the UK we use around 12.5 million tonnes of paper and cardboard annually. This amounts to lots of waste once the products have served their purpose. Despite being widely recycled, around seven million tonnes of cardboard waste end up in landfill sites each year.
Cardboard products take around two months to decompose in landfill, depending on weather conditions. It might not seem like a long time compared to other products like plastic (which takes more than 100 years), but cardboard releases dangerous greenhouse gasses such as methane as it decomposes. Methane gases contribute significantly to global warming by absorbing the heat from the sun.
Around 90% of products are shipped in cardboard containers, which means cardboard makes up most packaging waste. As we become more eco-conscious, the volume of paper we recycle each year continues to increase. Right now, around 84% of all corrugated cardboard produced in the UK is recycled.
How to reduce cardboard waste 
There are various steps you can take to reduce the amount of cardboard waste produced in the day-to-day running of your business. A few ways to reduce cardboard waste include:
Reuse products where possible. As long as they are not damaged, you can use cardboard boxes several times. Simply flatten the box and store it in a cool, dry space until you need it again for storage, sending deliveries, or crafts.
Seek out eco-friendly packaging options for your products. For example, you could make your packaging from recycled or biodegradable materials.
Consider setting up a composting site, as products such as paper and cardboard can also be composted.
When packing products, ensure the size of the box is similar to the size of the product. Avoid transporting goods in containers two or three sizes bigger than necessary, as this is a waste of materials.
Ensure that all employees are aware of your company's waste management and recycling policies. This way, they're more likely to dispose of all waste – including cardboard waste – through appropriate channels.
Provide employees with access to the appropriate recycling bins and containers. Place these in convenient locations close to the point of cardboard waste production.
Why use Divert for cardboard 
recycling?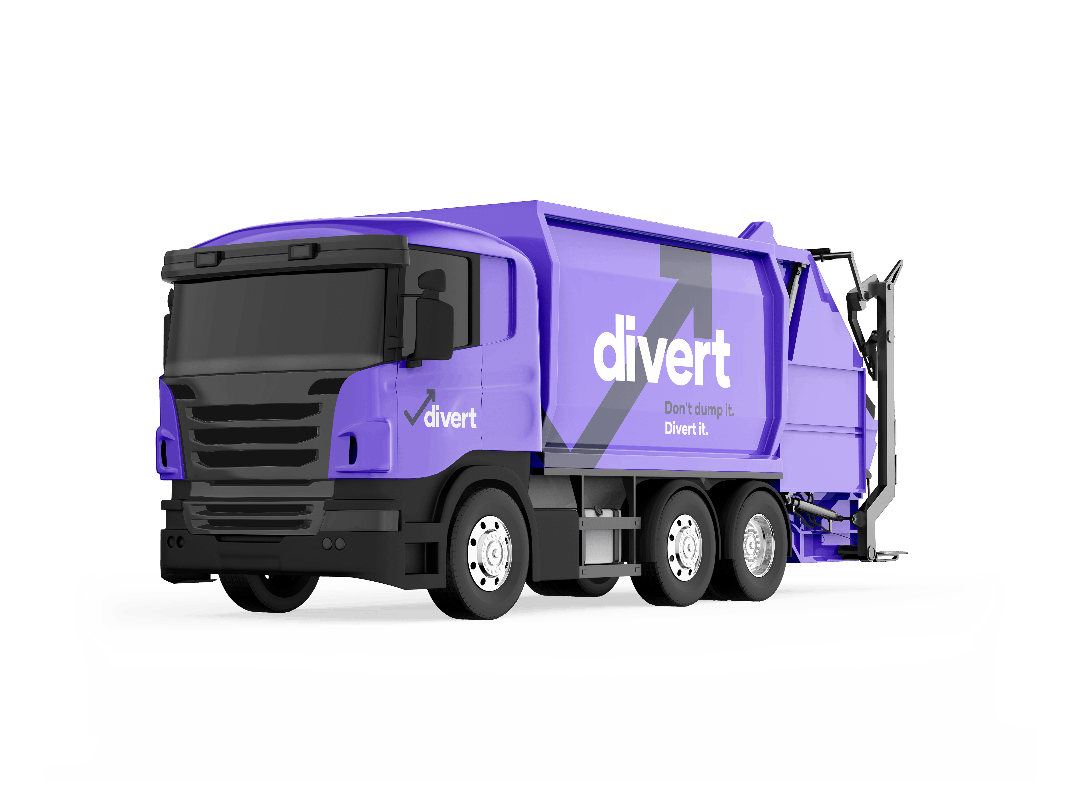 At Divert, we help companies large and small better manage their waste – including cardboard. For example, we provide our customers with access to free cardboard bins to safely store such waste before collection and recycling. Once your bins are set up, simply separate your waste, and we'll then put together a waste collection schedule that meets your needs.
Working with Divert waste ensures your business has as little impact on the environment as possible. We aim to divert all your waste cardboard away from landfill sites, ensuring it's recycled at specialist facilities. This ensures that you comply will all environmental regulations put in place by the government while reducing your landfill tax payments.
For commercial cardboard recycling with Divert we:
Deliver free cardboard recycling bins in different sizes to keep your old cardboard dry before it's collected and recycled.
Recycle all waste cardboard where possible, disposing of it sustainably and responsibly away from landfill.
Provide a free quote tailored to your needs, including the size and number of cardboard bins you use and how often they're collected.
Arrange regular daily, weekly, and fortnightly cardboard waste collections with flexible schedules are flexible that can change when your business grows.
All cardboard recycled

Free cardboard bins

Fixed prices

Reliable collections

Landfill diversion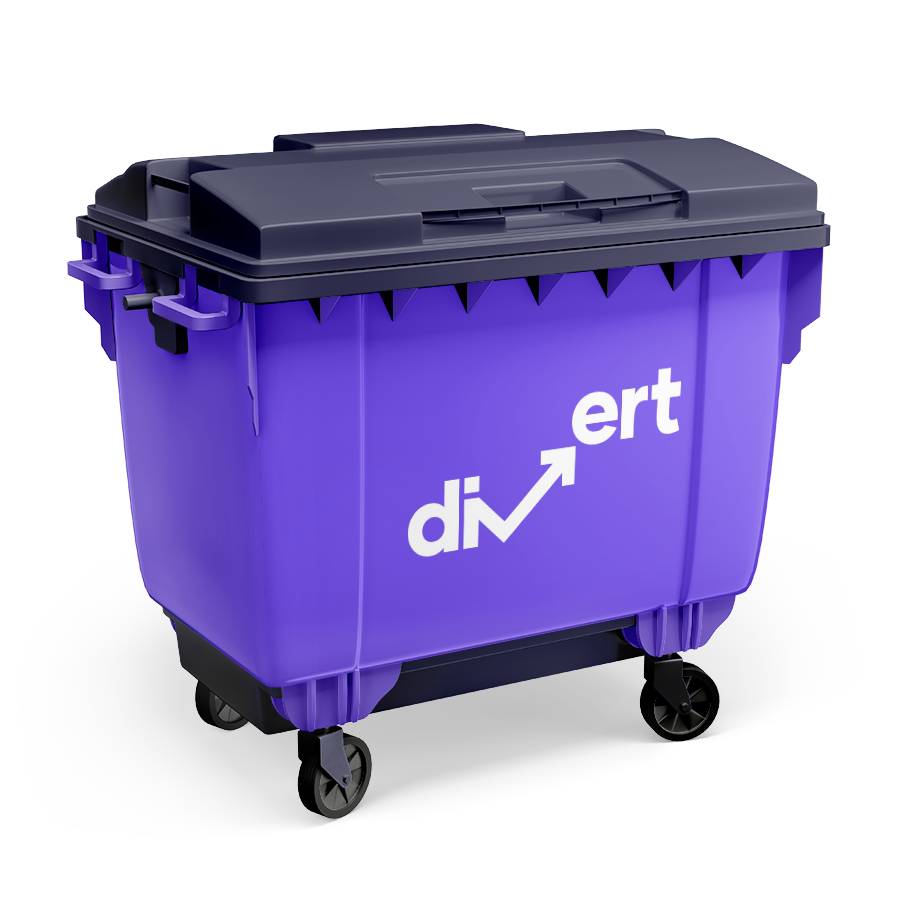 Book cardboard waste collection
Get a free quote for cardboard collection today – call 0333 444 0118 or contact us online. Give us an idea of the number and size of cardboard bins you need, how often you want them collected, and where you're based. Our friendly and expert team can answer any questions and offer advice about commercial cardboard recycling.
Get a free quote
Get a quick FREE quote for your cardboard waste collections
Free quote within 1 hr
Any type of cardboard
Claim a free cardboard waste bin
Collections across Yorkshire
Where can you collect cardboard waste?

What can you do with old cardboard boxes?

Recycling cardboard boxes is a sustainable and responsible action when you no longer need them. However, to reduce waste there are various other things you can do with cardboard boxes to breathe new life into them, such as:

Using them for storage – from office stationery to snacks and dry food items in the kitchen.
Reusing as packaging when sending out deliveries to clients and customers.
Creating drawer dividers to separate files and papers.
Protecting floors and other areas when painting.
Composting by cutting up into small pieces and adding to a pile.

How long does cardboard take to decompose?

Cardboard takes around two months to decompose. Cut the cardboard into small pieces to speed up the process. Otherwise, full sheets of cardboard may take around six months to decompose. Stacks of cardboard on top of each other may also take up to a year or longer to decompose if not put in a proper compost pile.