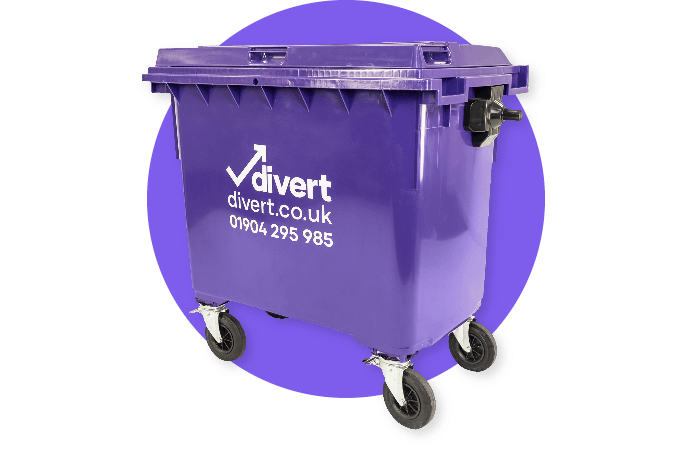 There are more than 360 licensed restaurants across Leeds and over 950 takeaways and fast-food outlets. Then there are countless cafes along the River Aire, city centre hotels, and bars along the Otley Run serving food to local Leeds residents and visitors. These all produce lots of food waste in Leeds every day.
The amount of food waste in Leeds varies, with more created on busy weekends and around Christmas compared to quieter periods. Recycling food in Leeds is important as if it ends up in landfill it produces methane that contributes to global warming and leachate, which can contaminate nearby Leeds water supplies.
At Divert we offer food waste collection and recycling to businesses across Leeds and the surrounding area.
Food Waste Collection Leeds

Get a quick quote
Get a quick FREE quote for your waste
Quote within 1 hour
All types of food waste
Claim your free bins
We cover all of Leeds
Food recycling in Leeds
We divert all waste food away from landfill in Leeds where possible to protect the local environment. We can collect all sorts of waste food in Leeds, including:
Leftovers from customers

Dairy foods – eggs, cheese, and cream

Raw and cooked meat and fish, including bones

Raw and cooked fruit and vegetables

Tea leaves, bags, and coffee grounds

Rice, pasta, and bread 
Get a free quote for food waste collection in Leeds today – call 0333 444 0118 or contact us online. 
How commercial food waste collection in Leeds works
Tell us the number and size of food waste bins you need, how often you want them collected, and where from in Leeds for a free quote. Once your collections are booked, we'll deliver free food waste bins for you to fill within their weight limits and any max fill lines.
Place your food waste bins at the agreed accessible collection point and our licensed waste carriers will come and remove them on time and replace them with new bins. They'll transport your waste food to a local waste management site in Leeds for responsible sorting, processing, and disposal.
It could end up at a large composting site or one of the anaerobic digestion plants at Ridge Road in Micklefield or AB Agri Limited-Sherburn in South Milford. These break down waste food to produce biogas that's used to produce electricity and biomethane that's fed into the national network.
Who needs food waste recycling in Leeds?
All businesses that produce any amount of waste food in Leeds must arrange commercial waste collection. Leeds City Council doesn't provide bins for businesses, and you can only throw away small food scraps with your general waste. Regular food waste recycling collections avoid bad smells and unhygienic conditions developing.
From fish and chip shops in Headingley to restaurants on the Headrow and pubs out in Roundhay and Chapel Allerton, anywhere that serves customers likely produces food waste. It could be spoiled or expired ingredients to leftover food on the plate by diners. Some of the main businesses that need food waste recycling services in Leeds are:
Restaurants

Hotels

Pubs

Schools

Cafes
Free food waste bins in Leeds
You can use a 240 litre wheelie bin to store any food waste on your premises. We deliver food waste bins in Leeds for free with no rental or delivery charges – you only pay for their collection. Their two wheels make them easy to move around and position near the point of food waste production.
Each 240 litre food waste bin is the same size as your household waste bin. They hold between three and five bags of waste. You can get as many food waste bins delivered as you need in Leeds and collected daily, weekly, or fortnightly to meet your needs and budget.
Arrange Leeds bin collection
Get a free quote
Food recycling centres in Leeds
There are two anaerobic digestion plants in the Leeds area that use food waste to create renewable energy. They both offer a more sustainable alternative to sending waste food to landfill. However, you can't send household waste to either facility and they're not open to the public, but commercial and industrial food waste is supplied to these recycling plants.
Ridge Road, Micklefield
Opened in 2016 with a plant size of 360 kWel + 600 Sm3/h biomethane. This plant uses food scraps, by-products, dedicated crops, beetroot, ryegrass, and poultry manure to produce biomethane and electricity. The biomethane is fed into the national network, while digestate is used as a liquid fertiliser.
AB Agri Limited-Sherburn, South Milford
Opened in 2016 with a plant size of 500 kWel/h + 500 Sm3/h biomethane. It's designed to accept 60,000 tonnes of food waste and grass clippings every year. It produces biogas and biomethane that's fed into the national gas network. Around 50,000 tonnes of pasteurised liquid fertiliser are also produced each year.
Why use Divert for food waste collection in Leeds?
Keep the waste food your business produces away from landfill sites in Leeds when you arrange regular and reliable collections with Divert. Recycling your commercial waste food helps protect the local environment and saves your business money by reducing how much landfill tax you pay for waste disposal.
Use free bins to store your food waste securely before it's collected with no rental or delivery charges. You can tailor the number of bins and collections you have for cost-effective food waste collection in Leeds. This avoids rotting food piling up as you wait for removal, keeping your premises clean.
Our team of drivers and customer service professionals are based in Yorkshire and have an excellent knowledge of Leeds. We work with local waste management sites and know the roads well to devise efficient and affordable food waste collection and disposal anywhere in Leeds.
All food waste collected in Leeds

Flexible Leeds food waste collections to suit your schedule

Free no obligation quote tailored to your food waste

Regular and reliable food waste collection in Leeds

Fixed costs including labour
Free bins

Fixed prices

Landfill diversion

Reliable waste collections

Collections across Leeds
Arrange food waste collection in Leeds
Get a free quote for food waste collection in Leeds and book your bin delivery and removals today – call 0333 444 0118 or contact us online. We'll provide a tailored quote specific to your needs with no obligation to proceed. If you've got any questions speak to one of our friendly team who'll be happy to help.
Other waste services
available in Leeds
One call we take it all 0333 444 0118
All waste types
Cardboard waste

House clearance Leeds

Bulky waste Leeds

Clinical waste Leeds

Dry mixed recycling waste Leeds

Food waste Leeds

Fridge freezer removal Leeds

Garden waste Leeds

General waste Leeds

Glass waste Leeds

Leeds bin collection

Leeds waste management

Man and van Leeds

Mattress collection Leeds

Office clearance Leeds

Rubbish removal Leeds

WEEE waste Leeds
Where do you collect food waste in Leeds?

We collect food waste from businesses all over Leeds, whether you run a busy restaurant in the city centre, a cosy café in Meanwood, or a vibrant takeaway in Harehills. Arrange delivery of free food waste bins to anywhere with an LS postcode. Book food waste collection in:

Leeds city centre (LS1)

Woodhouse and Little London (LS2)

Burley and Kirkstall (LS3 and LS4)

Headingley, Hyde Park, and Meanwood (LS6)

Chapel Allerton, Chapeltown, and Sheepscar (LS7)

Roundhay, Harehills, and Oakwood (LS8)

Burmantofts, East End Park, and Halton Moor (LS9)

Hunslet, Middleton, and Stourton (LS10)

Beeston, Cottingley, and Holbeck (LS11)

Armley, Wortley, and New Farnley (LS12)

Bramley, Moorside, and Rodley (LS13)

Seacroft, Thorner, and Killingbeck (LS14)

Cross Gates, Colton, and Temple Newsham (LS15)

Adel, Cookridge, Lawnswood, and Bramhope (LS16)

Alwoodley, Moortown, Shadwell, and Harewood (LS17)

Horsforth (LS18)

Yeadon, Rawdon, and Carlton (LS19)

Guiseley (LS20)

Otley (LS21)

Methley, Rothwell, and Woodlesford (LS26)

Morley, Churwell, and Gildersome (LS27)

What can you do with food waste in Leeds?

There are a few options for what you can do with food waste in Leeds from your business or home:

Compost food waste if you have the space and facilities. This is a cheap and environmentally friendly way to get rid of most types of waste food.

Throw away domestic food waste in your black bin for collection and disposal by Leeds City Council.

Arrange commercial food waste collection for any waste food your business produces with Divert.

How do households in Leeds get rid of food waste?

Leeds City Council used to run a limited food waste collection service in Rothwell and south-east Leeds, but they're currently suspended until further notice. Currently, you can dispose of domestic food waste in Leeds in your black general waste bin. Alternatively, add it to a compost pile or check if your local HWRC accepts food waste.

How many food banks are in Leeds?

There are around six major food banks in Leeds but each one has numerous distribution centres across the city. Leeds North & West Food Bank has five distribution centres in:

Woodhouse

Ireland Wood

Burley

Moortown

Farnley

Leeds South & East Food Bank has nine distribution centres in:

Harehills

Beeston

Gipton

Seacroft

Morley

Hunslet

Halton

Rothwell

Belle Isle

There are further food banks in Leeds such as Holbeck Food Bank, Right Choices Food Bank (in Headingley), Otley Food Bank, and Wetherby District Foodbank.