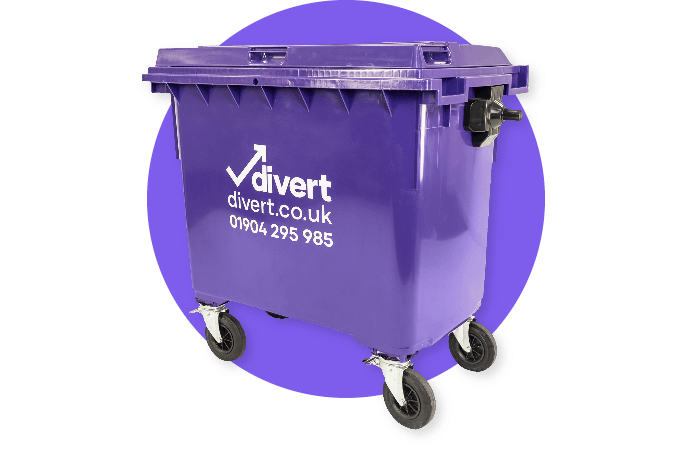 Bin collection in York with Divert is convenient and affordable. We provide free bins for your business anywhere in and outside the city walls, so you only pay for their collection. There are no rental fees or delivery charges, we'll simply drop them off for you to fill up, helping you save on your York bin collections.
A wide range of bins is available, from little to large wheelie bins and waste bags. This makes separating your rubbish and recycling easy to divert as much as possible away from landfill. Combine the best bins with a removal schedule suited to your needs for cost-effective bin collection in York.
Book York bin collection today or enquire for a free quote either call 0333 444 0118or contact us online.
York Bin Collection

Get a quick quote
Get a fast FREE quote for your waste
Free quote within 1 hr
Any type of waste
FREE bins and delivery
We cover all of York
York bins
We provide many different bins in York to help your business safely store most types of waste on-site before it's collected. These include lockable York bins for extra security and recycling bins to make separating your waste types simple, helping divert more rubbish away from landfill in the old Viking city.
Discover solutions for storing non-solid waste with oil drums and IBC containers. We offer specialist bins in York for sanitary and sharps waste, as well as all sorts of clinical waste bags. Discover the range of York bins available with free delivery:
240 litre wheelie bins

The same size as your household waste bin in York, which holds 3 to 5 bags.

360 litre wheelie bins

Slightly bigger than your bin at home to store 5 to 7 bags.

660 litre wheelie bins

A big four-wheel bin for 10 to 12 bags that can be lockable.

1100 litre wheelie bins

The biggest wheelie bin that holds up to 15 bags of waste and can be locked.
What can you put in York bins?
Our York bins can hold a wide variety of waste types to make separating your rubbish quick and easy. You can use wheelie bins of any size to store general waste, dry mixed recycling, paper, cardboard, and plastic for recycling. Glass and food waste can be stored in individual 240 litre wheelie bins.
Any York health centres, tattoo parlours, beauty salons, or other businesses that produce clinical waste should use the specific clinical waste bag designed for such waste. Sharps bins can hold a variety of sharp items (needles, scalpels, and syringes), while sanitary waste bins are a legal requirement for all businesses' bathrooms.
Use a few York recycling bins to split up your waste by type. We can provide one or more of the same or different sizes and types of bins for York businesses to ensure smooth waste management. Choose a size that suits the amount of rubbish you create and how often your bins are collected for a cost-effective solution.
General waste

Dry mixed recycling

Cardboard

Glass

Plastic

Food
Reliable and regular York bin collections
Arrange York bin collection regularly for your business, with daily, weekly, or fortnightly collections. Businesses across the cathedral city can combine bin sizes and a collection schedule for cost-effective removals. Work out the best bins and collection frequency for all your waste or speak to our team for advice on an efficient solution.
For example, you might want food waste bins from your café on the banks of the Ouse removed daily to avoid a bad odour developing. However, with your cardboard recycling bins in York, they might only need collecting once a week. One-off collections are also available if you've missed a collection or need an emergency or last-minute removal.
Where can I arrange bin collection in York?
You can book bin collections in York anywhere in and outside the city walls. We can deliver bins to and collect from businesses near York Minster and the Shambles out to Fulford, Rufforth, Sheriff Hutton and the wider York region. Arrange bin collections from:
York city centre (YO1)
Heslington and Osbaldwick (YO10)
Dunnington, Escrick (YO19)
Bishopthorpe, Upper and Nether Poppleton (YO23)
Acomb, Dringhouses (YO24)
Bootham, Clifton (YO30)
Heworth, Layerthorpe (YO31)
Haxby, Wigginton (YO32)
Elvington, Stamford Bridge (YO41)
Pocklington, Barmby Moor (YO42)
Boroughbridge (YO51)
Sheriff Hutton (YO60)
Easingwold (YO61)
Helmsley, Kirkbymoorside (YO62)
How does York bin collection work?
There are a few simple steps for regular and reliable bin collection in York for your business:
Get a quote

Tell us the type, size, and number of bins you need and how often you want them collected. We'll deliver the bins for free to your business anywhere in and around York.

Fill your bins

Separate your waste and fill each bin with the relevant waste and recycling, within any weight limits.

Book collection

Place the bins in an agreed and accessible pickup point ahead of the collection time. One of our waste trucks driven by a licensed waste carrier will come out and collect your bins.

Recycle waste

They'll drive the bins to a nearby waste management site in and around York, where as much as possible will be recycled.
Why use Divert for bin collection in York?
Enjoy regular and reliable bin collection in York with Divert. Free bins and a collection schedule that meets your needs means you can save money when getting rid of your commercial waste. Plus, by diverting your rubbish from landfill and recycling as much as possible you'll pay less landfill tax – and help the environment.
Divert are based in York so all our team know the city well. We can provide quick and effective solutions to help you get rid of all sorts of waste safely and in an environmentally friendly way. Choose from a wide range of bins and collection schedules to benefit your business and the planet with Divert.
Regular daily, weekly, or fortnightly York bin collections

Free no obligation quote tailored to your waste needs

Any type of waste removed in York

Fixed prices for regular bin collection

Local and reliable bin collections in York
Free bins

Fixed prices

Landfill diversion

Collections across York

Reliable bin collection
Book your York bin collections
Ready to save money, time, and effort getting rid of your business waste in York? Call 0333 444 0118 or contact us online for a free quote for York bin collection. One of our friendly Divert team members will provide a quote based on the specific bins and collection schedule you need and can answer any questions you have.
Household garden waste bins in York
Many houses across York are also eligible for a free garden waste bin from the City of York Council. This is a green wheelie bin that you can use to throw away domestic garden waste, such as:
Grass cuttings

Hedge trimmings

Leaves, bark, twigs, and small branches

Plants and flowers

Windfall fruit

House plants, dried and cut flowers

Christmas trees and wreaths (chopped up)
You cannot use your domestic garden bin in York for soil and rubble, turf, charcoal, food waste, pet and animal waste, invasive weeds, Christmas decorations, and large branches.
Households in eligible areas can have one green bin collected every fortnight in York for free. These are removed between mid-March and the start of December. If you create more garden waste and need extra collections or bins you can sign up to the additional garden waste subscription scheme. There is a charge for the service.
Use the City of York Council's waste collection calendar to check if your home is eligible for garden waste bins and to see your local collection dates.
Other waste services 
available in York
One call we take it all 0333 444 0118
All waste types
Cardboard waste York

Sofa disposal York

Bulky waste York

Clinical waste York

Dry mixed recycling waste York

Food waste York

Fridge freezer removal York

Garden waste York

General waste York

Glass waste York

York bin collection

York waste management

Man and van York

Mattress collection York

Office clearance York

Rubbish removal York

WEEE waste York

Skip bags York
Other helpful information about York bins
The City of York Council is responsible for providing bins and collection services for most households across York. They carry out six million bin collections every year in York for general waste, recycling, and garden waste bins. St Nicks are responsible for recycling bin collections for some city centre properties.
Black bins are provided and used to store non-recyclable household waste, which is collected fortnightly. Three recycling boxes with lids are provided for free to every household and they're also collected once a fortnight. Some city centre properties receive weekly recycling bin collections by St Nicks.
How many recycling bins do York households have?

Households in York have three recycling boxes with lids. These are provided for free by the City of York Council and collected for free every fortnight. Any household that produces more recycling than these boxes can hold can use their own sturdy plastic containers to present recycling. You can also take excess domestic recycling to Hazel Court HWRC or Towthorpe and Strensall HWRC.

What size bins do York restaurants need?

Restaurants in York can use 240 litre wheelie bins to store food waste from their kitchens and customer leftovers. You might need more than one at a time and daily collections to keep your restaurant clean and safe. Other wheelie bin sizes are useful to store dry mixed recycling (such as waste packaging) and general waste.

The best size bins for general waste and recycling will depend on the size and available space of your York restaurant. Combine it with an efficient bin collection schedule for cost-effective removals.

What's the best bin for glass bottles?

Pubs, restaurants, hotels, and other businesses in York that get through a lot of beer and wine bottles need a dedicated glass waste bin. You can use a 240 litre wheelie bin as a standalone glass bin. This can hold all sorts of glass waste including bottles and jars of different colours, which will all be recycled.