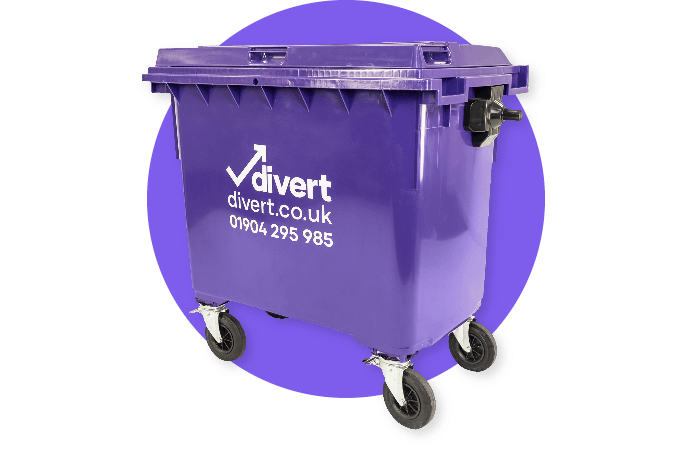 Recycling glass in Harrogate is important to keep the spa town as green as The Stray and save your business money on disposal costs. At Divert we provide free glass bins for businesses across the town to store and separate glass from other waste. This ensures as much as possible is recycled. 
There are more than 200 restaurants, pubs, cafes, and bars across Harrogate and the wider district (including six restaurants in the Michelin guide). Each one creates some level of glass waste from empty wine and beer bottles to used jars of condiments and ingredients. Regular glass collection is available anywhere in Harrogate, and on an ad hoc basis.
Glass Waste in Harrogate

Get a quick quote
Get a quick FREE quote for your glass waste
Quote within 1 hour
All types of glass waste
Claim your free bins
Collections across Harrogate
Harrogate glass waste
Use our bins to recycle glass in Harrogate including:
Glass bottles

– mixed colours of empty wine, beer, and soft drinks bottles. 

Glass jars

– combine colours of used condiment, sauce, and ingredient jars.

Glassware

– broken, unneeded, and waste drinking glasses, cups, and vases. 
Chemically treated glass items (like Pyrex) can't be recycled though. Get a free quote for glass waste collection in Harrogate – call 0333 444 0118 or contact us online.
How commercial glass recycling works in Harrogate
Start with a free quote by telling us the number of glass bins you need, how often you want them collected, and where from in Harrogate. Our experts can advise on the best bins and collection frequencies if you're unsure. Then we'll book delivery and collection of glass bins when it suits you.
We'll deliver the glass bins for free. Fill them with glass waste of various colours, shapes, and sizes. Make sure you stick to the weight limits of each glass bin to avoid overweight charges. At the agreed time and date one of our purple trucks driven by a licensed waste carrier will collect your bins.
They'll transport your glass waste bins to a nearby waste transfer station in North Yorkshire. All the glass will be checked and sorted, then sent for recycling. The glass recycling process involves it being cleaned, crushed into cullet, heated, and moulded into new glass products.
Who needs glass waste collection in Harrogate?
All businesses in Harrogate that use any amount of glass items need commercial waste collection of such waste. Bars along John Street to pubs in Pannal all get through many bottles of beer, wine, and soft drinks. Restaurants, cafes, and tea rooms produce plenty of glass waste too.
Hairdressers, nail salons, and spas on the outskirts of Harrogate also create glass waste when they get through various beauty products. Whatever type and size of business you run in Harrogate, glass waste collection is available and especially useful for:
Pubs

Restaurants 

Nightclubs

Hospitality 

Retailers
Free glass recycling bins in Harrogate
Get free glass recycling bins delivered to your business in Harrogate. You simply pay for collection with zero delivery or rental charges for the bins. Arrange collections on a daily, weekly, or fortnightly schedule to suit your needs. Each glass bin can be used for bottles and jars of any colour – and you can use more than one at a time.
240L glass bin – the same size as your household wheelie bin that holds 3 to 5 bags of waste.
Book bin collection in Harrogate
Get a free quote
 Local glass recycling centres in Harrogate
There are glass bottle banks across Harrogate in supermarkets and council car parks where you can recycle glass bottles and jars from home. Households in Harrogate also have two black recycling boxes that you can use to recycle clean and dry glass bottles and jars of any colour.
You can also take waste glass to two household waste recycling centres (HWRCs) in Harrogate. Harrogate HWRC accepts domestic glass waste for recycling, while you can take commercial and household glass waste to West Harrogate HWRC. You must be a licensed waste carrier and register for a vehicle pass if using a commercial vehicle.
Charges apply for commercial glass waste disposal. These are based on a bag or van load size and range from £1.20 for a standard waste bag to £75 for 0.5 to 1 standard transit van-sized load.
Harrogate HWRC 
addresses and opening hours
Both Harrogate and West Harrogate HWRCs are open six days a week (closed on Wednesdays). Also shut on Christmas Day, Boxing Day, and New Year's Day.
April to September – 8.30am to 5pm
October to March – 8.30am to 4pm
Harrogate HWRC

Harrogate HWRC

Wetherby Road

Harrogate

North Yorkshire

HG3 1DE

Telephone – 01609 780 780

West Harrogate HWRC

West Harrogate HWRC

Penny Pot Lane

Harrogate

North Yorkshire

HG3 2SN

Telephone – 01609 780 780
Why use Divert for your glass recycling in Harrogate?
Get free bins delivered for your glass waste in Harrogate to store bottles, jars, and more safely and securely before collection. Recycling glass saves your business further costs on disposal by reducing how much landfill tax you pay. Plus, it benefits the local environment, helping keep the town as green as Valley Gardens.
You can tailor Harrogate glass bin collections to meet your needs with the right number, size, and daily, weekly, or fortnightly removals. Divert is based in North Yorkshire with good connections to Harrogate waste sites and drivers who know the area well, ensuring we deliver fast, flexible, and affordable glass recycling anywhere in the town.
All glass waste recycled in Harrogate

Free glass recycling bins delivered

Regular and reliable glass recycling collections

Free no obligation quote tailored to your glass waste

Fixed prices and cost-effective Harrogate glass recycling
Free bins

All glass recycled

Fixed prices

Collections across Harrogate

Reliable glass waste removal
Arrange glass collection in Harrogate
Get a free quote for glass collection in Harrogate today – call 0333 444 0118 or contact us online. Simply let us know the number and size of bins, where you need them collected from, and how often for a tailored, no-obligation quote. If you need some help or have any questions one of our friendly and expert team can assist.
Get a free quote
Harrogate glass recycling FAQs

Where can you collect glass waste in Harrogate?

Glass waste collection is available for businesses based anywhere in Harrogate and the surrounding towns and villages. We can deliver and collect glass bins from anywhere with an HG postcode, from cafes in the town centre to pubs in Burn Bridge, Ripley, and Knaresborough. Book glass waste collection in Harrogate from:

Harrogate town centre, Jennyfields, Duchy, New Park, and High Harrogate (HG1)

Pannal Ash, Hornbeam Park, Rossett, Oatlands, and Woodlands (HG2)

Pannal, Burn Bridge, Pateley Bridge, Glasshouses, Ripley, Killinghall, Kirkby Overblow, Spofforth, Beckwithshaw, and Follifoot (HG3)

Ripon, Masham, Wath, Leighton, and Eavestone (HG4)

Knaresborough, Staveley, Allerton, Plompton, and Flaxby (HG5)

Can you put glass in Harrogate recycling bins?

Glass bottles and jars can be put in the two black recycling boxes provided by Harrogate Borough Council to households. You can recycle any colour of glass bottles and jars in these boxes. Ensure they're clean, dry, and in one piece. You can't use these recycling boxes to recycle broken glass, Pyrex or cookware, or spectacles.

How much does commercial glass waste collection cost in Harrogate?

Commercial glass waste collection costs in Harrogate depend on the size and number of bins you use, how often they're collected, and where from. Combine the best sizes and collection frequencies for cost-effective glass recycling. Ensure you don't exceed any weight limits of the bins, otherwise you'll have to pay an overweight charge too.

The quickest and easiest way to find out how much commercial glass waste collection costs in Harrogate is to get a free quote. This is based on your specific needs with fixed prices for a clear idea of the costs for your business.
Cardboard waste Harrogate

Sofa disposal Harrogate

Furniture disposal Harrogate

Bulky waste Harrogate

Dry mixed recycling waste Harrogate

Food waste Harrogate

Fridge freezer removal Harrogate

Garden waste Harrogate

General waste Harrogate

Glass waste Harrogate

Harrogate bin collection

Harrogate waste management

Man and van Harrogate

Mattress collection Harrogate

Office clearance Harrogate

Rubbish removal Harrogate

WEEE waste Harrogate