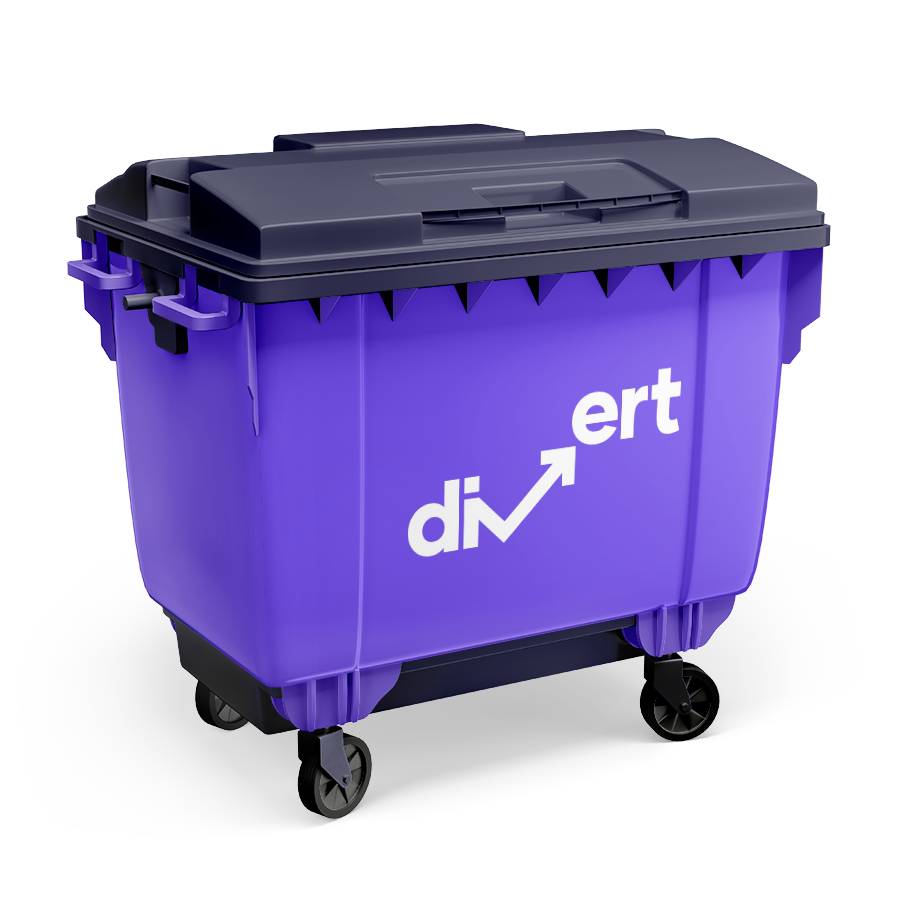 Regular bin collection in Bradford avoids rubbish building up on your premises and ensures smooth waste management for your business. Arrange reliable and cost-effective Bradford bin collection with Divert as we provide free bins to store all types and amounts of waste. You simply pay for collection – with no rental, delivery, or other fees.
Easily separate your rubbish to improve recycling and safely store it on your premises before collection in our bins to reduce the risk of contamination. A wide range of wheelie bins, bags, and containers are available, and you can use as many as you need for efficient bin collection in Bradford.
Bradford Bin Collection

Get a quick quote
Get a quick FREE quote for your waste
Quote within 1 hour
All types of waste
Claim your free bins
Collections across Bradford
Bradford bins
Book Bradford bin collection on a daily, weekly, or fortnightly basis to suit your needs too. After collection, we divert as much waste as possible away from landfill to look after the local environment too. Get a free quote for bin collections in Bradford today – call 0333 444 0118 or contact us online.
We can provide a variety of bins in Bradford for you to store all sorts of waste onsite safely and securely before collection. Enjoy free delivery of as many as you need to easily separate your recyclable rubbish and reduce the risk of contamination. For extra security, we offer lockable bins too.
The selection of Bradford bins includes wheelie bins in many sizes that are easy to move around your premises. Waste bags for garden waste and containers for oil and other specialist waste types are also available. Delivery of all bins, bags, and containers is free, you just pay for collection.
240 litre wheelie bins

The same as your household waste bin in Bradford, it holds 3 to 5 bags.

360 litre wheelie bins

Slightly bigger than your domestic bin it can store 5 to 7 waste sacks.

660 litre wheelie bins

A four-wheel bin that holds 10 to 12 bags of waste and is lockable.

1100 litre wheelie bins

The biggest wheelie for up to 15 bags of waste, which can be locked.
What can you put in Bradford bins?
Use our bins to store any waste your business produces in Bradford. General waste, dry mixed recycling, paper, cardboard, and plastic can go in any size wheelie bin. For glass and food waste you can only use a 240 litre wheelie bin. Make sure you stick within any weight limits depending on the bin size and waste type.
Green and garden waste such as grass trimmings is often stored in waste bags. We also supply clinical waste bags and sharps bins to store such specialist waste types. Hairdressers, beauty salons, and tattoo parlours in Bradford must all use these to safely store and dispose of any kind of clinical waste.
Oil drums and IBC containers are also available for liquid waste, such as oil. Our expert and friendly team can advise on the best size, type, and number of bins, bags, or containers to use for your business in Bradford. This includes help with a cost-effective and efficient collection schedule that meets your needs.
Regular and reliable Bradford bin collections
Arrange daily, weekly, or fortnightly bin collections in Bradford. Work out a removal schedule that's best for your business based on the type and size of bins you have for cost-effective collections. Whether you want big wheelie bins and infrequent collections or regular removals of smaller bins, we can provide the best solution for you.
For example, restaurants, hotels, and bars in Bradford city centre might want daily collections of food waste bins to keep the place clean and hygienic. However, offices may only need fortnightly removal of dry mixed recycling bins if only a limited amount is produced daily. We'll collect and remove your bins on time whenever you want them removed.
Where can I book bin collection in Bradford?
Bin collections are available anywhere in Bradford and the surrounding region. This includes takeaways in Little Germany that need daily food waste collections to paper bin removals from offices in Manningham and general waste removals from cafes in Haworth. Book bin collection in Bradford in:
Bradford City Centre, Little Germany, and City Park (BD1)

Eccleshill, Five Lane Ends, and Fagley (BD2)

Barkerend, Thornbury, Eastbrook, Pollard Park, and Undercliffe (BD3)

Bierley, Laisterdyke, Tong, and Holme Wood (BD4)

Bankfoot, Little Horton, Marshfields, and Ripleyville (BD5)

Buttershaw, Wibsey, Woodside, and Odsal (BD6)

Great Horton, Lidget Green, and Horton Grange (BD7)

Manningham, Girlington, Four Lane Ends, and Belle Vue (BD8)

Heaton, Daisy Hill, Chellow Heights, and Chellow Grange (BD9)

Apperley Bridge, Eccleshill, Idle, Ravenscliffe, and Thackley (BD10)

Birkenshaw and Drighlington (BD11)

Low Moor, Oakenshaw, Wyke, and Delph Hill (BD12)

Cullingworth, Clayton Heights, Denholme, Queensbury, and Thornton (BD13)

Clayton (BD14)

Allerton, Norr, Wilsden, and Sandy Lane (BD15)

Bingley, Cottingley, Eldwick, and Harden (BD16)

Baildon and Shipley (BD17)

Saltaire, Windhill, and Wrose (BD18)

Cleckheaton, Gomersal, and Scholes (BD19)

Cononley, Cross Hills, Silsden, Steeton, and Sutton-in-Craven (BD20)

Hainworth and Keighley (BD21)

Cowling, Haworth, Oakworth, and Oxenhope (BD22)
How does Bradford bin collection work?
4 simple steps
Bradford bin collection follows a simple process, whatever type, size, and number of bins you need and wherever you're based in and around the West Yorkshire city:
Get a quote

Start with a free quote for bin collection in Bradford. Tell us the type, size, and number of bins you need, where you want them delivered and collected from and how often. We'll book your bin deliveries and collections if you're happy with the price and bring over your bins at the agreed time.

Fill your bins

Simply fill each bin, bag, or container with your waste. Stick within the weight limits for each bin and waste type. If you've got extra waste get in touch and we'll work out a solution. Place your bins in the agreed accessible collection point ahead of the removal time.

Book collection

One of our purple trucks with a licensed waste carrier behind the wheel will come out and remove your full bins, replacing them with fresh ones.

Recycle waste

They'll drive your waste to a nearby waste transfer station in Bradford for checking, sorting, and recycling or responsible disposal – depending on the waste type.
Why use Divert for bin collection in Bradford?
Make waste management easy and effective with regular and reliable bin collection in Bradford with Divert. Save money with free bins delivered to your organisation anywhere in Bradford and reduce the amount of landfill tax you pay by recycling more of your rubbish. Having the right type, size, and number of bins makes separating recycling easy.
Once your Bradford bin collections are booked all you need to do is fill them up and place them in the collection point for fast, flexible, and efficient waste collection. A tailored approach saves you time, effort, and money. We divert as much waste as possible away from landfill to help protect the local environment.
Our team are based in Yorkshire with connections to Bradford waste sites and great knowledge of the roads and areas. This local touch helps ensure you receive regular and reliable bin collections in Bradford.
Regular daily, weekly, or fortnightly bin collections
Free no obligation quote tailored to your waste needs
Any type of waste removed in Bradford
Fixed prices for regular bin collection
Local and reliable Bradford bin collections
Fixed prices

Regular bin collection

Landfill diversion

Free bins

Reliable rubbish removal
Information about household bin collection in Bradford
Bradford Council provides bins and collection services to residents in the district. Every household has one general waste bin and one recycling bin (although you can apply for extra recycling bins). These are collected on the same day but on alternate weeks, your general waste bin is emptied one week, and your recycling bin the next.
General and recycling bins and their emptying are provided for free to residents in the Bradford district. Some households also receive a garden waste bin but there is a charge for this to be collected, which happens every four weeks. You can check if you're eligible and see your bin collection dates in Bradford on the Bradford Council website.
The types of waste you can put in each household waste bin in Bradford include: 
Green bin collection in Bradford

– for general household waste and non-recyclable rubbish, such as food scraps, non-recyclable packaging (polystyrene trays, plastic carrier bags), and greeting cards with glitter.

Grey bin collection in Bradford

– for domestic recycling such as junk mail, newspapers, envelopes, drinks cans, aerosols, plastic bottles, and cardboard.

Brown bin collection in Bradford

– for garden waste such as grass clippings, hedge trimmings, garden plants, leaves, twigs, and small branches.
Households in Bradford use a 240 litre bin for general waste and recycling. If you live in a hard-to-reach location then your domestic bins may be collected by a transit van rather than a bin lorry, but it will still be every alternate week. Extra waste left next to the bin will not be removed. You can apply for an additional recycling bin or take waste to your nearest HWRC.
Book a Bradford bin collection
Get a free no obligation quote for bin collection in Bradford, wherever you're based across the city and whatever type of waste you need removing. Our friendly and expert team can answer any questions and advise on the best Bradford bins and collection schedule for your need if you need a hand.
Other waste services 
available in Bradford
One call we take it all 0333 444 0118
All waste types
Cardboard waste

Sofa disposal Bradford

Bulky waste Bradford

Clinical waste Bradford

Dry mixed recycling waste Bradford

Food waste Bradford

Fridge freezer removal Bradford

Garden waste Bradford

General waste Bradford

Glass waste Bradford

Bradford bin collection

Bradford waste management

Man and van Bradford

Mattress collection Bradford

Office clearance Bradford

Rubbish removal Bradford

WEEE waste Bradford
Bradford bin collection FAQs

How do I report a missed bin collection in Bradford?

If your household waste or recycling bin collection in Bradford has been missed you should contact Bradford Council online. If a bin collection by Divert has been missed for your business in Bradford. We'll look into the reason why it was missed and arrange a solution to get rid of your waste quickly.

What colour bin is for recycling in Bradford?

Household waste recycling bins in Bradford are grey. They're standard 240 litre wheelie bins that you can use to recycle all sorts of clean, dry, and mixed waste materials. This includes paper, cardboard, and some metals and plastics (such as empty drinks cans and bottles).

When is garden bin collection in Bradford?

Garden bin collection in Bradford runs all year with 12 collections – one every four weeks. The collection date depends on where you live in Bradford, which you can check online. To ensure your garden bin collection in Bradford runs smoothly, please place your bin outside by 6.30am on the day of collection.