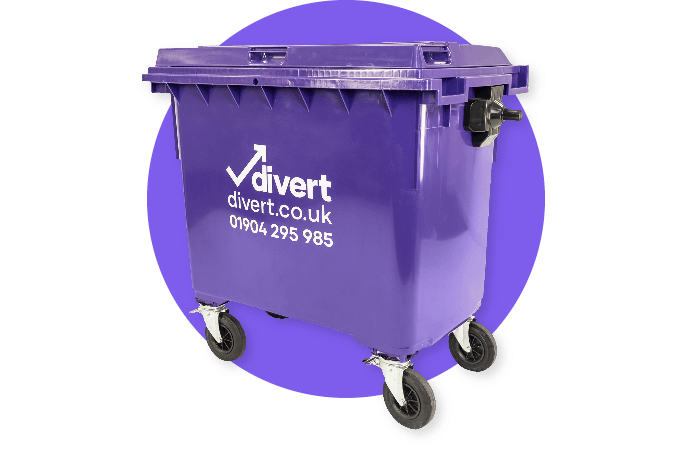 Recycling cardboard in Harrogate is essential for all businesses as it's one of the most sustainable materials. Households in the spa town can recycle domestic cardboard in blue bags for recycling that the council collects. Businesses must arrange commercial cardboard collection in Harrogate by licensed waste carriers, such as Divert.
We provide free bins to store your waste cardboard and can collect from anywhere across Harrogate and the wider district. This includes all types of cardboard, including paperboard (thin cardboard such as cereal boxes) and corrugated cardboard (thicker and more durable for packaging). All cardboard collected in Harrogate is recycled and diverted away from landfill, helping keep the town as green as Valley Gardens.
Cardboard Recycling in Harrogate

Get a quick quote
Get a quick FREE quote for your cardboard waste
Quote within 1 hour
All types of cardboard
Claim your free bins
Collections across Harrogate
Harrogate cardboard waste removal
You can combine the following in a cardboard recycling bin for removal anywhere in Harrogate:
Delivery boxes

Packaging – takeaway boxes and cardboard envelopes

Boxes – such as cereal, egg, and dishwasher tablet boxes

Greeting cards

Cardboard tubes – from kitchen and toilet rolls
Get a free quote for cardboard recycling collections in Harrogate today – call 0333 444 0118 or contact us online.
How commercial cardboard recycling works in Harrogate
Get a free quote tailored to your needs based on the number and size of cardboard bins you need, how often they'll be collected, and where from in Harrogate. If you're happy with the price we'll deliver free bins to your business and book a date and time for collection.
Simply fill each bin with your waste cardboard (both paperboard and corrugated cardboard) and within any weight limits. Move them to the pickup point and one of our purple trucks driven by a licensed waste carrier will come and collect them at the agreed date and time. They'll take them to a nearby waste transfer station in North Yorkshire.
The cardboard bins will be emptied, the waste sorted and sent for recycling. At the recycling centre, the cardboard is separated by grade and then shredded. Water is added to form a pulp, which is then filtered and dried. It's then rolled into sheets to form new cardboard and used to make many cardboard products.
Who needs cardboard recycling in Harrogate?
All Harrogate businesses create some amount of cardboard waste. It could be offices in Cardale Park getting rid of packaging from their latest IT equipment or takeaways in Starbeck looking to recycle pizza boxes. All clean and dry cardboard businesses in Harrogate produce should be collected by licensed waste carriers and recycled.
There are around 20 secondary and 70 primary schools in Harrogate that also benefit from cardboard collections. Storage and delivery boxes for food, supplies, and equipment, as well as cardboard used in art lessons, is all recyclable.
Businesses that only create small amounts of cardboard waste might be better off using a dry mixed recycling bin. Some of the main places that need cardboard recycling in Harrogate include:
Shops

Restaurants

Hotels

Pubs

Schools
Free cardboard recycling bins in Harrogate
We deliver free cardboard bins to your business in Harrogate with no rental or delivery fees – you just cover the collection costs. These are all wheelie bins of various sizes, which makes moving them close to where you create cardboard waste and to the collection point easy.
The range of cardboard bins includes two-wheel bins for a few bags of old cardboard to four-wheel bins that can store up to 15 bags of waste. Arrange delivery of one or more of the same or different sized bins to suit your cardboard recycling needs in Harrogate. Cardboard recycling bins include:
240 litre wheelie bins

A standard two-wheel bin the same size as your black domestic bin at home that stores 3 to 5 bags of waste.

360 litre wheelie bins

The biggest two-wheel bin that can hold between 5 to 7 bags of cardboard waste.

660 litre wheelie bins

A four-wheel bin for storing 10 to 12 bags of waste.

1100 litre wheelie bins

The biggest wheelie bin for up to 15 bags of old cardboard.
Get a free quote
Local recycling centres in Harrogate
There are two main household waste recycling centres (HWRCs) – Harrogate HWRC and West Harrogate HWRC. You can take domestic cardboard waste to either site if you're a resident and have excess cardboard that won't fit in your blue bags for household recycling in Harrogate.
Commercial cardboard recycling can only be taken to West Harrogate HWRC. You must be a licensed waste carrier and need a vehicle permit to visit. Charges apply to dispose of commercial cardboard waste. These range from 60p for a standard waste bag to £23.60 for 0.5 to 1 standard transit-sized van load and £47.30 for 1.5 to 2 standard transit-sized van load.
Harrogate HWRC 
Addresses & Opening hours
Harrogate HWRC opening hours
Both Harrogate and West Harrogate HWRCs are open six days a week (closed on Wednesdays). Also shut on Christmas Day, Boxing Day, and New Year's Day.
April to September – 8.30am to 5pm
October to March – 8.30am to 4pm
Harrogate HWRC

Harrogate HWRC

Wetherby Road

Harrogate

North Yorkshire

HG3 1DE

Telephone – 01609 780 780

West Harrogate HWRC

West Harrogate HWRC

Penny Pot Lane

Harrogate

North Yorkshire

HG3 2SN

Telephone – 01609 780 780
Why use Divert for cardboard recycling in Harrogate?
Arrange cardboard collection in Harrogate on a schedule that suits you. Get a free quote based on the exact bins and removal frequencies you need. Plus, we deliver free bins and divert all cardboard waste away from landfill – saving you money on landfill tax, while benefiting the environment too.
We're based in North Yorkshire and have close connections to waste sites across the county. Our drivers are licensed waste carriers and know the district well. This ensures we provide a local cardboard collection service in Harrogate that's fast, flexible, and affordable, wherever your business is based.
All cardboard recycled in Harrogate

Flexible cardboard collections to meet your needs

Free no obligation quote based on your cardboard waste

Regular and reliable Harrogate cardboard collections

Fixed prices with no bin rental fees
Free bins

Cardboard recycling

Collections across Harrogate

Fixed prices

Landfill diversion
Arrange cardboard collection in Harrogate
Get a free no obligation quote for cardboard collection in Harrogate – call 0333 444 0118 or contact us online. Tailor it to your needs based on the bins you want delivering and collecting. If you've got any questions or want a bit of advice one of our friendly and expert team can help.
Get a free quote
Harrogate cardboard recycling FAQs

Where can I arrange commercial cardboard collection in Harrogate?

You can arrange commercial cardboard collection anywhere in Harrogate – from the town centre near the famous baths out to Rossett, Pannal, Ripon, and Knaresborough. Our cardboard recycling collections cover the entire HG postcode district, so you can responsibly get rid of cardboard across the region. Book cardboard collection in:

Harrogate town centre, Jennyfields, Duchy, New Park, and High Harrogate (HG1)

Pannal Ash, Hornbeam Park, Rossett, Oatlands, and Woodlands (HG2)

Pannal, Burn Bridge, Pateley Bridge, Glasshouses, Ripley, Killinghall, Kirkby Overblow, Spofforth, Beckwithshaw, and Follifoot (HG3)

Ripon, Masham, Wath, Leighton, and Eavestone (HG4)

Knaresborough, Staveley, Allerton, Plompton, and Flaxby (HG5)

What bin do you use for cardboard in Harrogate?

Households in Harrogate can use two blue bags to recycle cardboard. This includes cereal boxes, food packaging, greetings cards, egg boxes, brown cardboard and corrugated cardboard packaging. Flatten and trim down any cardboard to fit inside the bag. Two black recycling boxes are provided as well, which can be used for any cardboard food and drinks cartons.

Can I mix cardboard with paper in Harrogate?

A cardboard recycling bin in Harrogate should only be used to store cardboard – but you can mix different grades and types. Use a separate paper recycling bin for any commercial paper waste. With domestic waste, you can combine waste paper and cardboard in blue recycling bags.

Businesses that only produce small amounts of cardboard and paper might be better off using a dry mixed recycling bin. You can mix cardboard and paper in these bins. Find out more about dry mixed recycling in Harrogate.
Cardboard waste Harrogate

Sofa disposal Harrogate

Furniture disposal Harrogate

Bulky waste Harrogate

Dry mixed recycling waste Harrogate

Food waste Harrogate

Fridge freezer removal Harrogate

Garden waste Harrogate

General waste Harrogate

Glass waste Harrogate

Harrogate bin collection

Harrogate waste management

Man and van Harrogate

Mattress collection Harrogate

Office clearance Harrogate

Rubbish removal Harrogate

WEEE waste Harrogate