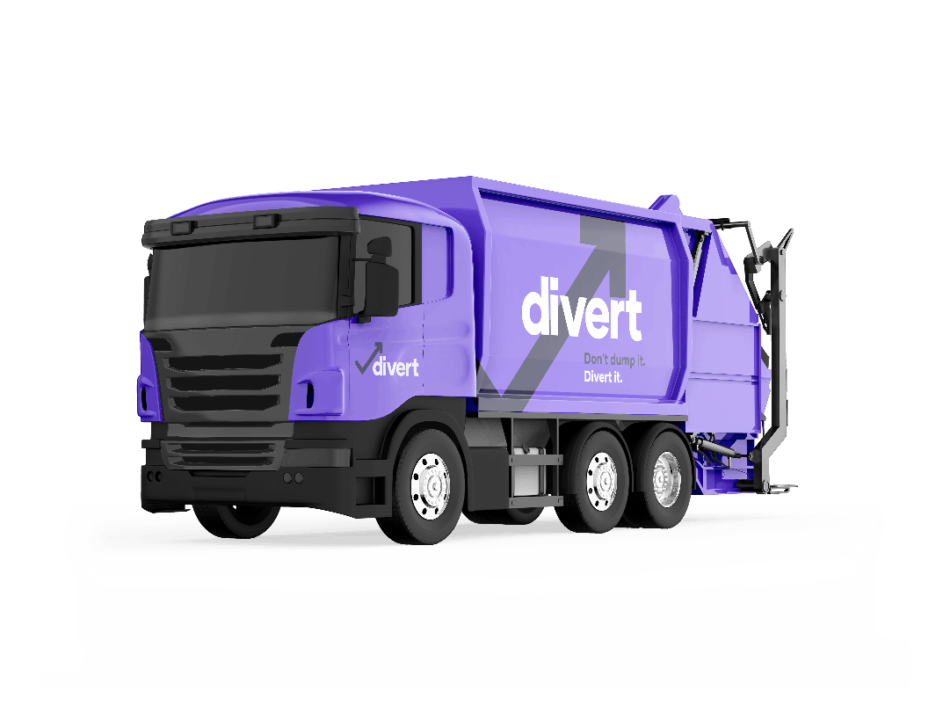 A house clearance in Wakefield takes a lot of time and effort normally. Emptying a semi-detached home in Sandal, a bungalow in Normanton, or a terraced house in Castleford involves removing furniture, white goods, and other big items. At Divert we can help the 132,000 households in Wakefield with any kind of house clearance.
Our team of professionals help remove everything you need taking out of a property to save you time and effort. Whether you're clearing a home after a bereavement, when preparing to move, or simply need some old furniture disposed of, we can remove all sorts of items from homes in Wakefield.
House Clearance in Wakefield

Get a free quote
Get a quick FREE quote for your waste
Quote within 1 hour
All types of waste
Claim your free bins
Collection across Wakefield
Wakefield house clearance
We can clear all sorts of waste items from any home in Wakefield, including:
Furniture – sofas, beds, tables and chairs
Carpets

– tufted and woven carpets, rugs 

WEEE

– TVs, computers, and lights

White goods – fridge freezers, washing machines, and tumble driers
Bags of junk

–

old clothes, books, crockery, and bric-a-brac
The average house has 27 pieces of furniture, which is the bulk of what we remove from homes in Wakefield. Everything is diverted away from landfill and disposed of responsibly, through recycling and reuse where possible. Get a free quote for a Wakefield house clearance today – call 0333 444 0118 or contact us online.
How a house clearance in Wakefield works
Start with a free quote tailored to the needs of your house clearance in Wakefield (based on the types and amount of waste, when you need it removed and where from). We'll provide a no-obligation quote with fixed prices and labour costs included and can then book a time and date that suits you.
One or more of our purple vans and some of our professional team will come to the property on the day. They'll lift, carry, and load up all your waste and items into the van, saving you the stress and hassle of the manual labour involved. Once everything is loaded up it'll be driven to a nearby waste transfer station.
Everything is unloaded, checked, and sorted before being sent for responsible disposal. This varies depending on the items and their condition. Working appliances may go to a charity for reuse and donations, while furniture in poor condition can be broken down and recycled. Sofas containing POPs will be incinerated in line with environmental guidelines, but everything is diverted away from landfill.
Who needs a house clearance in Wakefield?
The 132,000 households in Wakefield can all need house clearance services at some point, whether moving home, clearing after a bereavement, or getting rid of lots of waste at once. Renters and homeowners benefit from the service to responsibly get rid of big items they can't take with them when moving.
Businesses also need house clearance services in Wakefield. It saves time, effort, and money for landlords and estate agents to clear rented properties at the end of a tenancy. Solicitors may also need house clearances in Wakefield when probate is involved and a home needs clearing before it's sold.
Some of the main times a Wakefield house clearance is needed are when:
Getting rid of bulky items you can't or don't want to take with you when selling your Wakefield home. 

Clearing anything left behind by a previous owner or tenant when moving into a new home. 

Disposing of big and bulky items at the end of a tenancy that you won't take with you, such as furniture and electricals. 

Preparing a property for sale after a friend or family member's death and clearing out lots of items.

Having a spring clean and disposing of many bags of waste or a few big items in one go (such as a living room suite).
Local recycling centres in Wakefield
Residents can dispose of all sorts of domestic waste at three household waste recycling centres (HWRCs) across Wakefield – Wakefield, Glasshoughton, and South Kirkby HWRCs. Each site has recycling containers for appliances, furniture, carpet, electronics, and other types of household waste. Bring proof of address or a permit to dispose of such waste for free.
Commercial waste is not accepted at any of these sites. That means landlords, estate agents, and other businesses involved in a Wakefield house clearance can't dispose of any waste from such properties at these sites. They must use licensed waste carriers to take such rubbish to other waste transfer stations. 
If you use a big vehicle such as a van, pickup, or minibus (or trailer larger than 6ft x 4ft), you'll need a commercial vehicle permit. Only trailers up to 8ft x 6ft with a bed load of three metres can use any Wakefield HWRCs.
Wakefield Council provides a bulky collection service for households. However, it's limited to up to three items at a time and currently costs £30. This makes it suitable for the removal of a few items but not for a complete house clearance in the West Yorkshire city.
Opening hours
Monday to Friday – 8am to 5pm (including bank holiday Mondays)
Saturday – 8am to 4pm
Sunday – 9am to 4pm
Contact details
Telephone – 0345 8506 506
Email – [email protected]
Wakefield HWRC

Wakefield Household Waste Recycling Centre

Denby Dale Road

Wakefield

WF2 7AH

Glasshoughton HWRC

Glasshoughton Household Waste Recycling Centre

Flass Lane

Castleford

WF10 5JW

South Kirkby HWRC

South Kirkby Household Waste Recycling Centre

South Kirkby Business Park

Brigantian Way

South Kirkby

WF9 3TH
Donate furniture to Wakefield charities
Many charities in Wakefield accept all sorts of old furniture items as donations for reuse and resale. Sofas, beds, chairs, tables, and other types of furniture can be donated in person, or some offer free collection services. Certain items, such as cloth and leather sofas must have a fire label attached.
Donating furniture in Wakefield to charities or other residents is a sustainable choice. It reduces the amount of energy required compared to recycling old furniture and helps those in need. Some charities and other places where you can donate furniture in Wakefield include:
Freecycle

– advertise any type, size, and amount of furniture to other residents for free. Add collection required to save yourself the effort of delivering the items.

RSPCA

– the Wakefield shop and Animal Centre in East Ardsley accept a wide range of old furniture. Fire labels must be attached to some items, such as sofas. 

Wakefield Hospice

– offers a free furniture collection service for homes in postcodes WF1 to WF6. Sofas, tables, chairs, and more can be donated.

Salvation Army

– furniture donations are only accepted at the Salvation Army charity shop in Outwood. Contact them to arrange your donation.

St. Vincent de Paul Society

– provides free furniture collection with all items taken to one of the nearby furniture depots in Leeds and Bradford.
Why use Divert for a house clearance in Wakefield?
Clear a house in Wakefield with ease when you use the professional team at Divert to help. Two or more of our professionals do all the heavy lifting to save you the effort, which makes removing furniture, big appliances, and lots of other waste quick and convenient. Arrange a house clearance at a time and date that suits you.
See how much a Wakefield house clearance will cost you with a tailored free quote. This includes labour and fixed prices based on the items you need removing for cost-effective house clearance. All waste removed is diverted away from landfill to benefit the local environment.
At Divert we're based in Yorkshire with drivers and customer service professionals who know the Wakefield area well. Alongside great connections to nearby waste sites, this ensures we provide a fast, flexible, and affordable local house clearance service anywhere in Wakefield.
All household waste removed in Wakefield

Wakefield household clearances across the district

Free no obligation quote

Fixed prices with no hidden fees

Waste diverted away from landfill
Landfill diversion

Free quote

Reliable house clearance

Flexible removal service

Labour included
Arrange a Wakefield house clearance today
Get a free quote for a house clearance in Wakefield today – call 0333 444 0118 or contact us online. Provide a few details about what you need removing, where from, and when for a tailored no-obligation quote. If you've got a question or want some advice then one of our friendly and expert team is on hand to help.
Other waste services 
available in Wakefield
One call we take it all 0333 444 0118
All waste types
Cardboard waste Wakefield

Sofa disposal Wakefield

Furniture collection Wakefield

Bulky waste Wakefield

Dry mixed recycling waste Wakefield

Food waste Wakefield

Fridge freezer removal Wakefield

Garden waste Wakefield

General waste Wakefield

Glass waste Wakefield

Wakefield bin collection

Wakefield waste management

Man and van Wakefield

Mattress collection Wakefield

Office clearance Wakefield

Rubbish removal Wakefield

WEEE waste Wakefield
Wakefield house clearance FAQs

Where can I book a house clearance in Wakefield?

House clearances are available anywhere in Wakefield and the surrounding towns and villages with Divert. We cover everywhere with a WF postcode. This includes flats in the city centre to houses in Stanley, Horbury, Pontefract, Birstall, and anywhere in the Wakefield district. Arrange a house clearance in Wakefield in:

Wakefield city centre, Outwood, Eastmoor, and Agbrigg (WF1)

Alverthorpe, Kirkhamgate, Newmillerdam, Sandal, Walton, and Wrenthorpe (WF2)

Carlton, East Ardsley, Lofthouse, Robin Hood, Stanley, Thorpe, and Tingley (WF3)

Crofton, Flockton, Horbury, Netherton, Ryhill, West Bretton, and Woolley (WF4)

Ossett, Gawthorpe, and Healey (WF5)

Normanton and Altofts (WF6)

Featherstone, Ackton, Ackworth Moor Top, and Purston Jaglin (WF7)

Pontefract, Kirk Smeaton, Little Smeaton, and Thorpe Audlin (WF8)

South Elmsall, South Kirkby, Upton, Fitzwilliam, Hemsworth, and Kinsley (WF9)

Castleford, Glasshoughton, Allerton Bywater, Ledston, and New Fryston (WF10)

Knottingley, Brotherton, Fairburn, and Byram (WF11)

Dewsbury, Thornhill, Briestfield, and Chickenley (WF12)

Ravensthorpe, Dewsbury Moor, and Staincliffe (WF13)

Mirfield, Battyeford, and Hopton (WF14)

Liversedge, Hartshead, Hightown, and Roberttown (WF15)

Heckmondwike (WF16)

Batley, Birstall, Hanging Heaton, Soothill, and Staincliffe (WF17)

How much does a house clearance in Wakefield cost?

Wakefield house clearance costs vary depending on the types and amount of waste you need removing, where the house is, and when you want it cleared. Smaller properties with fewer items and easy access normally cost less to clear than large houses with lots of waste to get rid of.

The easiest way to see how much your Wakefield house clearance will cost is to request a free quote. There's no obligation and the price is fixed, includes labour, and will be based on all the information you provide about your house clearance.

How long does a Wakefield house clearance take?

How long a Wakefield house clearance takes depends on the type, size, and the number of items that need removing. The size and accessibility of the property also affect how long it takes. Clearing a seventh-floor flat can take longer than a bungalow due to access, for example. 

Our professional team work quickly to ensure minimal disruption to your day. We'll send out the best number of vans and team members to ensure a quick clearance. When you get a free quote for your Wakefield house clearance we can advise on how long we expect the job to take based on the items and property details you provide.