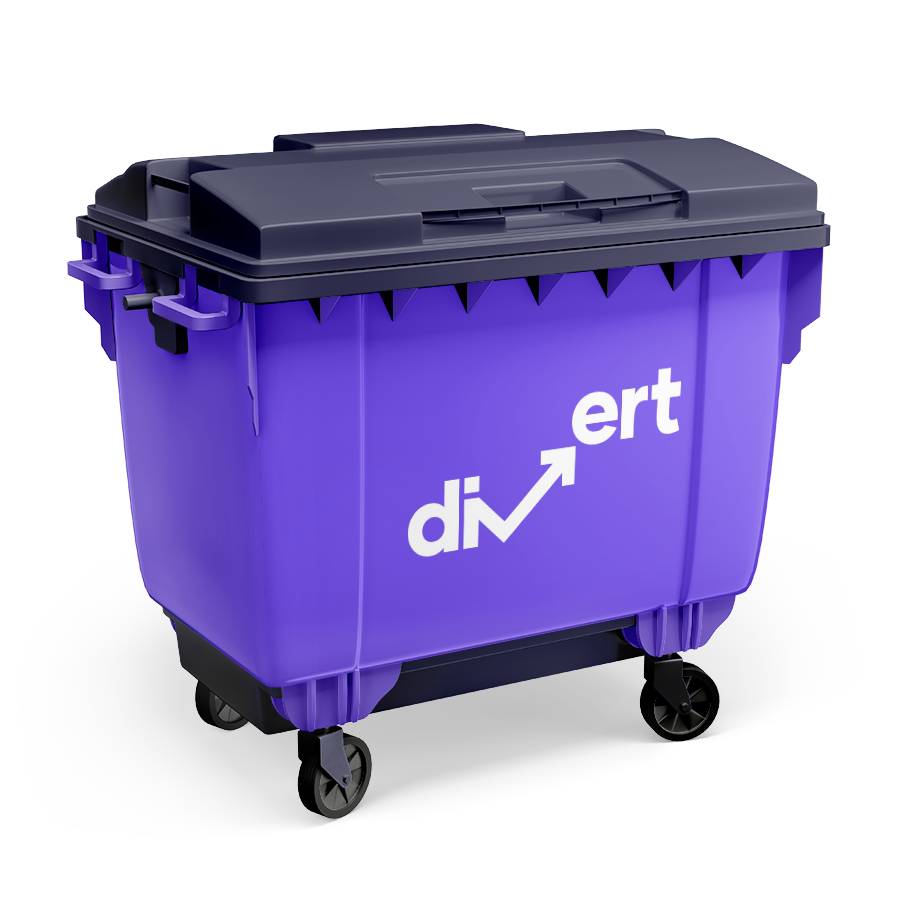 Streamline your business' waste management with regular and reliable bin collection in Harrogate. At Divert we provide free bins to store general waste and recycling safely and securely before it's removed by our licensed waste carriers. There are no rental or delivery fees – you simply cover the collection costs.
Enjoy cost-effective and efficient Harrogate bin collections anywhere in and around the spa town on a daily, weekly, or fortnightly basis. We can provide a wide range of bins, bags, and containers to separate your rubbish types easily. This reduces the chance of contamination and ensures as much waste as possible is recycled.
We divert as much waste as possible away from landfill to protect the local environment and keep Harrogate as green as Harlow Carr.
Harrogate Bin Collection

Get a quick quote
Get a quick FREE quote for your bin collection
Quote within 1 hour
All types of waste
Claim your free bins
Collections across Harrogate
Harrogate bins
A wide range of Harrogate bins is available to store waste on your site safely and securely. This includes wheelie bins of various sizes that are easy to move around, waste bags, and containers such as oil drums and sharps bins for specialist rubbish types. There are also lockable bins for added security.
All bins are delivered to your business in Harrogate for free, you only pay for collection. Use one or more of the same or different sizes and types of bins in Harrogate to suit your waste management needs. Combine the bins, bags, and containers you require to separate your waste and recycling to reduce the chance of contamination.
The range of available Harrogate bins includes:
240 litre wheelie bins

The same size as your domestic general waste wheelie bin in Harrogate, it holds 3 to 5 bags.

360 litre wheelie bins

A slightly larger two-wheel bin that can store 5 to 7 waste sacks.

660 litre wheelie bins

A four-wheel bin for storing 10 to 12 bags of waste, which can be locked if necessary.

1100 litre wheelie bins

The largest available wheelie that holds up to 15 bags of waste and is also lockable.
What can you put in Harrogate bins?
Separate and store any type of waste your business produces in the bins we provide in Harrogate. Use wheelie bins of any size to store the likes of general waste, dry mixed recycling, paper, cardboard, and plastic. A 240 litre wheelie bin can be used as a standalone food waste or glass waste bin. 
Keep within the weight limits for each bin, which vary depending on its size and the waste type. Bags are ideal for green and garden waste like grass trimming and hedge cuttings. For medical waste, we supply clinical waste bags and sharps bins to safely store needles, contaminated PPE, bandages, and more.
If you have liquid waste in Harrogate to get rid of then an oil drum or IBC container may be best, depending on the exact waste type and amount. One of our friendly and expert team can advise on the right bins for your Harrogate business for safe, efficient, and cost-effective storage, collection, and disposal.
Where can I book bin collection in Harrogate?
Book bin collection anywhere in Harrogate and the surrounding towns and villages. Arrange regular collections from businesses near the Turkish baths to those in Hornbeam Park, out to Pateley Bridge, Ripley, and any close to Ripon Cathedral. We can organise regular bin collections from anywhere with an HG postcode and cover:
Harrogate town centre, Jennyfields, Duchy, New Park, and High Harrogate (HG1)

Pannal Ash, Hornbeam Park, Rossett, Oatlands, and Woodlands (HG2)

Pannal, Burn Bridge, Pateley Bridge, Glasshouses, Ripley, Killinghall, Kirkby Overblow, Spofforth, Beckwithshaw, and Follifoot (HG3)

Ripon, Masham, Wath, Leighton, and Eavestone (HG4)

Knaresborough, Staveley, Allerton, Plompton, and Flaxby (HG5)
Regular and reliable Harrogate bin collections
Bin collection in Harrogate is available on a daily, weekly, or fortnightly schedule. Combine the best bin sizes with the right removal frequency for the most cost-effective bin collections in Harrogate. You can arrange for some bins to be collected daily, while others are only removed weekly or fortnightly.
Cafes, restaurants, and bars around the Montpelliers may need food waste collecting daily but cardboard recycling only once a week. We provide tailored solutions for however frequently you want one or more bins collected from your business. Our reliable drivers will turn up on time to remove your waste when promised. 
 How does Harrogate bin collection work?
A similar process occurs for efficient bin collection in Harrogate, whatever types of waste and bins you need removing. Bin collection in the North Yorkshire town generally follows these steps:
Get a quote

Get a free no-obligation quote based on the number, size, and type of bins, collection frequency and your location. If you're happy with the price we can book it today.

One of our purple trucks will deliver your requested bins to your premises for free.

Fill your bins

Put the relevant waste in each bin, ensuring you don't go above any weight limits or max fill lines. Let us know if you have more waste than you thought and we'll work out a cost-effective solution.

Move your bins to the agreed accessible pickup place ahead of the collection time.

Book collection

Our licensed waste carriers will come in one of our trucks and remove your bins, emptying them or replacing them with new ones.

Dispose of waste

The bins are then moved to a nearby waste transfer station in Harrogate where the rubbish is checked, sorted, and sent for recycling or disposal. Where it goes and how it's disposed of depends on the waste type, but it will be diverted away from landfill.
Why use Divert for bin collection in Harrogate?
Enjoy reliable and affordable bin collections in Harrogate with Divert. Take the stress out of organising your waste management with regular removals on a schedule that suits your organisation. Free bins delivered to your site help cut costs with no rental or delivery fees. And recycling reduces the amount of landfill tax you pay for disposal.
Arrange delivery and collection of the exact type, size, and number of bins you need in Harrogate to avoid paying for wasted space. Get a free quote tailored to your requirements with no obligation to continue. We divert waste away from landfill so you can rest assured that your waste doesn't negatively impact the local environment.
At Divert we're also based in North Yorkshire with a great knowledge of the roads and areas in and around Harrogate. Coupled with our connections to waste sites in Harrogate, this helps us deliver a truly local bin collection service across Harrogate for fast, flexible, and reliable collections.
Regular daily, weekly, or fortnightly bin collections

Free no obligation quote tailored to your waste needs

Any type of waste removed in Harrogate

Fixed prices for regular bin collection

Local and reliable Harrogate bin collections
Free bins

Fixed prices

Landfill diversion

Reliable bin collection

Collections across Harrogate
Book your Harrogate bin collections
Call 0333 444 0118 or contact us online for a free quote and book your bin collections in Harrogate today. Got a question or need some help? One of our friendly and expert team can answer and advise on the best bins and collection schedules for your business. Get in touch for a quote today.
Get a free quote
Information about Harrogate household bin collection
Domestic waste is collected from all households in Harrogate by the local council. Most households have a 240 litre black wheelie bin for general waste and two black boxes and two blue bags for domestic recycling. Households unsuitable for a wheelie bin will have two rubbish bags collected in their place. Residual and recycling collections happen on alternate weeks.
Use the black bin for general/residual waste, such as food scraps, packaging, and other non-recyclable waste. Your domestic recycling in Harrogate should be separated and placed in the appropriate bag or box:
Black recycling boxes

– glass bottles and jars (any colour), plastic bottles, yoghurt pots, margarine tubs, light-coloured trays, drinks and food cans, tin foil and foil trays, cardboard food and drinks cartons, and aerosols.

Blue bags

– newspapers and magazines, junk mail, shredded paper, envelopes, wrapping paper, clean card (cereal boxes, egg boxes, food packaging), and corrugated cardboard.
Harrogate garden bin collection is available, but it's a subscription service. A garden waste licence in Harrogate costs £43.50 and includes 19 fortnightly collections between mid-March and late November. This includes the removal of one 240 litre wheelie bin or the equivalent number of reusable bags full of green waste.
Harrogate bin collection FAQs

How do I report a missed bin collection in Harrogate?

Report a missed bin collection in Harrogate online using the council's online form. To ensure your bin collections aren't missed you must check you've got the right day for your area. Bins should be put out before 7am on the day of collection containing the correct waste and with a lid that closes.

What is brown bin collection in Harrogate for?

Wheelie bins with a brown lid in Harrogate are used for garden waste. For households where a wheelie bin isn't suitable, they may use the equivalent number of waste bags. Brown bin collection in Harrogate is used to remove hedge cuttings, grass trimmings, cut flowers, twigs, leaves, prunings, and plants.

What is the best glass bin in Harrogate?

Households can put clean and dry glass bottles and jars of any colour in their black recycling boxes supplied by the council. Businesses must arrange commercial waste collection of any glass waste. These can only be stored in 240 litre wheelie bins, due to the weight of the glass. You can use one wheelie bin to store glass of different colours.
Cardboard waste Harrogate

Sofa disposal Harrogate

Furniture disposal Harrogate

Bulky waste Harrogate

Dry mixed recycling waste Harrogate

Food waste Harrogate

Fridge freezer removal Harrogate

Garden waste Harrogate

General waste Harrogate

Glass waste Harrogate

Harrogate bin collection

Harrogate waste management

Man and van Harrogate

Mattress collection Harrogate

Office clearance Harrogate

Rubbish removal Harrogate

WEEE waste Harrogate