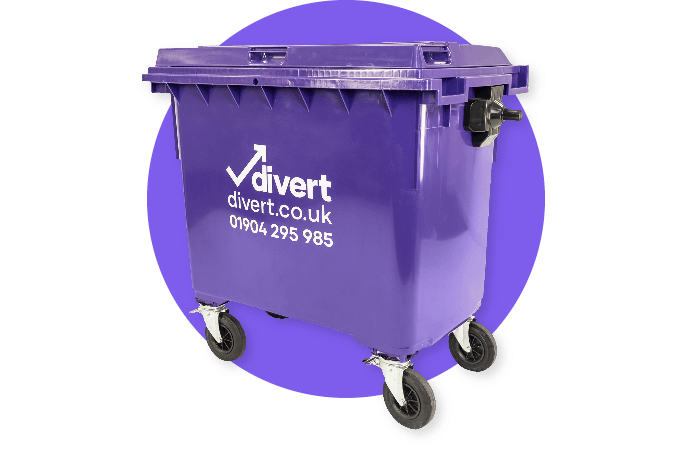 Efficient waste management in Wakefield helps the cathedral city's 11,000 businesses get rid of their rubbish responsibly. Employing around 165,000 people with a gross added value (GVA) of more than £8 billion, all sorts of organisations produce a wide range of waste types across the West Yorkshire city.
Regular, reliable, and responsible waste management services in Wakefield also help businesses enhance their recycling efforts. While Wakefield has a household waste recycling rate close to 46%, businesses can do their bit to keep the city as green as Newmillerdam Country Park too. 
We divert all waste away from Wakefield landfills to improve reuse and recycling. Our waste management services in Wakefield can collect any type of rubbish from anywhere in and around the city. Enhance your waste management for any type and size of business in Wakefield with Divert.
Waste Management in Wakefield

Get a quick quote
Get a quick FREE quote for your waste
Quote within 1 hour
All types of waste
Claim your free bins
We cover all of Wakefield
Commercial waste collection in Wakefield
Any business waste in Wakefield must be removed by licensed waste carriers. This includes one-off items such as a landlord throwing out an old mattress, to the daily general waste produced by an office or food waste from a café at Pugneys Country Park. You can't dispose of any commercial waste in household waste bins managed by Wakefield Council.
Health, manufacturing, transport, logistics, and retail are some of the main industries in Wakefield. The city is home to headquarters for the likes of Arriva Yorkshire, Card Factory, Horbury Railway Works, and Poundworld. These each produce a variety of waste types and amounts that require regular and reliable waste collection.
At Divert, we provide commercial waste collection in Wakefield for businesses in all sectors and of any size. Our licensed waste carriers remove your rubbish on time and transport it safely and legally to a local waste transfer station for responsible disposal. You receive a free duty of care certificate for added peace of mind.
Our Wakefield waste management services 
Bins, rubbish collection, disposal, and recycling are all included in our waste management services in Wakefield. We provide free bins for any business in Wakefield and the surrounding areas – you simply pay for their collection. Select between daily, weekly, or fortnightly bin collections in Wakefield to meet your needs.
Licensed waste carriers remove your waste and transport it to a nearby waste transfer station for processing. We divert all waste away from landfill and have great connections with waste sites across Wakefield to offer an affordable and efficient waste management plan for you. Our Wakefield waste management services include:
Businesses of any size and industry in Wakefield benefit from our waste collection and disposal services. Find a solution whether you run a shop in Trinity Walk, a restaurant on Westgate, or an office on Riverside Business Park. We can help with the waste management of businesses in Wakefield including:
Restaurants
Offices
Pubs
Shops
Garages
Warehouses
Bin collection in Wakefield
We deliver free bins, bags, and containers for businesses in Wakefield to store any kind and amount of waste safely on-site before collection. Use wheelie bins for your general waste and daily recycling and move them easily to the point of production. Waste bags, clinical waste bags, sharps bins, and oil drums are also available.
There are no delivery, rental, or any other hidden fees – you simply pay for collection. Combine one or more of the same or different bin types and sizes with a collection schedule that fits your needs. Daily, weekly, and fortnightly bin collections in Wakefield mean you can get rid of your waste regularly and reliably.
Learn more about Wakefield bin collection
Where do you collect waste in Wakefield? 
Waste collection is available anywhere in Wakefield and the surrounding towns and villages. We can deliver and remove bins regularly from anywhere with a WF postcode. Arrange waste collections from city centre offices to pubs in Normanton and takeaways in Ossett. Our licensed waste carriers cover:
Wakefield city centre, Outwood, Eastmoor, and Agbrigg (WF1)

Alverthorpe, Kirkhamgate, Newmillerdam, Sandal, Walton, and Wrenthorpe (WF2)

Carlton, East Ardsley, Lofthouse, Robin Hood, Stanley, Thorpe, and Tingley (WF3)

Crofton, Flockton, Horbury, Netherton, Ryhill, West Bretton, and Woolley (WF4)

Ossett, Gawthorpe, and Healey (WF5)

Normanton and Altofts (WF6)

Featherstone, Ackton, Ackworth Moor Top, and Purston Jaglin (WF7)

Pontefract, Kirk Smeaton, Little Smeaton, and Thorpe Audlin (WF8)

South Elmsall, South Kirkby, Upton, Fitzwilliam, Hemsworth, and Kinsley (WF9)

Castleford, Glasshoughton, Allerton Bywater, Ledston, and New Fryston (WF10)

Knottingley, Brotherton, Fairburn, and Byram (WF11)

Dewsbury, Thornhill, Briestfield, and Chickenley (WF12)

Ravensthorpe, Dewsbury Moor, and Staincliffe (WF13)

Mirfield, Battyeford, and Hopton (WF14)

Liversedge, Hartshead, Hightown, and Roberttown (WF15)

Heckmondwike (WF16)

Batley, Birstall, Hanging Heaton, Soothill, and Staincliffe (WF17)
How does waste disposal in Wakefield work?
Waste disposal in Wakefield depends on the type of rubbish. We aim to divert all waste away from landfill, ensuring your refuse is recycled, reused, and disposed of responsibly. This may include the incineration of food waste to create renewable energy and other items in line with government and environmental regulations.
The general process of waste collection, removal, and disposal in Wakefield follows a similar process, whatever the type and amount of rubbish:
Get a quote

Get a free quote for Wakefield waste collection tailored to your needs – the type and amount of rubbish, collection frequency, and where you are in Wakefield.

Happy with the price? We'll book delivery and collection of the requested bins to your Wakefield site.

Fill your bins

Fill each bin with the relevant waste type and within any weight limits or max fill lines, depending on the waste type.

Move your full bins to the agreed accessible collection point ahead of the scheduled pickup time.

Book collection

One of our purple trucks driven by a licensed waste carrier will come and collect your bins. They may empty them or replace them with new bins, before transporting your rubbish to a nearby Wakefield waste transfer station.

Recycle waste

The waste is checked, sorted, and disposed of alongside the same waste materials. For example, cardboard will be separated and recycled, while food waste may be composted or sent to an anaerobic digestion plant.
Waste recycling in Wakefield
According to Wakefield Council, the city has a household waste recycling rate of 45.8%. This is above the average for England but still below the UK government's target of 50%. Households are provided with brown bins for waste recycling in Wakefield to separate rubbish and recycle as much as possible to increase the city's recycling rate. 
Businesses can also play their part to recycle more and avoid adding to landfill and pollution levels in Wakefield. Our waste recycling services in Wakefield include providing wheelie bins for free to help separate all sorts of waste, which is then recycled. This includes recycling bins for:
Waste recycling in Wakefield also helps reduce your rubbish disposal costs. As a business, you must pay landfill tax for any waste you produce that goes to landfill. Separating your rubbish and recycling as much as possible reduces the amount of landfill tax you pay, saving you money on waste disposal.
Why use Divert for Wakefield waste collection?
Save money, time, and effort with waste removal in Wakefield by Divert. Get free bins delivered and rest assured that your rubbish is diverted away from landfill, lowering the amount of landfill tax you pay. A wide choice of bins ensures we can provide the right solution for your commercial waste needs.
Licensed waste carriers collect your waste in Wakefield and you'll receive a free duty of care certificate for proof and peace of mind that your refuse is removed and disposed of legally and safely. Recycling and reusing as much as possible helps your business have a positive impact on the local Wakefield environment too.
Our team are based in Yorkshire and we have great connections to local waste sites in Wakefield and knowledge of the area. A truly local approach means our drivers and customer service experts can work out a fast and cost-effective solution for your Wakefield waste collection needs.
Free no obligation quote for Wakefield waste collection

Free bins delivered to your business anywhere in Wakefield

Reliable and regular Wakefield waste removal

Fixed prices including labour costs for straightforward planning

Many types of waste collected and recycled
Landfill diversion

Fixed prices

Labour included

Reliable waste collection

All of Wakefield covered
The drivers wasted no time and took the bulky items away
Ed
Had Divert come out to Wakefield for a bedroom clearance, wasn't sure what the costs were but Patrick helped work out the most cost effective service. The drivers wasted no time and took the bulky items away, would use again!
Book waste removal in Wakefield
Call 0333 444 0118 or contact us online today for a free quote for waste removal in Wakefield. A tailored quote based on your waste removal needs provides clear and upfront costs. Our expert and friendly team can help with any questions or advice to ensure the best possible waste management service in Wakefield for your needs.
Get a quote for Wakefield waste collection
Other waste services 
available in Wakefield
One call we take it all 0333 444 0118
All waste types
Cardboard waste Wakefield

Sofa disposal Wakefield

Furniture collection Wakefield

Bulky waste Wakefield

Dry mixed recycling waste Wakefield

Food waste Wakefield

Fridge freezer removal Wakefield

Garden waste Wakefield

General waste Wakefield

Glass waste Wakefield

Wakefield bin collection

Wakefield waste management

Man and van Wakefield

Mattress collection Wakefield

Office clearance Wakefield

Rubbish removal Wakefield

WEEE waste Wakefield
Wakefield waste management FAQs

How much does waste collection in Wakefield cost?

Wakefield waste collection costs vary depending on the type and amount of rubbish you need collecting, where from, and how often. This affects the number and size of bins you use and how much fuel our trucks use delivering and collecting them. Apply for a free quote to see clear costs of waste collection for your Wakefield business.

Call 0333 444 0118 or contact us online and tell us about a few key details for a tailored quote for waste removal in Wakefield, based on these factors.

How much waste is produced in Wakefield?

Wakefield City Council collects an average of 460.3kg of household waste per person from homes across the city. This is a large amount of waste that could be reduced by better recycling practices.

Can I take trade waste to the tip in Wakefield?

Business, commercial, and trade waste disposal is not permitted at any household waste recycling centres (HWRCs) in Wakefield. Instead, you must arrange collection by licensed waste carriers, such as Divert. They will legally and safely transport your trade waste to a waste transfer station for responsible disposal.