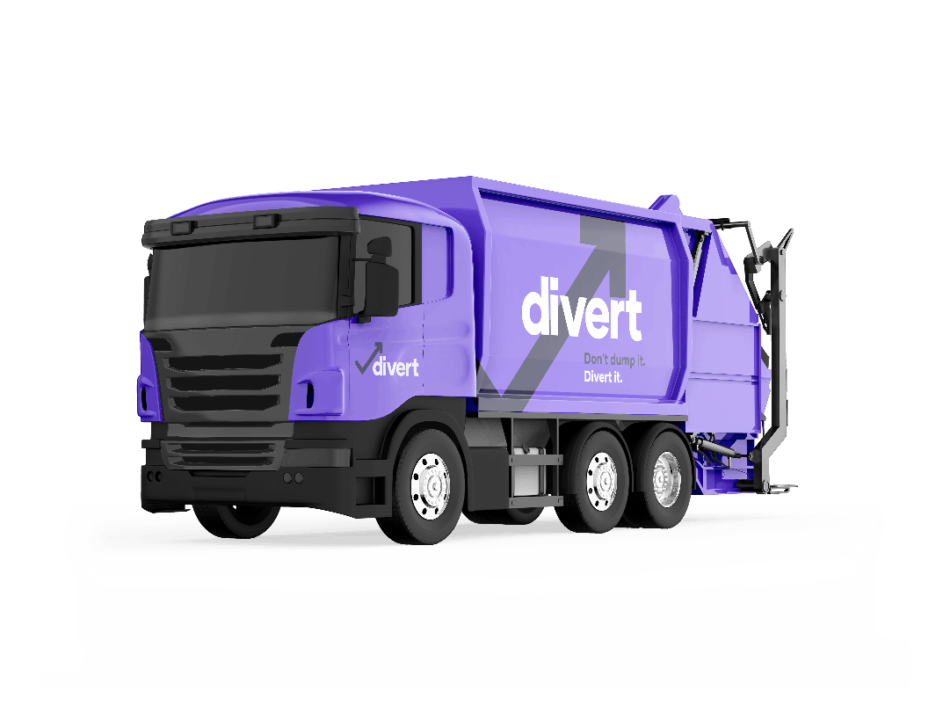 Recycling is vital but every business generates general waste in Wakefield. Even if you put in measures to increase your recycling levels, some rubbish types must be disposed of in general waste bins. Businesses must arrange collection of general waste in Wakefield by licensed waste carriers for safe and legal disposal.
At Divert we provide free bins for general waste – you only pay for collection. They're removed by licensed waste carriers on a daily, weekly, or fortnightly schedule to suit your needs.
General Waste in Wakefield

Get a free quote
Get a quick FREE quote for your waste
Quote within 1 hour
All types of waste
Claim your free bins
Collections across Wakefield
Wakefield general waste collections
Currently, Wakefield has a domestic recycling rate of 45.8%. This means nearly 55% of household rubbish is thrown away in general waste bins. Unlike households, Wakefield Council won't collect general waste from businesses, so you must arrange commercial waste collection.
Use commercial general waste bins in Wakefield to store: 
Snack wrappers and packets (that aren't recyclable)

Food scraps

Used paper towels

Polystyrene trays and packets

Broken ceramic crockery

Metal pots and pans
Get a free quote for general waste collection in Wakefield today – call 0333 444 0118 or contact us online.
How commercial general waste collection works in Wakefield
Begin with a free quote for general waste collection in Wakefield based on the number and size of bins you need, where they'll be collected from, and how frequently. If you're happy with the fixed price provided, we can book in delivery of your free bins and their collection dates and times.
Once the bins are delivered, simply fill each one with non-recyclable general waste within any weight limits. Wheel them over to the collection point ahead of the agreed pickup time. One of our purple trucks driven by a licensed waste carrier will come and remove and replace your general waste bins on time.
They'll transport them to a waste transfer site nearby where the waste is checked and sorted. It's then sent for responsible disposal and diverted away from landfill. Often it will go to an anaerobic or incineration plant where the waste is used to produce energy. You'll receive a free duty of care certificate confirming responsible disposal.
Who needs general waste collection in Wakefield?
Every Wakefield business needs general waste collection to get rid of non-recyclable rubbish responsibly. Customers, staff, daily processes and activities can create all sorts of general waste that must be stored and disposed of safely. It could be food scraps in the office kitchen, non-recyclable packaging from customers, used tissues, and other non-recyclable rubbish.
It's a legal requirement that every business arranges removal of general waste by licensed waste carriers. This includes independent shops in Trinity Walk, offices in Wakefield city centre and the 150 schools across the Wakefield district.
Whatever organisation you run, general waste collection is necessary, especially for:
Restaurants

Pubs

Shops

Schools

Hotels

Offices
Free commercial general waste bins in Wakefield
A wide range of general waste bins is available for Wakefield businesses to use. We deliver free bins anywhere in the Wakefield district, you simply cover the collection costs. General waste bins range in size from two-wheel 240 litre bins to four-wheel 1100 litre bins, which are all easy to move.
This makes placing your bins near where general waste is produced and moving them to the pickup point easy. You can use one or more of the same or different sized general waste bins and combine them with a collection schedule that suits your needs. Commercial general waste bin sizes in Wakefield include:
240 litre wheelie bin

The same size as household waste bins, these can store 3 to 5 bags of waste.

360 litre wheelie bin

A bigger two-wheel bin for holding 5 to 7 bags of general waste.

660 litre wheelie bin

This four-wheel bin can safely store 10 and 12 sacks of general waste.

1100 litre wheelie bin

The largest general waste bin stores up to 15 sacks full of general waste.
Local general waste management sites in Wakefield
Households in Wakefield are provided with a green general waste bin by Wakefield Council to dispose of domestic general waste. If you have excess general waste you can take it to one of three main household waste recycling centres (HWRCs). These are Wakefield, Glasshoughton, and South Kirkby HWRCs. Disposal of general waste from your home by Wakefield residents is free at any site. 
Commercial general waste is not accepted at any of these HWRCs in Wakefield. When bringing general waste from home you'll need proof of address or a permit. A vehicle permit is also required if you use a commercial vehicle (like a van, pickup, or minibus) – or with a trailer larger than 6ft x 4ft.
Opening hours
Monday to Friday – 8am to 5pm (including bank holiday Mondays)
Saturday – 8am to 4pm
Sunday – 9am to 4pm
Contact details
Telephone – 0345 8506 506
Email – [email protected]
Wakefield HWRC

Wakefield Household Waste Recycling Centre

Denby Dale Road

Wakefield

WF2 7AH

Glasshoughton HWRC

Glasshoughton Household Waste Recycling Centre

Flass Lane

Castleford

WF10 5JW

South Kirkby HWRC

South Kirkby Household Waste Recycling Centre

South Kirkby Business Park

Brigantian Way

South Kirkby

WF9 3TH
Why use Divert for general waste collection in Wakefield?
Divert your general waste in Wakefield away from landfill with regular, reliable, and responsible collections and disposal. We ensure all your general waste is removed and disposed of safely to keep Wakefield green. Along with delivering free bins, you'll save money on landfill tax by keeping your general waste away from Wakefield landfill sites.
Arrange tailored general waste collections to suit your needs with a range of bins and removal schedules for cost-effective management. We're based in Yorkshire with great connections to waste sites across the Wakefield district and drivers who know the area well. This provides local general waste collections in Wakefield for a fast, flexible, and effective service.
General waste diverted away from landfill

Flexible Wakefield general waste collections to meet your needs

Free no obligation quote for general waste collection

Fixed prices with no hidden fees

Free bins for your general waste anywhere in Wakefield
Landfill diversion

Free bins

Fixed prices

Reliable collections

Flexible bin collections
Arrange commercial waste collection in Wakefield
Get a free quote for general waste collection in Wakefield – call 0333 444 0118 or contact us online. Let us know the number and sizes of bins you need, where you want them collected from, and how often for a tailored no-obligation quote. Speak to one of our friendly team if you've got any questions about general waste in Wakefield.
Other waste services 
available in Wakefield
One call we take it all 0333 444 0118
All waste types
Cardboard waste Wakefield

Sofa disposal Wakefield

Furniture collection Wakefield

Bulky waste Wakefield

Dry mixed recycling waste Wakefield

Food waste Wakefield

Fridge freezer removal Wakefield

Garden waste Wakefield

General waste Wakefield

Glass waste Wakefield

Wakefield bin collection

Wakefield waste management

Man and van Wakefield

Mattress collection Wakefield

Office clearance Wakefield

Rubbish removal Wakefield

WEEE waste Wakefield
Wakefield general waste FAQs

Where can you collect general waste in Wakefield?

General waste collection is available anywhere in Wakefield. We can deliver and collect general waste bins from any business with a WF postcode. This includes offices in the city centre, schools in Sandal and Outwood, shops in Featherstone, and companies in Castleford and beyond. Arrange general waste collection in Wakefield from:

Wakefield city centre, Outwood, Eastmoor, and Agbrigg (WF1)

Alverthorpe, Kirkhamgate, Newmillerdam, Sandal, Walton, and Wrenthorpe (WF2)

Carlton, East Ardsley, Lofthouse, Robin Hood, Stanley, Thorpe, and Tingley (WF3)

Crofton, Flockton, Horbury, Netherton, Ryhill, West Bretton, and Woolley (WF4)

Ossett, Gawthorpe, and Healey (WF5)

Normanton and Altofts (WF6)

Featherstone, Ackton, Ackworth Moor Top, and Purston Jaglin (WF7)

Pontefract, Kirk Smeaton, Little Smeaton, and Thorpe Audlin (WF8)

South Elmsall, South Kirkby, Upton, Fitzwilliam, Hemsworth, and Kinsley (WF9)

Castleford, Glasshoughton, Allerton Bywater, Ledston, and New Fryston (WF10)

Knottingley, Brotherton, Fairburn, and Byram (WF11)

Dewsbury, Thornhill, Briestfield, and Chickenley (WF12)

Ravensthorpe, Dewsbury Moor, and Staincliffe (WF13)

Mirfield, Battyeford, and Hopton (WF14)

Liversedge, Hartshead, Hightown, and Roberttown (WF15)

Heckmondwike (WF16)

Batley, Birstall, Hanging Heaton, Soothill, and Staincliffe (WF17)

What goes in a green household bin in Wakefield?

Green household bins in Wakefield are used for non-recyclable rubbish. These are provided and managed by Wakefield Council. Most of the general waste is used to create energy rather than go to landfill. You can put in your green household bin in Wakefield:

Nappies

Food scraps

Plastic packaging, bags, and trays

Yoghurt pots

Juice cartons

How much does general waste collection cost in Wakefield?

The cost of general waste collection in Wakefield with Divert depends on the number and size of general waste bins you use, where you're based, and how frequently they're collected. We provide fixed prices that include labour costs for a straightforward price. Combine the best bins and removal schedule to suit your needs and budget.

Call 0333 444 0118 or contact us online for a free no-obligation quote based on your general waste collection needs in Wakefield.