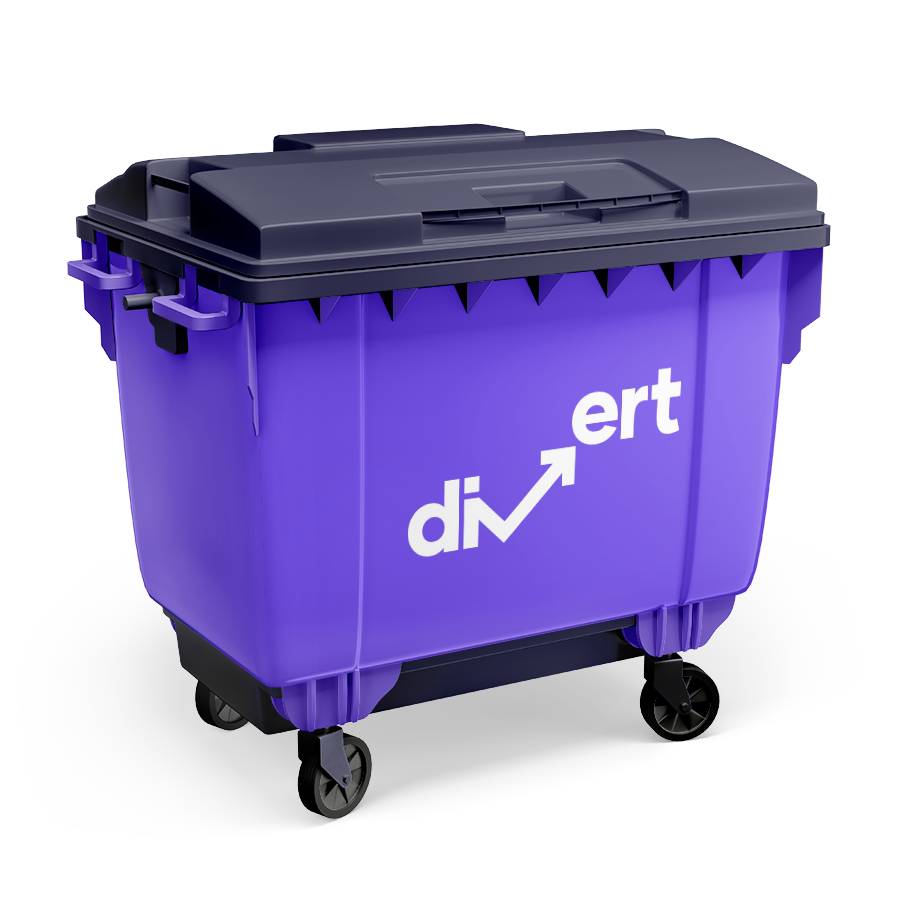 Dry mixed recycling (DMR) refers to recyclable products that are free from potential contaminants, such as food waste or oils. This means they can be stored together before being recycled, rather than separated into different bins and containers. It saves time for businesses that produce large volumes of waste but can also be used within residential properties.
At Divert we provide free DMR bins for all sorts of businesses to store paper, cardboard, plastic, and metal waste together for recycling. This saves time, effort, and money to get rid of lots of your everyday rubbish in an environmentally friendly way, as we divert it away from landfill and recycle as much as possible.
Dry Mixed Recycling

Get a quick quote
Get a fast FREE quote for your recycling waste
Quote within 1 hour
Any type of mixed waste
FREE bins and delivery
Yorkshire collections
What is dry mixed recycling?
Dry mixed recycling (DMR) is a variety of clean and dry recyclable materials that can be mixed before being collected. It mainly covers small bits of everyday waste, such as recyclable food packaging. This includes products made from paper, cardboard, plastic, and metal but excludes glass items.
Typically, you can store the following items in your dry mixed recycling bins:
How DMR waste collection works
Get a free quote for dry mixed recycling collection based on the size and number of bins you need, where you're based, and how often you want the bins removed. Daily, weekly, and fortnightly collections are available. If you're unsure what's best for your business, one of our friendly experts can advise on the most efficient and cost-effective solution.
We'll deliver free DMR bins to your premises for you to fill within any weight limits. Only put clean and dry recyclable waste in each bin, then place it in the agreed pickup point ahead of the scheduled collection. You'll pay for the collection and then one of our purple trucks driven by a licensed waste carrier will remove and replace your bins.
They'll safely transport your DMR waste to a nearby recycling facility. Here it's sorted into different materials and checked for any contaminants. Each waste type is then processed and recycled alongside the same materials, often turned into new recycled paper, cardboard, plastic, and metal products such as cardboard boxes, plastic drinks bottles, and metal drinks cans.
Dry mixed recycling bins
You don't have to separate dry mixed recycling products when throwing them in a DMR bin, but you must ensure they're clean and dry. To achieve this, you may need to clean some products before disposal, especially if they were used to store food. A secure dry mixed recycling bin is also essential to avoid contamination.
At Divert, we can provide a wide range of dry mixed recycling bins that include:
View all bins
240 litre DMR bin

A two-wheel bin the same size as domestic wheelie bins that holds three to five bags of waste.

360 litre DMR bin

Slightly larger than your household wheelie bin it can store five to seven waste bags.

660 litre DMR bin

660 litre DMR bin – this four-wheel bin suits businesses that produce lots of DMR waste and hols around ten bags of waste.

1100 litre DMR bin

1100 litre DMR bin – the largest available dry mixed recycling bin, which holds up to 15 bags of waste.
Who needs DMR
waste collection?
We all produce some amount of DMR waste in our daily lives. However, some businesses and industries produce higher volumes of dry mixed recycling than others and benefit from bigger DMR bins and more regular collections. These include:
The food service industry. Large volumes of DMR are produced at restaurants, cafes, bars, and takeaways. This could come in the form of drinks cans or clean food packaging waste.
Offices. Offices produce large volumes of Dry Mixed Recycling Waste each day, mainly in the form of paper or cardboard packaging waste. However, they also produce plastic and metal waste in their cafeterias or communal dining spaces.
Factories. Factories, or places where products are manufactured, also create large volumes of DMR waste, as a natural by-product of their daily operations. For example, they may discard large volumes of surplus paper, card, and plastic.
Schools and educational facilities. Schools and educational facilities such as colleges, universities, and nurseries also produce large volumes of dry mixed recycling waste. This is because paper and cardboard are often used within the classroom in the form of worksheets or crafts materials. They also produce plastic and tin waste in their dining areas.
Retailers and supermarkets. Retailers, supermarkets, and grocers generate lots of DMR waste daily – typically in the form of packaging and storage materials.
Dry mixed recycling
waste facts
In the UK alone, we produce large volumes of dry mixed recycling waste every year, as we create more than:
12.5 million tonnes of paper
Seven million tonnes of cardboard
Six million tonnes of plastic
Despite this, it's estimated that less than half of the waste produced in the UK is recycled effectively (45%) – meaning many dry mixed recyclables are sent to landfill sites.
It takes 24 trees to make one tonne of paper. Globally, we throw away 85 million tonnes of paper each year. Only 45% of the plastic products used in the UK are recycled and plastic waste can take up to 500 years to fully decompose when sent to a landfill site.
Metal products, such as aluminium, are easy to recycle. It's estimated that around 75% of the aluminium ever made is still in production today. Furthermore, it takes the same level of energy to make one new can as it would to recycle twenty.
Free duty of care
With divert there are no hidden charges
How to reduce
DMR waste
There are various ways to reduce the amount of dry mixed recycling waste we produce. This includes:
Focusing on better waste management. Incorporating better waste management practices into the daily running of your business can help reduce the amount of DMR waste you produce. For example, you could look into heightening workplace efficiency so that fewer materials are needed to get the job done. Furthermore, you should also ensure you have a strong waste management plan in place and that each employee receives appropriate waste disposal training.
Reusing products. Another way to reduce the amount of DMR waste you produce within your business is by reusing products where appropriate. For example, you can reduce the amount of paper waste produced in schools and offices by using both sides of the paper.
Sourcing sustainable products. Using sustainable products within the workplace is a great way to reduce the amount of waste you produce. For example, you could seek alternatives to single-use plastics, such as reusable water bottles.
Why use Divert for dry
mixed recycling collections?
At Divert, we can help businesses of all sizes and industries tackle DMR waste in an efficient and eco-friendly way. We divert all waste away from landfill to benefit the environment and your waste disposal costs, by reducing how much landfill tax you have to pay. As part of our DMR waste collections we:
Provide you with free DMR waste bins to store your recyclable rubbish safely and securely on-site.
Offer a free no obligation quote for DMR waste collection based on your exact needs.
Put together a waste collection schedule (daily, weekly, or fortnightly) specifically tailored to the amount of dry mixed recycling you produce and that slots into the running of your
Ensure that your waste disposal strategies comply with all government guidelines and regulations.
Collect and transport your dry mixed recycling reliably with a team of licensed waste carriers.
Recycle your waste in a way that leaves a minimal impact on the environment.
Free bins

Waste recycling

Fixed prices

Regular, reliable collection

Landfill diversion
Fantastic communication and service
Mr Paul R
I have very specific needs for my waste collection and other companies provided a very poor service despite promising otherwise. Divert have been fantastic from start to finish, have listened to my requirements, checked that they understood and delivered as promised. Communication has been first class, very friendly and professional, in particular Patrick (Paddy), Elina and Marcus to whom I am very grateful. Thank you all and I will be back. Cheers
Book DMR waste collection
Get your free quote for dry mixed recycling waste collection today – call 0333 444 0118 or contact us online. We'll ask for a few details such as the number and size of bins you need, where you're based, and how often you want them collected. Our friendly team will help with any questions to deliver an accurate quote today.
Get a quick quote
Get a fast FREE quote for your recycling waste
Quick quote within 1 hr
Any type of waste
FREE bins and delivery
National waste collections
Where can you collect DMR waste?

Does dry mixed recycling include glass?

Glass should not go in a dry mixed recycling bin. Even when clean and dry you should use a separate glass waste bin to recycle glass products. This includes glass drinks bottles, jars, and other waste glass items.

Can wood go in dry mixed recycling?

Wood cannot go in a dry mixed recycling bin. Clean and dry wood products, bits of timber, and other wood waste should be stored and disposed of separately. Branches, twigs, and bark should be disposed of with garden waste.