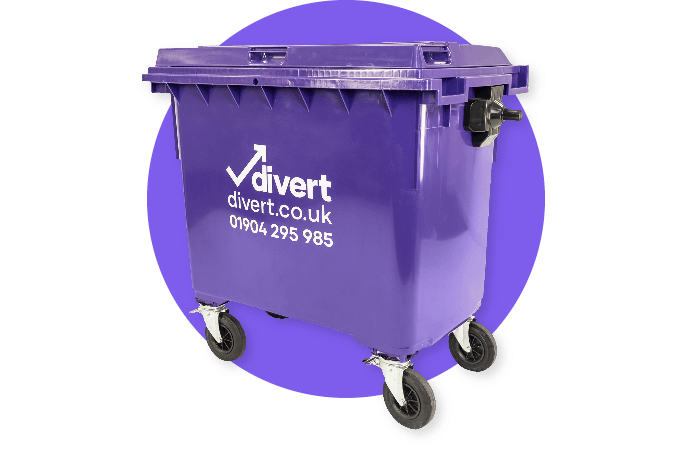 Many York businesses produce glass waste. York is home to the oldest and biggest specialist stained glass conservation studio in Britain – the York Glaziers Trust (YGT). And there are more than 450 pubs in the York area, which means lots of glass bottles and glassware are used and recycled daily from the sector alone.
Glass is infinitely recyclable, and constantly reusable without losing its quality. At Divert we offer glass waste collection and recycling in York and the surrounding towns and villages to help you get rid of glass products responsibly and affordably.
Get a free quote for glass waste collections in York and the surrounding region. Call 0333 444 0118 or contact us online for a quick quote.
Glass Waste Collection in York

Get a quick quote
Get a fast FREE quote for your waste
Free quote within 1 hour
Any type of waste
FREE bins and delivery
We cover all of York
York glass waste
Most households in York can recycle glass bottles and jars at the kerbside – but not glassware, lightbulbs, window or mirror glass, or broken glass. It can be mixed with plastics, foil, and metals but must be kept separate from paper and cardboard. The City of York Council arranges such collections.
Businesses must arrange commercial waste collection for any glass recycling. We collect and recycle all sorts of old, broken, and used glass products in York, such as:
Glass bottles

– empty wine, beer, and other drinks bottles of one or more different colours.

Glass jars

– old jars used to store ingredients such as jam, pickles, and condiments.

Glassware

– broken and old drinking glasses and vases.
Glass products that contain chemicals or are chemically treated can't be recycled with other glass, such as lightbulbs and Pyrex products.
How commercial glass recycling works in York
To recycle glass waste in York we'll deliver some free bins to your business. Fill these with your old glass within any weight limits and arrange collection on a daily, weekly, or fortnightly basis. Then one of our trucks will come and collect your glass bins and transport them to a waste management facility. 
Your glass waste could be taken to Hazel Court Household Waste Recycling Centre (HWRC), Towthorpe and Strensall HWRC, or another in and around York. Here the glass is sorted by colour and then cleaned to remove any paper, metal, or other contaminants. It's then crushed and heated into new glass products – leaving no waste behind.
Who needs glass waste collection in York?
Most businesses in York use glass products in some capacity. Think shops on the Shambles selling glass items, cafes along the River Ouse serving cold beverages in drinks glasses, and all the wine and beer bottles bars and pubs on Micklegate get through. Some organisations need daily glass collections in York, while for others weekly is enough. 
Beauty salons, spas, and hairdressers from Heslington to Haxby also need to recycle any empty glass jars used to hold cosmetics. And York glaziers require their glass waste to be collected and recycled appropriately too. Common industries in York that need glass waste collection include:
Shops

Pubs

Restaurants

Nightclubs
 Free commercial glass waste bins in York
We provide free bins for your empty glass bottles and jars – you just pay for their collection. You can order one or more of the same or different sizes to suit the amount of glass waste you need to dispose of in York. And arrange collections every day, week, or fortnight for cost-effective glass recycling.
240 litre glass bin

– this is the same size as the one outside your house and holds 3 to 5 bags.
Book bin collection in York
Get a free quote
Local recycling centres in York
The two main recycling centres in York are Hazel Court Household Waste Recycling Centre (HWRC) and Towthorpe and Strensall HWRC. It's free to take waste glass items from your home to either for recycling, but larger vehicles need a permit. Only at Hazel Court HWRC can you recycle commercial glass waste, which incurs a charge. Towthorpe and Strensall HWRC doesn't accept any commercial waste.
There are also more than 20 bottle banks that accept clean and empty glass bottles and jars across York. Find more information about recycling glass at the main HWRCs in York:
Hazel Court HWRC

Opening hours

Between October and March – Mondays to Saturdays: 8.30am to 5.00pm, Sundays: 8.30am to 4.00pm

Between April and September – Mondays to Saturdays: 8.30am to 7.00pm, Sundays: 8.30am to 4.00pm

Address and contact details

1 Hazel Court

York

YO10 3DS

Telephone: 01904 551550

Email: [email protected]

Towthorpe and Strensall HWRC

Opening hours

Open Thursday to Tuesday (closed on Wednesdays).

March – 8.30am to 5.00pm, April to September – 8.30am to 7.00pm, October – 8.30am to 5.00pm, November to February – 8.30am to 4.00pm

Address and contact details

Moor Lane

Strensall

York

YO32 9ST

Telephone: 01904 551551

Email: [email protected]
Why use Divert for your glass recycling in York?
Enjoy cost-effective glass waste disposal in York with Divert. Get free bins to store all your used glass and save money on landfill tax as we divert as much waste from landfill as possible. Choose the glass bin sizes and collection frequency to suit your needs and budget and rest assured that any glass we collect from your York business is recycled locally. 
We're based in York too, so know the walled city well. Our excellent customer service team are on hand to answer any questions you have, offer solutions, and make sure your company's glass recycling runs smoothly. 
All glass waste is recycled in York

Regular and reliable glass collections

Flexible York waste collections to suit your schedule

Free no obligation quote tailored to your glass waste

Fixed prices and cost-effective York glass recycling
Free bins

All glass recycled

Regular and reliable collections

Fixed prices

Flexible collections
Arrange glass waste collection in York
Get a free quote for glass waste collection in York today. Call 0333 444 0118 or contact us online and we'll provide a quote based on the specific needs of your business with no obligation to proceed if you change your mind. Speak to one of our friendly team directly or arrange a call-back to learn how you can save time, money, and the environment by getting rid of your old glass products in York.
Other waste services 
available in York
One call we take it all 0333 444 0118
All waste types
Cardboard waste York

Sofa disposal York

Bulky waste York

Clinical waste York

Dry mixed recycling waste York

Food waste York

Fridge freezer removal York

Garden waste York

General waste York

Glass waste York

York bin collection

York waste management

Man and van York

Mattress collection York

Office clearance York

Rubbish removal York

WEEE waste York

Skip bags York
What areas of York do you collect glass waste in?

We can collect glass waste anywhere in York and the surrounding areas for recycling. This includes businesses both inside and outside the city walls, from the centre out to towns including Pocklington, Easingwold, and Boroughbridge. Our glass recycling services in York cover:

York city centre (YO1)

Heslington and Osbaldwick (YO10)

Dunnington, Escrick (YO19)

Bishopthorpe, Upper and Nether Poppleton (YO23)

Acomb, Dringhouses (YO24)

Bootham, Clifton (YO30)

Heworth, Layerthorpe (YO31)

Haxby, Wigginton (YO32)

Elvington, Stamford Bridge (YO41)

Pocklington, Barmby Moor (YO42)

Boroughbridge (YO51)

Sheriff Hutton (YO60)

Easingwold (YO61)

Helmsley, Kirkbymoorside (YO62)

How often is commercial glass waste collected in York?

You can book commercial glass waste collection in York on a daily, weekly, or fortnightly basis. Wherever your business is in York we can deliver bins to store glass and collect them when full. We can also sometimes offer one-off and ad-hoc commercial glass waste collections.

How can I reduce the amount of glass waste my business in York creates?

To reduce the volume of glass waste York businesses produce you can:

Reuse glass products where possible

– instead of throwing away glass jars after use, clean them to store other products. Hospitality venues can donate old kitchenware and glasses to charities instead of simply replacing them outright.

Handle products carefully

– se often dispose of glass products when they're damaged. They could have a much longer life if handled with the appropriate care and consideration.

Put together a recycling scheme

– incorporating a recycling scheme into your waste management plan can also help you reduce the amount of glass waste you produce. For example, providing your employees with easy access to the appropriate recycling containers can reduce the amount of glass waste disposed of incorrectly. In-house recycling schemes also encourage employees to be more eco-conscious and wary of creating too much waste.

Is there a fee for glass waste collection in York?

At Divert we provide free bins and only charge a fee for collection. There are no bin rental charges with fixed collection prices and zero other hidden fees. The cost of glass collection in York depends on the number and size of bins you need, how often you want them collected, and where your business is in York.

The easiest way to see how much glass waste collection could cost you is to contact us for a free no obligation quote.