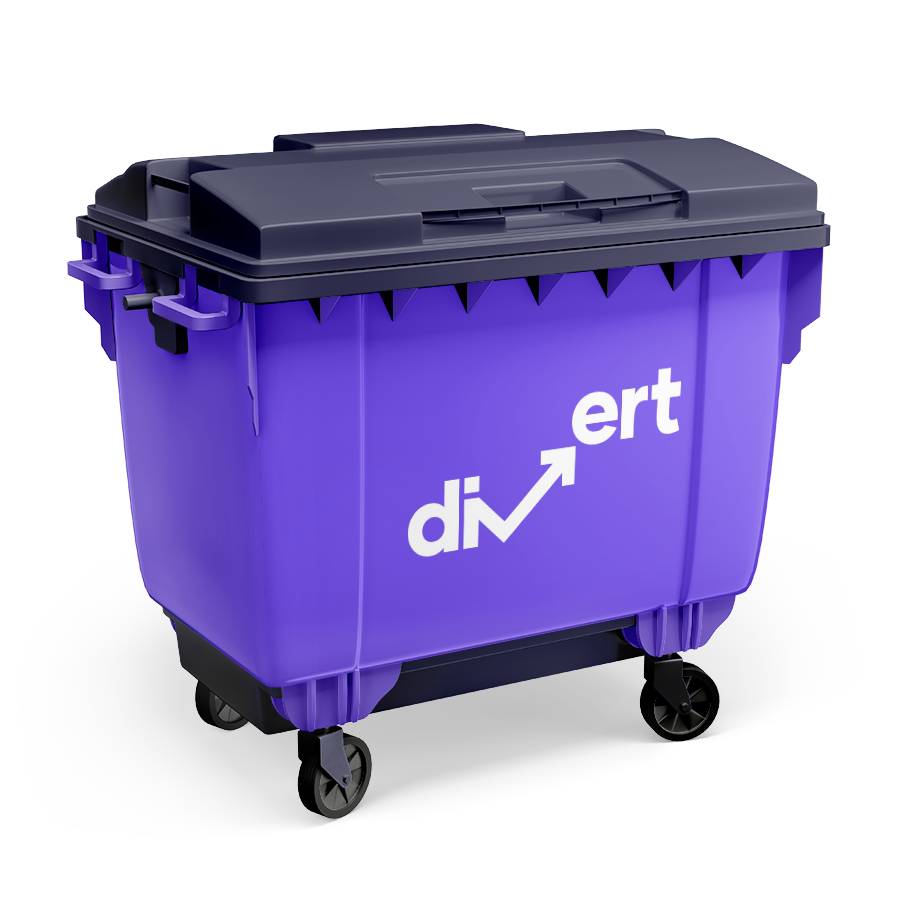 Managing waste effectively is important for homes and businesses in Tadcaster. Recycling and regular collections help organisations stay on top of their waste management in Tadcaster, as do one-off removals and house clearances for homes across the North Yorkshire brewery town. Discover our domestic and commercial waste services in Tadcaster.
Tadcaster Waste Management

Get a quick quote
Get a fast FREE quote for your waste
Quick quote within 1 hour
All types of waste
Claim your free bins
We cover all of Tadcaster
Tadcaster waste collection
Book waste collection in Tadcaster to responsibly dispose of many types and amounts of rubbish your business or home produces. All waste is diverted away from landfill, whether you want regular collections of food waste from your café on the high street or one-off bulky waste removal from your home.
Waste collection in Tadcaster is possible from anywhere across the brewery town and any nearby towns and villages. Book waste removal in Tadcaster and:
Bolton Percy
Church Fenton
Newton Kyme
Oxton
Stutton
Toulston
Towton
Ulleskelf
Get a free quote for waste collection in Tadcaster today – call 01904 295 985 or contact us online.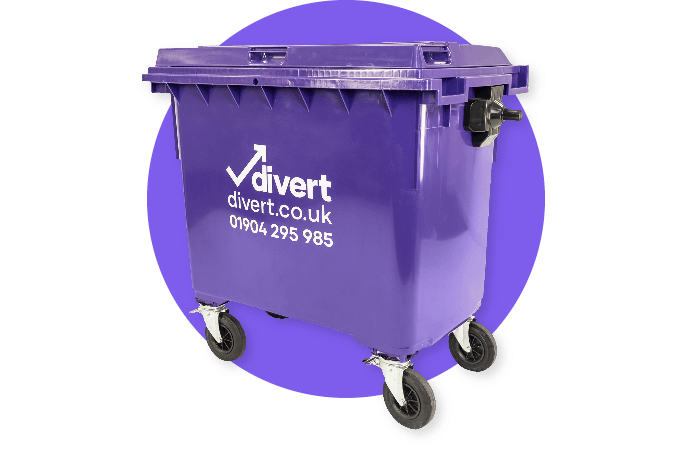 Free bins
Get free bins with no delivery or hire charges and enjoy 1 month's free collections when you partner with Divert
Commercial waste
in Tadcaster
All businesses in Tadcaster create commercial waste that requires effective and cost-efficient management. Breweries are big business in Tadcaster, but it's home to many other companies. Licensed waste carriers must remove your rubbish whether you run a pub on either side of the River Wharfe, a shop on the high street, or a takeaway on the town's outskirts.
The drivers of all our purple trucks and vans at Divert are all licensed waste carriers. This means they can safely and legally remove whatever type and amount of commercial waste in Tadcaster that your business produces. They'll transport it to a waste management facility for responsible disposal away from landfill.
Commercial recycling in Tadcaster is available for all the empty glass bottles the breweries and pubs generate, as well as other recyclable rubbish companies in the town produce. Waste solutions for start-ups and established firms of all sizes are available. Get rid of all your business waste in Tadcaster responsibly and affordably with Divert.
All Tadcaster businesses must arrange commercial waste collection
Commercial waste collection
in Tadcaster
Arrange waste collection in Tadcaster for your business with Divert and benefit from free bins to separate and store your rubbish safely. There are no delivery fees or hire charges, you simply pay for collection. Choose from daily, weekly, and fortnightly commercial waste collection in Tadcaster to suit your needs.
Licensed waste carriers remove your business waste and divert it away from landfill. As much of your rubbish as possible is recycled, recovered, and reused while the rest is disposed of responsibly. For example, general and food waste could be used to generate energy. Arrange commercial waste removal in Tadcaster for all sorts of rubbish types, including:
General waste collection

Food waste collection

Electrical waste collection

Garden waste collection
Household waste services
in Tadcaster
Dispose of your household waste with one-off removals and house clearances in Tadcaster. Bulky waste removals are available for furniture, appliances, white goods, mattresses, and other large items. Our man and van service also helps get rid of bags of garden waste, junk, and other rubbish in one go from your home.
These services are ideal for disposing of domestic waste in Tadcaster that's too big or too much for your household bins collected by North Yorkshire Council. It also avoids the need for a skip to get rid of high volumes of waste or large items. Divert provides faster and more cost-effective solutions.
Our household waste services in Tadcaster include house clearances. It's a comprehensive and simple option if you're moving across town, further afield, or emptying a domestic property after the passing of a loved one. We'll remove everything you want in one go with labour included, so you can sit back and relax. Explore our domestic waste services in Tadcaster:
House clearance

Man and van

Bulky waste collection

Sofa removal

Fridge and freezer collection

Mattress collection
Get a free quote
Bin collection
in Tadcaster
Organise bin collection in Tadcaster for your business on a suitable schedule. We deliver free bins to your premises for you to fill with the relevant waste types. Enjoy cost-effective waste management as there are no delivery or bin hire fees – you only cover the collection costs.
Select from a wide range of bin types and sizes so you can store all waste safely on your site before it's collected. This includes standard wheelie bins for glass recycling and food waste, as well as bigger four-wheel bins for high volumes of general waste, cardboard, and paper.
Waste bags for garden or clinical waste and containers like drums for oil are also available. You can arrange Tadcaster bin collection on a daily, weekly, or fortnightly basis to match the amount of rubbish you produce. Combine bins with different removal frequencies for cost-effective bin collection in Tadcaster.
Explore our bins
Tadcaster waste recycling
Waste recycling in Tadcaster is essential for businesses and households to protect the local environment. North Yorkshire Council provide homes in Tadcaster with two recycling bins for domestic waste. Use your brown recycling bin for paper and cardboard, while the blue recycling bin is for glass, cans, and plastic.
The Sainsbury's car park has recycling banks for batteries, plastic bags and wrapping, while at Calcaria House you can recycle clothes, shoes, and bags. For any specialist waste recycling or high volumes of domestic waste, you can take them to Tadcaster household waste recycling centre (HWRC). Some commercial waste is accepted but charges may apply.
For commercial recycling in Tadcaster, you can use different bins to separate your waste before it's removed by licensed waste carriers. At Divert, we can provide bins for your cardboard, paper, plastic, glass, and metal waste to separate it and ensure it's recycled. Our Tadcaster recycling services include:
Glass recycling

Cardboard recycling

Dry mixed recycling
Tadcaster recycling centre
Tadcaster household waste recycling centre

Station Road Industrial Estate

Tadcaster

LS24 9SG
How does business waste collection
in Tadcaster work?
Getting rid of business waste in Tadcaster is quick, easy, and affordable with Divert. We provide free bins for regular commercial waste collection in Tadcaster that you fill before licensed waste carriers take them away and dispose of the rubbish responsibly. Removal and disposal services are available for many types of business waste.
The process for reliable commercial waste collection in Tadcaster follows these steps:
Start with a free no no-obligation quote for business waste collection anywhere in Tadcaster and the surrounding area. The price quoted is tailored to your needs based on the waste type, amount, and collection frequencies.
Book a time and date for the delivery of your free bins if you're happy with the quote.
Fill each bin with the relevant type of waste and stick within any weight limits and max fill lines. This makes separating your recyclables from any general waste simple.
Place your bins at the agreed collection point ahead of time. Our purple trucks driven by a licensed waste carrier will remove them on time and transport them to a nearby waste management facility.
All waste is diverted away from landfill. It's recycled and disposed of responsibly and you receive a free duty of care certificate that confirms the disposal method for added peace of mind.
Why use Divert for
Tadcaster waste collection?
Save money and the planet with regular commercial waste collections or one-off removals anywhere in Tadcaster and the wider region with Divert. Free bins mean there are no rental fees or delivery charges to help lower the costs of waste management in Tadcaster for your organisation. Arrange removals on a cost-effective schedule for you too.
All waste is diverted away from landfill to help protect the environment. We offer a wide range of waste clearance solutions in Tadcaster, from regular general waste and glass recycling collections to bulky waste and furniture removal. Our man and van services and house clearances help with all sorts of domestic waste removals.
Partner with a local waste management firm when you choose Divert for your waste management needs in Tadcaster, as we're based down the road in York. Our drivers know both sides of the River Wharfe well to ensure timely and reliable waste removal. Enjoy fast, efficient, and cost-effective waste services.
Some of the main benefits of using Divert for waste collections in Tadcaster are:
A free no obligation quote bespoke to your needs
Free bins delivered anywhere in Tadcaster
Reliable and regular waste removal
Fixed prices including labour costs
Many waste types collected and recycled
Fixed prices

Landfill diversion

Reliable collections

Flexible services
Book Tadcaster waste collection
See how much you could save with a free quote for waste clearance in Tadcaster today – there's no obligation to commit. Provide details of the waste you need removed, where from, and how often and we'll give you a bespoke price. One of our friendly team is on hand to answer any questions too.
Get a free quote