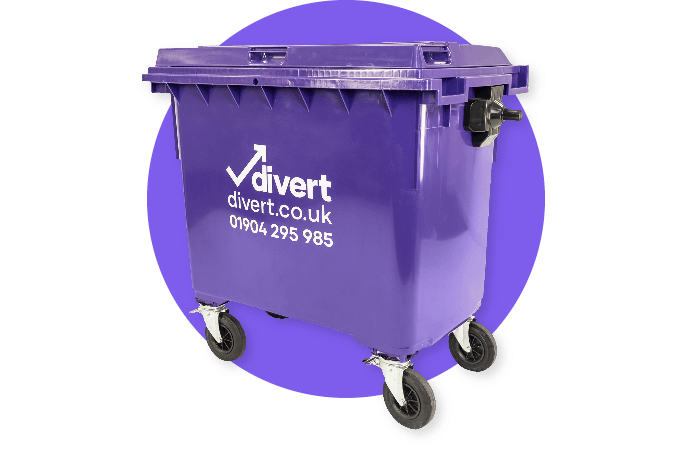 Need a hand getting rid of an old sofa in Harrogate? They can be challenging to move and take to the local tip, plus you might be unsure what happens to them. At Divert we offer sofa removal in Harrogate for homes, offices, and businesses and divert all sofas away from landfill.
Collection is available anywhere in Harrogate and the wider district. Every sofa is recycled, reused, or disposed of responsibly in line with environmental regulations (such as through incineration for those containing persistent organic pollutants (POPs)). Rest assured that after removal your sofa will be disposed of safely, legally, and in the most environmentally friendly way possible.
Sofa Removal in Harrogate

Get a quick quote
Get a quick FREE quote for your sofa removal
Quote within 1 hour
All types of sofas
Claim your free bins
Removals across Harrogate
Harrogate sofa removal
Arrange removal of any type and size of old sofas in Harrogate with Divert, including:
Two and three-seater sofas

Corner sofas

Sofa beds

Chaise longues

Recliner sofas
Get a free quote for sofa removal in Harrogate today – call 0333 444 0118 or contact us online.
How Harrogate sofa collection works
Firstly, apply for a free no obligation quote for sofa collection in Harrogate. Let us know the type, size, and number of sofas you want collecting, where from, and when. We'll provide a tailored quote with fixed prices and book a removal time and date that slots in with your schedule.
One of our purple vans and a couple of our professional team will come out on the day. They'll lift, carry, and load the sofa into the van, saving you the effort. For any extra-large sofas that need more than two people please let us know in advance so we can send out an extra team member.
Your old sofa will then be taken to a waste transfer station in North Yorkshire. Here it's checked and its future decided. Any sofas in decent condition might be donated to a local cause, while those beyond repair will be sent for recycling (broken down and materials recycled individually). Any sofas that contain POPs are sent for controlled incineration.
Who needs on-demand sofa removal in Harrogate?
When a sofa starts to sink, gets badly damaged, or you simply decide on an upgrade, you'll need to get rid of it. Most sofas last for up to 15 years when well looked after but eventually it'll be time to say goodbye. We provide on-demand sofa removal for homes and businesses in Harrogate.
You could be moving home and not want to take a sofa with you or be replacing it with a new model and need to get rid of it. Businesses in Harrogate such as hotels, pubs, and some offices also have sofas that need removing if they're being replaced or have been damaged beyond use. We can remove sofas from:
Households

Hotels

Landlords

Shops
Get a free quote
Local recycling centres and charities in Harrogate
You can dispose of furniture from your home for free at the two main household waste recycling centres (HWRCs) in Harrogate – Harrogate HWRC and West Harrogate HWRC. Only residents of Harrogate can use these sites to get rid of domestic waste. There's no need to register unless using a commercial vehicle (like a van).
Businesses can only take sofas that are commercial waste to West Harrogate HWRC. You must be a licensed waste carrier and register your vehicle to use the site.
Harrogate Borough Council offers a collection service for bulky items of furniture, including sofas. Charges apply of £46.75 per two items. If you need any more items removed you must book an extra collection. Collection time and dates are scheduled based on your address and they won't remove sofas from inside a property so you must lift them out.
Harrogate HWRC 
addresses and opening hours
Both Harrogate and West Harrogate HWRCs are open six days a week (closed on Wednesdays). Also shut on Christmas Day, Boxing Day, and New Year's Day.
April to September – 8.30am to 5pm
October to March – 8.30am to 4pm
Harrogate HWRC

Harrogate HWRC

Wetherby Road

Harrogate

North Yorkshire

HG3 1DE

Telephone – 01609 780 780

West Harrogate HWRC

West Harrogate HWRC

Penny Pot Lane

Harrogate

North Yorkshire

HG3 2SN

Telephone – 01609 780 780
Donate sofas to Harrogate charities
Any sofas that are still in usable condition could be donated to a local charity in Harrogate rather than recycled. This saves on the energy used to recycle sofas and helps support a good cause benefiting people in the town. 
Some Harrogate charities provide free collection services to make sofa removal simple, while there are also online services you can use to get rid of an old service in Harrogate. These include:
Essential Needs

– offers collection of sofas that are clean and in decent condition in Harrogate for a reuse scheme for people on low incomes or income-based benefits. Upholstered sofas aren't accepted without a permanent fire safety label.
Freecycle

– list an old sofa online for free in Harrogate for other residents. Specify collection required for added convenience.

Saint Michael's Hospice

– their House & Home shop accepts good condition old sofas for resale to support the charity.

Yorkshire Cancer Research

– provides free collections of sofas from homes within a 10-mile radius of their Harrogate shops or donation centre. Alternatively, drop off a sofa at the donation centre at Hornbeam Park.

British Heart Foundation

– use their free collection service for an old sofa, which could be resold in their stores in Harrogate and Ripon.

British Red Cross

– donate furniture including some sofas to the shop in central Harrogate. Funds raised support their UK and international causes. 

Shelter

– check with the shop on Commercial Street as they accept some furniture so may take your old sofa (those without a fire safety label are not accepted).
POPs waste and sofa disposal in Harrogate
Persistent organic pollutants (POPs) are poisonous chemical substances and unfortunately, some sofas contain them. They take a long time to break down if left in landfill and exposure can harm human health and the environment. For this reason, the Environmental Agency updated guidelines to ensure any sofas containing POPs are destroyed.
At Divert we check all sofas we collect in Harrogate. If they contain POPs then they're sent for controlled incineration to ensure they're disposed of safely and legally in line with government regulations. This prevents Harrogate sofa disposal from harming the local environment. Speak to our team if you want more information and advice about whether your old sofa contains POPs.
Why use Divert for sofa removal in Harrogate?
Get rid of any type and size of old sofa quickly and easily with Divert. We provide reliable sofa collections anywhere in Harrogate to homes and offices at a time and date that suits your schedule. There's no waiting around and our professional team do all the lifting and loading to save you the effort.
All sofas are disposed of responsibly and diverted away from landfill – whether they're donated, recycled, or incinerated if they contain POPs. Start with a free no obligation quote tailored to your needs. Fixed prices that include labour costs provide a clear price for Harrogate sofa removal.
We're based in North Yorkshire and have strong connections to waste sites across the county, as well as drivers familiar with the district's roads. This helps us deliver a local sofa removal service in Harrogate that's fast, flexible, and cost-effective to meet your needs.
Any shape and size of sofa removed in Harrogate
Reliable sofa waste collection
Free no obligation quote for Harrogate sofa removal
Fixed prices including labour costs with no hidden fees
Old sofas diverted away from landfill
Fixed prices

Landfill diversion

Labour included

Reliable sofal removal

Sofa collection across Harrogate
Arrange sofa collection in Harrogate
Get a free quote for sofa collection in Harrogate – call 0333 444 0118 or contact us online. Provide a few details about the type, size, and number of sofas, where you want them collected from and when. One of our friendly team can answer any of your questions if you need any advice.
Get a free quote
Harrogate sofa removal FAQs

Where can I arrange sofa collection in Harrogate?

You can arrange sofa collection anywhere in Harrogate – from High Harrogate and Oatlands out to Rossett, Pannal, and Burn Bridge. We offer sofa collection services across the wider Harrogate district from anywhere with an HG postcode such as Ripon, Masham, and Knaresborough. Arrange sofa collection from: 

Harrogate town centre, Jennyfields, Duchy, New Park, and High Harrogate (HG1)

Pannal Ash, Hornbeam Park, Rossett, Oatlands, and Woodlands (HG2)

Pannal, Burn Bridge, Pateley Bridge, Glasshouses, Ripley, Killinghall, Kirkby Overblow, Spofforth, Beckwithshaw, and Follifoot (HG3)

Ripon, Masham, Wath, Leighton, and Eavestone (HG4)

Knaresborough, Staveley, Allerton, Plompton, and Flaxby (HG5)

Can you take a sofa to the tip in Harrogate?

You can take any sofa from your home in Harrogate to either household waste recycling centres (HWRCs) – Harrogate HWRC or West Harrogate HWRC. If you use a commercial vehicle (such as a van or pickup) you'll need a vehicle permit. Commercial sofa waste is only accepted at West Harrogate HWRC.

How do you get rid of a sofa without a fire label in Harrogate?

If your old sofa doesn't have a fire label then you may struggle to donate it to any charities in Harrogate. Instead, you can either take it to your local HWRC for disposal or arrange collection by a waste management firm such as Divert. We'll collect your sofa at a time that suits you and ensure it's disposed of responsibly – recycling it where possible.
Cardboard waste Harrogate

Sofa disposal Harrogate

Furniture disposal Harrogate

Bulky waste Harrogate

Dry mixed recycling waste Harrogate

Food waste Harrogate

Fridge freezer removal Harrogate

Garden waste Harrogate

General waste Harrogate

Glass waste Harrogate

Harrogate bin collection

Harrogate waste management

Man and van Harrogate

Mattress collection Harrogate

Office clearance Harrogate

Rubbish removal Harrogate

WEEE waste Harrogate