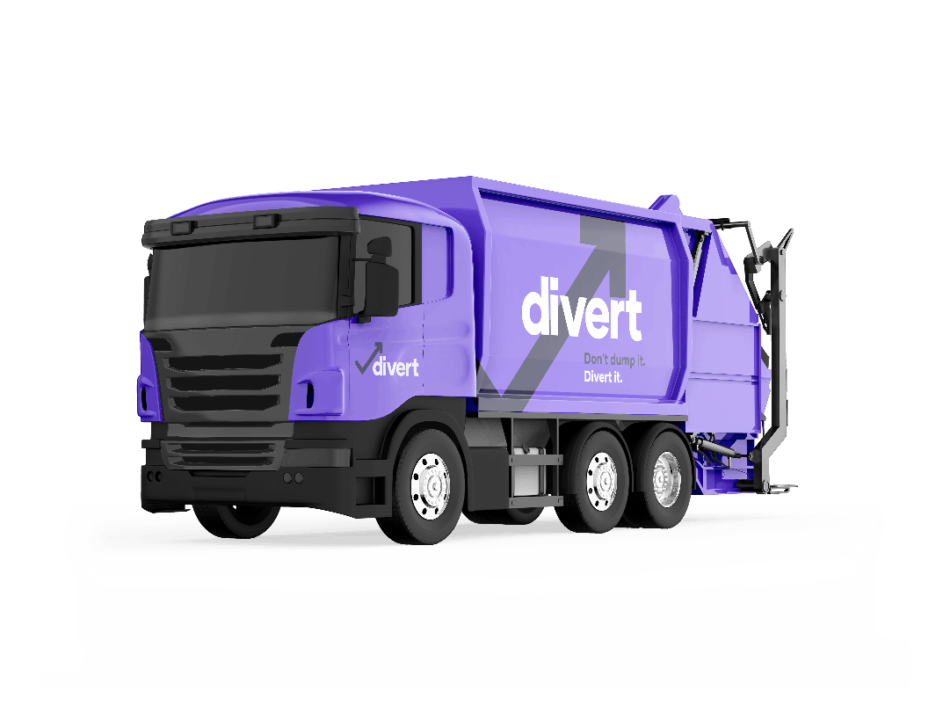 Get rid of an old fridge freezer in Wakefield easily when you arrange collection with Divert. We can remove any type and size refrigerator or freezer from anywhere across the West Yorkshire city to save you time, money, and effort disposing of such bulky items. Our professional team do all the lifting for your convenience.
Arrange collection of old, broken, or unneeded fridge freezers from homes and businesses in Wakefield with Divert. Every fridge freezer we remove in Wakefield is diverted away from landfill and sent for recycling, reuse, and responsible disposal. Our team of licensed waste carriers safely collect and transport each one.
Fridge Freezer Collection in Wakefield

Get a quick quote
Get a quick FREE quote for your waste
Quote within 1 hour
All types of waste
Claim your free bins
Collections across Wakefield
Wakefield fridge collection
We can collect a wide range of fridges from anywhere in Wakefield, including:
Domestic fridge freezers

Single household fridge or single freezer

Domestic chest freezers

American fridge freezers

Commercial fridges and freezers
Get a free quote for fridge freezer collection in Wakefield – call 0333 444 0118 or contact us online.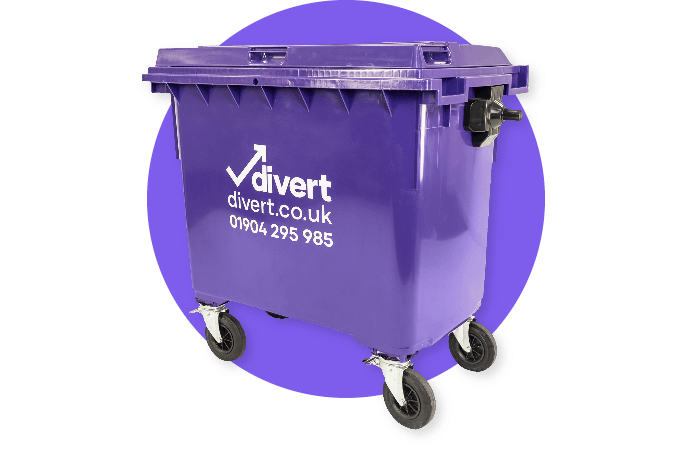 How fridge removal works in Wakefield
Request a free no obligation quote for fridge removal in Wakefield based on the type, size, and the number of fridges you need collecting, where from, and when. Then if you're happy with the fixed price we can book a collection date that suits you. One of our purple vans and two of our team will come out on the day.
They'll lift and carry your old fridge, then load it into the van to save you from the backbreaking work. Once all fridges for removal are loaded up they'll drive to a nearby waste transfer station. The fridge will be unloaded, checked, and sent for responsible disposal – reuse, recycling, or disposal.
Any fridges in working condition may be donated to a local charity in Wakefield. Most that aren't usable are recycled following a process where the refrigerant and motor oil are first drained. Other materials are removed and sent for recycling alongside the same waste stream – such as the motor, plastic shell, foam insulation, and any metal parts.
Who needs on-demand fridge freezer removal in Wakefield?
The average fridge freezer lasts for around ten years but there comes a point when most of the 132,000 households in Wakefield need to replace theirs. It could have broken, reached the end of its life, or need replacing with a more energy-efficient model. Or you might be moving home and not want to take it with you.
Many businesses in Wakefield also need fridge freezer removal at some point. There are more than 350 restaurants, cafes, and pubs in Wakefield that serve food and have commercial kitchens. Any broken or old fridges need removing fast to ensure business can continue with minimal disruption.
We can remove your fridge freezer from any home or business in Wakefield, with some of the main places that need on-demand collection including:
Households

Restaurants

Pubs

Hotels

Schools
Local recycling centres in Wakefield
You can take a fridge freezer from your home to one of three household waste recycling centres (HWRCs) across Wakefield – Wakefield, Glasshoughton, and South Kirkby HWRCs. Residents can dispose of fridges and freezers for free, you just need to take proof of address or a permit. Commercial fridge freezers are not accepted at any site.
Should you want to take your old fridge in a large vehicle like a van, pickup, or minibus – or have a trailer larger than 6ft x 4ft – you'll need a commercial vehicle permit. No trailers larger than 8ft x 6ft with a bed load greater than three metres are allowed to use the HWRCs.
Wakefield Council also offers a bulky collection service for households in the city. This includes the removal of fridge freezers (up to three items at a time) for a charge of £30. They can't remove glass-fronted fridges though, and they must be empty with the rubber seal removed and the door taped shut.
Opening hours
Monday to Friday – 8am to 5pm (including bank holiday Mondays)
Saturday – 8am to 4pm
Sunday – 9am to 4pm
Contact details
Telephone – 0345 8506 506
Email – [email protected]
Wakefield HWRC

Wakefield Household Waste Recycling Centre

Denby Dale Road

Wakefield

WF2 7AH

Glasshoughton HWRC

Glasshoughton Household Waste Recycling Centre

Flass Lane

Castleford

WF10 5JW

South Kirkby HWRC

South Kirkby Household Waste Recycling Centre

South Kirkby Business Park

Brigantian Way

South Kirkby

WF9 3TH
Donate a fridge freezer in Wakefield
If your old fridge freezer still works then you could consider donating it to a local charity in Wakefield. Many places accept donations of working fridges for reuse and resale to support their cause. Some even offer a free collection service to save you the hassle.
Donating a fridge freezer in Wakefield is a sustainable way to get rid of your old one, as it saves on the energy needed for recycling. There are also places online where you can list your old fridge freezer for free, whether it still works or not. Donate your old fridge in Wakefield with the following services:
Freecycle

– list your fridge online for free for any other residents of Wakefield. Save yourself the effort by making collection mandatory.

RSPCA

– electrical items including working fridges can be donated to the RSPCA shop in Wakefield shop or the Animal Centre in East Ardsley. 

Wakefield Hospice

– fridge freezers can be donated at the Warehouse Donation Centre on Tadman Street. They also provide a free collection service for postcodes WF1 to WF6.

Salvation Army

– check with your local Salvation Army charity shop in Wakefield and Outwood, as they accept fridges but only at select stores.

St. Vincent de Paul Society

– the Kirkgate shop accepts old fridge freezers, while there's a free collection service available that takes them to one of the nearest depots in Leeds or Bradford. All fridge freezers must have a CE mark to be accepted.
Why use Divert for fridge freezer removal in Wakefield?
Easily get rid of any type and size of fridge freezer anywhere in Wakefield with Divert. Our professional team can collect your old fridge at a time and date that suits you and they do all the lifting. After it's removed they ensure your old fridge is diverted away from landfill, and sent for recycling or reuse where possible.
We offer fixed prices that include labour costs and a free no obligation quote for fridge removal in Wakefield. At Divert we're also based in Yorkshire with great connections to waste sites around Wakefield and drivers who know the roads. This local approach ensures a fast, flexible, and affordable fridge collection service in Wakefield.
Any type of fridge freezer collected in Wakefield

Reliable and responsible fridge freezer disposal

Free no obligation quote for your fridge collection

Fixed prices with no hidden fees

Old fridge freezers diverted away from landfill
Landfill diversion

Fixed prices

Fridge recycling

Reliable fridge removal

Labour included
Arrange fridge freezer collection in Wakefield
Get a free quote for fridge freezer collection in Wakefield today – call 0333 444 0118 or contact us online today. Tell us the type, size, and number of fridge freezers you need collecting, where from in Wakefield, and when. If you've got any questions then one of our friendly and expert team is happy to help.
Other waste services 
available in Wakefield
One call we take it all 0333 444 0118
All waste types
Cardboard waste Wakefield

Sofa disposal Wakefield

Furniture collection Wakefield

Bulky waste Wakefield

Dry mixed recycling waste Wakefield

Food waste Wakefield

Fridge freezer removal Wakefield

Garden waste Wakefield

General waste Wakefield

Glass waste Wakefield

Wakefield bin collection

Wakefield waste management

Man and van Wakefield

Mattress collection Wakefield

Office clearance Wakefield

Rubbish removal Wakefield

WEEE waste Wakefield
Wakefield fridge freezer disposal FAQs

Where can I book fridge freezer collection in Wakefield?

You can book fridge freezer collection anywhere in Wakefield from your home or business. We cover everywhere with a WF postcode, including many nearby towns and villages. This includes Wakefield city centre and suburbs such as Sandal, out to Robin Hood, Tingley, Ackton, Knottingley, Batley, and beyond. Book fridge freezer collection in Wakefield from:

Wakefield city centre, Outwood, Eastmoor, and Agbrigg (WF1)

Alverthorpe, Kirkhamgate, Newmillerdam, Sandal, Walton, and Wrenthorpe (WF2)

Carlton, East Ardsley, Lofthouse, Robin Hood, Stanley, Thorpe, and Tingley (WF3)

Crofton, Flockton, Horbury, Netherton, Ryhill, West Bretton, and Woolley (WF4)

Ossett, Gawthorpe, and Healey (WF5)

Normanton and Altofts (WF6)

Featherstone, Ackton, Ackworth Moor Top, and Purston Jaglin (WF7)

Pontefract, Kirk Smeaton, Little Smeaton, and Thorpe Audlin (WF8)

South Elmsall, South Kirkby, Upton, Fitzwilliam, Hemsworth, and Kinsley (WF9)

Castleford, Glasshoughton, Allerton Bywater, Ledston, and New Fryston (WF10)

Knottingley, Brotherton, Fairburn, and Byram (WF11)

Dewsbury, Thornhill, Briestfield, and Chickenley (WF12)

Ravensthorpe, Dewsbury Moor, and Staincliffe (WF13)

Mirfield, Battyeford, and Hopton (WF14)

Liversedge, Hartshead, Hightown, and Roberttown (WF15)

Heckmondwike (WF16)

Batley, Birstall, Hanging Heaton, Soothill, and Staincliffe (WF17)

How do I dispose of a fridge in Wakefield?

There are a few ways you can dispose of a fridge in Wakefield, which include:

Taking your old fridge from home to one of the three main HWRCs in Wakefield, where it will be reused or recycled.

Booking fridge collection in Wakefield with Divert at a time and date that suits you. Our team will remove your old fridge and divert it away from landfill for responsible disposal.

Using Wakefield Council's bulky collection service. This currently costs £30 and has a limit of up to three items. Collection times and dates vary.

Donating it to a charity in Wakefield – either transporting and dropping it off in-store or using a charity's free collection service.

How much does fridge disposal in Wakefield cost?

The cost of fridge disposal in Wakefield depends on the type, size, and the number of fridges you need to get rid of, where from in the West Yorkshire city, and when. The easiest way to see how much fridge disposal costs is to get a free no obligation quote tailored to your needs.

All quotes include fixed prices and labour costs, so there are no hidden surprises.