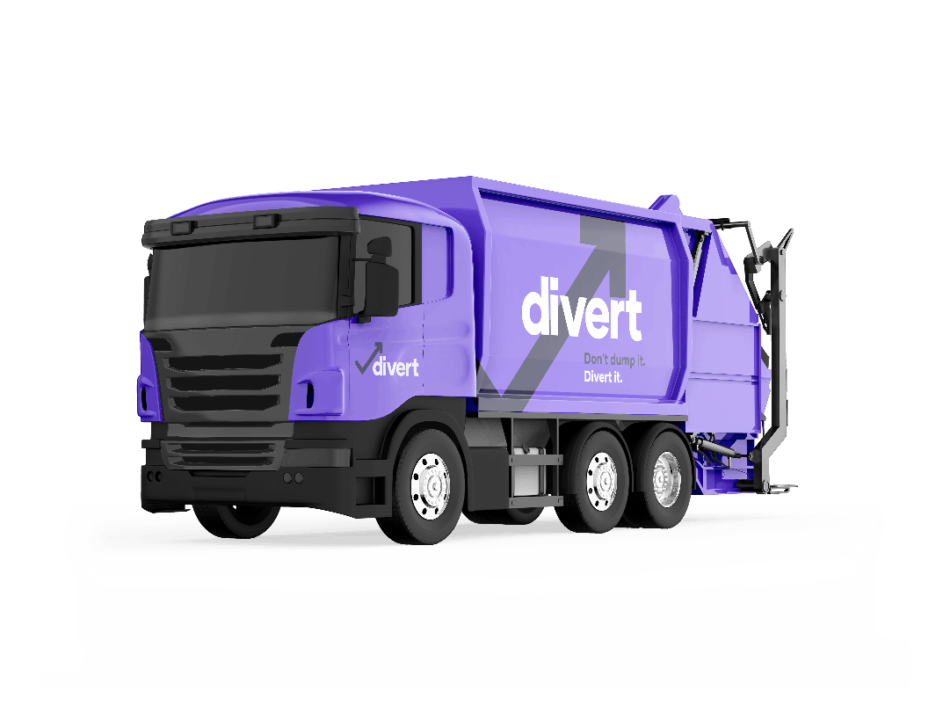 Get rid of green waste from your garden in Harrogate with Divert. There are more than 70,000 Harrogate households and with seven in eight UK homes having a garden that means the famous spa town could have around 60,000 domestic gardens. Each one creates plenty of green waste to be well maintained.
Harrogate is also home to other blooming wonderful gardens such as Harlow Carr and Valley Gardens. At Divert we can collect and responsibly dispose of garden waste from homes and businesses across the town and surrounding area.
Garden Waste Collection in Harrogate

Get a free quote
Get a quick FREE quote for your garden waste
Quote within 1 hour
All types of garden waste
Claim your free bins
We cover all of Harrogate
Harrogate garden waste
Our Harrogate garden waste collection service includes the removal of green waste such as:
Grass cuttings

Hedge trimmings

Flowers, plants, and leaves

Bark, branches, and twigs

Wood chippings

Sheds

Garden furniture

Fencing and decking

Soil, gravel, and brick rubble (from garden walls)
We divert all Harrogate garden waste away from landfill, ensuring it's composted and sent for other responsible disposal methods. Get a free quote for garden waste collection in Harrogate today – call 0333 444 0118 or contact us online.
How garden waste removal in Harrogate works
Get a free quote for garden waste removal in Harrogate based on the types and amount of green waste, where and when you want it collected. Then book a removal date and time if you're happy with the price. Bag up all your green waste like grass and hedge cuttings.
One of our purple vans will come to your garden at the agreed time and a couple of our professional team will load your garden waste into the van. They'll lift and carry everything to save you the hassle, but they're not gardeners so won't mow your lawn or trim your bushes.
They're licensed waste carriers and will then transport it to a nearby waste transfer station in North Yorkshire. The garden waste will be sorted and sent for responsible disposal. Any old garden furniture and fencing may be sent for recycling or reuse depending on its condition. Old wooden outdoor chairs may be treated and recycled with other wood. 
Most green waste should go to a composting plant. These work like your compost bin at home but on a bigger scale. Grass, leaves, and other green waste are added to compost piles that reach around 60°C. They're turned regularly to speed up the composting and the results are used for agricultural and other uses.
Who needs a garden clearance in Harrogate?
Harrogate residents benefit from garden clearance services when preparing their green space for winter or maintaining it throughout spring and summer. Mowing the lawn, cutting back overgrowth, and trimming hedges can create many bags of green waste at once. Whether you own or rent a property these need collecting and disposing of responsibly.
Many businesses also have gardens in Harrogate that need green waste collecting by licensed waste carriers. Pubs with beer gardens, offices with green space, hotels, spas, and anywhere else with a garden require regular garden clearances. Some of the main people and organisations we help with garden waste removal in Harrogate include:
Households

Bagged-up green waste from any sort and size of domestic property in Harrogate can be collected whether you own or rent your home.

Pubs

Get a beer garden ready for spring and maintain it throughout summer with regular collections after cutting the grass and doing other gardening.

Hotels

Removal of hedge, grass, and other cuttings helps create a relaxing environment in any Harrogate hotel gardens for guests to enjoy.

Offices

Keep any green spaces your office has clean and well-maintained for a great breakout area with Harrogate garden waste removals.
Get a free quote
Local recycling centres in Harrogate
You can take garden waste from your home in Harrogate to two of the main household waste recycling centres (HWRCs) – Harrogate HWRC and West Harrogate HWRC. It's free to despise domestic garden waste in the appropriate skip. The contents will be shredded and composted. Charges may apply to dispose of turf.
Commercial garden waste can be taken to West Harrogate HWRC by licensed waste carriers but charges apply. These vary depending on the type and amount of garden waste but turf, soil, stones, gravel, flagstones, and more are all chargeable. You'll also need a vehicle permit when visiting in a commercial vehicle (such as a van or pickup).
Harrogate HWRC opening hours
Both Harrogate and West Harrogate HWRCs are open six days a week (closed on Wednesdays). Also shut on Christmas Day, Boxing Day, and New Year's Day.
April to September – 8.30am to 5pm
October to March – 8.30am to 4pm
Harrogate HWRC

Harrogate HWRC

Wetherby Road

Harrogate

North Yorkshire

HG3 1DE

Telephone – 01609 780 780

West Harrogate HWRC

West Harrogate HWRC

Penny Pot Lane

Harrogate

North Yorkshire

HG3 2SN

Telephone – 01609 780 780
North Yorkshire Council garden waste collections
North Yorkshire Council provides a garden waste collection service for households in Harrogate. You must sign up for the subscription service, which currently costs £43.50 for the year – whatever time you join the scheme. Households receive one 240 litre wheelie bin to use for domestic garden waste only.
The council's garden waste collections are every fortnight from April until December – with a break between December and February normally. You need to attach your garden waste licence to the bin to ensure collection and place it outside before 7am on collection day. The day of the collection depends on your postcode.
Learn more about North Yorkshire Council's garden waste collection service in Harrogate on the council website.
Why use Divert for garden clearance in Harrogate?
Quickly and conveniently get rid of all your garden waste in Harrogate with Divert. Our professional team can come to your home or business at a suitable time and remove your garden waste with our on-demand service. They'll do all the lifting and ensure all garden waste is diverted away from landfill to keep Harrogate green.
Request a free quote that includes all labour costs and fixed prices for affordable garden waste removal in Harrogate. We're based in North Yorkshire with great connections to waste sites across the county and drivers who know the area well. This ensures we deliver a local garden clearance service anywhere in Harrogate.
All garden waste collected in Harrogate

Reliable garden waste removal

Free no obligation quote for a Harrogate garden clearance

Fixed prices with no hidden fees

Green waste diverted away from landfill
Fixed prices

Landfill diversion

Reliable garden waste removal

Collections across Harrogate

Labour included
Arrange garden waste removal in Harrogate
Get a free quote for garden waste removal in Harrogate – call 0333 444 0118 or contact us online. We just need a few details about the type and amount of garden waste you need removing, where from, and when. If you've got any questions, one of our friendly and expert team will help.
Get a free quote
Harrogate garden clearance FAQs

Where can I book garden waste collection in Harrogate?

You can book garden waste collection anywhere in Harrogate and the wider region from your home or business. We can collect your garden waste from anywhere with an HG postcode. This includes from the town centre, Starbeck, and Burn Bridge, out to Killinghall, Spofforth, and Ripon. Arrange garden waste collection in Harrogate from:

Harrogate town centre, Jennyfields, Duchy, New Park, and High Harrogate (HG1)

Pannal Ash, Hornbeam Park, Rossett, Oatlands, and Woodlands (HG2)

Pannal, Burn Bridge, Pateley Bridge, Glasshouses, Ripley, Killinghall, Kirkby Overblow, Spofforth, Beckwithshaw, and Follifoot (HG3)

Ripon, Masham, Wath, Leighton, and Eavestone (HG4)

Knaresborough, Staveley, Allerton, Plompton, and Flaxby (HG5)

Can I take garden waste to the tip in Harrogate?

Residents can take garden waste from their homes to the two main household waste recycling centres (HWRCs) in Harrogate (Harrogate and West Harrogate HWRCs). Place your garden waste in the garden waste skip at the site you visit. If you use a van, pickup, or commercial vehicle you'll need a vehicle permit.

Garden waste from the skip is shredded and composted. Businesses can only take garden waste to West Harrogate HWRC for disposal. You must be a licensed waste carrier and charges apply to get rid of commercial garden waste at the site.

What can you put in a Harrogate garden waste bin?

If you subscribe to North Yorkshire Council's garden waste collection service you'll receive one 240 litre wheelie bin for garden waste. You can put the following types of green waste in this bin:

Grass cuttings

Leaves and bark

Twigs and small branches

Tree and hedge trimmings

Garden plants and dead flowers

Weeds 

Windfall fruit
Other waste services 
available in Harrogate
One call we take it all 0333 444 0118
All waste types
Cardboard waste Harrogate

Sofa disposal Harrogate

Furniture disposal Harrogate

Bulky waste Harrogate

Dry mixed recycling waste Harrogate

Food waste Harrogate

Fridge freezer removal Harrogate

Garden waste Harrogate

General waste Harrogate

Glass waste Harrogate

Harrogate bin collection

Harrogate waste management

Man and van Harrogate

Mattress collection Harrogate

Office clearance Harrogate

Rubbish removal Harrogate

WEEE waste Harrogate