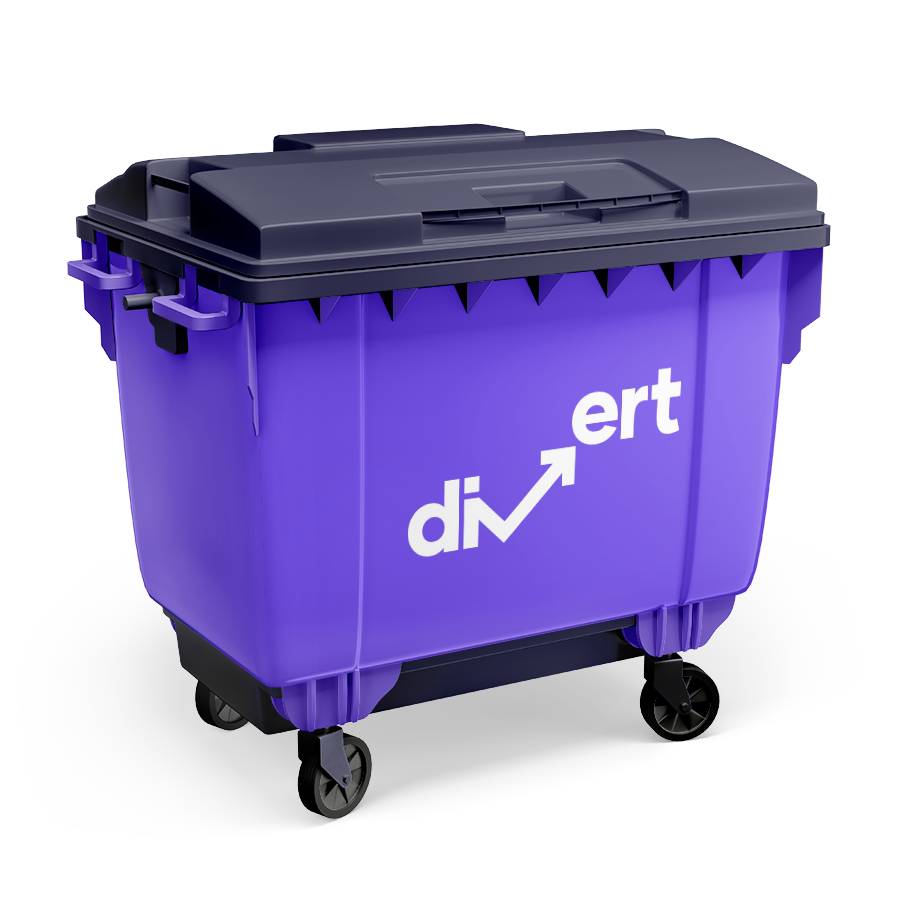 Good waste management in Batley is important for businesses and households across the Kirklees market town. At Divert we can provide regular commercial waste removals to companies in all industries as well as one-off rubbish removals and clearances for homes. Get a free quote and improve waste management in Batley for your business or home today.
Batley Waste Management

Get a quick quote
Get a fast FREE quote for your waste
Quick quote within 1 hour
All types of waste
Claim your free bins
We cover all of Batley
Waste collection in Batley
Arrange waste collection in Batley from your organisation or household anywhere in and around the famous former mill town in West Yorkshire. Waste removal is possible from the town centre out to Copley Hill and the neighbouring towns and villages. Our purple trucks and vans can collect rubbish from anywhere with a WF17 postcode.
Find a reliable, affordable, and fast solution for waste clearance in Batley whether you run a shop in The Mill Outlet, a pub along Bradford Road, or live in Lower Soothill. Waste collections are available in Batley and beyond, including from neighbouring Dewsbury and the wider Wakefield district. Book waste collection from:
Birstall
Carlinghow
Gomersal
Heckmondwike
Howden Clough
Lower Soothill
Staincliffe
Woodkirk
Free bins
Get free bins with no delivery or hire charges and enjoy 1 month's free collections when you partner with Divert
Business waste
in Batley
Many of the mills may not be operating in Batley today but some are still in use as retail centres. There are plenty of shops, cafes, and restaurants that require waste collection, and the town remains famous for its biscuit factories. Whatever type and size of business you run in Batley it requires commercial waste collection.
At Divert we have a team of licensed waste carriers who can collect commercial waste from any company or organisation in Batley. This ensures the safe, legal, and responsible management of your commercial waste. For added peace of mind, we provide a free duty of care certificate.
Organise regular waste removal from your business whether you're just starting or want to improve your current waste management anywhere in Batley. We work with businesses in all industries and offer tailored solutions to deal with the types and amounts of rubbish you produce regularly. All business waste in Batley is diverted away from landfill.
Get a free duty of care certificate for business waste collection in Batley
Commercial waste collection
in Batley
Book regular, reliable, and cost-effective commercial waste collection in Batley. Use free bins to separate and store your rubbish before it's removed. There are no delivery or rental charges you just pay the collection costs. Commercial waste removal is available anywhere in Batley and the surrounding suburbs.
Select daily, weekly, or fortnightly commercial waste collections to suit the amount and types of rubbish you produce. Licensed waste carriers remove your bins and ensure everything is disposed of responsibly and regularly. Explore the types of commercial waste we can collect from any business in Batley:
General waste collection

Food waste collection

Electrical waste collection

Garden waste collection
Household waste services
in Batley
One-off waste removals are possible from households across Kirklees. Get rid of an old sofa in Batley, a broken oven, or any other big and bulky item that the council won't collect. We can remove all sorts of large items and high volumes of waste. It saves you the effort of going to the tip.
Our man and van services in Batley can take away a few bulky items at once or various bags of garden waste and other junk. There's no need to hire a skip in Batley thanks to our man and van services. They can load up old furniture, electrical appliances, and more.
We also offer house clearances in Batley to help empty domestic properties. Find a solution whether you're getting rid of old items before moving home or clearing a house after a bereavement or previous tenants have left. Our team do all the lifting, carrying, and loading to save you the effort. Discover our household waste services in Batley:
House clearance

Man and van

Bulky waste collection

Sofa disposal

Fridge collection

Mattress removal
Get a free quote
Batley bin collection
Regular bin collection in Batley helps businesses streamline waste management and ensure rubbish is removed before it starts to overflow. It avoids attracting pests to your site, bad smells developing, and unsightly areas around the bins. Enjoy cost-effective Batley bin collection with free bins for your waste management.
We provide a wide array of bin types and sizes – from wheelie bins to oil drums and other waste containers. Use a mixture of different bins to separate and store your rubbish safely. Two-wheel bins are ideal for food waste and glass waste while four-wheel bins suit businesses that create lots of general waste or dry mixed recycling.
Book bin collection in Batley on a daily, weekly, or fortnightly basis to suit the volumes of rubbish you produce. You can create a cost-effective waste management schedule with removal frequencies and bin sizes that are efficient for your company's needs. Get a free quote and arrange Batley bin collection today.
Explore our bins
Batley recycling
Recycling in Batley has always been important since the town's days as a centre for the shoddy industry – the process of reclaiming wool from rags. Today recycling is vital for businesses and households in Batley to protect the environment. Kirklees Council provides Batley homes with a green recycling bin for paper, cardboard, metal tins and drinks cans, plastic bottles, tubs and trays.
There are various recycling sites across Batley where you can recycle glass and other items from your home. These include a recycling site for glass, clothes, textiles, and books in the Tesco car park on Commercial Street. Other glass bins are found at St Mary's Social Club, Soothill WMC, and Staincliffe Cricket Club.
Businesses in Batley must arrange commercial waste collection of all recyclable rubbish by licensed waste carriers. Use a range of bins to separate your recycling and store it safely before we remove it. Your waste is taken to a nearby recycling centre and recovered. Explore our recycling services in Batley:
Glass recycling

Cardboard recycling

Dry mixed recycling
How does commercial waste
collection in Batley work?
Commercial waste collection in Batley is quick and easy to arrange. Tailor our services to meet your company's waste management needs, whatever types and amounts of rubbish you produce. All we need are a few details to get started. Here's how commercial waste collection in Batley works with Divert:
Get your free no-obligation quote for commercial waste collection in Batley today. Let us know what types, sizes, and number of bins you need, how often you want them collected, and where from in Batley.
If you're happy with your tailored quote we'll deliver your free bins at a convenient time.
Fill each bin with the appropriate waste type and within any max fill lines and weight limits. Take the bins to the agreed collection point ahead of the removal time.
One of our purple trucks will come to your address and licensed waste carriers remove your bins. They transport them to a local waste management facility for responsible disposal.
Receive a free duty of care certificate that confirms the safe, legal, and responsible handling and disposal of your business waste in Batley.
Get your free quote
Why use Divert for waste
disposal in Batley?
Enjoy reliable, affordable, and simple waste management in Batley with Divert. Save money on your commercial waste management costs with free bins delivered to your site and all waste diverted away from landfill – reducing how much landfill tax you pay. One-off removals of household waste include labour and avoid the costs of hiring a skip in Batley.
Get a bespoke quote and waste clearance service tailored to your specific waste management needs. Licensed waste carriers remove all rubbish to ensure safe handling of your waste and to divert it away from landfill. We offer collections from businesses of all types across Batley and the wider Kirklees region.
Partner with Divert to get rid of any type and amount of waste from your organisation or household in Batley and benefit from a local service. We're based in Yorkshire with a team of experienced drivers and customer care experts who know Batley and the surrounding region well. This ensures timely, efficient, and reliable waste removal. Use Divert for your waste needs in Batley and enjoy:
A free no obligation quote tailored to you
Free bins delivered in Batley
Reliable and regular waste removal
Fixed prices including labour costs
Many waste types collected and recycled
Free bins

Fixed prices

Reliable waste removal

Landfill diversion

Labour included
Arrange waste collection in Batley
Get your free no-obligation quote for waste collection in Batley today. Call or contact us online with information about the waste types and amounts you have, where you want it removed from, and how often for a bespoke price.
Get a quick quote