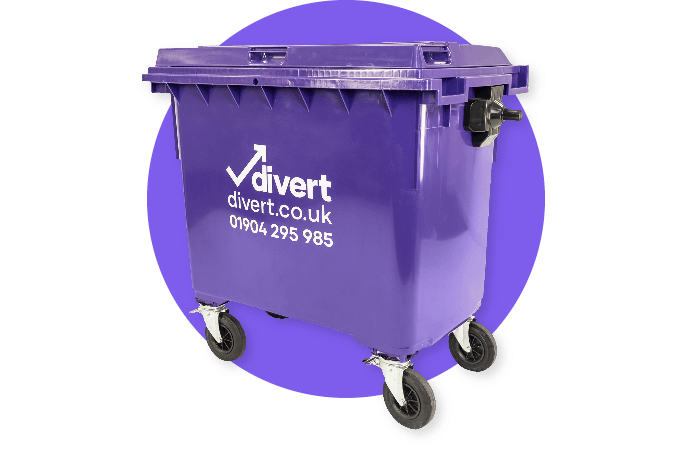 Recycling cardboard in Leeds is essential as it's a highly sustainable material. Households can put clean and dry cardboard in their green recycling bins managed by Leeds City Council. However, there are also more than 32,000 businesses across Leeds and each one must arrange commercial cardboard waste collection to dispose of it responsibly, safely, and legally. 
Cardboard recycling for businesses saves on disposal costs and helps the environment. It's more efficient than a dry mixed recycling bin if your organisation uses lots of cardboard too. At Divert our licensed waste carriers provide reliable cardboard recycling services for organisations across the West Yorkshire capital.
Get a free quote for cardboard recycling in Leeds today – call 0333 444 0118 or contact us online.
Cardboard Recycling in Leeds

Get a quick quote
Get a quick FREE quote for your waste
Quote within 1 hour
All types of cardboard
Claim your free bins
We cover all of Leeds
Leeds cardboard waste removal
There are two main cardboard types. Thin cardboard such as paperboard is used for cereal boxes, while stronger corrugated cardboard makes up more durable packaging materials. You can mix cardboard grades together in your bin, just ensure they're clean and dry. Our Leeds cardboard collection services can recycle both types and waste items including: 
Delivery boxes

Packaging – takeaway boxes and cardboard envelopes

Boxes – such as cereal, egg, and dishwasher tablet boxes

Greeting cards

Cardboard tubes – from kitchen and toilet rolls
How commercial cardboard recycling works in Leeds
Simply tell us the number and size of cardboard bins your Leeds-based business needs, how often you want them removed, and where from. We can provide a free quote and book your collections. First, we'll deliver the bins requested to your premises for free for you to fill with clean and dry cardboard within their weight limits.
Place your cardboard bins at the agreed collection point ahead of the scheduled pickup time. Our licensed waste carriers in one of our purple trucks will come and remove your bins on time and replace them for your next collection. They'll transport your cardboard waste to a nearby waste management centre, such as the ones in Kirkstall or Seacroft.
The exact facility depends on where your business is based and other factors. However, the general recycling process for cardboard in Leeds is similar wherever it ends up. The cardboard is sorted by grade before being shredded, pulped, filtered, dried, and rolled out into sheets to create fresh cardboard products.
Who needs cardboard recycling in Leeds?
All sorts of businesses across Leeds need and benefit from recycling cardboard waste. Shops in Trinity Leeds and down the Queens Arcade have lots of packaging waste from deliveries, products on sale, and storage. Local takeaways in Hyde Park, Headingley, and other Leeds suburbs produce plenty of cardboard waste from food containers too.
Then there are more than 320 primary and secondary schools in Leeds that use cardboard products every day. These include storage boxes to the use of cardboard in art lessons, classroom decorations, and crafting. For organisations that only generate small amounts of cardboard less frequently, a dry mixed recycling bin may be best.
Otherwise, the main businesses that benefit from cardboard recycling across Leeds are:
Shops

Restaurants

Hotels

Pubs

Schools
Free cardboard recycling bins in Leeds
Store your waste cardboard safely and securely, keeping it clean and dry before collection in Leeds with a choice of free bins we deliver. All the available wheelie bins are easy to move around so you can place them close to the point of production. They can hold between three to around 15 bags of waste.
Combine the number and sizes of bins you need with a collection schedule that suits your cardboard waste production and budget. Sizes vary from a 240 litre wheelie bin like the one Leeds City Council provides you with at home to big 1100 litre bins. Arrange delivery and collection of cardboard recycling bins in Leeds.
Discover more Leeds bins
240 litre wheelie bins

A two-wheel bin like you have at home to store 3 to 5 bags of waste.

360 litre wheelie bins

Slightly bigger two-wheel bin for 5 to 7 bags of cardboard waste.

660 litre wheelie bins

A four-wheel bin that holds 10 to 12 bags of old cardboard.

1100 litre wheelie bins

The biggest wheelie bin that can store up to 15 bags of cardboard.
Local recycling centres in Leeds
At home in Leeds you can recycle cardboard in your household recycling bin that's managed by Leeds City Council. There are also eight recycling centres across Leeds that accept domestic cardboard waste for recycling. If you're using a van, four-wheel pickup truck, trailer, or anything bigger than a car you'll need a permit.
Only two of these recycling sites in Leeds (Kirkstall and Seacroft) take any kind of commercial waste – including cardboard and paper. There's a minimum charge of £23.10 per 200kg and the same price per tonne to drop off any cardboard waste from a business in Leeds.
All eight sites have the same opening hours and contact details. The last entry is 15 minutes before closing time.
Opening hours
Between 31 October 2022 to 26 March 2023 – 8am to 4pm
Between 27 March 2023 to 29 October 2023 – 8am to 6pm
Contact details
Email – [email protected]
Kirkstall HWRC

Evanston Avenue 

Kirkstall 

Leeds

LS4 2HR​

Meanwood HWRC

Meanwood Road

Meanwood

Leeds

LS7 2LP

Middleton HWRC

Holme Well Road

Middleton

Leeds

LS10 4TQ

Otley (Ellar Ghyll) HWRC

Bradford Road

Otley

LS21 3DN

Pudsey HWRC

Richardshaw Road

Grangefield Industrial Estate

Pudsey

LS28 6LG

Seacroft HWRC

Limewood Road

Seacroft

Leeds

LS14 1LU

Wetherby (Thorp Arch) HWRC

Thorp Arch Industrial Estate

Leeds

LS23 7BJ

Yeadon HWRC

Milner's Road

Yeadon

Leeds

LS19 7JE
 Why use Divert for cardboard recycling in Leeds?
All businesses in Leeds must arrange commercial waste collection to dispose of cardboard and with Divert we recycle it all. This helps look after the local Leeds environment and save your company money on landfill tax. Plus, we provide free bins with no delivery or rental charges for even more affordable commercial cardboard recycling in Leeds.
Tailor your cardboard waste collections to your needs, with a choice of bin sizes and removal frequencies. Our expert team of drivers and customer service professionals are based in Yorkshire to provide a local approach that helps best manage your cardboard waste. Good connections to waste sites in Leeds help us provide you with efficient and affordable cardboard recycling in Leeds.
All cardboard recycled in Leeds

Flexible cardboard collections to meet your needs

Free no obligation quote based on your cardboard waste

Regular and reliable cardboard collections in Leeds

A fixed price with no bin rental fees
Other waste services
available in Leeds
One call we take it all 0333 444 0118
All waste types
Cardboard waste

House clearance Leeds

Bulky waste Leeds

Clinical waste Leeds

Dry mixed recycling waste Leeds

Food waste Leeds

Fridge freezer removal Leeds

Garden waste Leeds

General waste Leeds

Glass waste Leeds

Leeds bin collection

Leeds waste management

Man and van Leeds

Mattress collection Leeds

Office clearance Leeds

Rubbish removal Leeds

WEEE waste Leeds
All cardboard recycled

Collections across Leeds

Regular cardboard collections

Landfill diversion
Arrange cardboard collection in Leeds
Recycle all types of cardboard waste your business creates with Divert. Get a free quote for regular cardboard collection anywhere in Leeds with no obligation. Our friendly and expert team can answer any questions and advise on the best solution for your business. Call 0333 444 0118 or contact us online for your free quote today.
Leeds cardboard recycling FAQs

Where can I arrange commercial cardboard recycling in Leeds?

Arrange cardboard collection wherever your business is based in Leeds and the surrounding towns and villages. We can collect and recycle cardboard from offices along the River Aire in the city centre to takeaways in Beeston, garages in Seacroft, and cafes out in Ilkley. Organise cardboard collection and recycling anywhere with an LS postcode.

Leeds city centre (LS1)

Woodhouse and Little London (LS2)

Burley and Kirkstall (LS3 and LS4)

Headingley, Hyde Park, and Meanwood (LS6)

Chapel Allerton, Chapeltown, and Sheepscar (LS7)

Roundhay, Harehills, and Oakwood (LS8)

Burmantofts, East End Park, and Halton Moor (LS9)

Hunslet, Middleton, and Stourton (LS10)

Beeston, Cottingley, and Holbeck (LS11)

Armley, Wortley, and New Farnley (LS12)

Bramley, Moorside, and Rodley (LS13)

Seacroft, Thorner, and Killingbeck (LS14)

Cross Gates, Colton, and Temple Newsham (LS15)

Adel, Cookridge, Lawnswood, and Bramhope (LS16)

Alwoodley, Moortown, Shadwell, and Harewood (LS17)

Horsforth (LS18)

Yeadon, Rawdon, and Carlton (LS19)

Guiseley (LS20)

Otley (LS21)

Methley, Rothwell, and Woodlesford (LS26)

Morley, Churwell, and Gildersome (LS27)

Can I mix cardboard with paper?

You can use a dry mixed recycling bin to combine paper and cardboard products for recycling. It's also possible to mix thin cardboard and paper in one paper or cardboard bin. However, thicker waste cardboard such as corrugated cardboard must be separated from paper for recycling. When using a cardboard recycling bin just for cardboard there's no need to separate it by grade.

Can you put cardboard in a household waste bin in Leeds?

You can recycle any type of cardboard in your green recycling bin at home in Leeds. This includes empty cereal boxes, greeting cards, egg boxes, Amazon parcel delivery packaging, corrugated cardboard, and more. Ensure all cardboard is clean and dry, free from other contaminants.