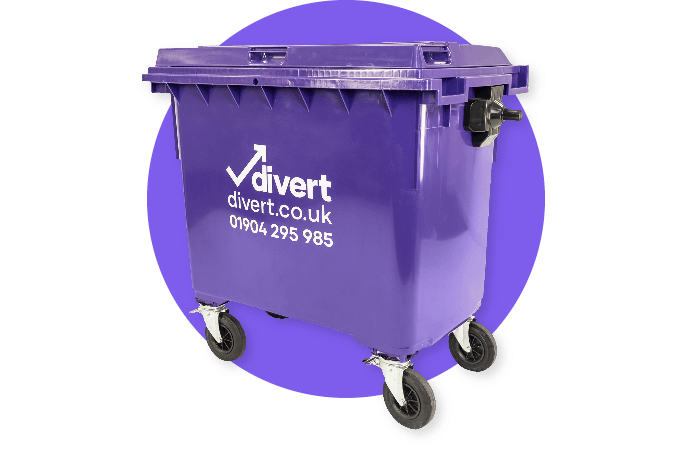 Strong waste management in Harrogate ensures businesses and households get rid of all rubbish produced reliably and responsibly. The spa town is home to more than 9,000 companies working in financial and professional services, digital and creative sectors, and the tourism industry. These all require regular waste collections to run smoothly.
From the famous baths and cafes to offices full of tech and finance professionals, efficient Harrogate waste management helps all businesses operate safely. Recycling and responsible disposal of commercial waste in Harrogate also ensures businesses do their bit for the local environment, keeping the town as green as The Stray. 
At Divert we provide reliable and cost-effective Harrogate waste management services to businesses of any industry and size. We can collect waste from anywhere in and around the town and divert all waste away from landfill – saving you money on disposal costs and helping protect the planet. Plus, we deliver free bins for you to use.
Harrogate Waste Management

Get a quick quote
Get a quick FREE quote for your waste
Quote within 1 hour
All types of waste collected
Claim your free bins
Collections across Harrogate
Harrogate business waste collection
Any commercial waste in Harrogate must be collected by licensed waste carriers in line with government regulations. Businesses can't throw away rubbish in domestic bins provided by North Yorkshire Council. You can only move and dispose of your business waste if you're a licensed waste carrier and take it somewhere that accepts trade waste.
Large industries in Harrogate include the health sector, accommodation and food services, and retail. It's the home of famous businesses such as Bettys and Taylors of Harrogate, Harrogate Spring Water, and Principal Hotel Company. The daily operations across all industries and companies in Harrogate create large and varied amounts of waste.
Commercial waste collection in Harrogate with Divert makes getting rid of your trade waste easy and affordable. We have a team of licensed waste carriers who can collect all sorts of waste from businesses working in any industry across Harrogate. This ensures your commercial waste is removed, transported, and disposed of responsibly, safely, and legally.
Our Harrogate waste collection services
Arrange waste collection in Harrogate to suit your needs. We provide free bins to store your rubbish on-site safely and securely before it's collected and disposed of responsibly. This covers the collection of a wide range of waste types and amounts, on a daily, weekly, or fortnightly basis for:
Licensed waste carriers collect any commercial rubbish from your Harrogate business and transport it to a local waste transfer station for sorting and recycling. We can help devise an efficient and cost-effective solution to get rid of any waste you produce and support companies operating in all industries. This includes trade waste collection services for:
Restaurants
Pubs
Shops
Garages
Warehouses
Hotels
Bin collection in Harrogate
We provide a wide range of free bins, bags, and containers in Harrogate to store all types and amounts of waste safely and securely. There are no rental or delivery fees, you only pay for bin collection in Harrogate. The choice of containers makes separating your waste and recycling easy, helping reduce contamination.
Wheelie bins with two and four wheels and in different sizes provide a convenient way to store waste on your premises. They can hold general waste, dry mixed recycling, glass, and food waste. We can also supply clinical waste bags and sharps bins, as well as containers such as oil drums for more specialist waste types.
Harrogate bin collections can be booked on a daily, weekly, or fortnightly schedule to get rid of waste from your organisation when you need it.
Book Harrogate bin collection
Where do you collect waste in Harrogate?
Organise waste collection anywhere in Harrogate and the surrounding towns and villages. We can collect waste from anywhere with an HG postcode, from businesses around Valley Gardens out to nearby towns such as Ripon and Knaresborough. Our waste collection services in Harrogate cover:
Harrogate town centre, Jennyfields, Duchy, New Park, and High Harrogate (HG1)

Pannal Ash, Hornbeam Park, Rossett, Oatlands, and Woodlands (HG2)

Pannal, Burn Bridge, Pateley Bridge, Glasshouses, Ripley, Killinghall, Kirkby Overblow, Spofforth, Beckwithshaw, and Follifoot (HG3)

Ripon, Masham, Wath, Leighton, and Eavestone (HG4)
Knaresborough, Staveley, Allerton, Plompton, and Flaxby (HG5)
Get a free quote
How does Harrogate waste removal work?
Harrogate waste removal follows similar steps, whatever type and amount of rubbish you're getting rid of. The exact method of disposal for waste in Harrogate depends on the waste type. We aim to recycle and reuse as much as possible, diverting it away from landfill.  
The process for collection and disposal of waste in Harrogate generally follows these steps:
Get a quote

Get a free no obligation quote for Harrogate waste collection. Simply provide a few details about the type and amount of waste you need collecting, where from, and how often – so we can determine the best bins and sizes. If you're happy with the quote, book your waste collections.

Fill your bins

We'll deliver the requested bins for free. Fill the bins with your waste and within any weight limits or max fill lines and place them at the agreed collection point ahead of the pickup time.

Book collection

One of our purple trucks driven by a licensed waste carrier will remove your bins and take them to a nearby waste transfer station. Here the waste is checked and sorted.

Dispose of waste

Your waste will then be recycled or disposed of in another responsible method, such as composting, incineration, or anaerobic digestion – avoiding landfill. You'll receive a free duty of care certificate confirming its removal and disposal.
Waste recycling in Harrogate
Harrogate household waste has a recycling rate of 42.6%, which is slightly higher than the average in England but still below government targets of 50%. It's important that businesses increase their recycling rates as well as households. This reduces the amount of waste sent to local landfill sites that can negatively affect Harrogate's environment.
Recycling waste in Harrogate also reduces how much landfill tax you must pay for commercial waste disposal in the town. It's a more cost-effective and responsible way to manage your waste. At Divert we provide a range of bins and services to encourage waste recycling in Harrogate for:
Why use Divert for Harrogate waste collection?
Arrange regular and reliable waste collection in Harrogate with Divert. You can book daily, weekly, or fortnightly collections of your commercial waste to suit your schedule. Save money at the same time with free bins delivered and reduced landfill tax charges, as we recycle, reuse, and responsibly dispose of your waste.
Licensed waste carriers will collect your waste in Harrogate, ensuring it's removed legally and safely following relevant environmental regulations. You'll get a free duty of care certificate for added peace of mind. And avoiding landfill helps you have a positive impact on the local environment.
Our team are based in Yorkshire with strong connections to waste sites in and around Harrogate. A great knowledge of Harrogate and the surrounding region helps us deliver fast, flexible, and efficient solutions to get rid of waste from anywhere across the historic spa town. Save money and the environment with Divert.
A free no obligation quote for Harrogate waste collection

Free bins delivered anywhere in Harrogate 

Reliable and regular waste removal

Fixed prices including labour costs

Many types of waste collected and recycled
Free bins

Waste recycling

Collections across Harrogate

Fixed prices

Reliable waste removal
Book Harrogate waste collection
Get a free quote for waste collection in Harrogate – call 0333 444 0118 or contact us online. Just provide a few details about the waste type, amount, and where you need it collected from for a tailored quote. If you've got any questions or want some advice one of our friendly and expert team members will help you out.
Get a free quote
Harrogate waste management FAQs

How much does Harrogate waste collection cost?

Waste collection costs in Harrogate depend on the type and amount of rubbish you need collecting, where from, when, and how often. The easiest way to see how much waste collection could cost you is to get a free quote tailored to your needs. This considers all such factors to provide an accurate estimate.

Call 0333 444 0118 or contact us online for a free no obligation quote for waste collection in Harrogate.

Can I take commercial waste to the tip in Harrogate?

Certain types of commercial waste are accepted at household waste recycling centres (HWRCs) run by North Yorkshire County Council in Harrogate – except at the Harrogate Stonefall centre. Charges apply and you must be a licensed waste carrier to dispose of any commercial waste in Harrogate. 

This includes any type of rubbish from a business or trade in Harrogate, landlord, educational establishment, or other such organisation.

Does Harrogate Council collect trade waste?

Harrogate Council provides household waste and recycling bins, which don't cover trade or commercial waste. However, Harrogate Borough Council does offer a separate trade waste service. There's a charge for the service though, and collections are only available six days a week.
Cardboard waste Harrogate

Sofa disposal Harrogate

Furniture disposal Harrogate

Bulky waste Harrogate

Dry mixed recycling waste Harrogate

Food waste Harrogate

Fridge freezer removal Harrogate

Garden waste Harrogate

General waste Harrogate

Glass waste Harrogate

Harrogate bin collection

Harrogate waste management

Man and van Harrogate

Mattress collection Harrogate

Office clearance Harrogate

Rubbish removal Harrogate

WEEE waste Harrogate