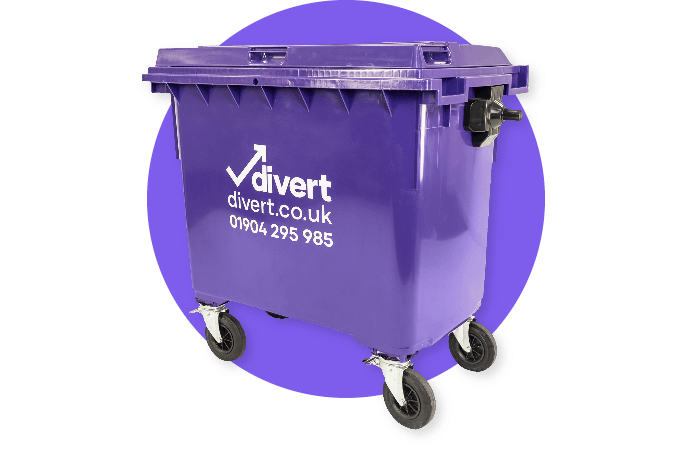 Clear a home or office, or just get rid of those big, tricky items that North Yorkshire County Council can't collect with rubbish removal in Harrogate. Our purple vans can visit homes and businesses anywhere across the historic spa town to remove a wide range of rubbish types – from bagged-up garden waste to old sofas, electricals, and more.
According to the latest census data, there are around 162,700 residents in Harrogate, living in more than 70,000 households. While North Yorkshire County Council takes care of the everyday general waste and recycling for these households, we provide on-demand waste removal. This helps you get rid of one-off items, waste from home and office clearances, and other projects.
All the labour is included so you don't need to lift a finger. And we divert your rubbish away from landfill to help keep the town as green as Valley Gardens. Find a flexible, fast, and affordable solution for Harrogate rubbish removal today. Call 0333 444 0118 or contact us online for a free quote.
Rubbish Removal in Harrogate

Get a quick quote
Get a quick FREE quote for your rubbish removal
Quote within 1 hour
All types of waste
Claim your free bins
Collections across Harrogate
Household waste collection in Harrogate
North Yorkshire County Council provides general waste and recycling bins to residential properties in Harrogate, which are collected on alternate weeks. They carry out more than four million household waste collections in Harrogate each year. Households can also pay for a garden waste licence for collection of green waste.
Harrogate has a household waste recycling rate of 42.6%, which is higher than average for England but below the government's target. Currently, the council provides two black boxes and two blue bags for domestic recycling, and one 240 litre black wheelie bin for household general waste. 
Our flexible Harrogate household waste collection services can help if you've missed a collection, have items too large for the council to remove, or have excess waste from a home or office clearance. We can also arrange household waste collection in Harrogate at a time and date that suits you for a fast and flexible solution.
Our Harrogate waste removal services
Send all sorts of rubbish for recycling and reuse with our wide range of waste removal services in Harrogate. Find a quick, convenient, and cost-effective solution whether you need one or more big bulky items removed, have many bags of waste, or have a few specialist waste types for disposal. 
Whatever type and amount of waste you have in Harrogate that needs taking away from your home, office, or elsewhere, we can collect and dispose of it responsibly.
Explore the different waste removal services in Harrogate we offer:
How does rubbish removal in Harrogate work?
Start with a free quote for the specific type of waste you need removing in Harrogate. Just provide a few details about the type and amount of rubbish, along with where you need it collected from and when for a free no obligation quote. Then we can book a time and date for its collection.
One of our purple vans with a couple of our team will come out at the agreed time and date. Let us know if anything needs more than two sets of hands, so we can plan accordingly. They'll lift, carry, and load your rubbish into the van, saving you the effort.
When everything's in the van they'll transport it to a nearby waste transfer station around Harrogate. Your rubbish will be checked and sorted, with as much as possible sent for reuse or recycling. Some waste may be incinerated in line with Environment Agency guidelines. All rubbish is disposed of responsibly and diverted away from landfill.
Why use Divert for rubbish collection in Harrogate?
Quickly, easily, and effortlessly get rid of any rubbish from your home, office, or business in Harrogate with Divert. Save time, labour, and money compared to loading bulky items into your car and taking it to the tip or hiring a skip. Fixed prices that include labour provide a clear idea of the costs upfront.
All waste is diverted away from landfill in Harrogate and sent for reuse or recycling where possible. This helps you do your bit for the local environment and work to improve the spa town's recycling rates. Responsible disposal also avoids adding to the 1,967 incidents of fly-tipping reported in Harrogate over the past three years.
We're based in North Yorkshire and provide a truly local approach to your rubbish removals in Harrogate. Our close connections to waste management sites in and around the town with the great road knowledge our drivers have ensures we deliver a fast, efficient, and cost-effective service. Plus, we provide a free no obligation quote to get started.
On-demand rubbish removal in Harrogate

Reliable home, garden, and office clearances

Fixed prices including labour, transport, and equipment

All areas of Harrogate covered
Get a free quote
Where do you remove rubbish in Harrogate?
We can collect any type of rubbish from households, offices, and businesses based anywhere in Harrogate and the surrounding towns and villages. Book rubbish removal from a flat overlooking The Stray to a house in Pannal or a cottage in Knaresborough. Rubbish removals are available anywhere with an HG postcode, including:
Harrogate town centre, Jennyfields, Duchy, New Park, and High Harrogate (HG1)

Pannal Ash, Hornbeam Park, Rossett, Oatlands, and Woodlands (HG2)

Pannal, Burn Bridge, Pateley Bridge, Glasshouses, Ripley, Killinghall, Kirkby Overblow, Spofforth, Beckwithshaw, and Follifoot (HG3)

Ripon, Masham, Wath, Leighton, and Eavestone (HG4)

Knaresborough, Staveley, Allerton, Plompton, and Flaxby (HG5)
Household waste recycling centres in Harrogate
There are two household waste recycling centres (HWRCs) in Harrogate. These are Harrogate HWRC and West Harrogate HWRC. Private residents can dispose of a wide range of household waste for free at either of these sites, including many electrical, paper, cardboard, and other household items.
Charges apply to dispose of certain waste types, including tyres, bricks, plasterboard, tiles, stones, and more. These vary depending on the amount. However, Harrogate HWRC doesn't accept hardcore, rubble, plasterboard, or tyres – so you must take these to West Harrogate HWRC.
Certain types of commercial waste are only accepted at the West Harrogate HWRC. Commercial scrap metal, clothing, plastic bottles, and hard plastics can be disposed of for free, but fees apply to other business rubbish such as cardboard, glass, paper, and more. You must be a licensed waste carrier to dispose of commercial waste.
Restrictions apply to certain vehicles visiting either HWRC in Harrogate. Those above 3.5 tonnes gross weight and agricultural vehicles cannot use the HWRCs. Commercial vehicles and those that look like they could be used for business purposes – such as vans, pickups, flatbeds, or Land Rovers with a cargo area – must register for a vehicle pass.
Harrogate HWRC 
addresses and opening hours
Hardcore, rubble, plasterboard, and tyres – as well as any type of commercial waste – are not accepted at Harrogate HWRC.
Harrogate HWRC opening hours
Both Harrogate and West Harrogate HWRCs are open six days a week (closed on Wednesdays).
Also shut on Christmas Day, Boxing Day, and New Year's Day.
April to September – 8.30am to 5pm
October to March – 8.30am to 4pm
Harrogate HWRC

Harrogate HWRC

Wetherby Road

Harrogate

North Yorkshire

HG3 1DE

Telephone – 01609 780 780

West Harrogate HWRC

West Harrogate HWRC

Penny Pot Lane

Harrogate

North Yorkshire

HG3 2SN

Telephone – 01609 780 780
 Harrogate recycling charities
Various charities and organisations in Harrogate accept all sorts of household items in decent and working condition for reuse and resale. This provides a sustainable way to get rid of old furniture, appliances, and other stuff from your home, office, or business. It saves on the energy required for recycling and supports a good cause.
Some charities also provide a free collection service. Charities and organisations in Harrogate that accept donations of household items include:
Essential Needs

– can collect donations of furniture and electrical appliances in Harrogate that are clean and in good condition for resale and reuse. They can't take mattresses or upholstered sofas unless they have a permanent fire safety label attached.

Freecycle

– list items for free in the Harrogate area online to rehouse with residents. Add collection for extra convenience.
Saint Michael's Hospice

– takes all sorts of household items for resale in 11 shops across the Harrogate district. Their House & Home shop accept furniture in good condition.

Yorkshire Cancer Research

– collections are available for those within a 10-mile radius of their Harrogate shops or donation centre and with six or more bags of items to donate (including furniture and small electricals). You can also drop off donations at their Harrogate shop or donation centre at Hornbeam Park.

Canaan Warehouse and Harrogate Clothes Bank

– Canaan Warehouse includes Harrogate Clothes Bank and accepts all sorts of second-hand clothing, furniture, and household goods at its Hornbeam Park headquarters. Items are redistributed to those in need for free. 

British Red Cross

– donate clothing, homeware, furniture, and electronics to the shop in the centre of Harrogate. Funds raised support their UK and international causes. 

Shelter

– the shop on Commercial Street takes good quality second-hand clothes, some furniture, and electrical items (though it's best to check first). White goods and upholstered items without a fire safety label are not accepted.
Harrogate rubbish removal FAQs

Should I avoid using a skip for rubbish removal in Harrogate?

Hiring a skip in Harrogate requires it to be delivered and collected, meaning it needs two trips. This takes longer and is double the driving, doubling the number of harmful gases emitted into the atmosphere. Plus, you need a licence if it's placed on the street outside and plenty of space for your skip.

You'll have to do all the heavy lifting yourself filling your skip in Harrogate too. At Divert, our uniformed and trained staff will remove your rubbish in a single trip. There's no need for a permit or all the extra costs and delays a skip can involve.

Can you clear an office in Harrogate?

Harrogate is home to more than 9,000 businesses employing 72,000 people, using lots of office space, and generating thousands of tonnes of business waste. We can help clear an office if you're moving out of an old office, into a new one, or renovating your existing space. We can also help with home office clearances in Harrogate.

Office clearance must be handled correctly, as it often involves removing bulky items and office furniture. We can clear anything from single items to entire floors of offices in Harrogate. Our collection services include furniture, desks, chairs, cabinets, cupboards, computers, sofas, carpet tiles, and white goods.

How do I report fly-tipping in Harrogate?

There are more than 600 incidents of fly-tipping reported in Harrogate and the surrounding area every year. If you spot a dumped mattress, bags of waste, or any other rubbish near your home or business you should report it to the council. You can report it online or call 01423 500600.
Cardboard waste Harrogate

Sofa disposal Harrogate

Furniture disposal Harrogate

Bulky waste Harrogate

Dry mixed recycling waste Harrogate

Food waste Harrogate

Fridge freezer removal Harrogate

Garden waste Harrogate

General waste Harrogate

Glass waste Harrogate

Harrogate bin collection

Harrogate waste management

Man and van Harrogate

Mattress collection Harrogate

Office clearance Harrogate

Rubbish removal Harrogate

WEEE waste Harrogate
Get a free quote