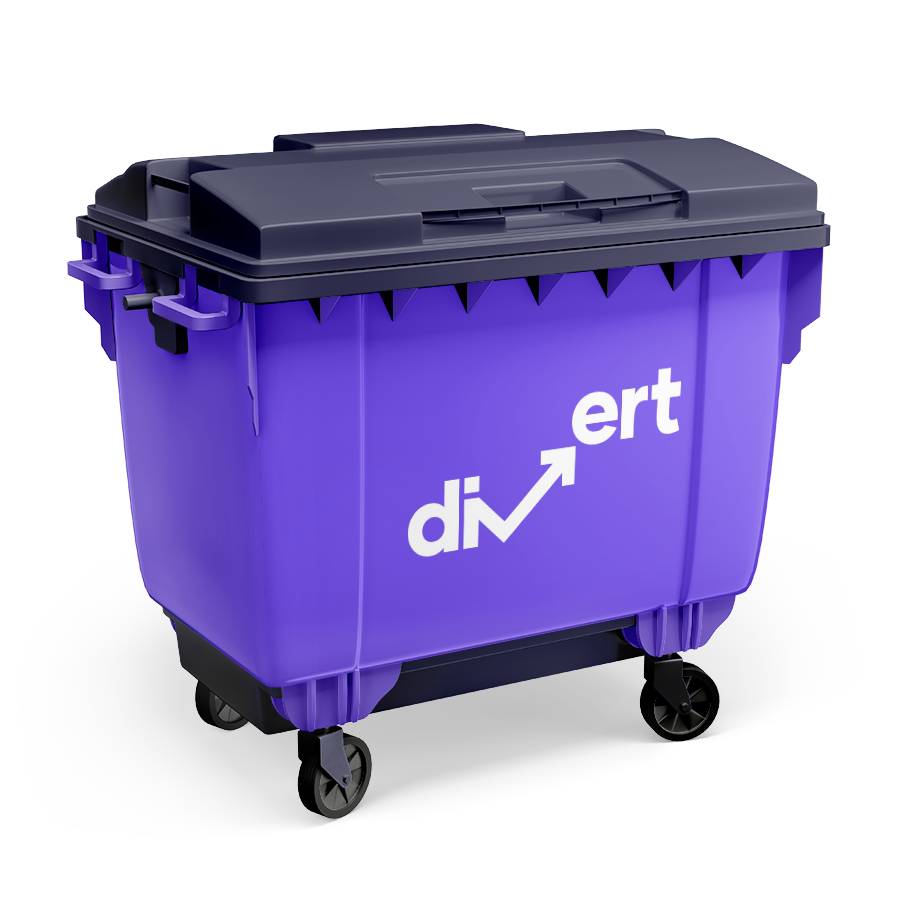 Sheffield is the fourth-largest city in the UK, with a population of approximately 584,000 (Eurostat). Surrounded by nature, it's a popular tourist destination for outdoor enthusiasts, with thousands of individuals visiting each year to explore Sheffield Park and Garden, which has national park status. However, it's also a hub of business and innovation, with a long history within the manufacturing industry. As a result, a large volume of waste is produced in Sheffield each year (around 210,000 tonnes). Despite this, Sheffield currently has a recycling rate of just 26.54% – far below the national average.
At Divert, we aim to support businesses within Sheffield and beyond as they begin to adopt stronger environmental policies, particularly in relation to waste disposal. For example, we can help you improve your company's recycling rate by diverting your waste away from landfills and towards recycling centres or more sustainable alternatives.
Waste Collection Sheffield

Quick Quote
Get a quick FREE quote for your waste
Quick quote within 1 hr
All types of waste
Claim your free bins
Nationwide coverage
Waste Management Sheffield
Whenever our purple vans pull up outside your business, you'll be able to rest easy knowing that your waste will be disposed of in a way that leaves a minimal impact on the environment. Our years of experience within the industry mean that we know precisely how to handle your businesses' waste – whether we're dealing with clinical waste or cardboard boxes. This also means that we're able to offer our services at a fair and competitive price – as we don't' waste time figuring out what to do with your waste once we've collected it. Get in touch today to find out more or for a free quote.
Clinical waste disposal in Sheffield
There are currently 5 large hospitals, 75 GP centres, 103 care homes and 40 specialist healthcare centres located in Sheffield – and each facility produces large volumes of waste every single day. As a result, if you're in charge of a healthcare facility in Sheffield, you must dispose of all of your waste appropriately. While some of your waste, such as paper and card, will be easy to deal with – others require more complex waste management strategies, such as your Clinical Waste. This is because clinical waste products can be hazardous. However, at Divert, we're well aware that running a healthcare facility, particularly during COVID, comes with a great deal of stress, meaning that you might not have time to put together a waste management plan for your clinical waste. But that's where we come in – ready and willing to do the difficult work for you and ensure that all of your clinical waste is disposed of in line with all government regulations.
No Hidden charges
With divert you wont find silly things added to your invoice
Glass collection in Sheffield
According to a recent report, we throw away over 28 billion glass bottles each year – with a staggering percentage of these products being sent to landfills, where they'll take thousands of years to decompose naturally. However, as glass can be recycled infinitely, there are various alternatives that we can rely on to safely dispose of the glass products we produce. If your Sheffield-based business produces large volumes of glass waste, we can make waste disposal as easy and stress-free as possible by taking all of your glass waste to specialist recycling centres. If you've been worried about your business's impact on the environment, we can give you the peace of mind you've been looking for.
In short, our services give you great peace of mind, as you know that you're running a fully sustainable business.
Waste disposal in Sheffield
Good waste disposal does not need to be complicated – in fact; we can make it as easy)
as possible for you to get rid of any waste you produce at your facility without having to rely on landfills. For example, our industry connections mean that we're able to divert waste to several specialist recycling facilities across the country – meaning that no matter what kind of waste you produce within your business, we've got you've covered—not convinced? Get in touch today to find out more about the range of services we have on offer.
Cardboard waste in Sheffield
Cardboard is used every day throughout the world in large volumes. Thankfully, it's also one of the most widely recycled products in the UK, with studies estimating that 84% of all cardboard used in the UK is recycled (aasvogel). Despite this, there is still clear room for improvement – and we believe that our cardboard waste disposal services can help boost these figures. Together, we'll ensure that all of your cardboard waste is disposed of appropriately by providing you with free access to the appropriate bins and containers ahead of time and arranging for these waste products to be collected regularly.
Save £££££
No Mess, No Stress, Pay Less
WEEE waste in Sheffield
We use electrical items every single day, meaning it's no surprise that businesses up and down the country produce large volumes of WEEE waste annually. However, with as little as 20% of WEEE waste being recycled globally, it's essential that you know exactly how to dispose of these products. While smaller items can often be dropped off at local supermarkets or recycling plants, you might want to put more long-term plans in place if you're producing large volumes of WEEE waste at your business. For example, at Divert, we're able to handle all manner of WEEE waste on your behalf, from mobile phones to bulky electrical items
General waste collection Sheffield
Unfortunately, not all of the waste produced within the daily running of your business is easy to recycle. For example, some products such as plastic wrapping and styrofoam cannot be recycled and must be disposed of in general waste bins. However, as Divert's promise is always to keep your waste away from landfills – we can still collect this waste so that it is disposed of in a sustainable, eco-friendly manner – get in touch to find out more!
DMR – dry mixed recycling in Sheffield
According to a recent study from Statista, around 35.8% of the recyclable waste we produce in the UK is classified as Dry Mixed Recycling. That is non-contaminated waste products such as paper, card, plastic and even glass. Storing these products together is a great way to save both time and space – as you no longer have to have separate bins for each waste product or spend hours sorting through the waste yourself. As a result, studies show that companies with DMR bins often have much greater success when it comes to recycling, especially when employees are in charge of disposing of waste themselves. At Divert, we can provide you with the appropriate bins and storage units for your DMR waste – and can collect these waste products at regular intervals, depending on how quickly it accumulates onsite.
Business waste in Sheffield
Right now, there are approximately 43,000 businesses based in Sheffield. However, these figures are growing quickly. In fact, Sheffield saw the formation of over 4,000 businesses during the pandemic alone. Since these businesses operate in numerous different industries – from healthcare to hospitality – business waste of every possible definition is produced within Sheffield and must be disposed of appropriately. Therefore, whether you need assistance with liquid waste or confidential waste, Divert is on hand to help. We offer all of our business waste services for a fixed price – which means you'll know exactly what to expect when our signature vans arrive to collect your waste.
Very quick
Caroline
Dog Groomers
Very quick to get bins set up for my dog grooming business, Paddy advised the best size bin and was a quick turnaround!
Get a quick quote
Get a quick FREE quote for your waste
Quick quote within 1 hr
All types of waste
Claim your free bins
Nationwide coverage