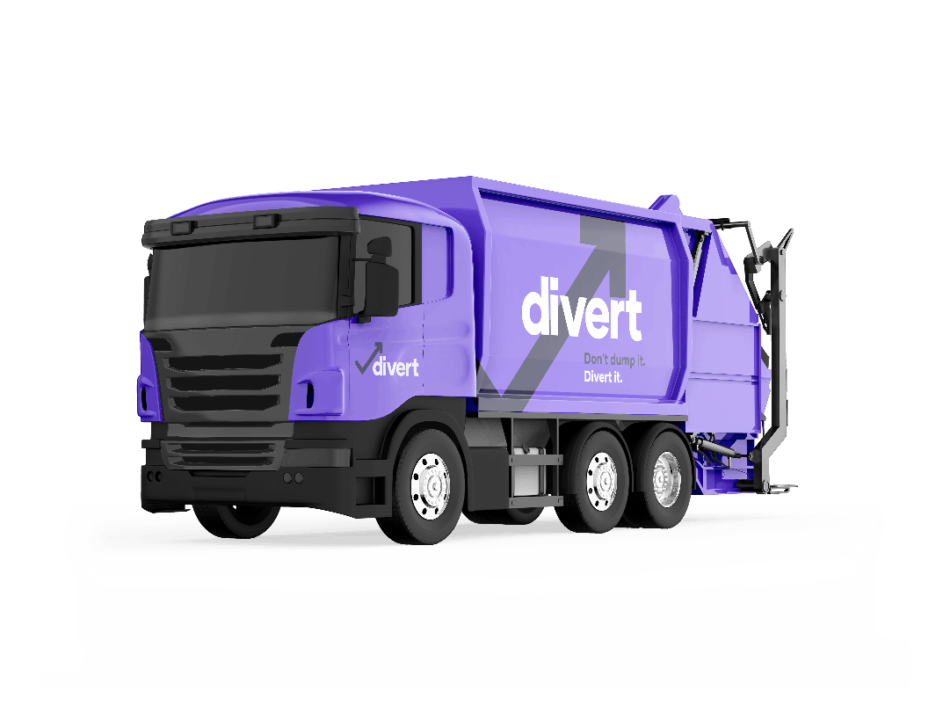 Divert is an innovative waste disposal company, helping to reduce waste in the UK by finding new ways to recycle. We work to help minimise the amount of waste that ends up on landfill sites each year, working to protect the environment for future generations. We do this primarily by focusing on WEEE waste disposal (Waste Electrical and Electronic Equipment Recycling).
Why use Divert?
At divert, we are passionate about protecting the environment. This lies at the forefront of everything that we do. We'll collect any of your waste – including white goods – and ensure that the waste is properly and safely disposed of.
Bulky
Waste Collection
Quick quote
Get a quick FREE quote for your waste
Quick quote within 1 hr
All types of waste
Claim your free bins
Nationwide coverage
What are white goods?
The term 'white goods' refers to large electrical goods that are typically used within the home but are also found at restaurants and cafés. White goods include:
– Washing machines
– Tumble dryers
– Fridges
– Freezers
Why is sustainable white goods collection and disposal important?
To begin with, it is always important that we find safe ways to dispose of our waste. When we send our waste to landfill, we are contributing to the production of methane gas. Methane gas is a key contributor to the destruction of our ozone layer – leading towards global warming.
We should find sustainable ways to dispose of white goods as they are often made of recyclable materials, such as plastic. By recycling these products, they are able to find a new life. Secondly, electronic equipment often contains some element of toxic materials – such as heavy metals, which can cause serious damage to the environment.
What are white goods made from?
What materials are the following made from?
Washing machines – Washing machines are typically made from plastic or stainless steel, and electric motors – materials that are frequently recycled. As a result, we began offering washing machines collection services to ensure all components are properly disposed of.
Tumble dryers – In addition to plastic and steel, tumble dryers are made from a variety of metals. They often contain insulated copper wiring and an electric motor.
Fridges – A fridge has 'three layers' of materials. The first is usually sheet metal, an interior made of polystyrene plastic, and stainless steel exterior.
Freezers – As they function similarly, freezers are made of the same materials as fridges.
A closer look at the materials:
Stainless steel – Steel is the most widely recycled product in the world. It is estimated that around 10 million tonnes of scrap metal (of which steel is prevalent) are recycled each year. Even better, recycling steel as opposed to manufacturing new steel can reduce carbon emissions by 80%.
Plastic – Plastic is another material that is frequently recycled and for a good reason. If plastic was not taken to a reused or taken to a recycling plant, it could take upwards of 1,000 years to decompose in a landfill site. Despite common misconception, polystyrene plastics can now be recycled too.
Electric motor – As 100% of the components that are used to create an electric motor are metallic; this too can be recycled or repurposed for later use.
Copper writing – Copper is a finite resource, and supplies of copper are gradually decreasing over time, meaning that it is now widely recycled. In fact, recycling copper can prove very lucrative.
Free duty of care
We pride ourselves on being open and transparent.
How many white goods are thrown away
each year
Each year, 3.5 million fridges are thrown away each year and around 2.4 million freezers.
However, it is difficult to estimate the number of white goods that are safely thrown away each year. A study by Keep Britain Tidy found that over 50,000 white goods were illegally dumped in 2018. That's 50,000 goods that could have been recycled or rejuvenated.
How long does white good waste last?
The materials used in the production of white goods are by and large recyclable. However, they would each take a long time to decompose naturally. For example, plastic can take 1000+ years to biodegrade, whereas steel takes 100 years. However, both of these processes contribute to damaging the environment.
14 day price match guarantee
Partner with peace of mind
What are some alternative ways you can reuse or repurpose your old washing machine?
1) Donate it to charity. Charities are always on the lookout for white goods, especially those that are still functioning properly. Whilst you may be getting rid of your fridge/freezer as you're buying a newer, better model – a family on a reduced income would benefit hugely from receiving a fridge or freezer from a charity. They are also often used in shelters or homes.
2) Fix and repair. Although your white goods may appear faulty, it is likely that something can be done to rejuvenate them. Whether you try to resolve the issue yourself or bring in a specialist who can repair any damages – fixing and repairing white goods is a far better alternative to disposing of them altogether. It can even prove to be quite cost-effective, as it is often cheaper to fix something than buy something entirely new. If you have already purchased new white goods, fixing your old white goods means you can donate them to charity or sell them to a new home.
3) Help those in need. Much like donating to charity, it is always worth asking if anybody wants your old items. This can be done by word of mouth, or through the use of social media. For example, there are several Facebook groups that allow you to post items that are available locally. You can offer them for free or for a small price.
Get your waste collected
Get a quick FREE quote for your waste
Quick quote within 1 hr
All types of waste
Claim your free bins
Nationwide coverage