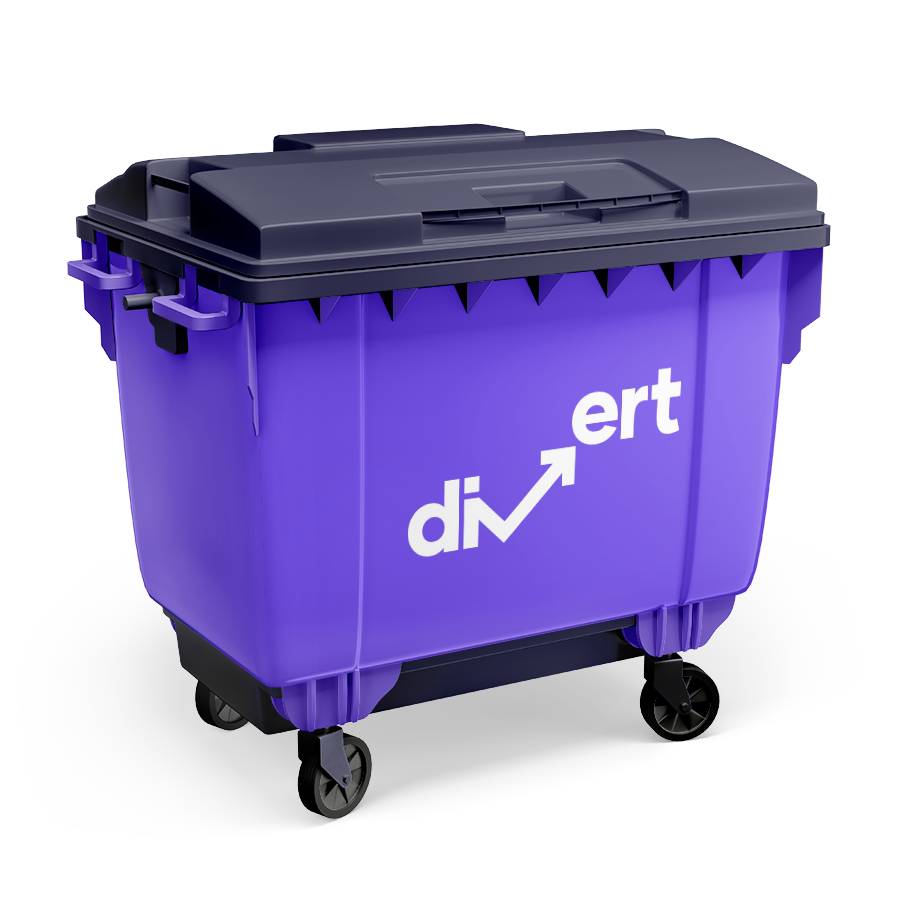 Stoke on Trent is a large city in central England, known predominantly for its pottery industry. However, with a population of approximately 256,100, around 700,000 tonnes of waste are produced here annually. Despite its significant contribution to UK waste statistics, only 35% of this waste is recycled. While this is (very) slightly above the UK average of 34.4% – there's still a lot of room for improvement moving forward.
At Divert, we hope to increase recycling rates across the country by diverting waste products away from landfill sites and towards local recycling centres – our services are available to all businesses across Stoke on Trent.
Waste Management
Stoke on Trent
Quick Quote
Get a quick FREE quote for your waste
Quick quote within 1 hr
All types of waste
Claim your free bins
Nationwide coverage
Waste Collection Stoke on Trent
We're a team of CRB-checked professionals with a passion for sustainability. Our years of industry experience mean that we're able to help with all areas of waste disposal – whether your company needs help to dispose of PPE products or confidential waste. Furthermore, we can ensure that your waste disposal plans are completely carbon-neutral by collecting these products on your behalf and transporting them to local recycling or reuse centres. We'll also help you keep your business costs down through waste reduction strategies and by providing you with free access to all of the bins, bags and storage containers you may need. We'll offer you a fixed-price plan no matter which service you select.
No Hidden charges
With divert you wont find silly things added to your invoice
Glass collection Stoke on Trent
Although glass products can be recycled infinitely, it's estimated that more than 28 billion glass bottles and jars are sent to landfills every year in the UK alone. Here, they can take millions of years to degrade naturally, causing significant environmental damage in the process. Therefore, if your business produces any volume of glass waste as part of your daily business practices, you should ensure that you dispose of it accordingly. At Divert, we can make this as easy as possible by collecting any glass waste from your property and taking it directly to local recycling and reuse centres.
Waste disposal in Stoke on Trent
According to a local government report, the average household in Stoke on Trent produces over one tonne of waste annually. For context, this is the same weight as a small car. Businesses produce significantly more than this – which makes clear the many reasons why business owners must begin to take waste management seriously. Thankfully, this doesn't mean you need to become an environmental expert overnight – as we're on hand to guide you through every step of the process. Our years of experience mean that we're able to handle even the most difficult types of waste on your behalf. This can save you a great deal of both time and stress – giving you a chance to focus on other areas of your business.
Clinical waste collection Stoke On Trent
There are currently 3 hospitals, 30 GP surgeries, 121 care homes and numerous healthcare centres, pharmacies and laboratories based in Stoke on Trent. With more and more healthcare businesses opening in the city, it's no surprise that Stoke on Trent produces large volumes of clinical waste annually. These figures have undoubtedly skyrocketed since 2020, where the global demand for PPE products and disposable facemasks skyrocketed. However, as some clinical waste products are classified as hazardous – such as sharps – they must be disposed of accordingly.
At Divert, we make it as easy as possible for our clients to deal with (and dispose of) their clinical waste. To begin with, we'll provide you with as many specialist bins, bags and containers as you need to manage your waste – from sharps bins to colour-coded clinical waste bags. We'll then put together a waste collection schedule that suits you. Once your waste has been taken to the appropriate treatment facility, we'll provide you with all of the paperwork you need to keep your records up to date.
Save £££££
No Mess, No Stress, Pay Less
WEEE waste disposal Stoke On Trent
50 million tonnes of WEEE products are thrown away each year worldwide – even though these products are, for the most part, 100% recyclable. Therefore, whether it's time to replace your office's CCTV cameras or you are investing in new tech for your company and need to get rid of your old electrical products – you should ensure they are taken to a recycling or treatment centre. This can be difficult to arrange, especially if you're disposing of large, bulky items.
However, at Divert, we're able to take all WEEE waste products off your hands – whether we collect electrical goods from your property a few times a year or send over a man and van for a one-off collection. If you aren't sure which services are best for you, we'll be able to point you in the right direction.
General waste collections in Stoke on Trent
While a large percentage of the waste produced in the daily running of your business is recyclable, other products are a little harder to dispose of and may need to be taken to specialist waste management centres. These products include items such as plastic packaging and clingfilm – and are otherwise known as general waste. At Divert, we can help businesses better manage their general waste – while also ensuring that it is disposed of in a way that is as sustainable as possible. Get in touch today to find out more about the services we have on offer.
Very quick
Caroline
Dog Groomers
Very quick to get bins set up for my dog grooming business, Paddy advised the best size bin and was a quick turnaround!
DMR – dry mixed recycling in Stoke on Trent.
As mentioned previously, approximately 35% of the waste produced in Stoke on Trent is recycled. While this figure has been rising steadily year on year, there are plenty of ways in which businesses can go about improving these statistics. For example, you could set up a Dry Mixed Recycling bin on site. This makes recycling easier for yourself and your staff, as you no longer have to segregate your recyclables into separate bins. This is also an excellent choice of waste disposal/storage for businesses without a lot of storage base – as you're no longer required to have one bin for each waste type.
Business waste collection Stoke On Trent
There are over 9,000 businesses based in Stoke on Trent – working across a wide variety of industries. As a result, large volumes of business waste is produced here each year. At Divert, we hope to make it as easy as possible for business owners to dispose of any waste produced on-site, be that packaging or oil waste. As a result, we'll help you put together a waste management plan that is specifically tailored to your business.
As we know that running a business can be expensive, we'll do all of this for a fixed price – with no additional fees for labour or transportation
Cardboard waste collection Stoke On Trent
There are no precise figures for the amount of cardboard waste produced by businesses in Stoke On Trent; the fact that it is one of the most commonly used products in the world indicates that large volumes of cardboard waste are produced here each day. Thankfully, the UK is one of the world leaders regarding cardboard recycling, with 84% of these products getting recycled.
At Divert, we'll work to improve these figures by ensuring that your cardboard waste is taken to recycling facilities instead of being disregarded alongside the rest of your general waste. As cardboard waste can accumulate quickly, we can also arrange to collect these products every week.
Get a quick quote
Get a quick FREE quote for your waste
Quick quote within 1 hr
All types of waste
Claim your free bins
Nationwide coverage