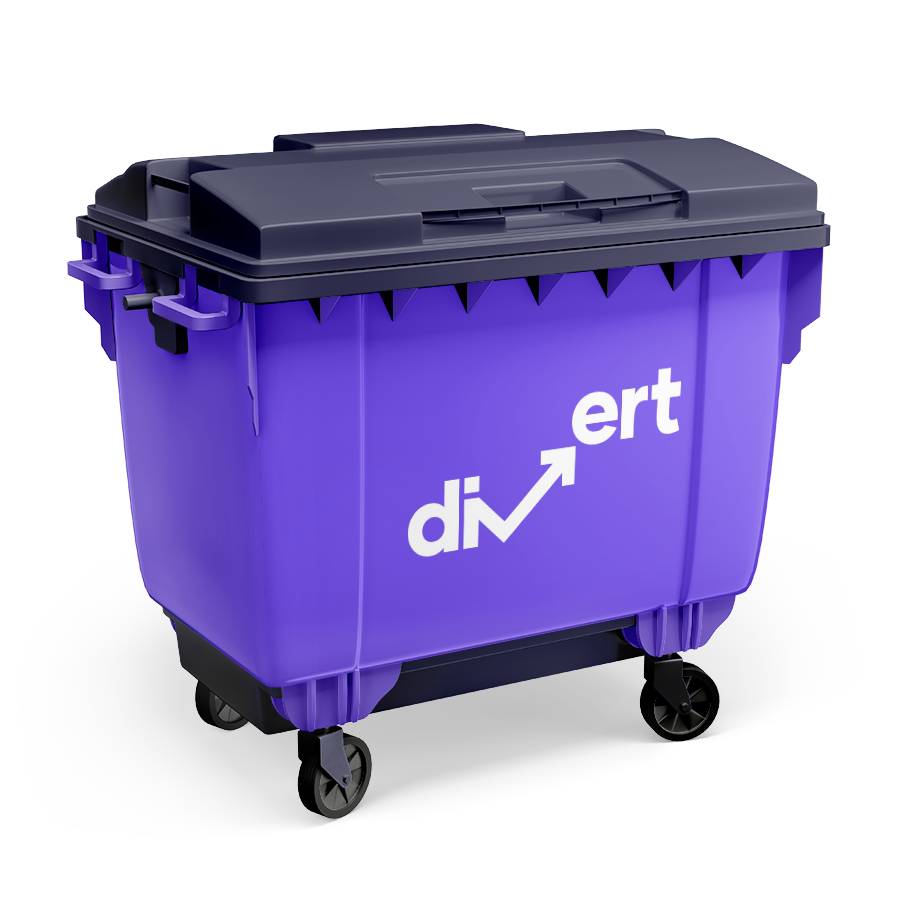 With a population of over 300,000, Newcastle produces 142,000 tonnes of waste each year. This is hardly surprising when you consider that this bustling city receives a great deal of tourism each year. However, despite this, Newcastle has a recycling rate of just 40%. While this is a significant increase on previous figures (Newcastle recycled just 15% of its waste in 2005), there is still work to be done, especially if we want to reduce the strain that improper disposal places on landfill sites across the country. At Divert, we aim to divert all waste away from landfill sites and towards the appropriate recycling facilities – and that's why we're now making our services available to businesses and organisations across Newcastle.
Waste Management Newcastle

Quick Quote
Get a quick FREE quote for your waste
Quick quote within 1 hr
All types of waste
Claim your free bins
Nationwide coverage
Waste Collection Newcastle
Flexible Collections
As a business owner, it's likely that you're an expert when it comes to the services you have on offer. However, you probably aren't an expert in waste disposal – but luckily, we are. We're a highly-qualified and passionate team of CRB-checked professionals who can assist you in all areas of business waste management. For example, we'll provide you with free access to the appropriate bins and storage containers for all manner of waste, from recyclables to waste oil. Even better, we'll offer our services to you for a fixed price – as you'll only have to pay for the waste to be collected, and there will be no hidden fees finding their way onto your receipts.
General waste collections in Newcastle
Most of the waste produced in Newcastle could be referred to as 'general waste'. This is an umbrella term used to describe products that cannot easily be recycled and, as such, may need to be handled with particular care. At Divert, our years of industry experience mean that we can deal with all waste produced within your business, including general waste. Even better, we won't settle for sending it over to landfill sites, even if that seems to be the easiest solution. Instead, we'll ensure that your waste is disposed of sustainably.
DMR – dry mixed recycling in Newcastle
Newcastle recycles, on average, around 40% of its waste. This falls slightly below the national average of 43.3%. At Divert, we hope to help change these statistics by making recycling as easy as possible. One way in which we can do this is by encouraging our customers to use Dry Mixed Recycling Bins on site. DMR bins are excellent because they don't take up a lot of space and can store all manner of recyclables – from cardboard to plastic. One of the main reasons Dry Mixed Recycling bins make recycling easier is that you don't need to spend any time sorting through your waste and putting different recyclables into different containers – you can store them all in the same place. Once your bins are full, we'll collect and separate the waste before taking it to a treatment facilit
No Hidden charges
With divert you wont find silly things added to your invoice
Cardboard waste Newcastle
Cardboard is one of the most commonly used products across the world. In fact, you've probably used it several times today – whether you've picked up a takeout coffee on your way to work or poured yourself some cereal this morning. However, plenty of cardboard products tossed away by businesses find themselves at landfill sites – even though they can be recycled up to seven times.
At Divert, we can help you to ensure that all cardboard waste produced at your business is disposed of accordingly – and with the environment in mind. Typically, this means we will collect these products in our signature purple vans and take them directly to local recycling centres
Business waste Newcastle
Right now, there are over 8,000 small businesses registered in Newcastle – the vast majority of which are tech-based companies. However, as these figures rise, so does the amount of business waste produced within the city.
At Divert, we're always on hand to help and can provide you with an effective yet affordable solution to all of your waste disposal needs. We know that running a business, especially during its formative years, can be expensive, so we offer our services for a competitive fixed price. In addition to free bins, we never charge you even a penny extra for labour or transport – meaning that you can easily factor our services into your monthly/annual spending.
Glass collection Newcastle
The majority of glass products used within Newcastle (and, indeed, the rest of the UK) can be recycled – and doing so benefits the planet considerably. For example, a recent study found that recycling bottles and glass jars saved approximately 385,000 tonnes of CO2 emissions in the past year alone. Therefore, by using our glass collection services, you can rest easy knowing that you're playing your part in protecting the planet for future generations. Not only will we collect waste on your behalf, but we'll also ensure that we take your glass waste directly to local recycling facilities, where it can be recycled indefinitely.
Save £££££
No Mess, No Stress, Pay Less
Waste disposal Newcastle
At Divert, we're able to deal with all aspects of waste management on behalf of your Newcastle based business. While we focus primarily on the safe (and sustainable) disposal of waste through landfill diversion and recycling, we'll also provide you with strategies you can use to reduce the amount of waste you produce each year. Our services are designed to help you save money and time while saving the planet. After all, this means you no longer have to spend hours figuring out what to do with your business waste – as we'll do the hard part on your behalf.
Clinical waste collection Newcastle
Newcastle is home to 9 hospitals, 31 GP surgeries, 70 care homes and plenty of healthcare centres, pharmacies and laboratories. Therefore, it is hardly surprising that large volumes of clinical waste products are produced here each day, particularly in the wake of the COVID-19 pandemic. At Divert, we have all of the tools on hand to dispose of this waste with sustainability in mind – while ensuring that we abide by all government regulations for this waste type, including the Controlled Waste Regulations (1992).
This means that we'll provide you with all of the necessary paperwork for your records while helping ensure that your company is 'green' when it comes to waste disposal. We'll also provide you with access to specialist waste bins, such as sharps bins, so that your waste is stored safely before collection. To put it simply, we'll make dealing with complex waste types such as clinical waste as straightforward as possible.
WEEE waste disposal Newcastle
As a society, we rely on technology more than ever before. This, coupled with the fact that Newcaslte is considered one of the UK's tech hubs, mean that Newcaslte is responsible for a great deal of WEEE waste each year. As a result, if you're planning an office makeover or must replace the appliances in your properties, you must do so carefully. After all, electrical goods can cause significant damage to the planet if not disposed of correctly. Furthemore, dropping them off at landfill sites means you'll be met with heft landfill fines, which are rising year upon year.
With Divert, you can wave landfill fees goodbye and, instead, wave hello to our Purple Vans (and the friendly faces behind the wheel). They will be able to dispose of any electrical waste on your behalf, from mobile phones to specialist electronics.
Very quick
Caroline
Dog Groomers
Very quick to get bins set up for my dog grooming business, Paddy advised the best size bin and was a quick turnaround!
Get a quick quote
Get a quick FREE quote for your waste
Quick quote within 1 hr
All types of waste
Claim your free bins
Nationwide coverage