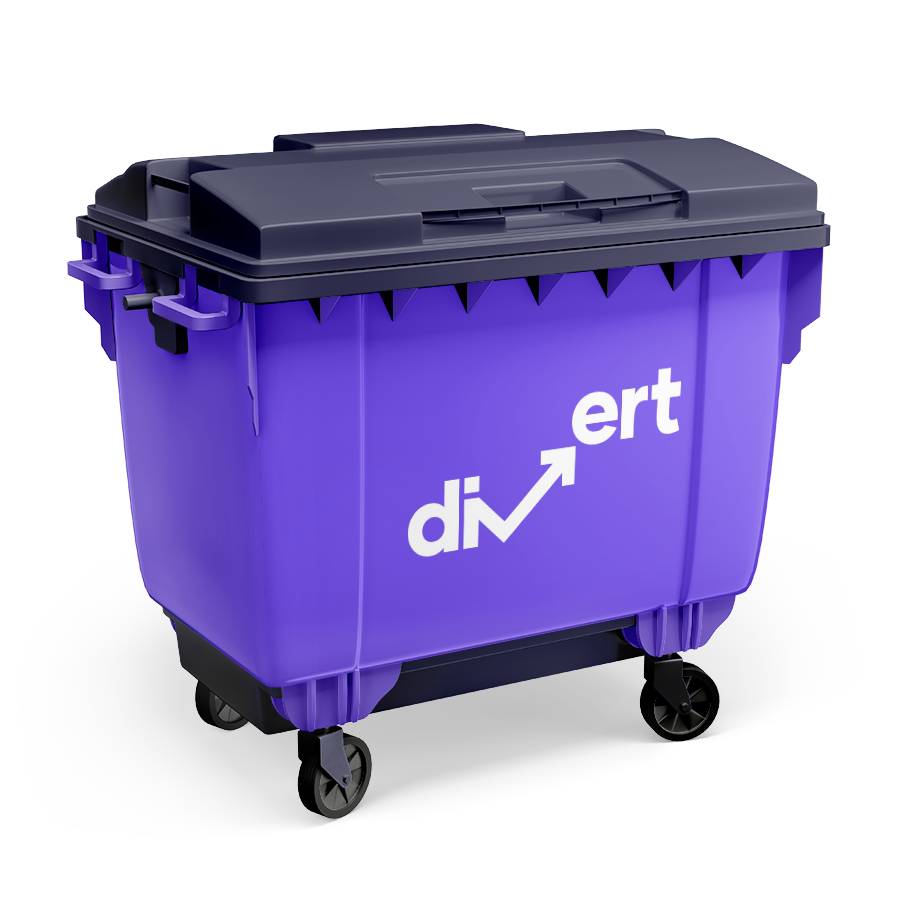 With a population of over 325,000, Coventry is one of the busiest cities in the UK, known for its stunning cathedral and historic contribution to the British Motor Industry. While tourists flock to the city in thousands, the city also has one of the worst recycling rates in the UK. In fact, it's estimated that around 240,000 tonnes of waste are sent to local landfill sites each year (Coventry Telegraph).
At Divert, our number one mission is to help boost recycling rates across the country by diverting waste away from landfill sites and towards the appropriate recycling facilities. As a result, we're now offering our services to businesses and organisations across Coventry.
Waste Management Coventry

Quick Quote
Get a quick FREE quote for your waste
Quick quote within 1 hr
All types of waste
Claim your free bins
Nationwide coverage
Waste Collection Coventry
No hidden fees
In light of the COP26 conference, it's clear that our individual responsibilities are growing regarding sustainability. As a result, business owners must put clear and effective plans in place to ensure that their companies do not harm the planet. You can achieve this goal by ensuring that you have a good waste management plan in place – and Divert is always on hand to help with this process.
We're a highly-qualified team of CRB-checked professionals with years of industry experience. As a result, we're able to deal with all manner of waste products on your behalf.
We always operate with the environment in mind and can even ensure that your rubbish collections are entirely carbon neutral by collecting the waste on your behalf and providing you with access to free bins. Our fixed prices also mean that we can help you save money!
Glass collection in Coventry
According to a recent report published in the Coventry Telegraph, some parts of the country recycle TWICE as much waste as residents and businesses in Coventry, with more than ⅔ of waste produced in the city going unrecycled. In fact, it's estimated that over 90,000 tonnes of waste that could be recycled each year is instead sent to landfills. A great deal of this waste comes in the form of glass products – from containers to beer bottles.
Despite this, glass is one of the easiest products to be recycled – and can even be recycled indefinitely. Therefore, if your business produces any form of glass waste, you may benefit from using our glass collection services. Not only will this help you to get a better handle on your waste, but you can rest easy knowing that you're doing your part in taking care of the planet.
Clinical waste collection Coventry
Coventry is home to two large hospitals, 127 GP surgeries, 65 care homes and various health centres. Several large laboratories are also based in the city, including Coventry University's prestigious labs. As a result, large volumes of clinical waste products are produced daily, which must be disposed of safely due to their hazardous nature. At Divert, we have all of the tools at hand to dispose of this waste appropriately, per all government regulations, such as The Controlled Waste (England and Wales) Regulations 2012.
For example, not only will we divert this waste away from landfill sites and towards the appropriate treatment facilities, we'll also provide you with all of the necessary paperwork for your records.
We'll also provide you with FREE access to the appropriate bins, bags and storage containers, such as sharps bins, which are specially designed to store this kind of waste. In short, we'll make dealing with your clinical waste as easy and stress-free as possible.
No Hidden charges
With divert you wont find silly things added to your invoice
WEEE waste disposal Coventry
The more technology develops, the more reliant on it we become. For example, the average person checks their phone 58 times a day and spends around 6 hours behind a screen, whether watching TV or sitting at a computer. When you also factor in other electrical items such as household appliances, it's no surprise that the UK is one of the largest producers of WEEE waste in the world. However, despite our massive contribution to Electrical waste, and the fact that these products contain various recyclable materials, they are often sent to landfill sites or disposed of incorrectly.
However, when you hand over your WEEE goods to divert, you can rest easy knowing that we'll do everything in our power to divert them away from landfills and to a recycle centre. In short, whenever you see our purple vans outside your business (or on the road), you'll know that we're doing our part to take care of the planet.
Business waste Coventry
According to CLEP, there are currently 12,000 companies registered in Coventry, with the numbers growing steadily each year. However, while the rise in companies means more job opportunities within the city, this also means that more and more business waste will be produced here each year.
At Divert, we work with businesses up and down the country to reduce the impact that their services have on the planet. To achieve this goal, we'll put together a simple, cost-effective waste management plan that will cater to the safe and sustainable storage of all waste produced on your property – whether that be clinical waste or Sanitary Waste. We'll collect these products for a fixed price (including transport and labour) – which is a great way to cut down on your costs.
DMR – dry mixed recycling in Coventry
Coventry City Council has introduced various strategies to improve recycling rates in the area. For example, a new Material Recycling Facility (MRF) will be built in Coventry over the next few years, which promises to be a world-leading facility with only the latest tech. However, as a business owner, you can also help improve city-recycling rates by ensuring that all recyclable waste produced in the daily running of your business is recycled.
The easiest way to do this is by making the most of our Dry Mixed Recycling services. For example, when using a DMR bin, you no longer have to separate your recycling waste into separate bins and containers, as they can be used to store all non-contaminated recyclables. This can save you a great deal of time and energy. It's also an excellent solution for those who have limited space available to them.
Save £££££
No Mess, No Stress, Pay Less
Cardboard waste collection Coventry
Cardboard is one of the easiest products to recycle – and it can be repurposed up to seven times. Despite this, only 84% of cardboard waste is recycled by businesses in the UK. We hope to help contribute positively to these figures by providing you with free cardboard recycling bins that can be used to store waste outside of your business ahead of collection. We'll then ensure these products are taken to the appropriate recycling facilities.
General waste collection in Coventry
Unfortunately, not all waste products are recyclable. For example, some products, known typically as 'general waste', must be disposed of through alternative methods – though this does not mean they must be sent to landfills. For example, they could be sent to treatment facilities or waste to energy plants. At Divert, we can make disposing of general waste as straightforward as possible – get in touch to find out more.
Very quick
Caroline
Dog Groomers
Very quick to get bins set up for my dog grooming business, Paddy advised the best size bin and was a quick turnaround!
Get a quick quote
Get a quick FREE quote for your waste
Quick quote within 1 hr
All types of waste
Claim your free bins
Nationwide coverage