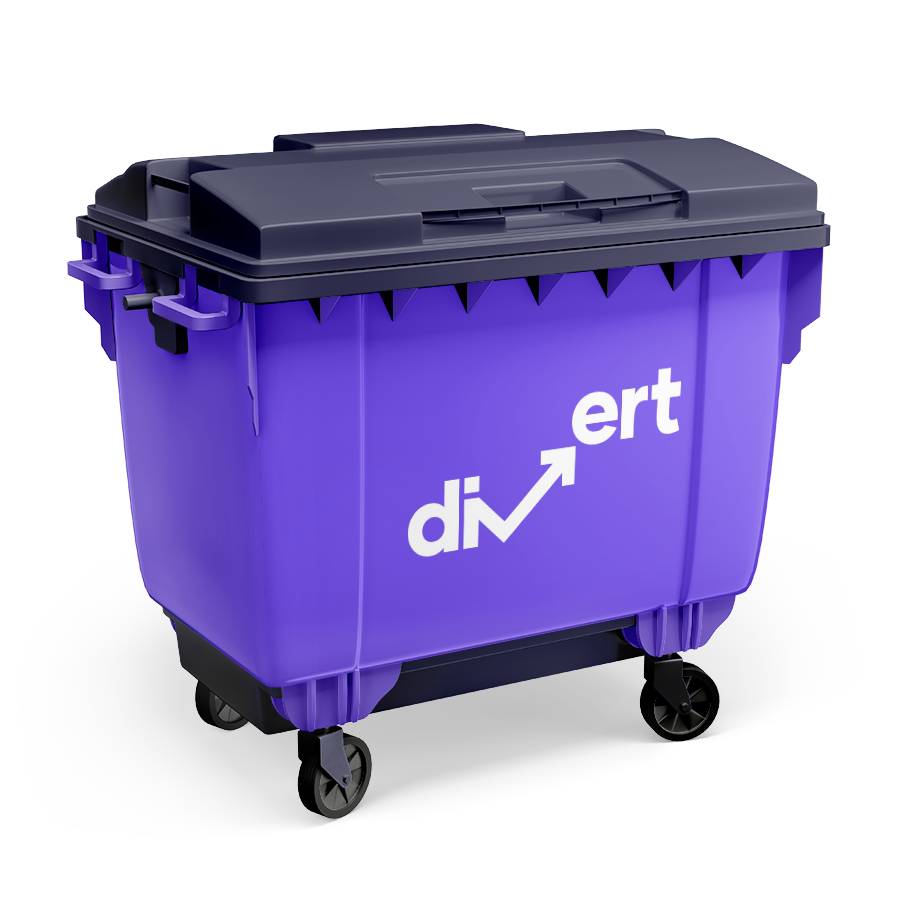 As one of the biggest districts in South London, with a population of over 70,000, the businesses of Battersea produce tons of waste every day. Disposing of this properly to keep the area and its many famous parks looking beautiful is key for many business owners and stakeholders in Battersea.
Divert offers innovative solutions to waste management issues. Our plans are flexible and tailored to you, with free advice and containers available for businesses of any size.
Get in touch today for a free quote or to learn more about waste management and collection in Battersea.
Waste management in Battersea

Quick Quote
Get a quick FREE quote for your waste
Quick quote within 1 hr
All types of waste
Claim your free bins
Nationwide coverage
Waste collection in Battersea
The bins that we provide offer a hassle-free way to organise waste. Not only are they free of charge and made using high-grade materials, but they come with a specific colour coding system to make waste separation easy. All you need to do is pay for collection, which can take place at a time to suit you at daily, weekly or monthly intervals.
Oil waste in Battersea
As one of the most rapidly developing areas of London, Battersea has seen a sharp increase in the number of restaurants, cafes and pubs to serve tourists and locals. With this comes an increase in cooking oil waste that can be hard to dispose of.
Divert has oil drums and liquid waste containers available to order that can securely store used cooking oil. We will then collect this at a time to suit your busy business.
No Hidden charges
With divert you wont find silly things added to your invoice
Food waste collection Battersea
With all of these eateries and shops comes ​​the obvious problem of food waste. This can be produced from leftovers on a customer's plate or expired food that has to be thrown out.
Divert can help by providing businesses with free bins that have been optimised for this waste, which can be collected at intervals of your choosing. You can also benefit from a unique waste management plan that our friendly team will help you build.
Confidential waste collection Battersea
Battersea is famous for its large Cats and Dogs Home. Charitable organisations like this, which depend on donors and adopters to step forward, store large amounts of confidential information. This could be their bank details or names, addresses and dates of birth.
Although often in paper form, these can't be thrown away in typical paper recycling because of their private contents. Divert offers a practical solution to the problem of confidential waste with our tailored waste plans, free bins and guaranteed discretion when collecting confidential waste in Battersea.
Clinical waste collection Battersea
Battersea is home to multiple businesses that produce clinical waste, such as GPs, dentists, care homes, hair salons and tattoo parlours. We understand that disposing of clinical waste is different for all of these, which is why we offer flexible options.
We can help you dispose of clinical waste in a safe and legally compliant way, from our free colour-coded bins to collection at a time to suit you. This is the easiest way to dispose of clinical waste in Battersea.
Save £££££
No Mess, No Stress, Pay Less
Glass waste collection in Battersea
Restaurants, bars and pubs in Battersea all accumulate large amounts of glass waste every day, from bottles of alcohol to food jars or broken glasses.
Glass is easy to recycle, especially with Divert's tailored waste plans and free bins.
What is the recycling rate in Battersea?
Battersea is part of the Wandsworth Borough, which as a whole had a recycling rate of 23.7% in 2021. This is the fourth-lowest recycling rate of all of London's Boroughs. Compare that to the highest on the list, Bexley, which has a 54.2% recycling rate, and it's clear Battersea has a lot of catching up to do.
Where can I recycle in Battersea?
The nearest recycling centre to Battersea is Smugglers Way household waste and recycling centre. Or, save your business a trip by organising a waste disposal plan with Divert.
Very quick
Caroline
Dog Groomers
Very quick to get bins set up for my dog grooming business, Paddy advised the best size bin and was a quick turnaround!
Get a quick quote
Get a quick FREE quote for your waste
Quick quote within 1 hr
All types of waste
Claim your free bins
Nationwide coverage