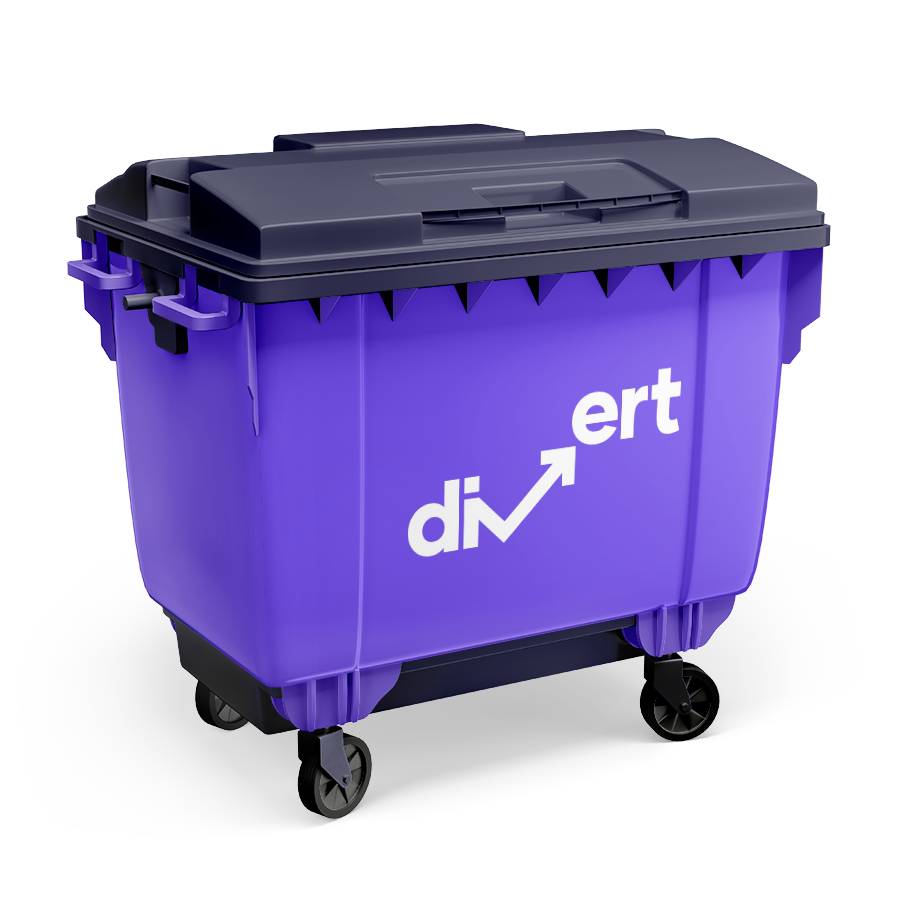 Aberdeen is a major urban centre in Scotland, with a population of 213,224. Wedged between the rivers Dee and Don in the northeast, the city is known for its tranquil greenery and nature. However, Aberdeen is quickly becoming a hub for many UK businesses, with HSBC naming it as one of eight "super cities" due to its opportunities for economic growth.
It's more important than ever to ensure Aberdeen's picturesque landscape remains untainted by the demands of urban society. At Divert, we understand the need for effective waste management Aberdeen residents can trust. We aim to divert plastic, food, glass, and other general and commercial waste away from landfills to be recycled. We have all the knowledge and resources necessary to help businesses reduce their carbon footprint through tailored waste disposal services.
Contact us today for Aberdeen waste disposal services.
Waste Management Aberdeen

Quick Quote
Get a quick FREE quote for your waste
Quick quote within 1 hr
All types of waste
Claim your free bins
Nationwide coverage
Waste collection in Aberdeen
Aberdeen operates under the Scottish Environment Protection Agency which outlines strict waste disposal practices. Corroborating with these practices has never been easier thanks to Divert's simple waste management solutions in Aberdeen. You should choose us for Aberdeen waste collection because:
• We provide free, high-quality bins
• We comprise a team of trained professionals
• We have local connections to Aberdeen
• We offer flexible and affordable collections
Whether you require general or commercial waste collections or glass and food collections, we've got you covered. By choosing us, you can lower your contribution to air pollution and climate change.
For waste disposal Aberdeen businesses can trust, get in touch today.
Commercial waste collection in Aberdeen
As a burgeoning corporate area with approximately 15,000 businesses, you can expect Aberdeen to produce an increasing amount of commercial waste. This waste is produced on premises used for trade or business in the sports, entertainment or education sector. It excludes any general household waste, industrial waste, or agricultural waste.
Commercial businesses can dispose of waste by contacting a registered waste disposal service. They're to store the waste securely and aim to keep it to a minimum.
Food waste collection in Aberdeen
Aberdeen's Union Square is known for providing residents and visitors with the ultimate dining and shopping experience. Home to 30 restaurants, there's no doubt that food waste is a common occurrence.
Food waste refers to products that are not consumed. Food waste occurs throughout the processing, production, distribution, and consumption phase. Aberdeen has communal food bins for proper waste disposal, and homeowners can also recycle food in their brown council bins. When you employ an expert waste collection service in Aberdeen, you can benefit from premium composting, anaerobic digestion, and food waste dewatering services.
No Hidden charges
With divert you wont find silly things added to your invoice
Garden waste collection in Aberdeen
Garden waste includes home-grown fruit and vegetables, tree bark, leaves, flowers, grass, weeds, pruned branches and twigs. Aberdeen Council has certain rules for garden waste – requiring residents to put it securely in bags or containers for quick decanting into bins. The city operates a seasonal garden waste collection service between September and August at a permitted cost.
For increased flexibility regarding your garden waste collection, consider our affordable services.
Clinical waste collection in Aberdeen
There are at least 13 hospitals in Aberdeen, and this number doesn't include clinics or other healthcare facilities. This means that clinical waste is likely to feature highly among Aberdeen's most common waste types. Clinical waste refers to waste produced from healthcare activities and includes medicines, swabs, syringes, dressings and bandages.
There could be hazardous substances or infectious diseases carried within the clinical waste, so it's important to dispose of it safely and securely. Clinical waste must be placed in appropriate bags or containers at the point of production and sealed correctly. You can then call us to retrieve your items promptly and efficiently.
General waste collection in Aberdeen
General waste is usually the most common waste in several cities. This is because it encompasses all materials from households that cannot be recycled. General waste includes non-recyclable plastics, kitchen scraps, packaging materials, and polytene.
Homeowners and businesses in Aberdeen can reduce general waste levels by utilising general waste collection services. It's important to store this waste safely and securely before collection to prevent street littering. Employing the help of waste management services guarantees that general waste is disposed of in an eco-friendly manner.
Save £££££
No Mess, No Stress, Pay Less
How can I apply for an additional household general waste bin in Aberdeen?
Households can apply for additional general waste bins if they have five or more residences, one or more residents with special requirements which cause them to produce excess waste, or two or more children under age three in nappies. The council only accepts applications from those who make full use of their food and garden waste bin and mixed recycling bin.
There is a charge at the time of writing of £36.10 for an additional general waste bin, yet a 50% discount is available for those receiving Housing benefits or Council Tax benefits.
If you require additional general waste collection at one-off intervals, consider Divert.
What is the recycling target for Aberdeen?
The Scottish Government aims to recycle 70% of all waste by 2025 as part of its Zero Waste Plan of 2010. It also aims for 56% of household waste to be recycled through source separation by the same year. This paves the way for no more than 5% of household waste to be landfilled by 2025.
Very quick
Caroline
Dog Groomers
Very quick to get bins set up for my dog grooming business, Paddy advised the best size bin and was a quick turnaround!
Get a quick quote
Get a quick FREE quote for your waste
Quick quote within 1 hr
All types of waste
Claim your free bins
Nationwide coverage