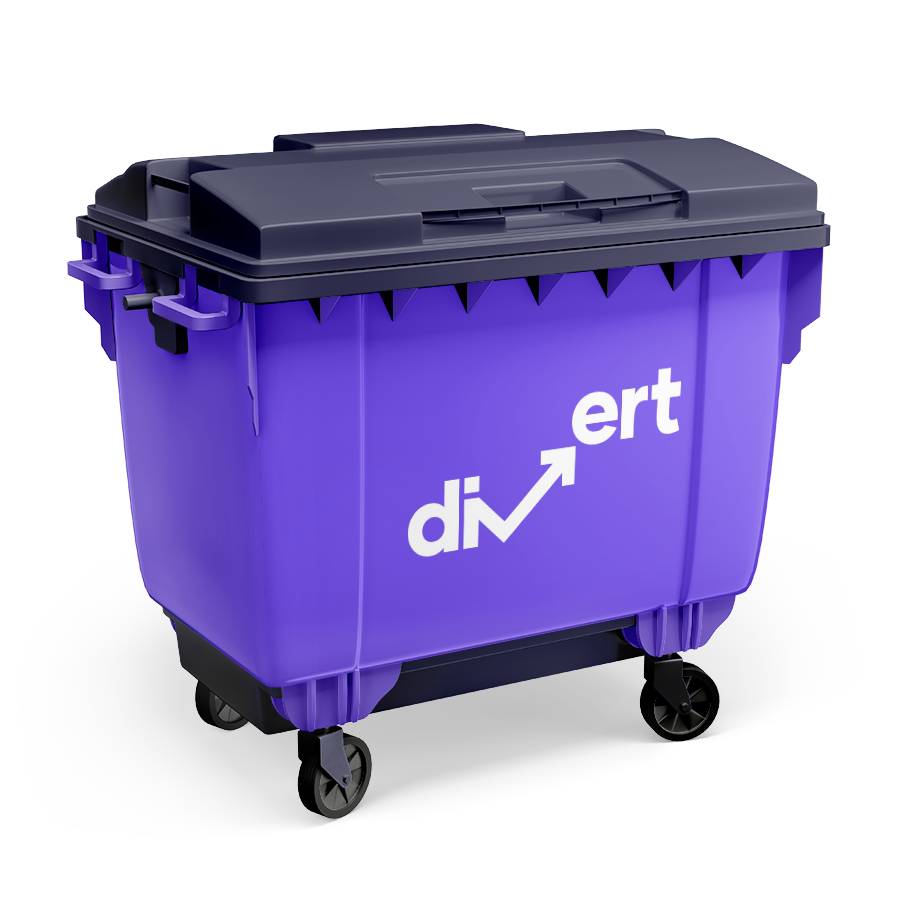 Wolverhampton is a busy place, with over 260,000 people living in and around the area. All of those people make quite a bit of waste – which is why good waste management is so important for businesses there. Wolverhampton has recycling rates of about 35% – which could definitely be improved upon. So do your part and get in touch with our waste management team at Divert today.
We understand the importance of proper waste management and we can help your business effectively get rid of waste without any hassle. Our work focuses on diverting waste away from landfills, where it can instead be recycled. This is much better for the environment and ensures your business is responsibly handling waste removal.
If you'd like to learn more about waste management or collection in Wolverhampton, or if you'd like a free quote for our services, get in touch with our team at Divert today.
Waste Management Wolverhampton

Quick Quote
Get a quick FREE quote for your waste
Quick quote within 1 hr
All types of waste
Claim your free bins
Nationwide coverage
Waste collection in Wolverhampton
At Divert, we provide an effective waste management solution for businesses throughout Wolverhampton and the surrounding areas. We offer free high-quality bins for you to use and our team of trained professionals are always available for local collection. We provide a flexible, affordable waste collection service that looks to improve our environmental impact by diverting waste away from landfills.
Clinical waste in Wolverhampton
Clinical waste refers to any type of waste produced in healthcare and wellbeing facilities. There are lots of different businesses and healthcare organisations that generate large amounts of clinical waste in Wolverhampton, ranging from dental practices to the New Cross Hospital. Some clinical waste is quite dangerous and poses the risk of contamination and infection, so it must be disposed of safely and securely. The main types of clinical waste include:
• Infectious clinical waste
• Offensive clinical waste
• Clinical sharps waste
• Anatomical clinical waste
• Cytotoxic and cytostatic waste
Glass collection in Wolverhampton
Glass waste is any type of glass product that has been used and requires disposal. This includes food containers, glass jars, food receptacles and drink bottles. With hundreds of pubs, clubs and restaurants dotted around Wolverhampton, there's a real need for safe, reputable glass collection.
Typically, glass waste in Wolverhampton is stored in glass-only waste bins, which our team at Divert can provide for free to businesses. What's more, glass is prime material for recycling, so we can divert the glass waste away from landfills and take them to recycling centres to give them a new lease of life.
No Hidden charges
With divert you wont find silly things added to your invoice
WEEE waste collection in Wolverhampton
Wolverhampton is a thriving city with lots of businesses that use all types of electronic equipment in their work. From old computers to faulty kettles, our team at divert is here to offer Waste Electrical and Electronic Equipment (WEEE) waste collection services across Wolverhampton.
WEEE waste collection is a growing issue due to the rise of technology. What's more, various regulations mean that different types of e-waste should be disposed of in a particular manner to avoid it going to landfills. Our team at Divert do all that we can to properly process and dispose of WEEE waste so that it can be reused and recycled, minimising its environmental impact.
General waste collection in Wolverhampton
Businesses create a lot of general waste in Wolverhampton and our team at Divert is more than happy to take it off your hands. General waste comes from domestic and commercial properties and covers a wide range of materials, from old plastic to discarded pots and pans.
With over 100,000 households in Wolverhampton, there's bound to be a lot of general waste. This is why our team at Divert are available to help collect and dispose of general waste through our robust general waste collection in Wolverhampton.
Cardboard waste collection in Wolverhampton
Cardboard is a waste type that is often overlooked by people as it's most commonly used as packaging material. However, it makes up for a significant portion of the total amount of waste we create in Wolverhampton. From fast food establishments like the Codsall Fish Bar to your local corner shop, cardboard boxes are everywhere.
At Divert, we make it our mission to properly dispose of and manage cardboard waste collection in Wolverhampton to provide you with a sustainable and eco-friendly way of getting rid of your old cardboard.
Save £££££
No Mess, No Stress, Pay Less
What is the recycling rate in Wolverhampton?
Wolverhampton is a relatively low performer in terms of recycling rates across the country. In 2021, around 35% of all waste went to recycling, which is a drop from 39% the year before.
What is the recycling target for Wolverhampton?
Wolverhampton was initially aiming for a 50% recycling target by 2020, but as of yet, the city has yet to reach 40%. With the right facilities and proper waste management services, Wolverhampton could hit these targets.
Can you recycle old white goods in Wolverhampton?
Yes, we can collect from anywhere in and accept old white goods for recycling. Other waste items we accept include:
• Old car batteries, gas canisters and household appliances
• Old lightbulbs
• White goods such as fridges and freezers
• Any scrap metal or timber
• Used cooking oil and tyres
• Bulky plastic items
Where can I recycle in Wolverhampton?
There are four main recycling centres found throughout Wolverhampton that accept most types of waste for residential customers. There are also a number of smaller recycling companies that allow you to drop off your items for recycling.
Very quick
Caroline
Dog Groomers
Very quick to get bins set up for my dog grooming business, Paddy advised the best size bin and was a quick turnaround!
Get a quick quote
Get a quick FREE quote for your waste
Quick quote within 1 hr
All types of waste
Claim your free bins
Nationwide coverage