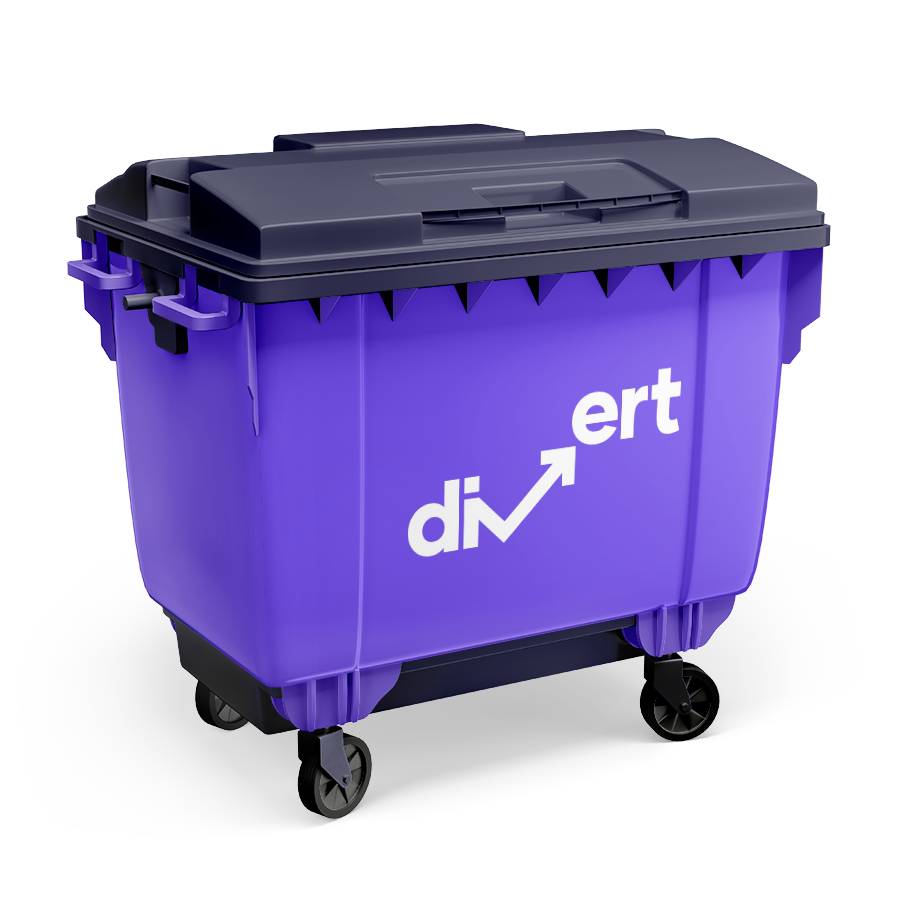 Warrington waste management has been a challenge over the last year. Figures show that the average person in Warrington produced 460.6 kg of waste – well over the national average of 420.6kg. Of this amount, just 44% was reused or recycled – something that Divert wants to change.
Good waste management is essential for good business. It helps improve work conditions, plays a vital role in maximising morale, and ensures your business has a positive reputation in the local community. Choosing who to trust with waste removal in Warrington means choosing a company that can handle all types of waste. Our extensive experience means we can handle everything from general waste through to more specialist waste produced from industries like engineering or hospitality.
Divert take Warrington waste removal a step further. We don't just collect waste and send it to landfills. We consider how to dispose of your waste in the most responsible manner through recycling or reuse.
Whether you need one-off commercial waste collection in Warrington or a regular programme of waste management, just get in touch for a free quote.
Waste management Warrington

Quick Quote
Get a quick FREE quote for your waste
Quick quote within 1 hr
All types of waste
Claim your free bins
Nationwide coverage
Waste collection in Warrington
Waste collection can be costly. At Divert, we want to make waste disposal in Warrington as easy as possible – and that means keeping costs down. To help with this we make sure you only pay for the waste collection. We provide free bins, a quality team with sound local knowledge, and offer collections at times to suit you and your business. Our goal is to make Warrington waste disposal as simple as possible so we can have a positive impact on you and your business, as well as make a difference to our environment.
Clinical waste in Warrington
Whether you're one of the 33 care homes, 26 GP surgeries or three hospitals in Warrington, we can handle your clinical waste disposal. We can deal with all types of clinical waste including sanitary waste, sharps and anatomical waste. We are also equipped to handle cytostatic and infectious waste.
As well as disposal, we also offer simple ways to manage your waste, such as sharps bins, colour-coded disposal sacks and dedicated storage systems for specialised clinical settings such as opticians and dental surgeries, hairdressing or beauty therapists.
Glass collection in Warrington
With a population of 210,000 people, Warrington is the largest town in Cheshire. All those people make up a burgeoning hospitality industry, which means glass waste forms a big part of Warrington's commercial waste collection. Divert offers solutions for glass waste in all settings. We can supply a regular collection service for bars and restaurants, as well as one-off services for large events.
Our glass collection services aren't confined to the hospitality industry. Medical and beauty are just a couple of the sectors that need a safe and convenient way to manage glass disposal. Whatever type of business you own, we can help.
No Hidden charges
With divert you wont find silly things added to your invoice
Oil waste in Warrington
Warrington is known for its advanced engineering industry. Our teams are experts in handling the various types of waste produced by this sector, including oil waste disposal. We also handle oil waste produced by the food industry and other types of business.
Oil waste can often become contaminated, which can make it hazardous to human health. Because of this, it needs specialist disposal. Divert helps you from the start by supplying specialist containers such as oil drums and liquid waste containers. These are available in a range of sizes to suit a range of businesses and industries.
General waste collection in Warrington
Not sure what type of waste you have? Don't worry we offer a general waste collection. This covers all types of Warrington commercial waste collection as well as residential waste collection. We can dispose of things like pots and pans from a kitchen refurb, as well as plastics and wrapping that cannot be recycled. We can supply you with a variety of waste containers that will keep this type of waste together. This means your home or business is a safe and pleasant place to be, and that your waste can be easily disposed of.
If you're not sure what type of waste you have, Divert is happy to offer advice on what goes where. This is part of our mission to maximise responsible residential and commercial waste collection in Warrington to help create a happier, healthier environment for us all.
Cardboard waste collection in Warrington
Cardboard makes up a huge amount of Warrington commercial waste collection. Divert is equipped to handle all types of cardboard waste collection across a range of business, industry, and residential needs. We deal with paperboard – thin card like egg boxes and food packets – through to industrial-strength cardboard. We can help dispose of delivery cartons, protective packaging and parts boxes – you name it, we've a way of managing it.
The great news is that cardboard is really easy to recycle, and responsible disposal makes a huge difference. We make it easy to keep your cardboard safe and separate too, with a range of dedicated containers to suit all types of volumes.
Save £££££
No Mess, No Stress, Pay Less
What is the recycling rate in Warrington?
In 2021, Warrington recycled 44% of its waste. This is down on the rate for the previous year, which sat at 47%.
What is the recycling target for Warrington?
The local authority target for recycling was set at 55% in 2020. Sadly, figures show that this is far from being met and the drop of 3% in the last year is a cause for concern.
Can you recycle commercial waste in Warrington?
Responsibility for commercial waste collection in Warrington falls to the business owner and is not part of the business rates paid to the council. A great deal of commercial waste can be recycled, but the cost of finding individual companies to handle all types of business waste often means businesses opt for general waste collection. Divert offers simple, affordable solutions, so you can be confident your commercial waste will be recycled.
How do I dispose of a couch in Warrington?
You can dispose of a couch and other types of furniture through the local authority, or an independent company like Divert. It's worth checking out a few places to get the best price and service.
How do I get rid of confidential waste in Warrington?
Confidential waste needs to be handled with meticulous care, and any breach of guidelines can have serious consequences for a business. Whilst a lot of confidential waste is paper-based, it is essential to use a specialist confidential waste collection service.
Very quick
Caroline
Dog Groomers
Very quick to get bins set up for my dog grooming business, Paddy advised the best size bin and was a quick turnaround!
Get a quick quote
Get a quick FREE quote for your waste
Quick quote within 1 hr
All types of waste
Claim your free bins
Nationwide coverage