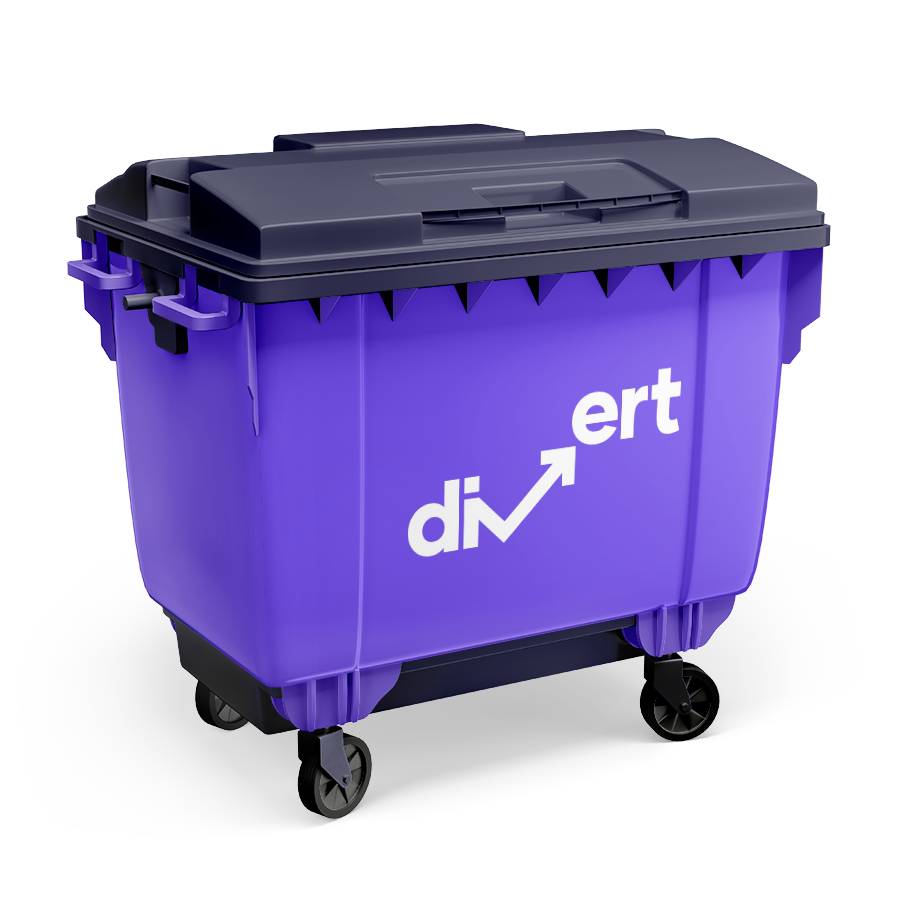 One of the most important parts of running a business in Swindon is finding reliable commercial waste collection companies. This helps businesses keep their premises as clean as possible, attracting more buyers and making the workplace far more pleasant.
If you're looking for Swindon waste management services for your business, Divert is an ideal candidate. We offer high-quality Swindon waste collection and ensure that all of our clients receive the services they need to keep operating at a high standard.
Waste Management Swindon

Quick Quote
Get a quick FREE quote for your waste
Quick quote within 1 hr
All types of waste
Claim your free bins
Nationwide coverage
Waste collection in Swindon
Waste collection is one of the most important services for any company, and the right Swindon commercial waste collection service will ensure that you get all the support you need without paying any additional fees.
Divert provides bins for free, so you only pay for the actual waste collection. We don't have any hidden fees, and with our fixed cost programme, you have a clear idea of how much you're paying for your Swindon waste disposal.
Clinical waste in Swindon
When completing the waste collection Swindon clinics and hospitals rely on, clinical waste is one of the most important factors. This refers to excess medical waste such as used syringes, which, when disposed of incorrectly, poses a contamination risk. As such, disposing of this waste correctly is imperative.
We offer effective clinical waste removal Swindon companies trust. This includes supplying the bins clinics use and completing collections when necessary, with our highly-trained experts collecting bins in a safe manner and disposing of the waste responsibly and sustainably.
Food waste collection in Swindon
Over 14% of food goods in the UK go to waste, so collecting and disposing of food waste effectively is essential. As with the other Swindon commercial waste strategies, we offer bins for companies where necessary and offer daily, weekly and monthly collection schemes.
Divert also assists companies with waste management plans, helping them reduce the amount of waste they produce.
No Hidden charges
With divert you wont find silly things added to your invoice
Sanitary waste collection in Swindon
Sanitary waste has far less volume than a range of other types of waste, but it's still a key part of commercial waste collection Swindon companies deal with. This specifically refers to unsanitary items such as period products, condoms and PPE.
Divert has a highly trained team that specialises in commercial sanitary waste. The use of bins clinical non-infectious yellow and black waste bags means that we clearly mark sanitary items and have reliable methods of managing ongoing sanitary waste issues.
General waste collection in Swindon
One of the most significant forms of waste commercial operations deal with in Swindon is general waste. Due to the sheer amount produced, many companies struggle with disposing of their general waste and keeping their premises clean.
At Divert, we offer a range of bin sizes, up to 1100L. These come in tandem with daily, weekly or monthly collections depending on your needs.
Liquid waste collection in Swindon
Eliminating liquid waste is a complex process. Pouring waste down drains is never a good idea, as most types of waste can cause significant damage to drainage systems.
We offer a range of different liquid waste disposal options. This includes liquid waste containers of 1000L and oil drums in a range of sizes, both of which are ideal for moving and holding liquid waste. Alongside providing these bins for free, our regular collection service ensures that liquid waste won't take up space on your premises for too long.
Save £££££
No Mess, No Stress, Pay Less
What is the recycling rate in Swindon
The recycling rate in Swindon is currently just below 40%. As every tonne of waste costs the taxpayer £120, we are dedicated to limiting the amount of unrecycled waste across Swindon.
Where can I recycle in Swindon?
Swindon does have a Household Waste Recycling Centre, but if you're a company that generates a lot of waste, partnering with Divert will be the better option for you. We collect a range of different types of waste, including cardboard, and recycle it in a reliable and sustainable manner.
How do I get rid of confidential waste in Swindon?
You can get rid of confidential waste by using our confidential waste services. This makes use of lockable bins that only authorised members of staff have access to, in addition to shredders that anonymise any documentation and data that your company has.
What do I do if I have waste I don't know how to dispose of?
If you have waste that you don't know how to dispose of, talk to our expert team. We can deal with all kinds of waste, so discussing your difficulties with us means that we can work closely with you to find a solution to your waste issues.
Very quick
Caroline
Dog Groomers
Very quick to get bins set up for my dog grooming business, Paddy advised the best size bin and was a quick turnaround!
Get a quick quote
Get a quick FREE quote for your waste
Quick quote within 1 hr
All types of waste
Claim your free bins
Nationwide coverage