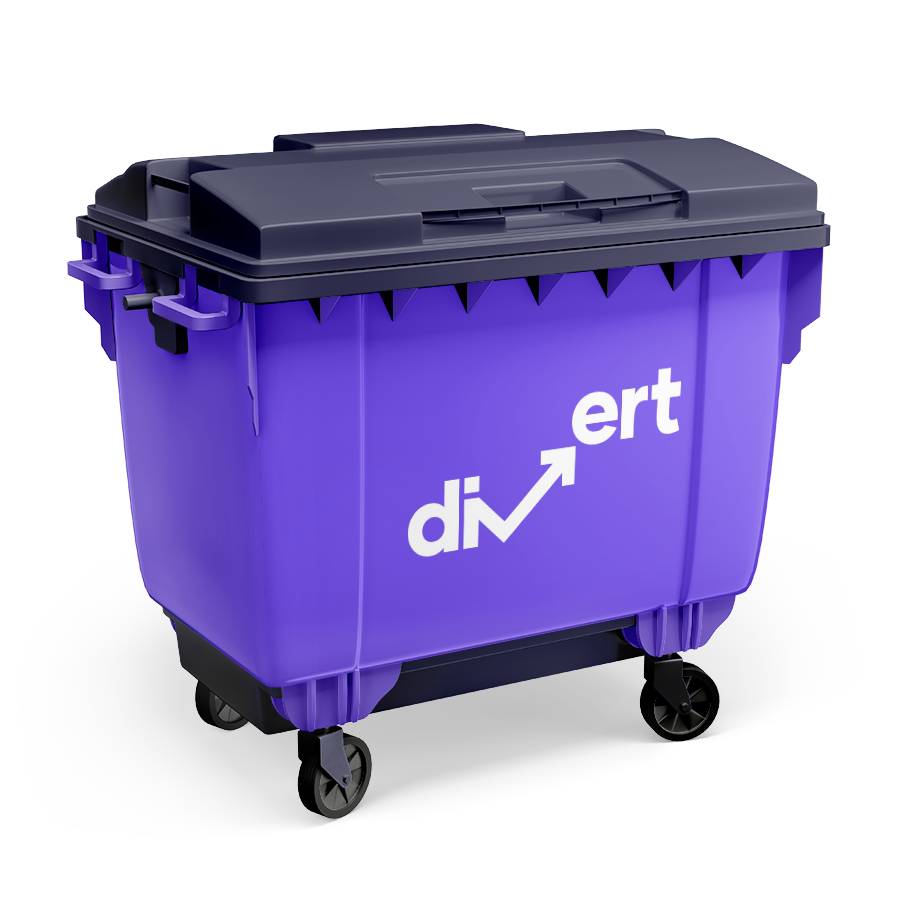 When you're running a business in Swansea, waste management is an essential part of your operations, ensuring a cleaner and safer workplace for employees and a more attractive space for your customers.
As every company's waste requirements differ, having highly tailored Swansea commercial waste collection services is a necessity. And that's exactly what Divert offers, so you can rest assured Swansea commercial waste is safe in our hands.
Waste Management Swansea

Quick Quote
Get a quick FREE quote for your waste
Quick quote within 1 hr
All types of waste
Claim your free bins
Nationwide coverage
Waste collection in Swansea
One of the main benefits of using our services is that you only pay for the waste collection aspect of our service. We provide all the bins you need for free, and they're even colour coded to make Swansea waste management even easier.
This also means that you know exactly what you're paying for when you choose our Swindon waste removal services. Having certainty, in this case, means that you have better control over your budget and can prepare for future events with complete knowledge of your available funding.
Cardboard waste collection in Swansea
There are two different types of cardboard waste that companies produce. The first of these is paperboard, which is the thin cardboard used in cereal boxes. The other is corrugated cardboard, which is a firmer and stronger structure used in packaging.
Both of these are recyclable. We offer wheelie bins from 240L to 1100L for free, collecting both types of cardboard and recycling them in a sustainable manner.
Garden waste collection in Swansea
We offer competitive pricing for the disposal of garden waste, using green waste we receive effectively for landscaping and creating biofuels. This means that you can rest assured that all of your green waste is disposed of in a sustainable manner.
No Hidden charges
With divert you wont find silly things added to your invoice
General waste collection in Swansea
General waste is one of the most common forms of waste companies generate. Swansea waste collection involves a significant amount of general waste, and removing large volumes of general waste from business premises ensures that yours look as inviting as possible.
We offer waste collection Swansea businesses trust. Providing wheelie bins of up to 1000L means that Swansea waste disposal is a far simpler process, so you have plenty of space for storing all of your waste. This keeps your premises tidy and ensures a sanitary workplace.
Electronic waste collection in Swansea
Electronic waste falls under the WEEE waste regulations, which define how companies dispose of electronic waste. This ensures that companies limit the amount of pollution they create through technical updates and modifications. With the ongoing advancements in technology, disposing of the last generation of technology responsibly is key.
We offer WEEE waste disposal Swansea companies rely on. Plus we dispose of all WEEE responsibly, and you get the documentation to prove it.
Confidential waste collection in Swansea
Confidential waste is an increasingly prevalent part of a company's operations. Whether it's personal information or company finances, businesses need to dispose of confidential waste in a careful manner.
We offer locked bins and shredder trolleys for our clients, ensuring confidential commercial waste collection is safe and secure. What's more, with locked bins, only the right people have access to your confidential information, meaning your company remains in line with GDPR regulations.
Save £££££
No Mess, No Stress, Pay Less
Where can I recycle waste in Swansea?
Swansea has 5 recycling centres, but for busy business owners, making regular trips to these isn't always feasible or cheap! Thanks to our daily, weekly and monthly collection services, the best thing about partnering with Divert is that you can recycle waste in Swansea without leaving your premises!
Very quick
Caroline
Dog Groomers
Very quick to get bins set up for my dog grooming business, Paddy advised the best size bin and was a quick turnaround!
Get a quick quote
Get a quick FREE quote for your waste
Quick quote within 1 hr
All types of waste
Claim your free bins
Nationwide coverage