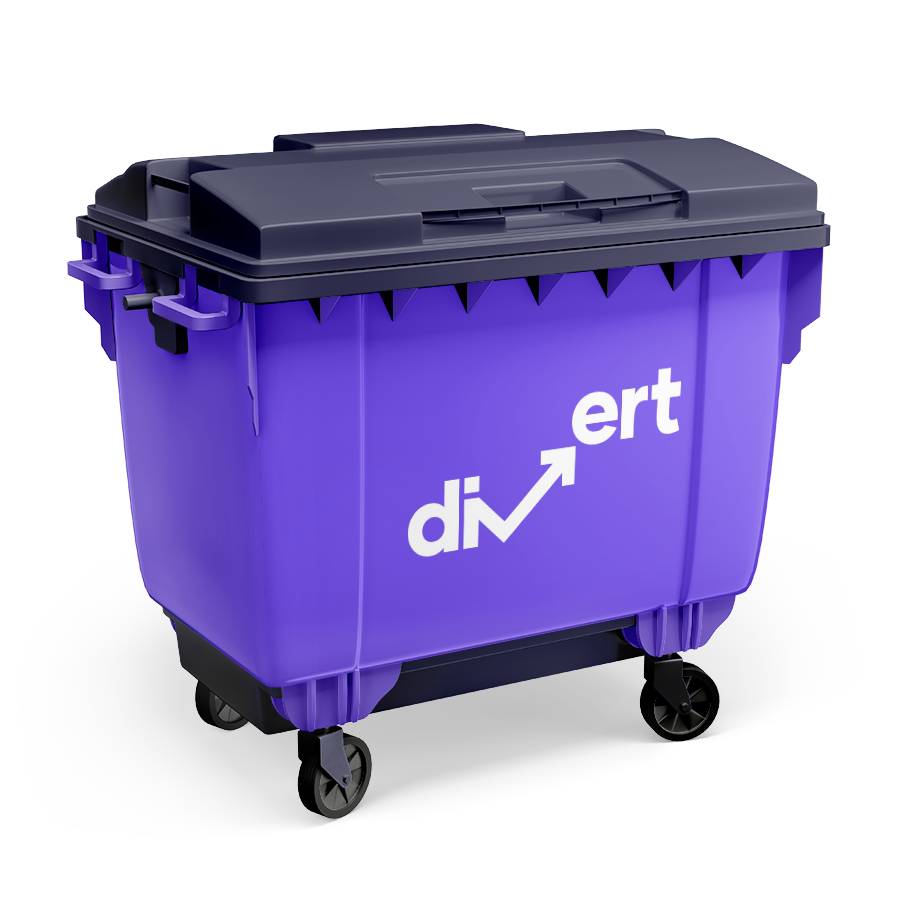 Known for being the departure point of the Titanic, Southampton currently has a population of approximately 254,361. This, coupled with a recent increase in tourism in the area, means that a great deal of waste is produced here each year. In fact, a recent study found that residents in Southampton produce more than 3000kg of waste each every year.
Despite this, Southampton is consistently ranked as one of the worst areas in the UK for recycling, sending only 30% of its waste to be recycled. While some of this waste is sent to one of two Southampton-based composting sites or alternative treatment facilities – the majority of it ends up at landfill sites.
At Divert, we hope to reduce the amount of pressure faced by overcrowded landfills by diverting all forms of waste away from these sites and towards recycling centres – and that's why we're now offering our services to businesses across Southampton and the surrounding areas.
Waste Management Southampton

Quick Quote
Get a quick FREE quote for your waste
Quick quote within 1 hr
All types of waste
Claim your free bins
Nationwide coverage
Waste Collection Southampton
At Divert, we're passionate about all aspects of sustainability. This, combined with our years of experience in waste disposal, means that we're now able to share our advice with all manner of businesses, working together to create a greener future for our planet. When you use our services, you'll work alongside our team of CRB-checked professionals to put together an effective waste management plan for your business – that covers many different areas, from waste reduction to disposal.
To start, we'll provide you with free bins and storage containers before putting together a collection schedule that will not interrupt your daily operations, customers or staff. Even better, we offer these services at a highly competitive fixed price – as we don't believe you should have to pay thousands to take care of the planet.
WEEE waste collection Southampton
According to a recent report from the University of Southampton, only ⅓ of the Electronic Waste (WEEE waste) produced in Europe is recycled. The rest of these products are scrapped for parts or simply discarded and sent to landfill sites. This is likely because many people do not know that electronic goods can be recycled. At Divert, we're able to take any and all electrical goods from your hands – from old computers to specialist electronic equipment such as CCTV cameras.
Our services are highly-flexible – meaning we can pick up WEEE waste products as frequently as you require. However, if you are carrying out an office-remodelling session and are interested in a one-off service, you might be more interested in our man and van services.
Waste disposal Southampton
New scientific reports are published every day that show us just how vital good waste management is. However, it can be hard to stay up to date with the best strategies and techniques when also running a business – but that's where we come in. At Divert, we're experts in all things waste disposal – meaning that we'll be able to handle all of your waste on your behalf. This saves you time, energy and stress!
No Hidden charges
With divert you wont find silly things added to your invoice
Glass collection Southampton
Large volumes of glass products are used in Southampton every day – particularly at manufacturing centres or hospitality venues. Thankfully, however, these products are relatively easy to recycle, and approximately 71% of glass products produced in the UK were recycled in 2020. Despite this, the government has put plans in place to boost these figures to 90% by 2030.
Our glass collection services are a great way to ensure that your company play's its part in meeting this goal. They'll also give you great peace of mind, as you know your products will be taken straight to recycling facilities instead of landfill sites, where they can take upwards of 1 million years to decompose.
Business waste collection Southampton
There are currently 8,310 businesses registered in South Hampton (Southampton Gov). However, as these figures continue to rise year on year, so does the amount of business waste produced within the city.
At Divert, we're on hand to help you find the best possible way to deal with your business waste – whether you're dealing with liquid waste or stacks of documents and papers. While our primary focus will always remain on sustainable disposal practices, we'll also focus on keeping costs down so that you can save money AND the planet at the same time. That's where our fixed prices come into play – as we'll only charge for the waste we collect, with no additional fees for bins, labour or transportation.
General waste collection Southampton
Some waste types, such as plastic wrapping and packaging, are more difficult to recycle than others. These products are often referred to as 'general waste', and as a general rule of thumb, this refers to the kind of products you'd usually dispose of in your black bin at home. If your business produces any of this waste, we can help – and we'll work to ensure that your general waste is disposed of in a way that leaves a minimal impact on the environment. Get in touch to find out more!
Save £££££
No Mess, No Stress, Pay Less
DMR – dry mixed recycling Southampton
Approximately 30% of the waste produced within Southampton is recycled – which means that the city is far behind other areas of the UK when it comes to recycling, with the national average being 43.3%. While some of the non-recycled waste is disposed of sustainably at one of two local composting sites, most of it is sent to landfills. We want to make it as easy as possible for our customers to recycle to combat this. One way in which we achieve this goal is by providing them with access to Dry Mixed Recycling bins and low cost collections.
Dry Mixed Recycling bins can be used to store all non-contaminated recyclables in one place – eliminating the need for you to segregate your waste. This can save you time, effort and money.
Cardboard waste collection Southampton
While there are no specific figures regarding the amount of Cardboard waste produced in Southampton, around 7 million tonnes of cardboard waste products are sent to landfills in the UK each year.
At Divert, we can work together to ensure that your cardboard waste does not find its way to local landfill sites but instead ends up at the appropriate treatment or recycling facilities. To achieve this goal, we'll provide you with cardboard waste bins and collect them as frequently as you see fit. To put it simply, whenever you see one of our signature purple vans on the road -we're probably heading to the recycling centre!
Clinical waste collection Southampton
There are currently three hospitals, 27 GP surgeries, 39 care homes and plenty of healthcare centres, pharmacies and laboratories based in Southampton. As a result, it's hardly surprising that the city contributes significantly to the large volume of clinical waste produced each year in the UK (Upwards of 600,000 tonnes). However, as these products could be hazardous to both human life and the environment, various regulations govern how we should dispose of them.
Therefore, if your business produces any form of clinical or healthcare waste, such as bandages or PPE, you may benefit from our clinical waste disposal services. To get started, simply let us know what kind of clinical waste you are producing in your facility so that we can provide you with FREE access to the appropriate bins and storage containers. For example, if you need to dispose of sharps, we can help you get your hands on sharps bins. From there, we'll ensure that your clinical waste is collected by a licensed professional and taken to the appropriate recycling facilities. Once we've completed the job, we'll provide you with all the paperwork you need for your records.
Very quick
Caroline
Dog Groomers
Very quick to get bins set up for my dog grooming business, Paddy advised the best size bin and was a quick turnaround!
Get a quick quote
Get a quick FREE quote for your waste
Quick quote within 1 hr
All types of waste
Claim your free bins
Nationwide coverage