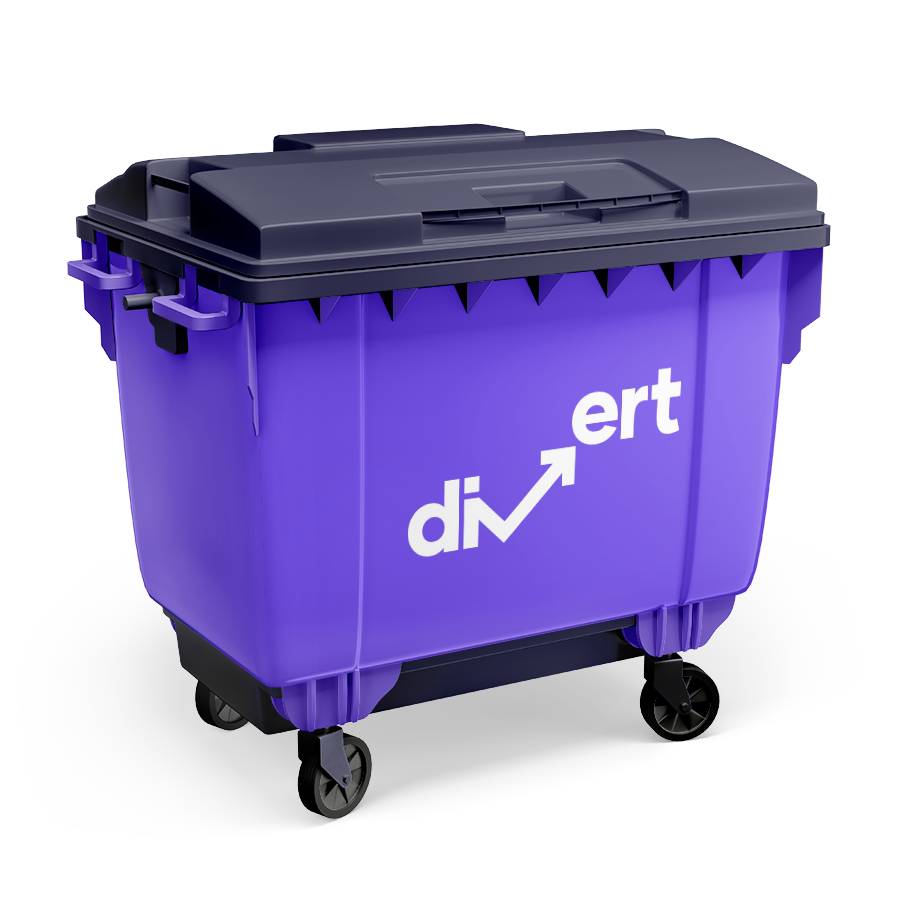 As a business, making sure you remove all of your waste in a timely manner is a fundamental part of maintaining your reputation and keeping your employees and customers safe.
For commercial waste collection Portsmouth companies trust, check out Divert. We offer a range of different services, so no matter what sector your work in, from healthcare and beauty to garden and technology, we've got you covered.
Waste management Portsmouth

Quick Quote
Get a quick FREE quote for your waste
Quick quote within 1 hr
All types of waste
Claim your free bins
Nationwide coverage
Waste collection Portsmouth
When you use a waste collection service, you want to know you're getting value for money. Disposing of commercial waste Portsmouth businesses produce can be an expensive process, and this is especially true when you deal with hidden fees.
At Divert, we offer free bins for all of our clients, so you only pay for collection. As a leading Portsmouth waste management service, we're upfront about all of our fees, and you can rest assured we won't spring any additional costs on you.
Clinical waste in Portsmouth
Clinical waste refers to the waste that healthcare companies generate on a daily basis. This includes medical waste such as syringes and used vials. Taking care with medical waste is essential for preventing infections as well as the spread of diseases and bacteria.
We offer specialised clinical waste collection Portsmouth clinics can rely on. Thanks to our highly trained staff, you can rest assured that all clinical waste is removed and disposed of in a safe manner, protecting both the public and the environment.
Glass collection in Portsmouth
There are several different types of glass, all requiring different ways of recycling to limit their environmental impact. Using the best glass waste management Portsmouth has to offer is essential for improving your environmental impact.
At Divert, we can provide 240L glass wheelie bins that you can separate bottles into before our expert team takes the waste away and safely disposes of it. Never put glass into general waste – it's 100% recyclable and can be endlessly recycled with no loss of quality.
No Hidden charges
With divert you wont find silly things added to your invoice
WEEE waste collection in Portsmouth
As technology moves forward, an increasingly large portion of Portsmouth waste disposal is coming in the form of WEEE waste collection. We offer WEEE waste disposal Portsmouth companies can rely on. This includes providing a selection of bins of different sizes, from 240L to 1000L. Our service also includes providing thorough documentation, which ensures that you have all of the information necessary to guarantee that your waste disposal is being handled in line with regulations.
General waste collection in Portsmouth
General waste includes food waste and non-recyclable packaging and is one of the largest volumes of any kind of waste businesses produce.
We offer a thorough general waste service, providing a range of bins to our clients for free to ensure that you have enough space for all of your waste. We provide daily, weekly and monthly waste collection services too, so there's no reason why your premises can't be clean at all times.
Confidential waste collection in Portsmouth
A confidential waste collection service is important for any modern business. With data playing such a primary role in modern companies, disposing of customer and staff data in a safe way is not only ideal for your company but is a legal necessity under GDPR.
We offer lockable bins for companies, which means that only the right people in your organisation have access to them. We can also provide shredder carts, which makes reading confidential documents far more difficult and better protects data.
Save £££££
No Mess, No Stress, Pay Less
What is the recycling rate in Portsmouth
Portsmouth has a recycling rate of 25.5%, which is well below the national target. The Divert team is committed to recycling as much of the waste we receive as possible, playing our part in protecting the environment and helping you to do your bit as well.
What is the recycling target for Portsmouth?
The City Council recently set a recycling rate goal of 30.4%.
Can you recycle cardboard in Portsmouth?
Yes! There are many different types of cardboard to be aware of, common ones are paperboard (used in cereal boxes) and corrugated board (for large packaging).
Where can I recycle in Portsmouth?
While Portsmouth does have a Household Waste Recycling Centre, here at Divert, we've made recycling even easier for busy business owners with our daily, weekly and monthly collection services.
How do I get rid of confidential waste in Portsmouth?
You need to speak to our expert team, who can provide more information about our lockable bins and shredders. These help to anonymise your waste and ensure it's disposed of in a legal, sustainable and safe manner.
Very quick
Caroline
Dog Groomers
Very quick to get bins set up for my dog grooming business, Paddy advised the best size bin and was a quick turnaround!
Get a quick quote
Get a quick FREE quote for your waste
Quick quote within 1 hr
All types of waste
Claim your free bins
Nationwide coverage