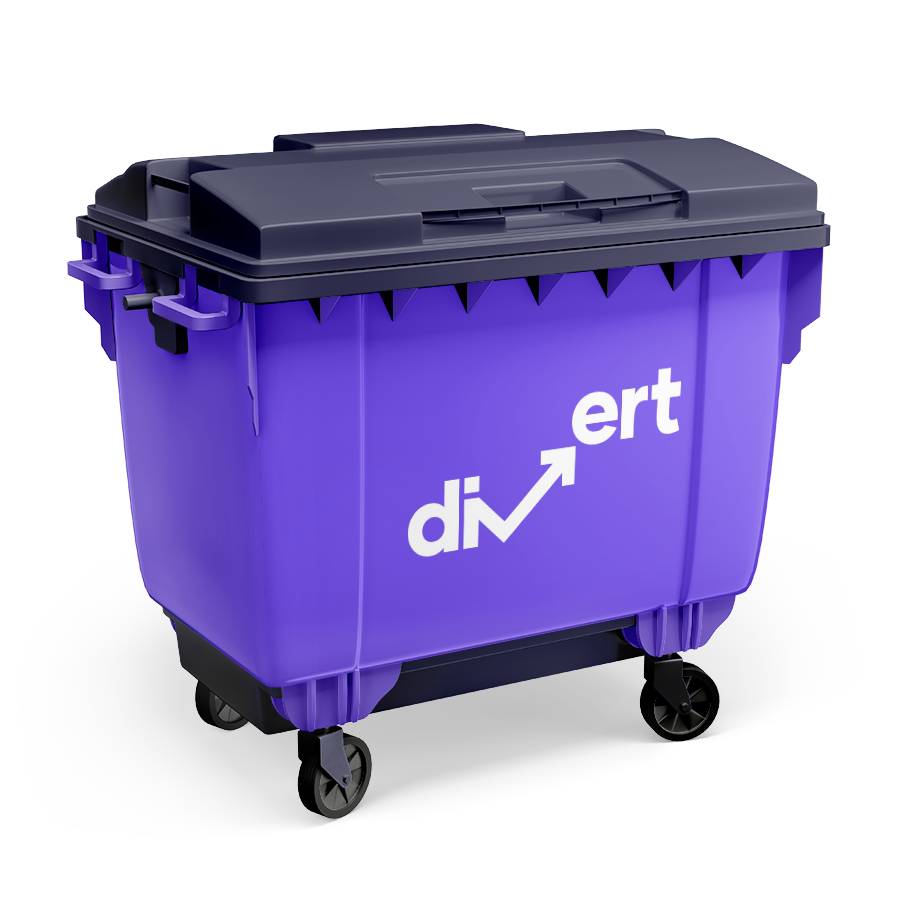 One of the most popular tourist destinations in the UK, Nottingham is known for its historic landmarks and vivid history. For example, it is home to Sherwood Forest – a location made famous in the Robin Hood novels. With a population of over 331,200, Nottingham also produces large volumes of waste annually. In fact, a recent report from Nottingham City Government found that around 118,000 tonnes of waste are disposed of each year in Nottingham. Yet, with a recycling rate of just 36%, a large proportion of this waste is not disposed of correctly – likely ending up at landfill sites across the country.
At Divert, we're on hand to help boost your Nottingham-based businesses' recycling rates, making the city greener in doing so. To do this, we'll ensure that we divert your waste away from landfills and towards other, more sustainable forms of disposal.
Waste Management
Nottingham
Quick Quote
Get a quick FREE quote for your waste
Quick quote within 1 hr
All types of waste
Claim your free bins
Nationwide coverage
Waste Collection Nottingham
Flexible Collections
Our services are specially designed to help reduce your company's impact on the environment through good waste management. Not only will we provide you with guidance on ways to reduce the waste you are producing, but we'll also ensure that it is disposed of correctly at local treatment centres or recycling plants. Furthemore, we can ensure that your waste disposal is entirely carbon neutral by providing you with free commercial wheelie bins and collecting the waste on your behalf. Even better, we'll do all of this for a fixed price, with no additional fees for collection, transportation or labour.
Waste disposal in Nottingham.
As mentioned previously, Nottingham is responsible for producing 118,000 tonnes of waste each year. While there are already numerous government-led initiatives in place set to reduce these figures, business owners have a responsibility to ensure that their waste is appropriately managed and disposed of. This can be rather time-consuming, especially if you have 100 other tasks on your to-do list – but that's where we come in. We'll provide you with everything you need to get a better handle on your waste, from free storage bins and bags to proven waste reduction strategies. Not only will these services help make your company greener, but they will also save you a great deal of time, energy and money.
WEEE waste disposal Nottingham.
In 2019, it was announced that around 53.6 million tonnes of WEEE waste were produced globally – with the figures increasing year on year (Statistica). This is likely because we use a great deal of electrical products every day, especially when it comes to running a business. If you aren't sure, WEEE Waste (Waste Electrical and Electronic Equipment) refers to any products with a plug socket or battery. This could include laptops and computers, and even bulky electrical equipment such as fridges.
So, whether you're planning to update your office equipment or need to get new appliances for your Restaurant, you must know exactly how to dispose of your WEEE waste. At Divert, we're able to take any and all WEEE products off your hands – taking them directly to the appropriate treatment centres where they can be stripped for parts, recycled and repurposed.
No Hidden charges
With divert you wont find silly things added to your invoice
Business waste collection Nottingham
There are currently over 10,580 businesses registered in Nottingham, and the figures rise steadily each month. In fact, in 2019, Nottingham was ranked the 2nd best city to start a business in. As Nottingham continues to cement its reputation as one of the UK's business hubs, more and more business waste will be produced here each year. This is particularly evident when you consider that 40,000 tonnes of the waste produced in Nottingham each year comes from the commercial sector.
At Divert, we're able to support any and all businesses in Nottingham with their waste – whether you are producing large volumes of packaging waste or specialist waste such as oil waste. We'll also ensure that we'll collect the waste at a time convenient for you so as to not interrupt the daily running of your business. This means that we can all focus on doing what we do best – you running your company and us, handling your waste.
General waste collection Nottingham.
Waste products that cannot easily be recycled are often grouped and referred to as 'general waste'. Typically, these waste products include the kind of items you'd throw away in the black bin outside of your home – such as plastic wrappers and clingfilm. These products often find their way to landfill sites – even though they can be disposed of in other, more sustainable methods.
According to a recent report from Nottingham City Council, Nottingham sends less waste to landfills than other authorities in England – but there is still work to be done. At Divert, our years of industry experience means that we know how to safely and securely dispose of general waste on your behalf. You can always rely on Purple Vans, knowing that your waste will never be taken to landfill sites.
DMR – dry mixed recycling in Nottingham
Our Dry Mixed Recycling Services are perfect for those who produce large volumes of recycling waste in the daily running of their business. For example, many hospitality venues use DMR bins and collection services. This is because you can store any non-contaminated recyclables within them – saving you a great deal of time and energy when it comes to waste segregation. They are also useful for those who want to up their recycling game but don't have the space on-site for separate bins for products such as paper, cardboard and plastic.
Save £££££
No Mess, No Stress, Pay Less
Cardboard waste collection Nottingham
As mentioned previously, Nottingham has a relatively low recycling rate of just 31%. As a result, all business owners must do whatever they can to boost their own company's recycling rates – especially when it comes to products that are relatively easy to recycle, such as cardboard. In fact, there are various benefits associated with recycling cardboard. For example, recycling these products requires 70% less material and 99% less water than making new cardboard.
At Divert, our cardboard waste services make dealing with cardboard waste as easy as possible. We'll provide you with everything you need to store cardboard waste on your property and will collect these waste products as often as you require. This is particularly important if you produce large volumes of cardboard waste each day – and don't' want it to pile up outside of your business.
Glass collection Nottingham
Glass is one of the most used products in the world. As a result, it's hardly a surprise that glass makes up around 31.3% of all recyclable waste. Despite this, and the fact that it can be recycled infinitely, large volumes of glass waste are sent to landfill sites each year. While this may not seem like a major issue, a single glass bottle could take upwards of 1,000,000 years to decompose.
As a result, any companies producing glass waste must ensure that it is disposed of appropriately at a local reuse or recycling facility. If you aren't sure where to get started, our glass waste collection services may be exactly what you are looking for. Not only will we provide you with a range of glass waste bins, but we'll also collect these products as often as you see fit.
Clinical waste disposal Nottingham
A large city, Nottingham is home to five hospitals, 57 GP surgeries, 168 cares and numerous other healthcare centres and facilities. There are also several laboratories within the city limits, including one of the biggest COVID testing facilities in the UK. Therefore, it is unsurprising that large quantities of clinical waste are produced (and disposed of) within Nottingham each year. These figures are likely to have risen during the COVID-19 pandemic, as we are encouraged to wear PPE products such as masks in our daily lives.
As a result, hundreds of companies in Nottingham produce clinical waste each day. Due to their potentially hazardous nature, these waste products must be disposed of in a specific way. They must also be stored securely before disposal to ensure that businesses comply with all government regulations. While this may seem complicated, our team of experts are on hand to make clinical waste disposal as stress-free as possible. To achieve this goal, we will provide you with the appropriate bins and containers to store your clinical waste while ensuring that all of your paperwork is up to date. We'll also collect your clinical waste as often as you need us to – whether that means we pop by once a week or every month.
Very quick
Caroline
Dog Groomers
Very quick to get bins set up for my dog grooming business, Paddy advised the best size bin and was a quick turnaround!
Get a quick quote
Get a quick FREE quote for your waste
Quick quote within 1 hr
All types of waste
Claim your free bins
Nationwide coverage