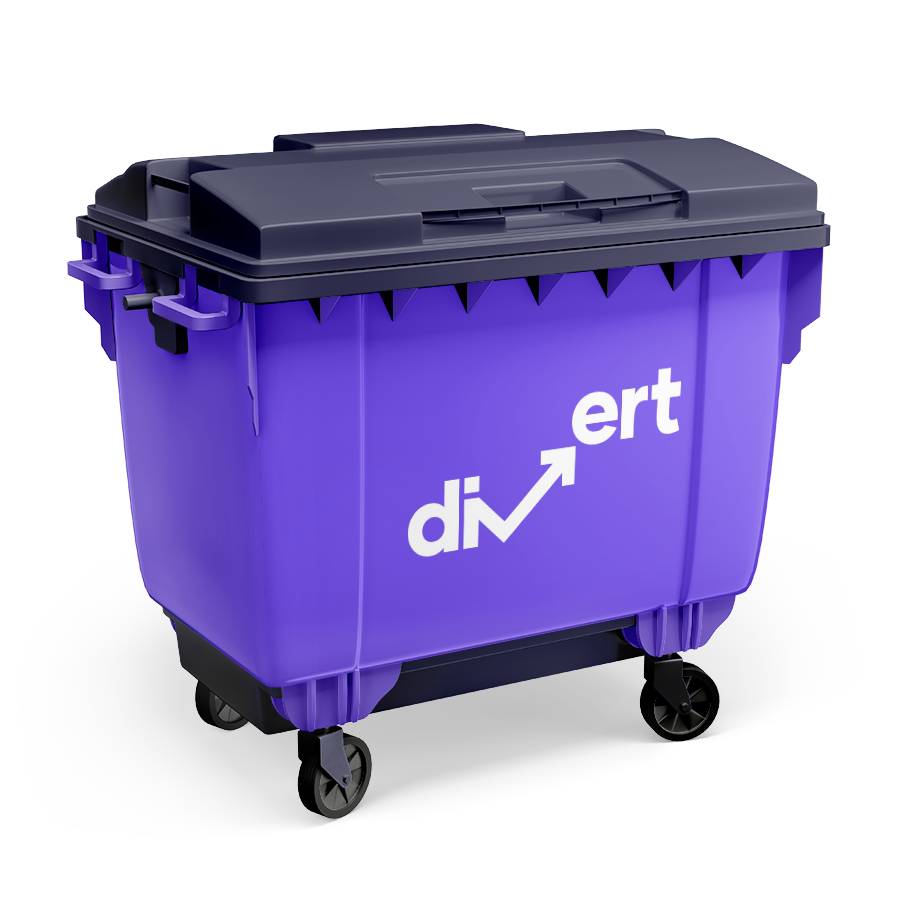 Northampton is one of the largest towns in the United Kingdom in the 21st century, boasting a 19.1% population growth since 2002. The town's economy is premised on varied manufacturing and distribution, which has paved the way for mass urban expansion and regeneration. Despite this, Northamptonshire was below its recycling targets in 2020 – sending 14% of its total waste to landfills.
At Divert, we understand the importance of effective waste management Northampton residents can rely on. We aim to divert food, plastic, glass and other general waste away from landfills to be recycled – thereby helping businesses reduce their carbon footprints. We have all the resources and expertise necessary to help businesses create a tailored waste collection service.
Contact us today to find out more about our Northampton waste collection services and how they can help your organisation.
Waste Management Northampton

Quick Quote
Get a quick FREE quote for your waste
Quick quote within 1 hr
All types of waste
Claim your free bins
Nationwide coverage
Waste collection in Northampton
We aim to help businesses in Northampton organise and deal with their commercial waste through cost-effective waste removal services. Good waste management allows you to decrease your contribution to climate change and air pollution and have a more positive impact on local species and ecosystems.
We cover all waste types, meaning that we can cater to your individual needs and waste requirements. We have the resources and expertise necessary to create tailored collection services that suit your business. Our expert team can distinguish most mixed waste flows and can prepare them for energy generation or recycling processes.
To support Northampton waste disposal efforts, we provide free bins, flexible and affordable collections, and comprise a team of trained professionals with local ties to the area.
For waste disposal Northampton businesses can trust, choose Divert.
General waste in Northampton
Otherwise known as residual waste, general waste encompasses materials from households and businesses that cannot be recycled. Some examples of general waste include kitchen scraps, non-recyclable plastics, polythene, and packaging materials. Since Northampton is a hotbed for home-grown businesses of all types and sizes, it comes as no surprise that large amounts of general waste are expected.
Homeowners and businesses can reduce general waste by utilising general waste collection services. It's important to store this waste safely and securely to prevent street littering. Employing the help of waste management services guarantees that general waste is disposed of in an eco-friendly manner.
Food waste in Northampton
Food waste refers to food products that are not eaten. Food waste can occur during production, distribution, processing, consumption, and food sales. Between 2019 and 2020, Northampton General Hospital made headlines for throwing away 82 tonnes of food valued at more than £5,700. Given that the area is a leader in food and drink manufacturing in the country, this emphasises the negative effect commercial and healthcare facilities can have on food waste levels.
There are several ways to correctly dispose of food waste, including composting, food waste dewatering, and anaerobic digestion.
No Hidden charges
With divert you wont find silly things added to your invoice
Garden waste in Northampton
Northamptonshire's local government has imposed a new regulation whereby residents are to be charged for the collection of garden waste. This £55 annual fee raises concerns as to whether citizens will curb these costs by disposing of their garden waste through other means.
Yet disposing of garden waste at home is an easy process. You can compost garden waste or take it to a local composting or recycling centre. Garden waste usually refers to home-grown fruit and vegetables, tree bark, leaves, flowers, grass, weeds, pruned branches and twigs.
Clinical waste in Northampton
There are several hospitals, clinics, and healthcare providers throughout Northamptonshire. Northampton General Hospital alone houses up to 800 patients and has a staff number of 4,875. Large healthcare providers are prone to producing a lot of clinical waste. This is waste produced from healthcare activities – such as bandages, dressings, medicines, and swabs.
Clinical waste needs to be disposed of safely to avoid hazards or the spread of infection. Clinical waste must be placed in appropriate bags or containers at the point of production and sealed correctly. Learn more about clinical waste bags.
Plastic waste in Northampton
The Department for Environment, Food and Rural Affairs provided data that shows the Northampton Borough Council collected 357.3 kg of household waste per person between 2019 and 2020. The department called for a new approach to waste collection and disposal and called on producers to reduce packaging for products to mitigate waste.
Reducing product packaging helps reduce the amount of plastic waste commonly used in commercial distribution. To reduce the amount of non-recyclable plastics in landfills, Northampton residents can use specialist waste collection services that are responsible for melting or shredding plastic products.
Save £££££
No Mess, No Stress, Pay Less
Why does Northampton council charge for garden waste collections?
Northampton council charges for garden waste collections due to it being a selective service that not every business or homeowner uses. Self-funding allows the council to provide the service for only those who require it.
The council is not required by law to collect garden waste free of charge. It's important to note that at least 65% of local councils in the United Kingdom now charge for garden waste collections.
What is the recycling target for Narthampton?
The recycling target for Northampton in 2020 was 50%. However, the area failed to meet this by only reaching a level of 49% – falling slightly short of the United Kingdom's recycling goals.
How can you dispose of clinical waste in Northampton?
West Northamptonshire Council allows businesses to apply for clinical waste collection through its website. Alternatively, companies can employ an independent clinical waste disposal service that meets hazardous waste disposal standards and guidelines.
Contact us for clinical waste collection Northampton businesses can trust.
Where can I recycle in Northampton?
There are several household waste recycling centres throughout Northampton that accept a wide range of recyclable materials – including hazardous. These centres are operated by the North and West Northamptonshire Council.
However, visitor numbers at these centres are high and are expected to be busy. The council warns that they may temporarily close throughout the day to disperse traffic. Businesses and homeowners can also choose independent waste collection services to pick up waste on-site.
Very quick
Caroline
Dog Groomers
Very quick to get bins set up for my dog grooming business, Paddy advised the best size bin and was a quick turnaround!
Get a quick quote
Get a quick FREE quote for your waste
Quick quote within 1 hr
All types of waste
Claim your free bins
Nationwide coverage