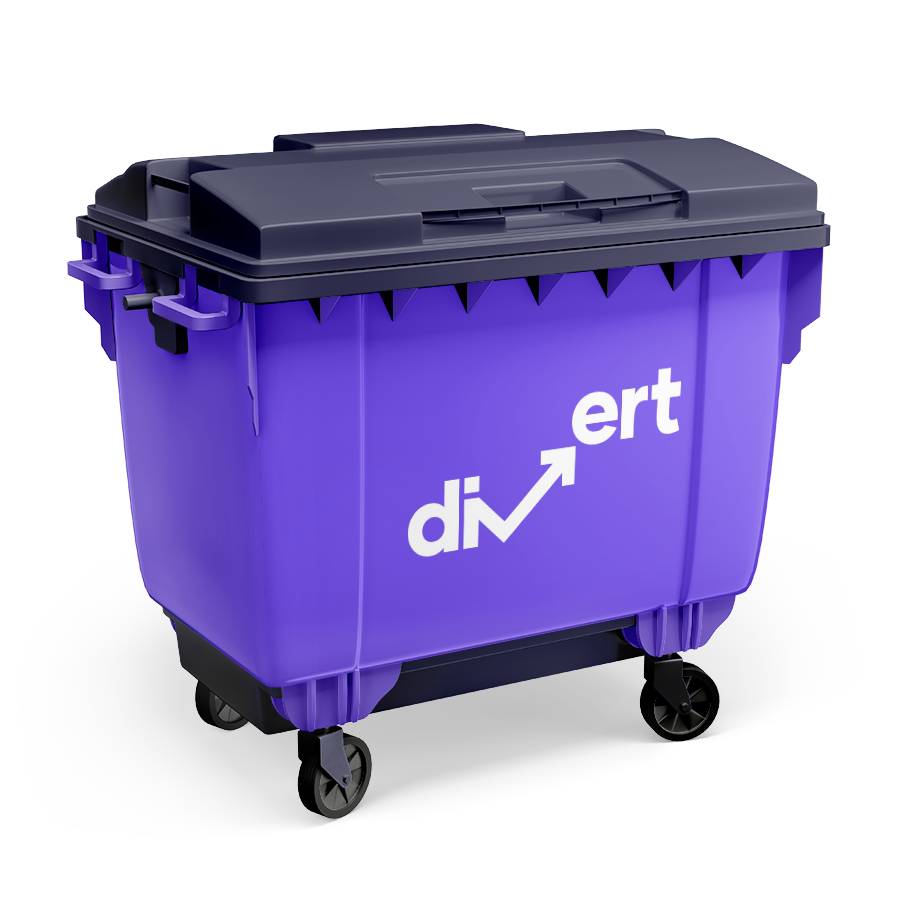 When you're running a business in Milton Keynes, one of the most important things to consider is waste management. Having tidy premises is essential for not only the safety of your staff, but for drawing in more potential customers.
If you have a build of waste on your property due to an unreliable waste collection schedule, this risks the long-term reputation of your company, which is where Divert comes in.
We offer high-quality commercial waste collection Milton Keynes businesses can benefit from on a daily basis. Contact the Divert team today to find out how you can better manage your waste and benefit from being a cleaner business.
Waste Management Milton Keynes

Quick Quote
Get a quick FREE quote for your waste
Quick quote within 1 hr
All types of waste
Claim your free bins
Nationwide coverage
Waste collection in Milton Keynes
One of the most significant benefits of choosing Divert is that we offer free bins for all of our clients across Milton Keynes. While some companies charge their clients for bins, we provide them free of charge, so all you have to pay for is collection, which is available, daily, weekly or monthly.
All our staff members are good at what they do, so if you're looking for Milton Keynes waste removal services you can rely on, we're the team to call. You can trust we'll get the job done on time and to a high standard.
Cardboard waste collection in Milton Keynes
Your cardboard recycling exists in two different forms: thin paperboard (such as cereal boxes) and corrugated cardboard (for larger packaging). Both of these materials are recyclable.
We provide high-quality waste collection Milton Keynes businesses trust, removing and recycling any cardboard waste that you have on your premises. We recycle as much cardboard as we can, so you can rest assured we're doing our bit for the environment.
Glass waste collection in Milton Keynes
When getting rid of glass waste, you want to make sure your processes are safe and secure. After all, glass waste has the potential to be harmful not only to your employees but to the environment around you.
We offer one of the most comprehensive glass waste removal services in Milton Keynes, removing different types of glass and sorting it so it can be recycled effectively.
No Hidden charges
With divert you wont find silly things added to your invoice
General waste collection in Milton Keynes
Much of the commercial waste Milton Keynes businesses generate falls into the category of general waste, whether this is in the form of general office rubbish or even just food waste from restaurants.
General waste can't be recycled, but you can take steps toward reducing the amount of general waste you produce. We offer wheelie bins of up to 1100L, so if you currently generate a lot of general waste, we can help you dispose of it.
Electronic waste collection in Milton Keynes
Electronic waste, also known as WEEE waste, is an increasingly prominent part of the waste the average business generates. This waste is covered by the WEEE regulations, so using a Milton Keynes commercial waste collection service that understands this is essential for regulatory alignment.
We ensure that every step of the WEEE waste cycle is handled, from providing large bins for your waste to completing all of the right paperwork. This means that your company fits within all of the relevant regulations, has the paperwork to prove it and supports the environment by dealing with electronic waste in the right way.
Confidential waste collection in Milton Keynes
Every company has confidential information, from customer information to financial data. Disposing of these documents with the right Milton Keynes waste collection service is important for making sure that your staff and customers have the protection they need from people looking for private information.
We offer a range of different lockable bins that only certain members of staff have access to, in addition to paper shred carts. This means that you can dispose of customer and staff information discretely, with a reliable Milton Keynes confidential waste service coming to collect the destroyed documents.
Save £££££
No Mess, No Stress, Pay Less
Very quick
Caroline
Dog Groomers
Very quick to get bins set up for my dog grooming business, Paddy advised the best size bin and was a quick turnaround!
Get a quick quote
Get a quick FREE quote for your waste
Quick quote within 1 hr
All types of waste
Claim your free bins
Nationwide coverage